Overexpression of Transforming Acidic Coiled Coil‑Containing Protein 3 Reflects Malignant Characteristics and Poor Prognosis of Glioma
1
Department of Neurosurgery, The 2nd Affiliated Hospital of Harbin Medical University, Harbin 150086, China
2
Translational Medicine Research and Cooperation Center of Northern China, Heilongjiang Academy of Medical Science, Harbin 150086, China
3
Sino-Russian Medical Research Center (SRMRC) Neuroscience Institute, Harbin 150086, China
*
Authors to whom correspondence should be addressed.
†
These authors contributed equally to this work.
Academic Editor: William Chi-shing Cho
Received: 23 November 2016 / Revised: 10 January 2017 / Accepted: 13 January 2017 / Published: 4 March 2017
Abstract
Gliomas are malignant primary brain tumors with poor prognosis. Recently, research was indicative of a tight connection between tumor malignancy and genetic alterations. Here, we propose an oncogenic implication of transforming acidic coiled-coil-containing protein 3 (TACC3) in gliomas. By comprehensively analyzing the Chinese glioma genome atlas (CGGA) and publicly available data, we demonstrated that TACC3 were overexpressed along with glioma grade and served as an independent negative prognostic biomarker for glioma patients. Functions' annotations and gene sets' enrichment analysis suggested that TACC3 may participate in cell cycle, DNA repair, epithelium-mesenchymal transition and other tumor-related biological processes and molecular pathways. Patients with high TACC3 expression showed CD133
+
stem cell properties, glioma plasticity and shorter overall survival time under chemo-/radio-therapy. Additionally, a TACC3 associated the miRNA-mRNA network was constructed based on in silico prediction and expression pattern, which provide a foundation for further detection of TACC3-miRNA-mRNA axis function. Collectively, our observations identify TACC3 as an oncogene of tumor malignancy, as well as a prognostic and motoring biomarker for glioma patients.
View Full-Text
►

▼

Figures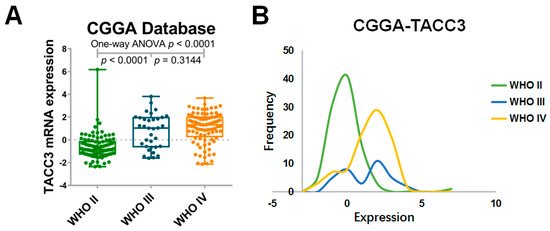 Figure 1
This is an open access article distributed under the
Creative Commons Attribution License
which permits unrestricted use, distribution, and reproduction in any medium, provided the original work is properly cited (CC BY 4.0).

Share & Cite This Article
MDPI and ACS Style
Sun, Y.; Tian, Y.; Wang, G.-Z.; Zhao, S.-H.; Han, B.; Li, Y.-L.; Jiang, C.-L. Overexpression of Transforming Acidic Coiled Coil‑Containing Protein 3 Reflects Malignant Characteristics and Poor Prognosis of Glioma. Int. J. Mol. Sci. 2017, 18, 235.
Note that from the first issue of 2016, MDPI journals use article numbers instead of page numbers. See further details here.
Related Articles
Comments
[Return to top]