Open Access This article is
freely available
re-usable
Review
Recent Advances in the Role of SLC39A/ZIP Zinc Transporters In Vivo
1
Faculty of Pharmaceutical Sciences, Tokushima Bunri University, Tokushima 770-8514, Japan
2
Division of Pathology, Department of Oral Diagnostic Sciences, School of Dentistry, Showa University, Tokyo 142-8555, Japan
3
RIKEN Center for Integrative Medical Sciences, Yokohama, Kanagawa 230-0042, Japan
*
Author to whom correspondence should be addressed.
Received: 8 November 2017 / Accepted: 8 December 2017 / Published: 13 December 2017
Abstract
:
Zinc (Zn), which is an essential trace element, is involved in numerous mammalian physiological events; therefore, either a deficiency or excess of Zn impairs cellular machineries and influences physiological events, such as systemic growth, bone homeostasis, skin formation, immune responses, endocrine function, and neuronal function. Zn transporters are thought to mainly contribute to Zn homeostasis within cells and in the whole body. Recent genetic, cellular, and molecular studies of Zn transporters highlight the dynamic role of Zn as a signaling mediator linking several cellular events and signaling pathways. Dysfunction in Zn transporters causes various diseases. This review aims to provide an update of Zn transporters and Zn signaling studies and discusses the remaining questions and future directions by focusing on recent progress in determining the roles of SLC39A/ZIP family members in vivo.
Keywords:
zinc transporter; SLC39A/ZIP; zinc signaling; physiology; diseases
Acknowledgments
This work was supported by KAKENHI (17H04011) of the Ministry of Education, Culture, Sports, Science, and Technology (MEXT), Sumitomo Foundation, Naito Foundation, Nestlé Nutrition Council Japan, Mitsubishi Foundation, Vehicle Racing Commemorative Foundation, and Takeda Science Foundation to Toshiyuki Fukada.
Author Contributions
Teruhisa Takagishi and Takafumi Hara contributed to the design, drafting, and revising of the manuscript. Toshiyuki Fukada helped design, draft, and revise the manuscript and granted final approval of the version to be published.
Conflicts of Interest
The authors declare no conflict of interest.
Abbreviations
| | |
| --- | --- |
| AE | Acrodermatitis enteropathica |
| EMT | Epithelial mesenchymal transition |
| ER | Endoplasmic reticulum |
| KO | Knockout |
| NTBI | Nontransferrin-bound iron |
| PDI | Protein disulfide isomerase |
| SCD-EDS | Spondylocheirodysplastic Ehlers-Danlos syndrome |
| SLC | Solute carrier |
| TGF-β | Transforming growth factor beta |
| UPR | Unfolded protein response |
| ZIP | Zrt- and Irt-like protein |
| ZnT | Zn transporter |
Figure 1. Scheme for Zinc (Zn) storage and distribution in the body. Dietary Zn is absorbed in the small intestine and distributed to the peripheral tissues, including skeletal muscle (60%), bone (30%), skin (5%), and other tissues (5%). Zn deficiency causes various abnormalities in humans and animal models, such as growth retardation, immune dysfunctions, diarrhea, and skin diseases, including acrodermatitis enteropathica (AE).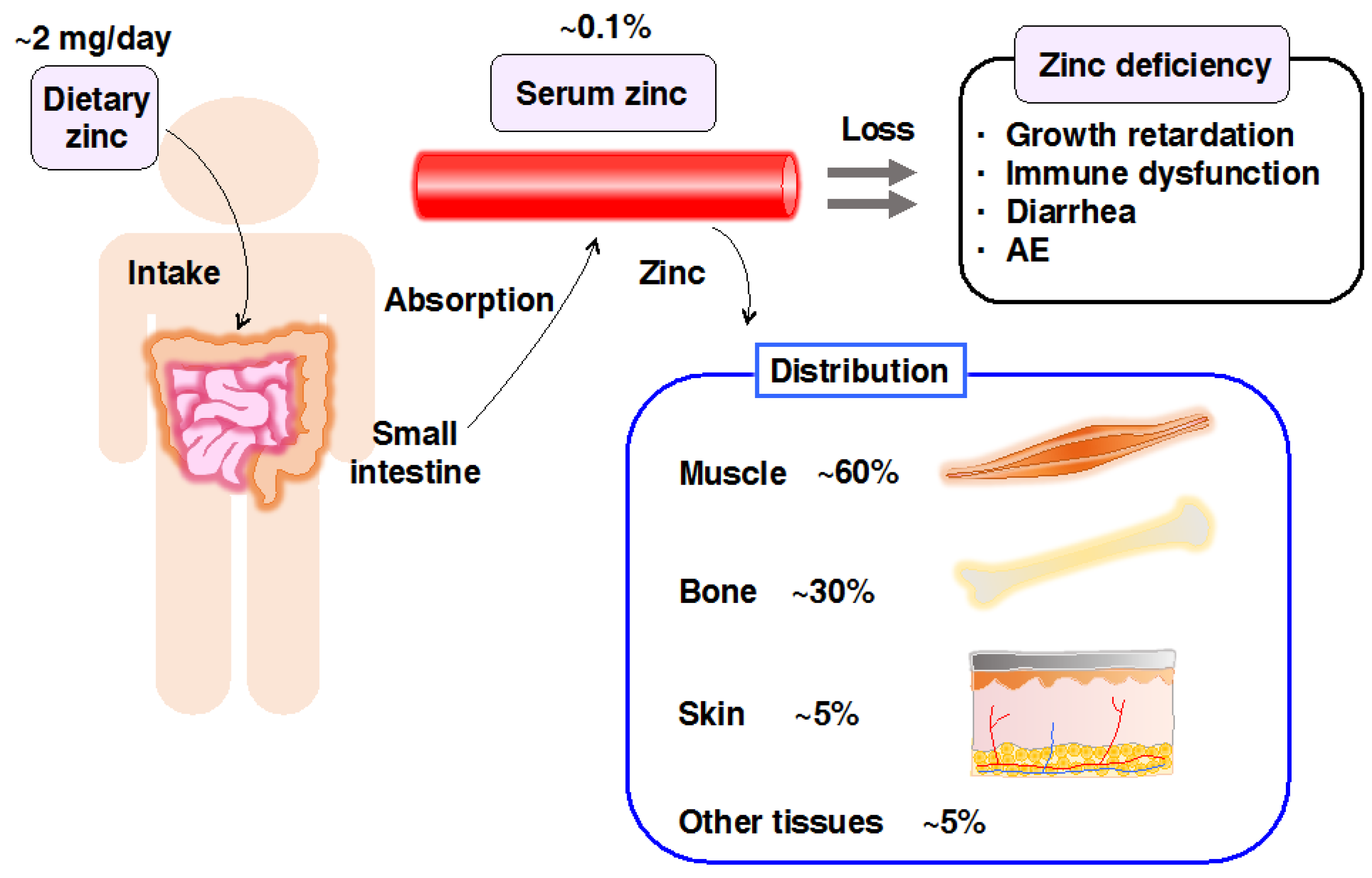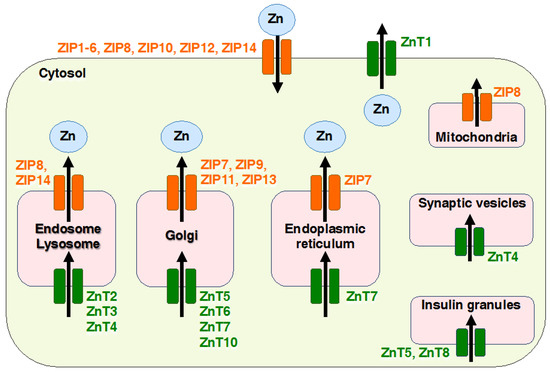 Figure 2. Cellular localization of Zinc transporters (ZnTs) and Zrt- and Irt-like proteins (ZIPs). The diagram shows the localization of ZIPs (orange) and ZnTs (green). The black arrow shows the direction of Zn transport in the plasma membrane and each organelle. ZIPs and ZnTs regulates the flux of Zn ion in the extra- or intra-cellular environment and tightly controls cellular Zn homeostasis in numerous cell types.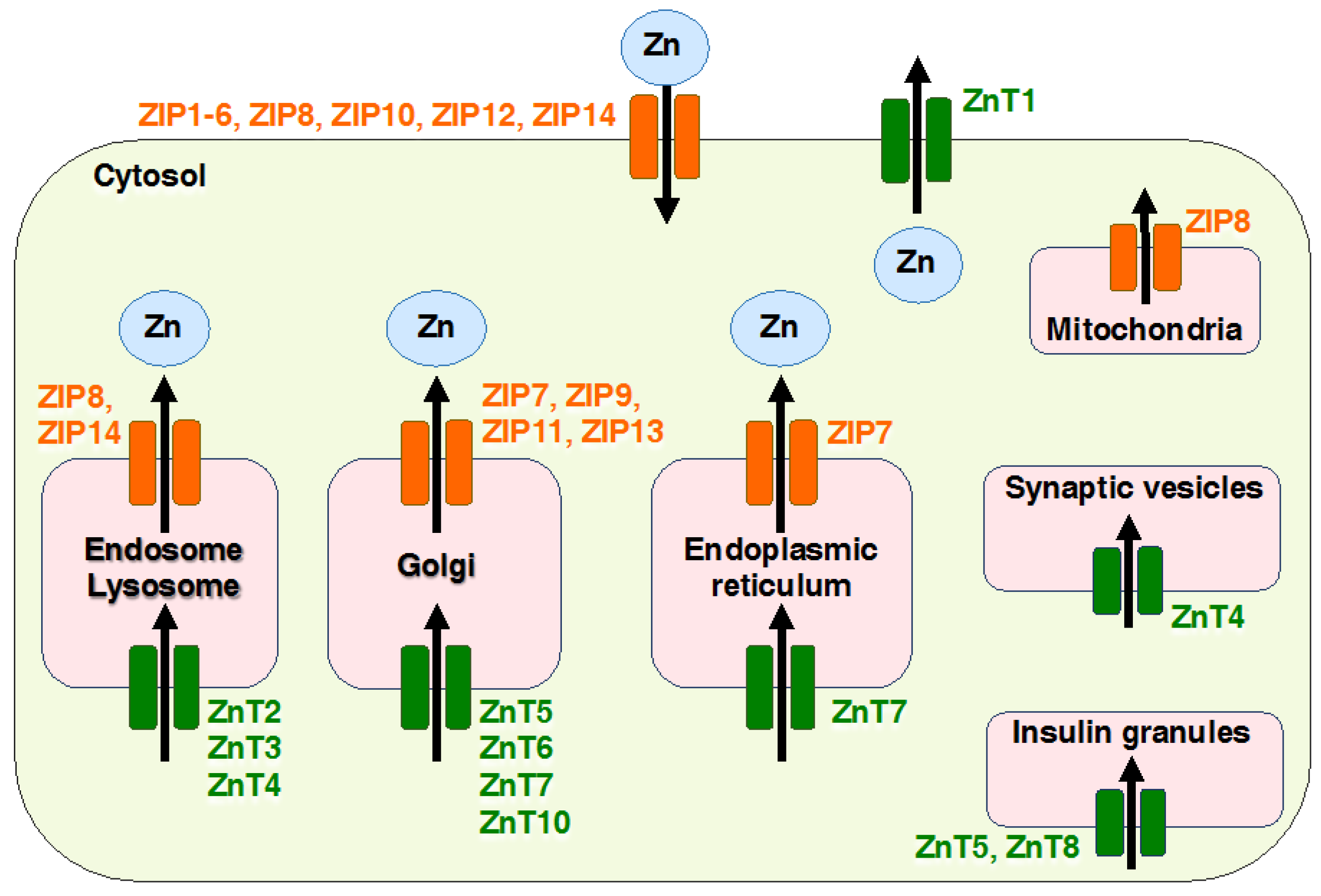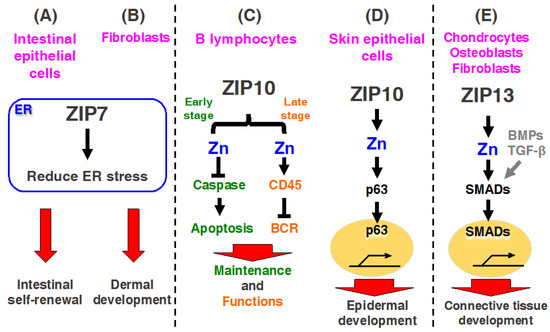 Figure 3. Biological relevance of ZIP7, ZIP10, and ZIP13. (A,B) ZIP7 is expressed in the endoplasmic reticulum (ER) membrane of various cells including dermal fibroblasts and intestinal epithelial cells, maintains Zn levels in the ER, and contributes to reducing ER stress. (A) In intestinal epithelial cells, ZIP7 promotes intestine epithelial self-renewal by resolving the upregulation of ER stress. Therefore, ZIP7 is a new regulator of intestinal epithelium homeostasis by regulating ER function; (B) In the dermal fibroblast ER, ZIP7 contributes dermal development. ZIP7 dysfunction induces ER stress caused by Zn-dependent protein disulfide isomerase (PDI) aggregation. PDI aggregation in dermal fibroblast disturbs adequate protein folding, which impairs dermal development; (C,D) ZIP10 contributes to the development and functions of B cells and skin epidermis; (C) ZIP10 inhibits caspase activity in progenitor B cells and promotes B cell development in the early stage (green color). ZIP10 also modulates B cell receptor (BCR) signaling in the late stage (orange color). Thus, ZIP10 is crucially involved in B cell-mediated immunity; (D) In skin epithelial cells, ZIP10 up-regulates p63 transactivation, which promotes epidermal and hair follicle development (yellow circle: nucleus). Therefore, the ZIP10-Zn-p63 signaling axis plays an important role in maintaining the skin epidermis; (E) ZIP13 is expressed in chondrocytes, osteoblasts, and fibroblasts and contributes to connective tissue development. ZIP13-mediated Zn signaling is required for Smad proteins activation in bone morphogenetic protein (BMP)/transforming growth factor beta (TGF-β) signaling, which regulates connective tissue development.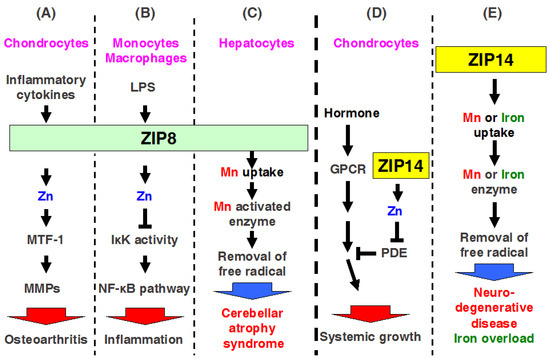 Figure 4. Physiological control by multiple metal transport through ZIP8 and ZIP14. (A–C) ZIP8 is involved in inflammatory responses and pathophysiology. ZIP8 expression is induced by (A) inflammatory cytokines and endotoxin in chondrocyte and (B) monocytes and macrophages, respectively. (A) In chondrocytes, ZIP8-mediated Zn activates MTF-1 and increases MMP expression, followed by cartilage degeneration of osteoarthritis; (B) In monocytes and macrophages, ZIP8-mediated Zn decreases IKKβ activity and NF-κB signaling and promotes inflammatory responses; (C) Mn (red) is transported by ZIP8. Loss of function of mutated ZIP8 reduces Mn uptake followed by a decrease in Mn-activated enzymes, resulting in cerebellar atrophy syndrome; (D) ZIP14 is required for systemic growth and modulates G protein-coupled receptor signaling by inhibiting hormone-stimulated phosphodiesterase (PDE) in chondrocytes; (E) Mn (red) and iron (green) are transported by ZIP14. Loss of function of mutated ZIP14 decreases Mn and iron uptake followed by a decrease in either Mn- or iron -activated enzymes, which results in neurodegenerative disease or iron overload disorders.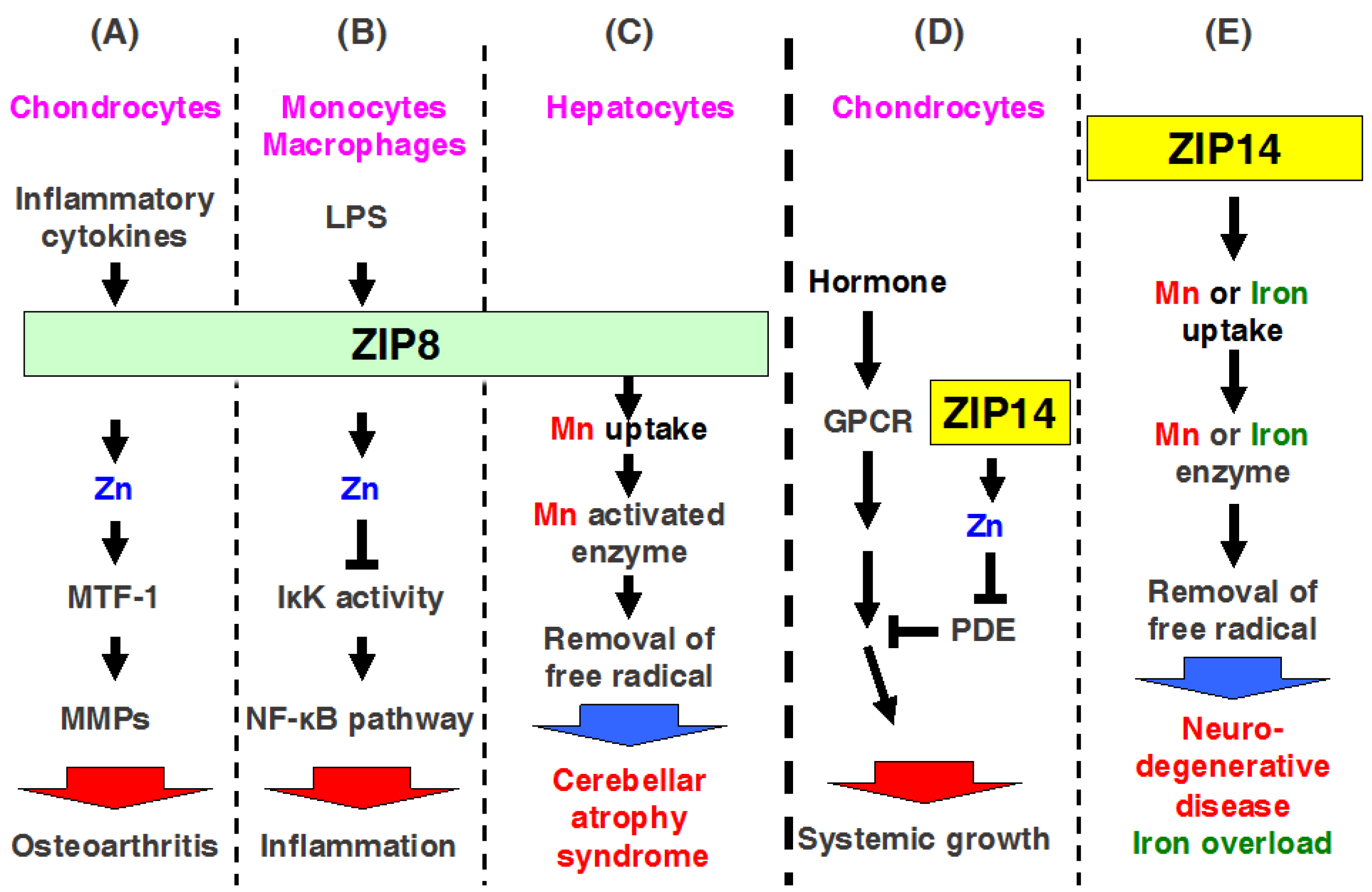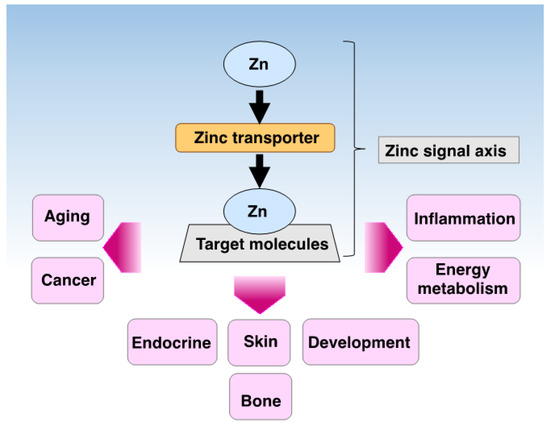 Figure 5.
Summary of Zn signal axis in physiology and pathogenesis. Each Zn transporter regulates specific target molecules and cellular responses known as the "Zn-signal axis" [
117
] which transduces their signals to various physiological processes such as the bone and skin development, endocrine system, and aging. Dysfunction of the Zn signal results in impaired numerous cellular events, leading to various pathophysiological conditions such as inflammation, energy metabolism disorders, and cancer.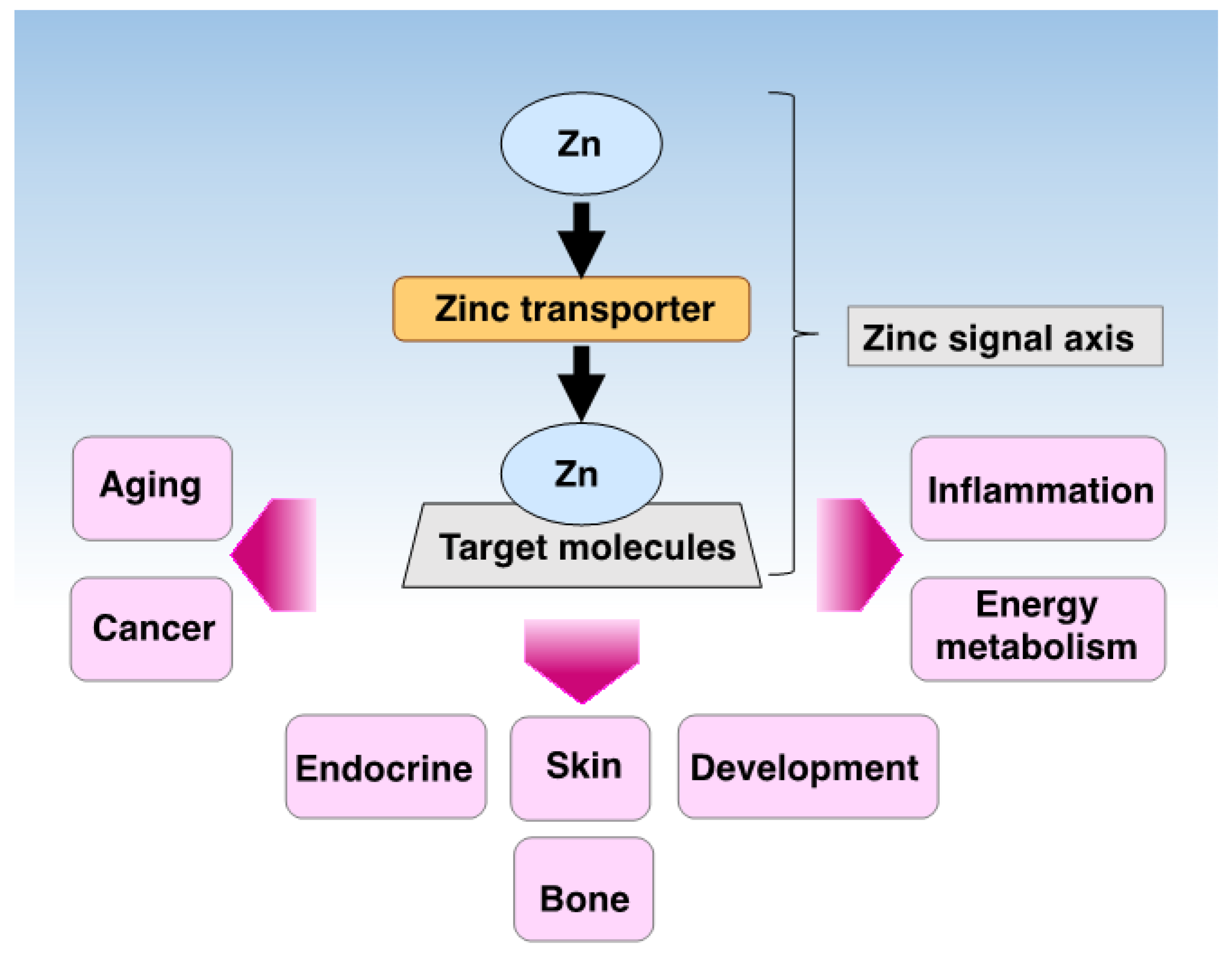 Table 1. Physiological properties of SLC39A/ Zrt- and Irt-like protein (ZIP) transporters.
Genes/Proteins
Expression
Subcellular Location
Physiological Functions
Genetic Mutation Study in Mice
References

Slc39a1

/ZIP1
Ubiquitous
Plasma membrane
Abnormal embryonic development
Knockout (KO)
[12]

Slc39a2

/ZIP2
Liver, ovary, skin, dendritic cell
Plasma membrane
Abnormal embryonic development
KO
[15]

Slc39a3

/ZIP3
Widely distributed
Plasma membrane
Abnormal embryonic and T-cell development
KO
[12]

Slc39a4

/ZIP4
Small intestine, epidermis
Plasma membrane
Embryonic lethality
KO
[16,17]

Slc39a5

/ZIP5
Small intestine, kidney, pancreas
Plasma membrane
Intestinal Zn excretion; pancreatic Zn accumulation
KO
[18]

Slc39a6

/ZIP6
Widely distributed
Plasma membrane
Abnormal gonad formation and E-cadherin expression
-
[19,20]
Glial cell migration in

Drosophila

Slc39a7

/ZIP7
Widely distributed, colon, skin
Endoplasmic reticulum (ER) and Golgi apparatus
Impaired melanin synthesis, fibroblast growth factor receptor (FGFR) and Notch signaling in

Drosophila

KO
[21,22,23]
Colon epithelial cell differentiation and proliferation in mouse
Skin dermis development

Slc39a8

/ZIP8
Widely distributed
Plasma membrane, lysosome
Cdm mouse: Resistance to cadmium-induced testicular damage, embryonic lethality
KO
[24,25]

Slc39a9

/ZIP9
Widely distributed
Golgi apparatus
Expressed in breast and prostate cancer cell lines
-
[26,27]
Apoptosis regulation

Slc39a10

/ZIP10
Widely distributed, renal cell, carcinoma B cell
Plasma membrane
B cell development and function.
KO
[28,29,30]
Epidermal development
Breast cancer progression

Slc39a12

/ZIP12
Brain, pulmonary vascular smooth muscle
Plasma membrane
Neuronal differentiation
KO (Rat)
[31]
Attenuation of pulmonary hypertension in a hypoxic atmosphere

Slc39a13

/ZIP13
Hard and connective tissues
Golgi apparatus, vesicles
Growth retardation, abnormal hard and connective tissue development, and adipocyte browning
KO
[32,33]
Growth retardation and impaired G protein-coupled receptor (GPCR) signaling

Slc39a14

/ZIP14
Widely distributed, liver, bone, and cartilage
Plasma membrane, endosome
Growth retardation, abnormal chondrocyte differentiation
KO
[34,35,36,37,38]
Adipokineuction
Impaired the phosphodiesterase (PDE) activity through GPCR-mediated cAMP-CREB signaling
Hypertrophic adiposity
Endotoxemia
Glucose metabolism
Impaired ER stress
Table 2. Hereditary human diseases of SLC39A/ZIP transporters.
Genes/Proteins
Mutation Type
OMIM Gene Locus/Phenotype
Chromosomal Location
Disease
References

Slc39a4

/ZIP4
Mutation
607059/201100
8q24.3
Acrodermatitis enteropathica (AE)
[17]

Slc39a5

/ZIP5
Mutation
608730/615946
12q13.3
Nonsymptomatic high myopia
[49]

Slc39a8

/ZIP8
Mutation, Single nucleotide polymorphism (SNP)
608732/616721
4q24
Cerebellar Atrophy Syndrome, Congenital disorder of glycosylation type II
[50,51]

Slc39a13

/ZIP13
Mutation
608735/612350
11p11.2
Spondylocheiro dysplastic Ehlers-Danlos syndrome (SCD-EDS)
[32,33]

Slc39a14

/ZIP14
Mutation
608736/617013
8q21.3
Childhood-onset parkinsonism-dystonia, Hypermanganesemia with dystonia 2
[52]

© 2017 by the authors. Licensee MDPI, Basel, Switzerland. This article is an open access article distributed under the terms and conditions of the Creative Commons Attribution (CC BY) license (http://creativecommons.org/licenses/by/4.0/).