Significant Down-Regulation of "Biological Adhesion" Genes in Porcine Oocytes after IVM
1
Department of Histology and Embryology, Poznan University of Medical Sciences, 60-781 Poznan, Poland
2
Department of Anatomy, Poznan University of Medical Sciences, 60-781 Poznan, Poland
3
Department of Biomaterials and Experimental Dentistry, Poznan University of Medical Sciences, 60-812 Poznan, Poland
4
Department of Obstetrics and Gynecology, University Hospital and Masaryk University, 602 00 Brno, Czech Republic
5
Veterinary Center, Nicolaus Copernicus University in Toruń, 87-100 Torun, Poland
6
Department of Histology and Embryology, Wroclaw Medical University, 50-368 Wroclaw, Poland
*
Author to whom correspondence should be addressed.
Received: 3 October 2017 / Revised: 10 November 2017 / Accepted: 7 December 2017 / Published: 11 December 2017
Abstract
Proper maturation of the mammalian oocyte is a compound processes determining successful monospermic fertilization, however the number of fully mature porcine oocytes is still unsatisfactory. Since oocytes' maturation and fertilization involve cellular adhesion and membranous contact, the aim was to investigate cell adhesion ontology group in porcine oocytes. The oocytes were collected from ovaries of 45 pubertal crossbred Landrace gilts and subjected to two BCB tests. After the first test, only granulosa cell-free BCB
+
oocytes were directly exposed to microarray assays and RT-qPCR ("before IVM" group), or first in vitro matured and then if classified as BCB
+
passed to molecular analyses ("after IVM" group). As a result, we have discovered substantial down-regulation of genes involved in adhesion processes, such as: organization of actin cytoskeleton, migration, proliferation, differentiation, apoptosis, survival or angiogenesis in porcine oocytes after IVM, compared to oocytes analyzed before IVM. In conclusion, we found that biological adhesion may be recognized as the process involved in porcine oocytes' successful IVM. Down-regulation of genes included in this ontology group in immature oocytes after IVM points to their unique function in oocyte's achievement of fully mature stages. Thus, results indicated new molecular markers involved in porcine oocyte IVM, displaying essential roles in biological adhesion processes.
View Full-Text
►

▼

Figures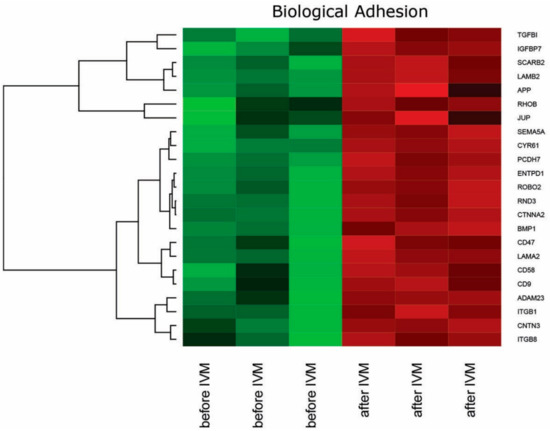 Figure 1
This is an open access article distributed under the
Creative Commons Attribution License
which permits unrestricted use, distribution, and reproduction in any medium, provided the original work is properly cited (CC BY 4.0).

Share & Cite This Article
MDPI and ACS Style
Budna, J.; Celichowski, P.; Bryja, A.; Dyszkiewicz-Konwińska, M.; Jeseta, M.; Bukowska, D.; Antosik, P.; Brüssow, K.P.; Bruska, M.; Nowicki, M.; Zabel, M.; Kempisty, B. Significant Down-Regulation of "Biological Adhesion" Genes in Porcine Oocytes after IVM. Int. J. Mol. Sci. 2017, 18, 2685.
Note that from the first issue of 2016, MDPI journals use article numbers instead of page numbers. See further details here.
Related Articles
Comments
[Return to top]