Open Access This article is
freely available
re-usable
Review
Arachidonic Acid Metabolite as a Novel Therapeutic Target in Breast Cancer Metastasis
Tumor Angiogenesis Laboratory, Georgia Cancer Center, Department of Biochemistry and Molecular Biology, Augusta University, Augusta, GA 30912, USA
*
Author to whom correspondence should be addressed.
Received: 1 November 2017 / Accepted: 6 December 2017 / Published: 8 December 2017
Abstract
:
Metastatic breast cancer (BC) (also referred to as stage IV) spreads beyond the breast to the bones, lungs, liver, or brain and is a major contributor to the deaths of cancer patients. Interestingly, metastasis is a result of stroma-coordinated hallmarks such as invasion and migration of the tumor cells from the primary niche, regrowth of the invading tumor cells in the distant organs, proliferation, vascularization, and immune suppression. Targeted therapies, when used as monotherapies or combination therapies, have shown limited success in decreasing the established metastatic growth and improving survival. Thus, novel therapeutic targets are warranted to improve the metastasis outcomes. We have been actively investigating the cytochrome P450 4 (CYP4) family of enzymes that can biosynthesize 20-hydroxyeicosatetraenoic acid (20-HETE), an important signaling eicosanoid involved in the regulation of vascular tone and angiogenesis. We have shown that 20-HETE can activate several intracellular protein kinases, pro-inflammatory mediators, and chemokines in cancer. This review article is focused on understanding the role of the arachidonic acid metabolic pathway in BC metastasis with an emphasis on 20-HETE as a novel therapeutic target to decrease BC metastasis. We have discussed all the significant investigational mechanisms and put forward studies showing how 20-HETE can promote angiogenesis and metastasis, and how its inhibition could affect the metastatic niches. Potential adjuvant therapies targeting the tumor microenvironment showing anti-tumor properties against BC and its lung metastasis are discussed at the end. This review will highlight the importance of exploring tumor-inherent and stromal-inherent metabolic pathways in the development of novel therapeutics for treating BC metastasis.
Keywords:
breast cancer metastasis; cytochrome P450; 20-HETE
2. Arachidonic Acid Metabolism
3. Cytochrome P450 Mechanisms in Obesity and Breast Cancer
Dysregulated energy metabolism is already known to be a hallmark of cancer [
101
]. One of the main examples of dysregulated energy metabolism is obesity, which has been associated with high levels of aromatase in breast tumors and undifferentiated adipose tissue [
102
]. Aromatase is a CYP19 enzyme responsible for the critical steps in the synthesis of estrogens [
103
] that are most related to breast cancer risks. Several drugs, in particular anti-diabetic drugs, have shown effects in decreasing tumor growth, breast cancer recurrence, and metastasis [
102
,
104
]. Metformin, for example, can inhibit aromatase expression via 5′ AMP-activated protein kinase (AMPK) in breast adipose stromal cells [
105
]. In breast cancer, adipose tissue provides structural and paracrine support for tumor development and growth. In addition to adipose tissue in the breast, other stromal cells can provide crucial metabolites through the CYP-mediated lipid peroxidation pathway to favor tumor growth and the production of pro-tumorigenic eicosanoids.
AA and its metabolites have been strongly implicated in the pathogenesis of obesity and related complications in peripheral tissues and organs owing to their ability to provide fatty acids for the production of pro-inflammatory cytokines [
106
]. The constituent expression of all the molecular players crucial for the 5-LOX pathway to generate leukotrienes and the receptors (two LTB
4
[BLT1 and BLT2] receptors and two cysteinyl LT [CysLT-R1 and CysLT-R2]) receptors in the adipocyte and the stromal vascular fraction highlight the importance of this pathway in obesity. LTB
4
signaling plays a crucial role in mediating the differentiation of preadipocytes to mature adipocytes, and 5-LOX-derived leukotrienes are elevated in the obese adipose tissue [
107
,
108
,
109
,
110
,
111
,
112
]. 5-LOX has also been indicated in the modulation of lipid metabolism to provide free fatty acids as substrates for the production of pro-inflammatory eicosanoids [
110
]. In our studies, we have demonstrated that HET0016 is a selective CYP4A and CYP4F ω-hydroxylase inhibitor that does not have any possible effects on the 5-LOX signaling pathway to control obesity. However, a recent study by Park et al. [
113
] showed the effects of the inhibition of CYP4A enzyme activity in type 2 diabetes mellitus (T2DM) in obese mice. The authors reported that obesity is one of the important causes of elevated endoplasmic reticulum stress in obese mice and identified 54 novel CYP4A enzyme isoforms that were upregulated in obesity-induced T2DM in the
db
/
db
mice model, of which CYP4A10 and CYP4A14 levels were significantly upregulated [
113
]. Since HET0016 has specificity for the inhibition of CYP4A enzymes, it can be strongly hypothesized that the effects of HET0016 can be observed in animals. Animals fed with a high-fat diet and treated with HET0016 for 12 weeks presented a significantly decreased body weight and total fat-pad mass, and improved glucose tolerance and insulin sensitivity compared with animals that were not fed the high-fat diet [
113
]. The fasting blood glucose concentration in obese animals was comparable to the levels observed in normal-diet-fed animals [
113
]. We did not find any evidence of studies in humans. The specificity of CYP4A for ω-oxidation facilitates the degradation of long-chain fatty acids, therefore providing a secondary metabolic pathway for the metabolism of fatty acids when levels of these substrates increase during the physiological processes of lipolysis and hepatic fatty acid uptake. It would be fascinating to investigate the other mechanisms involved in the inhibition of the CYP4A-mediated control of obesity in these animals. However, the current review is focused on presenting evidence as to how the inhibition of 20-HETE, an AA metabolite, might be a novel therapeutic target in BC metastasis.
4. Arachidonic Acid Pathway and 20-HETE in Primary Tumors and Metastasis
In tumors, the CYP4A/20-HETE axis promotes inflammation, endothelial cell migration, and neovascularization [
114
,
115
,
116
,
117
,
118
,
119
]. When
N
-hydroxy-
N
′-(4-butyl-2 methyl phenyl) formamidine (HET0016), a highly selective inhibitor of 20-HETE synthesis, was used alone in tumor-bearing animals, a decrease in tumor growth was observed via impaired tumor neovascularization [
44
,
45
,
46
,
120
]. HET0016 is also shown to decrease MAPK signaling, pSTAT1, EGFR, and HIF-1α in glioblastoma (GBM) tumor lysates [
121
]. When the expression of different pro- and anti-angiogenic factors and inflammatory cytokines in the tumor lysates were analyzed, there were significant changes following HET0016 treatments compared to that of vehicle-treated tumors [
46
,
121
]. When the extravascular extracellular space (EES), different vascular parameters, and neovascularization were examined, HET0016 treatment significantly decreased EES, tumor blood volume, permeability, and neovascularization [
46
,
121
]. We also reported that HET0016 decreased vascular mimicry, a phenomenon where tumor cells make blood vessel-like structures [
120
,
122
]. We found that the CYP4A/20-HETE axis plays a critical role in metastasis in a syngeneic model of BC-mediated pulmonary metastasis. Targeting 20-HETE production also decreased pulmonary metastasis in an aggressive BC model [
44
]. When applied at the pre-metastatic stage, HET0016 significantly decreased pulmonary metastatic growth through decreasing a survival pathway (p-AKT), inflammation pathway (canonical NFκB signaling), migration pathway (matrix metalloproteinase-2 and -9, MMP2 and 9), and mesenchymal cancer stem cell markers (CD44 and
N
-cadherin) in the metastatic lung niche [
44
]. In cancer studies, 20-HETE mediated effects have been studied in the context of tumor cells and endothelial progenitor cells (EPCs). Investigations regarding the contribution of tumor-associated stromal cells such as myeloid cells are rare. The following sections will discuss the role of stromal and myeloid cell-mediated 20-HETE production and its effects on tumor growth and metastasis.
5. Role of 20-HETE in Stromal Cells and Tumor Cells
6. HET0016 as a Novel Therapeutic Agent in Treatment of Metastasis
Currently, there is a dearth of studies investigating the CYP4A/20-HETE axis and its involvement in tumor growth and metastasis in patients. Increased levels of 12-HETE and 20-HETE were found in patients with prostate cancer and with myeloid leukemia [
52
,
144
]. In fact, various human cancer cells show the upregulation of 20-HETE-producing enzymes of CYP4A/F families including BC, colon and ovary cancer, and melanoma [
142
,
145
]. Our laboratory has extensively employed HET0016, a selective 20-HETE synthesis inhibitor, as a treatment to reduce the hyperproliferation of glioma [
121
,
146
,
147
] and BC cells [
44
,
45
].
Recently, we have shown that the growth of human glioblastoma was dwindled by an intravenous (IV) formulation of HET0016. We optimized the route of administration of the drug by making a novel IV formulation of HET0016 with 2-hydroxypropyl β cyclodextrin (HPβCD) to enhance bioavailability (resulting in a seven-fold higher level in plasma and 3.6-fold higher level in the tumor in the first hour compared to treatment via an intraperitoneal route) and to deliver an effective dose of the drug to the tumor site with reduced off-target effects and rapid clearance. We saw significantly reduced tumor growth with the IV HET0016 treatment in athymic nude rats that were orthotopically implanted with U251 cells. Similar growth inhibition was observed in the syngeneic GL261 GBM immunocompetent mouse model. Using magnetic resonance imaging (MRI), we evaluated the vascular kinetics in the TME, which showed that the delayed IV HET0016-treated animals have significantly lower v
p
(blood plasma pool), v
e
(extracellular space or interstitial volume), and K
trans
(forward permeability transfer constant), and increased and normalized blood flow compared to that of the corresponding vehicle-treated groups. We observed a reduced expression of markers of cell proliferation (Ki67) and neovascularization (laminin, MVD, and αSMA), downregulation of pro-angiogenic proteins such as VE-cadherin (vascular endothelial cadherin-vasculogenesis), bFGF (basic fibroblast growth factor), IL-8 (chemokine CXCL8), SDF-1α (stromal cell-derived factor-1), and MCP-1 (a CCL2 ligand), and increased expression of anti-angiogenic proteins such as Tie-2, angiostatin, and angiopoietin-2/Tie-1 in the IV HET0016 treatment group. We determined the expression of different proteins by western blot and confirmed that HET0016 treatment decreases the level of markers of cellular proliferation (pERK), survival, migration, invasion (pAKT), inflammation (COX-1/2, p-NFκB), and angiogenesis (HIF-1α, EGFR, VEGF, and MMP2). Furthermore, we observed significantly improved survival in patient-derived xenograft (PDX) tumor models of GBM811 and HF2303 with HET0016 treatment alone or in combination with temozolomide (TMZ) in irradiated animals. Overall survival was prolonged to 26 weeks after combined treatment with HET0016 plus TMZ and radiation, while control animals survived for only 10 weeks in the GBM811 model while survival was prolonged to 26 weeks vs. 17 weeks for the irradiated control in the PDX model of HF2303 [
121
].
In one of our studies to understand the role of HET0016 in controlling metastasis, we have shown that HET0016 decreases migration and invasion in the metastatic TNBC cell line from both human (MDA-MB-231) and mouse (4T1) models in vitro. We also showed that IV HET0016 treatment reduces primary tumor growth and lung metastasis in 4T1 bearing immunocompetent Balb/c mice. Other studies have similarly observed a diminished expression of pro-inflammatory cytokines such as EGF, Fas, SDF-1α, IL-1β, IL-4, IL-17A, MMP-2, and MMP-9, which led us to investigate the downstream signaling mechanisms that could be affected by HET0016 [
137
,
142
,
148
,
149
,
150
]. The PI3K/Akt and MAPK signaling pathways are thought to be climacteric to regulate proliferation, invasion, angiogenesis, and metastasis ability [
151
,
152
,
153
]. Previously, it was found that 20-HETE is involved in activation of ERK1/2 and PI3K/Akt in endothelial cells [
116
] and also alters cell growth in U251 human gliomas by a mechanism that initially involves activation of the ERK1/2 pathway [
117
]. A schematic of the signaling pathway presented by Shankar et al. [
46
] from our research group summarizes the possible therapeutic actions of HET0016 in
Figure 3
. Yu et al. also showed that CYP ω-hydroxylase overexpression enhanced the lung metastasis of A549 cells in the nude mouse by upregulating VEGF and MMP-9 expression via the PI3K and ERK1/2 signaling pathway [
137
]. Our results showed reduced protein levels of pAKT, total AKT, pERK1/2, and pNFκB in lungs of animals treated with HET0016 compared to 4T1-bearing control mice. In recent years, many studies have shown the pivotal role of MDSCs in downregulating anti-tumor immunity and promoting tumor growth and metastasis [
154
,
155
,
156
]. We reported a novel role of HET0016 in impeding metastasis by decreasing the g-MDSCs polarization in the metastatic site [
44
].
7. Conclusions
Considering the evidence provided by studies from our and other research groups, the CYP4A/20-HETE axis has a multi-faceted role in promoting tumor growth and metastasis. This axis has also been highly activated in myeloid cells mediating immunosuppression in the TME. The tumor stroma consisting of tumor-associated endothelial cells proliferate and lay down neovascular structures induced by 20-HETE production. However, the CYP4A/20-HETE axis has been a neglected pathway in the development of novel therapeutics. We have successfully employed HET0016 in controlling glioma and breast tumor growth and metastasis. Therefore, novel therapeutics targeting the CYP4A/20-HETE axis should gain considerable importance in translational medicine, either as monotherapy or in combination with established chemotherapeutic and radiotherapeutic approaches.
Acknowledgments
This work was supported by grants from the National Institutes of Health (NIH) R01CA160216 and R01CA172048 and from startups from the Georgia Cancer Center. The authors thank Georgia Cancer Center core facilities at Augusta University and at Henry Ford Hospital System for their assistance during the years wherein the data for this review were produced.
Author Contributions
All the authors wrote and revised the entire manuscript.
Conflicts of Interest
The authors declare no conflict of interest.
Abbreviations
20-HETE
20-Hydroxy-eicosatetraenoic acid
4T1
Triple negative metastatic murine breast cancer cell line
ALX/FPR2
Lipoxin A4 receptor/formyl peptide receptor
AA
Arachidonic acid
AAT
Antiangiogenic therapy
AKT
Protein kinase B
AMPK
5′ AMP-activated protein kinase
BC
Breast cancer
BM
Brain metastasis
BSO
Buthionine sulfoximine
BT-474
Breast cancer luminal B subtype cell line
COX
Cyclooxygenase enzyme
CXCR4
C-X-C chemokine receptor type 4 also known as fusion or CD184;
CYP
Cytochrome P450
CYP4A
Cytochrome P450, family 4, subfamily A
CYP4F
Cytochrome P450, family 4, subfamily F
DHETs
Dihydroxy-eicosatrienoic acids
EES
Extravascular extracellular space
EETs
Epoxy-eicosatrienoic acids
EGF
Epidermal growth factor
EGFR
Epidermal growth factor receptor
sEH
Epoxide hydrolase
EPCs
Endothelial progenitor cells
ER
Estrogen receptor
ERK
Extracellular signal-regulated kinases
Fas
Fas ligand or CD95 ligand
FGF-2
Basic fibroblast growth factor 2
FLA-16
Novel flavonoid
GBM
Glioblastoma
GBM811
Glioblastoma-derived from patient
GL261
Murine glioblastoma cell line
GM-CSF
Granulocyte-macrophage colony-stimulating factor
GSH
Glutathione
GPx
Glutathione peroxidase
HER2
Human epidermal growth factor receptor2
HET0016

N

-hydroxy-

N

′-(4-butyl-2 methyl phenyl) formamidine
HF2303
Glioblastoma-derived from patient
HIF-1α
Hypoxia-inducible factor 1 α
HO
Hepoxillin
HPβCD
2-Hydroxypropyl β-cyclodextrin
HPETE
Hydroperoxy-eicosatetraenoic acid
HUVEC
Human umbilical vein endothelial cells
IL
Interleukin
IV
Intravenous
Ki67
Proliferation marker
Ktrans
Forward permeability transfer constant
LOX
Lipoxygenase
LT
Leukotriene
LX
Lipoxin
MAPK
Mitogen-Activated Protein Kinase
MCP-1
Monocyte Chemoattractant Protein-1
MDA-MB-231
Triple negative metastatic human breast cancer cell line
MDSCs
Myeloid-derived suppressor cells
MMPs
Matrix metalloproteinases
MRI
Magnetic resonance imaging
MVD
Microvessel density
NADPH
Nicotinamide adenine dinucleotide phosphate
NFκB
Nuclear factor kappa-light-chain-enhancer of activated B cells
eNOS
Endothelial nitric oxide synthase
PDX
Patient-derived xenograft
PET
Polyethylene terephthalate
PG
Prostaglandin
PI3K
Phosphatidylinositol-3-kinases
PLA2
Phospholipase A2
PPARs
Peroxisome proliferator-activated receptors
PR
Progesterone receptor
ROS
Reactive oxygen species
SCF
Stem cell factor
SDF-1α
Stromal cell-derived factor 1 α
STAT1
Signal transducer and activator of transcription 1
T2DM
Type 2 diabetes mellitus
T47D
Breast cancer luminal A subtype cell line
TAMs
Tumor-associated macrophages
TGF-β
Transforming growth factor β 1
Tie-2
Transmembrane tyrosine-protein kinase receptor
TME
Tumor microenvironment
TMZ
Temozolomide
TNBC
Triple-negative breast cancer
TNFα
Tumor necrosis factor α
U251
Human glioblastoma cell line
ve
extracellular space or interstitial volume
VE-cadherin
Vascular endothelial cadherin
VEGF
Vascular endothelial growth factor
VLA-4
Very late antigen-4
vp
Blood plasma pool
α-SMA
α-smooth muscle actin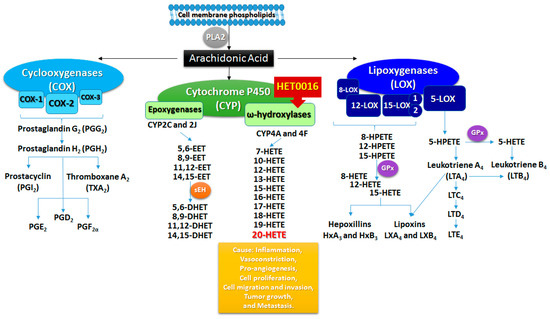 Figure 1. Schematic representation of phospholipid-arachidonic acid metabolites produced via the major enzymes cyclooxygenase (COX), lipoxygenase (LOX), and cytochrome P450 (CYP4A). CYP4A produced 20-hydroxy-eicosatetraenoic acids (20-HETE) metabolite, which is known to promote tumor growth. Legend: phospholipase A2 (PLA2); epoxy-eicosatrienoic acids—(EETs); epoxide hydrolase (sEH); dihydroxy-eicosatrienoic acids (DHETs); hydroperoxy-eicosatetraenoic acid (HPETE); glutathione peroxidase (GPx).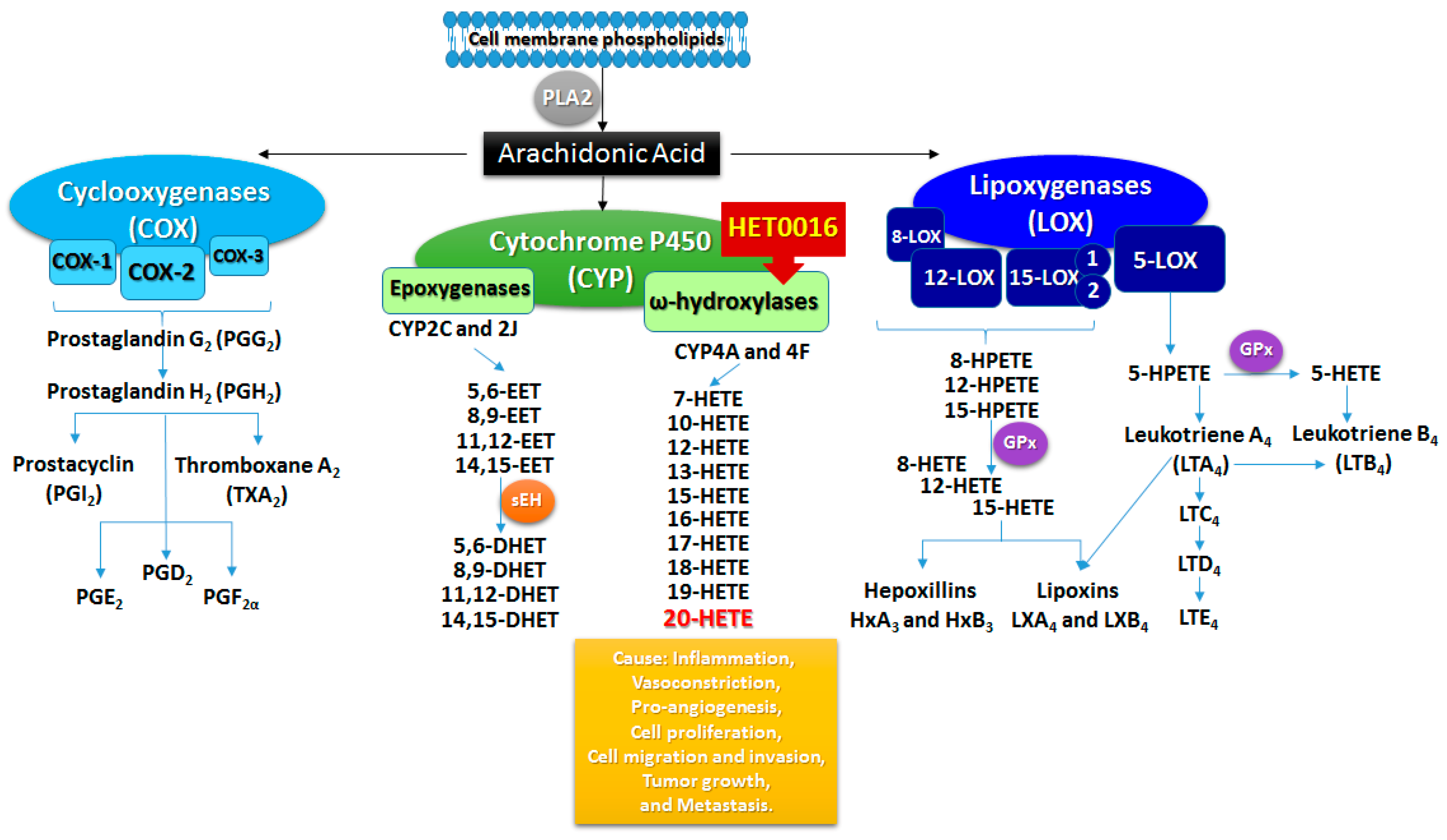 Figure 2. Schematic representation of the involvement of the CYP4A/20-HETE pathway in the primary tumor microenvironment and its potential metastatic site. (1) The CYP4A/20-HETE pathway is overexpressed in myeloid-derived suppressor cells (MDSCs) recruited to the primary tumor and in the tumor-associated stroma cells, promoting polarization to a g-MDSC phenotype; (2) The CYP4A/20-HETE pathway increases pathological neovascularization in the tumor microenvironment (TME); (3) The CYP4A/20-HETE pathway induces the expression of HIF1a, VEGF, MMP2, MMP9, and other factors to increase migration, invasion, and metastasis. HET0016, a selective inhibitor of 20-HETE in the CYP4A pathway, decreases the metastatic potential of tumor cells, normalizes the blood flow, and controls abnormal neovascularization. The red boundary defines the tumor-associated vascular structure.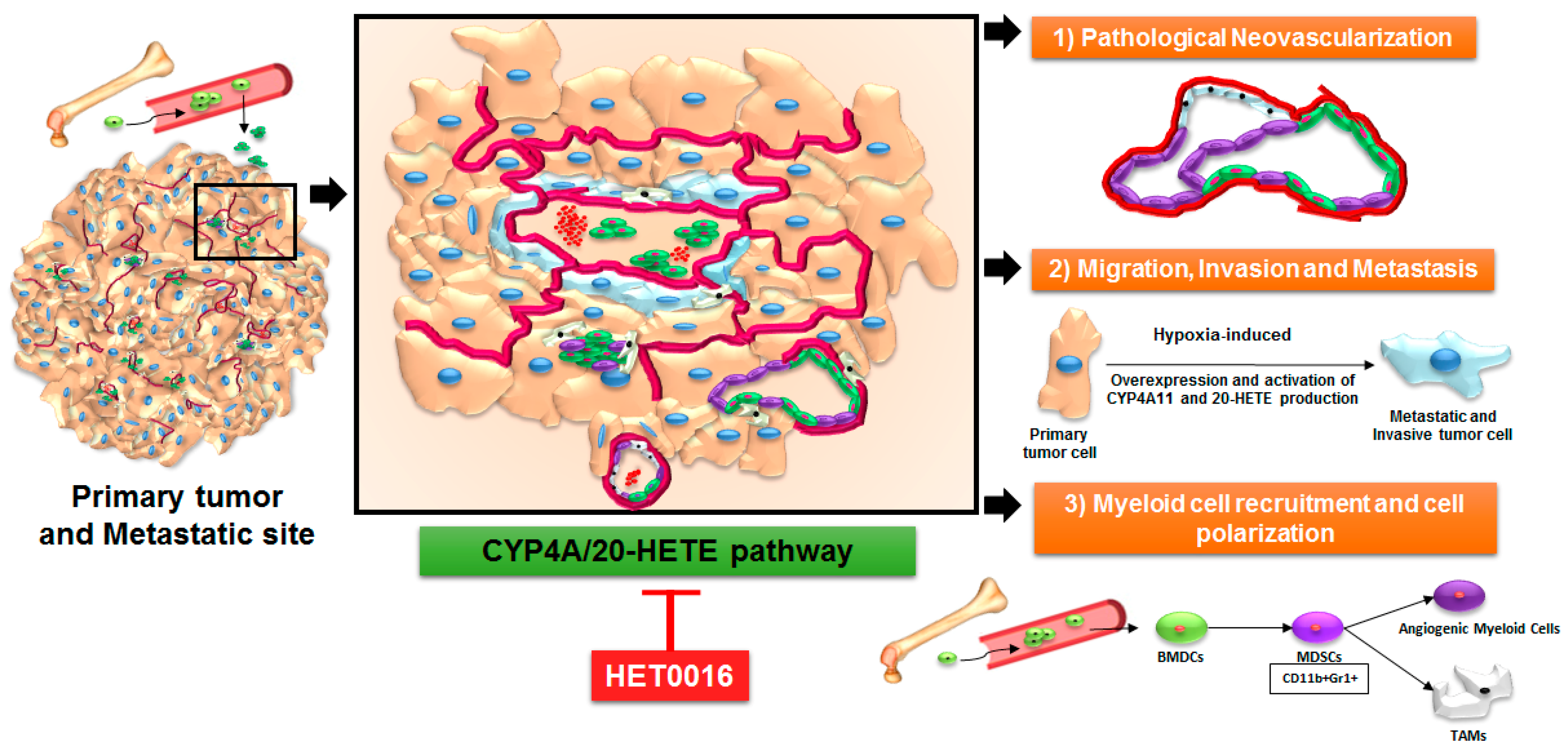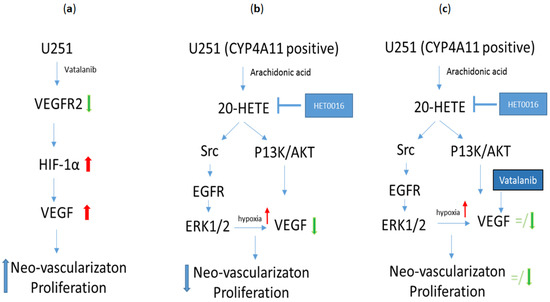 Figure 3.
A possible mode of action of HET0016 in relation to growth factor pathways. (
a
) Treatment with vatalanib causes a decrease in expression of vascular endothelial growth factor receptor 2 (VEGFR2), but increases the expression of hypoxia-inducible factor 1 α (HIF-1α) and VEGF, which will cause increased neovascularization and tumor growth; (
b
) When HET0016 alone is used, VEGF expression is decreased through different signaling pathways, which will cause decreased neovascularization and tumor growth; (
c
) When HET0016 and vatalanib are used together some of the effects of vatalanib (increased VEGF, increased neovascularization and tumor growth) can be attenuated. Data obtained from Shankar et al. [
46
].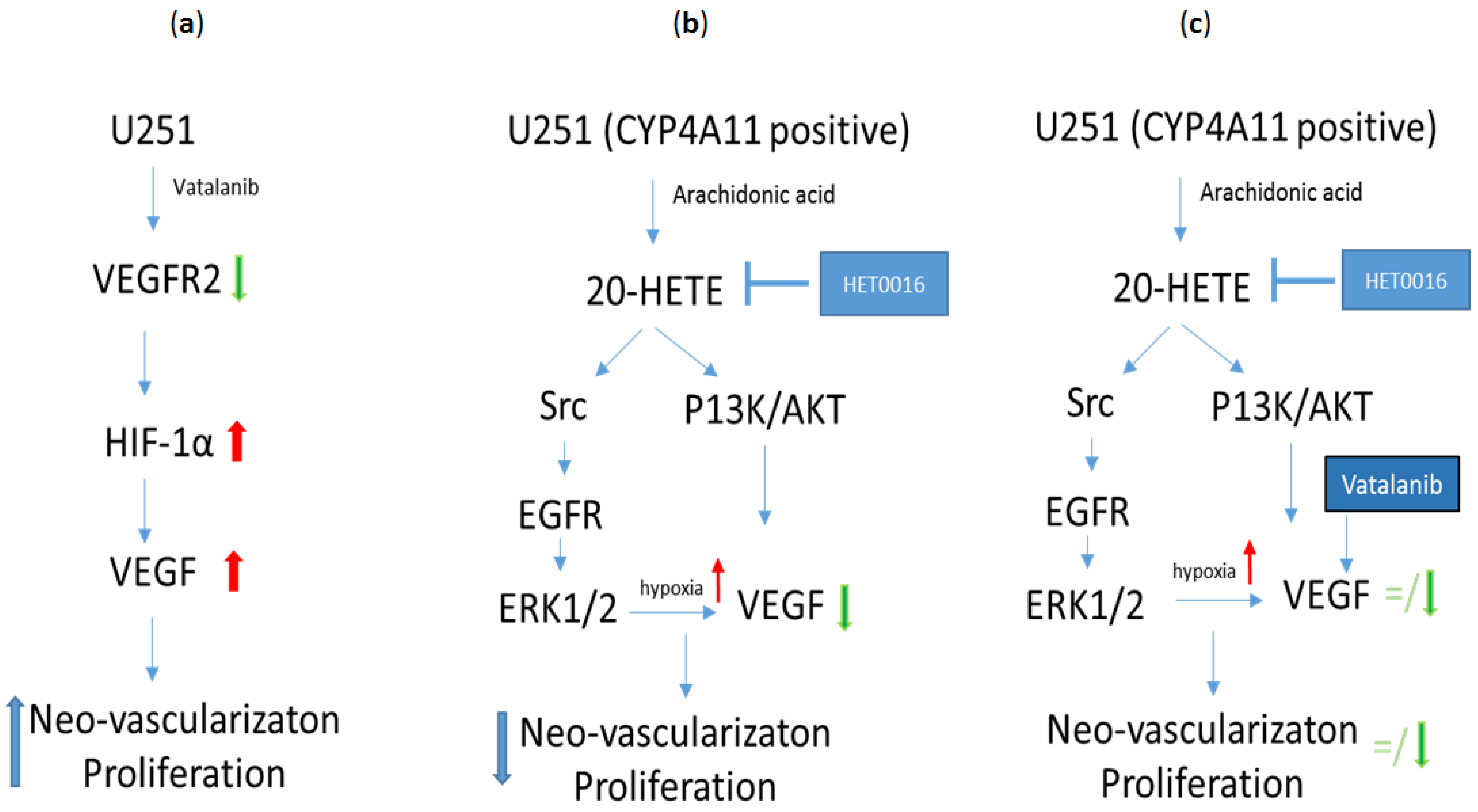 Table 1.
Breast cancer subtypes classified according to immunohistochemical characterization. The details of prevalence, prognosis, and treatment of each subtype are presented. Data were obtained from the
Susan G. Komen Foundation
website
1
and the literature.
Subtypes
Molecular Characterization
Prevalence
Prognosis
Treatment
Luminal A
Estrogen receptor (ER)-positive, Progesterone receptor (PR)-positive or negative, Human epidermal growth factor receptor 2 (HER2)-negative
30–70% [2,3,4,5,6,7]
Best prognosis, high survival rates, and low recurrence rates [3,4,5,8]
Treatment for these tumors often includes chemotherapy and anti-hormone therapy
Luminal B
ER-positive, PR-positive or negative, HER2-positive
10–20% [2,3,4,5,6,7]
Luminal B tumors are often diagnosed at a younger age than luminal A tumors [7,8,9]
Luminal B tumors tend to have factors that lead to a poorer prognosis, compared to luminal A tumors, including poorer tumor grade, larger tumor size and lymph node-positivity [3,4,5,8,9,10,11]
Patients with luminal B tumors tend to have fairly high survival rates, although not as high as those with luminal A tumors [4,8]
The treatment for luminal B tumors includes anti-hormone therapy, anti-HER2 therapies and radiation, depending on tumor grade and lymph nodes status
HER2-enriched
ER-negative, PR-negative, HER2-positive
5–15% [3,5,7]
HER2-type tumors may be diagnosed at a younger age than luminal A and luminal B tumors [8]
HER2-type tumors tend to have lymph node-positivity and poorer tumor grade [3,4,5,8,10]
HER2-type breast cancers can be treated with anti-HER2 drugs such as trastuzumab (Herceptin), lapatinib, capecitabine. Before these drugs were available, HER2-type tumors had a fairly poor prognosis [3,12]
Basal-like or Triple-negative breast cancer
ER-negative, PR-negative, HER2-negative
15–20% [2,3,4,5,6,7]
These tumors tend to occur more often in younger women [5,9]
Triple-negative/basal-like tumors are often aggressive and have a poorer prognosis compared to ER-positive subtypes (luminal A and luminal B tumors) [3,5]
Triple-negative tumors can be treated successfully with chemotherapy and radiation, depending on tumor grade, lymph nodes status and disease stage

Table 2.
CYP ω-hydroxylases that produce 20-HETE in mice, rats, rabbits, and humans. Data have been obtained from Roman [
48
].
| Species | 20-HETE Production |
| --- | --- |
| Mouse | CYP4A10; CYP4A12a; CYP4A12b; CYP4A14 |
| Rat | CYP4A1; CYP4A2; CYP4A3 |
| Rabbit | CYP4A4; CYP4A6; CYP4A7 |
| Human | CYP4A11; CYP4A22; CYP4F2; CYP4F3 |

© 2017 by the authors. Licensee MDPI, Basel, Switzerland. This article is an open access article distributed under the terms and conditions of the Creative Commons Attribution (CC BY) license (http://creativecommons.org/licenses/by/4.0/).