Open Access This article is
freely available
re-usable
Article
In Vivo Imaging of Prostate Cancer Tumors and Metastasis Using Non-Specific Fluorescent Nanoparticles in Mice
1
Imagerie Moléculaire et Thérapies Innovantes en Oncologie, IMOTION, EA 7435, Bordeaux University, F33076 Bordeaux, France
2
CEA Grenoble, LETI-DTBS, MINATEC Campus, F38054 Grenoble, France
*
Authors to whom correspondence should be addressed.
Received: 18 October 2017 / Accepted: 29 November 2017 / Published: 1 December 2017
Abstract
:
With the growing interest in the use of nanoparticles (NPs) in nanomedicine, there is a crucial need for imaging and targeted therapies to determine NP distribution in the body after systemic administration, and to achieve strong accumulation in tumors with low background in other tissues. Accumulation of NPs in tumors results from different mechanisms, and appears extremely heterogeneous in mice models and rather limited in humans. Developing new tumor models in mice, with their low spontaneous NP accumulation, is thus necessary for screening imaging probes and for testing new targeting strategies. In the present work, accumulation of LipImageTM 815, a non-specific nanosized fluorescent imaging agent, was compared in subcutaneous, orthotopic and metastatic tumors of RM1 cells (murine prostate cancer cell line) by in vivo and ex vivo fluorescence imaging techniques. LipImageTM 815 mainly accumulated in liver at 24 h but also in orthotopic tumors. Limited accumulation occurred in subcutaneous tumors, and very low fluorescence was detected in metastasis. Altogether, these different tumor models in mice offered a wide range of NP accumulation levels, and a panel of in vivo models that may be useful to further challenge NP targeting properties.
Keywords:
prostate cancer; fluorescence imaging; bioluminescence imaging; fluorescence tomography; enhanced permeability and retention (EPR) effect; LipImage
TM
Acknowledgments
We thank Pierre Costet and Laetitia Medan (Univ. Bordeaux) for animal breeding and care. This work was supported in part by public grants from the French Agence Nationale de la Recherche: BITUM (ANR-10-IANN-007), Labex TRAIL (ANR-10-LABX-57), France Life Imaging (ANR-11-INBS-006) and Ligue Nationale contre le Cancer (Comité Aquitaine).
Author Contributions
Coralie Genevois performed mouse handling and imaging experiments. Emilie Rustique performed LipImageTM 815 synthesis and characterization, Claire Mazocco generated cell lines and Arnaud Hocquelet performed image-guided cardiac injection. Coralie Genevois, Franck Couillaud and Nicolas Grenier wrote the manuscript with input from all authors. All authors conceived and designed the experiments, and read and approved the final manuscript.
Conflicts of Interest
The authors declare no conflict of interest.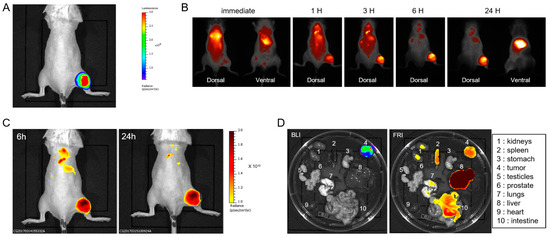 Figure 1. In vivo detection of LipImageTM 815 accumulation in subcutaneous tumors. (A) Bioluminescence image (BLI) of a representative mouse; (B) Fluorescence reflectance imaging (FRI) of a representative mouse at different time after LipImageTM 815 injection; (C) FRI of a representative mouse 6 h and 24 h after LipImageTM 815 injection, respectively; (D) Ex vivo BLI and FRI of mouse organs 24 h after LipImageTM 815 injection.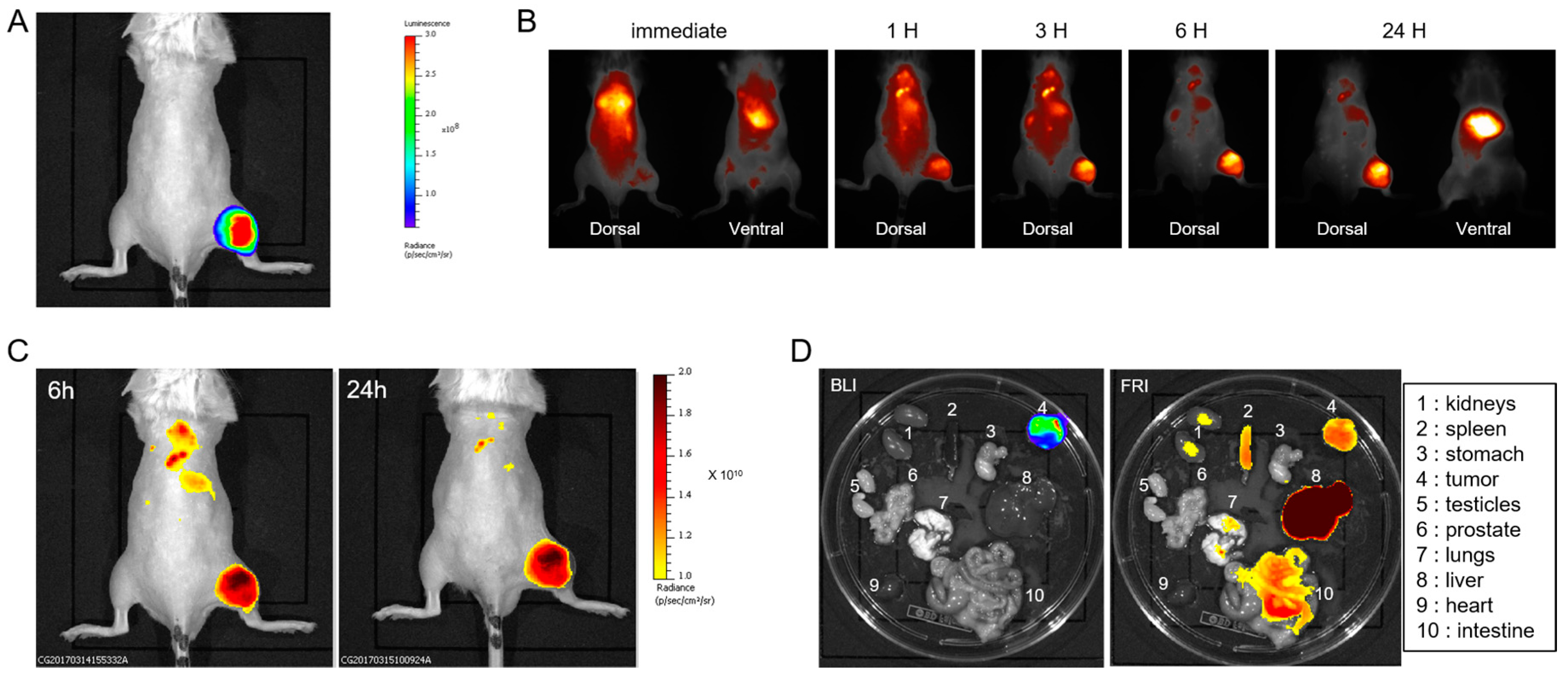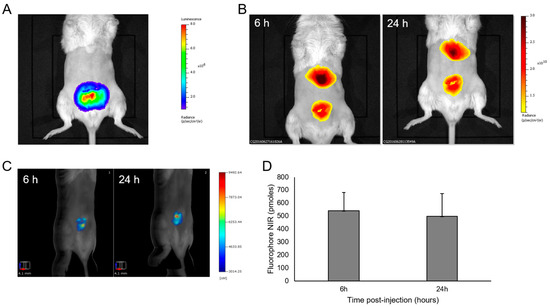 Figure 2. In vivo detection of LipImageTM 815 accumulation in orthotopic prostate tumors. (A) Bioluminescence image of a representative mouse; (B) FRI and (C) FMT of a representative mouse 6 h and 24 h after LipImageTM 815 injection; (D) FMT-based quantification of LipImageTM 815 accumulation in the prostate tumor. Mean ± standard deviation.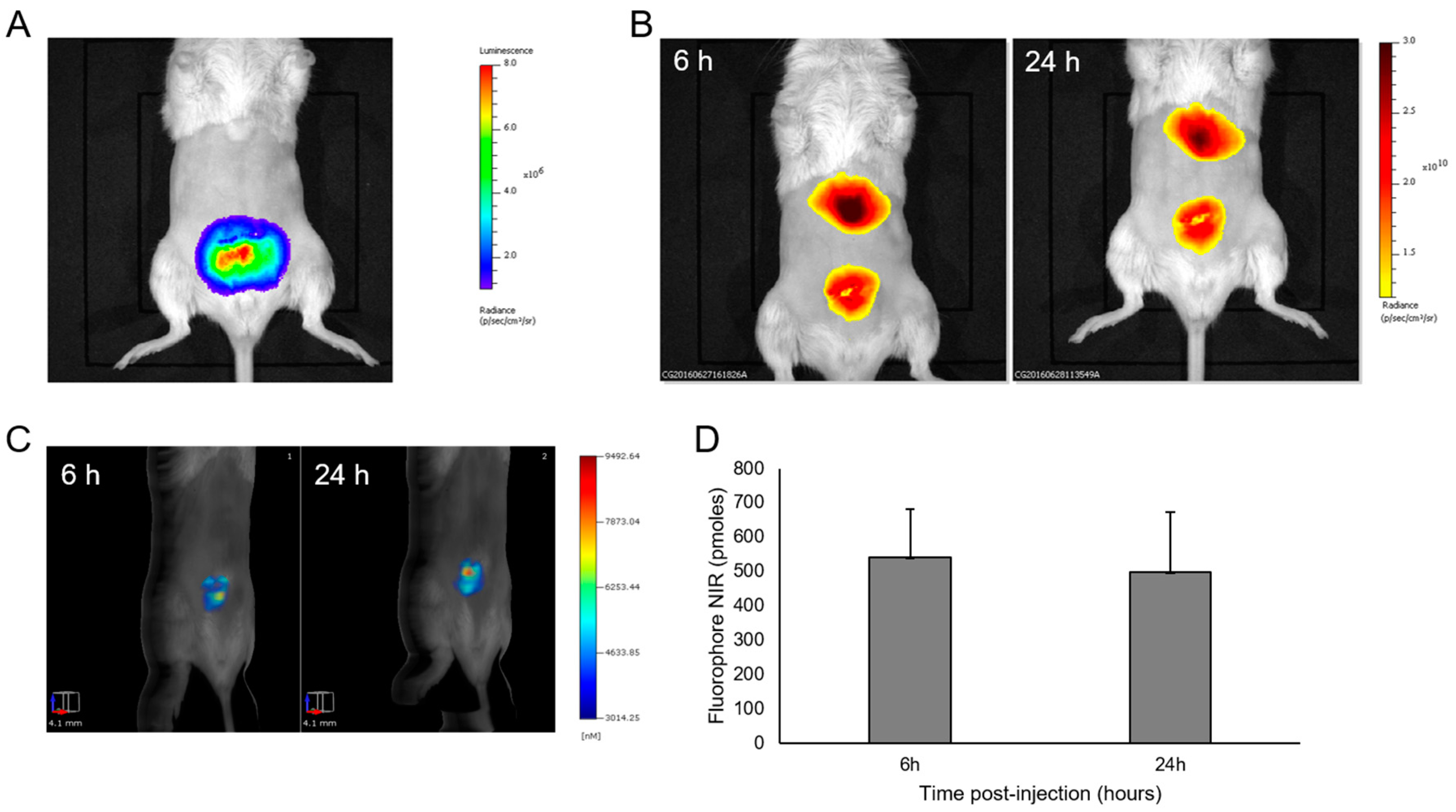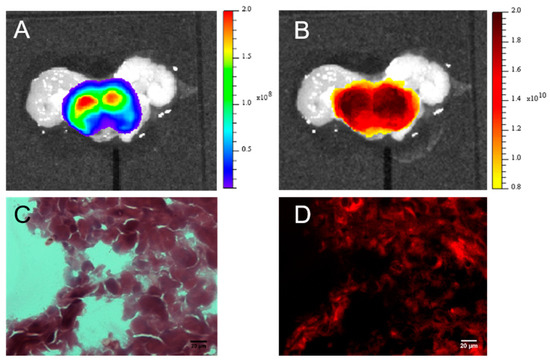 Figure 3. Ex vivo imaging and histology of LipImageTM 815 accumulation in prostate tumors. Prostates were excised and imaged (A) by BLI and (B) by FRI; (C) HES coloration revealed tumor cells and (D) epifluorescence revealed fluorescent signals from LipImageTM 815 in prostate cancer cryosection.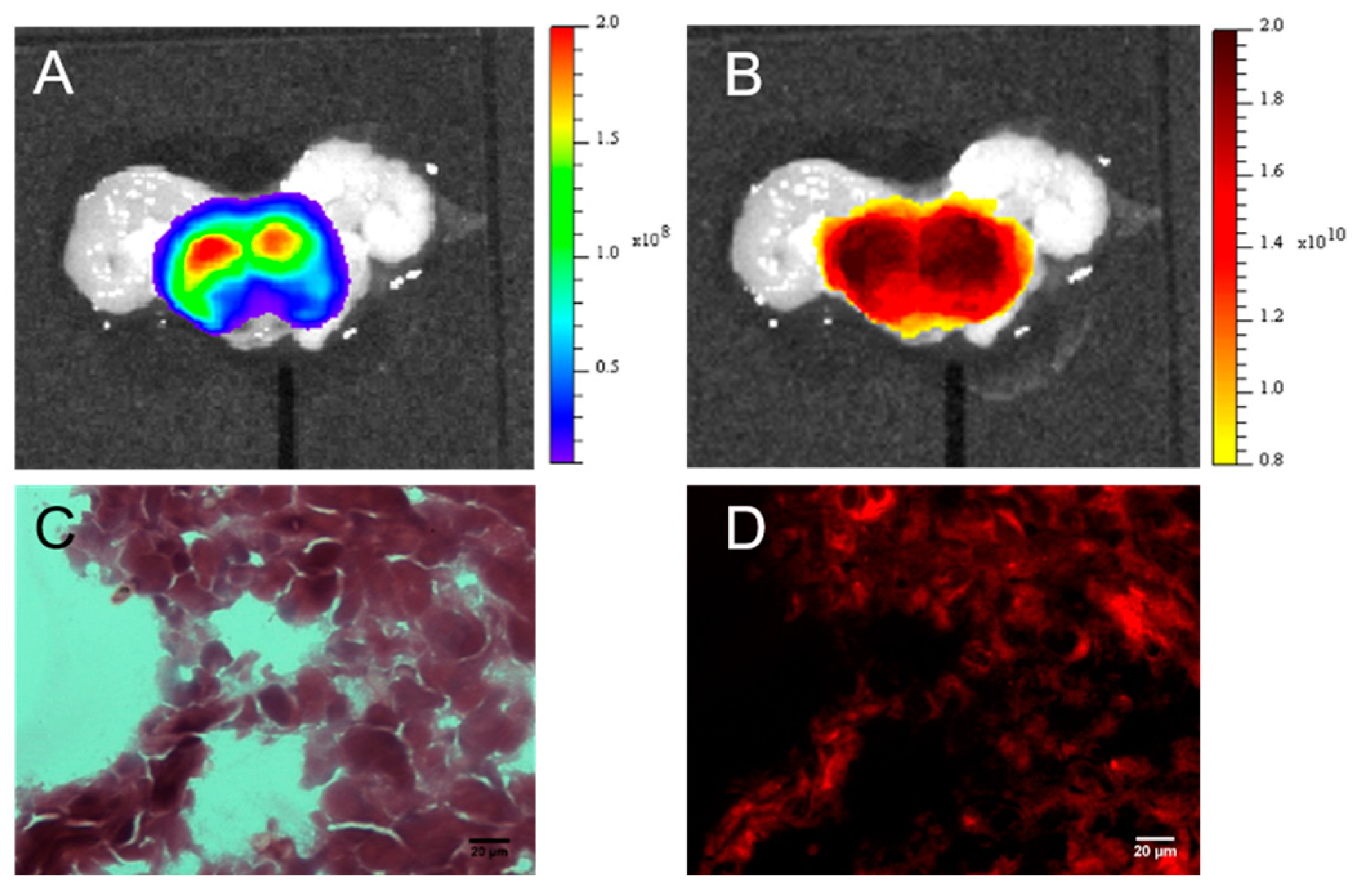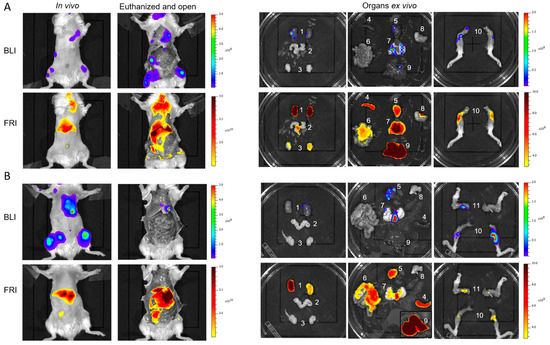 Figure 4. In vivo detection of metastasis. BLI and FRI after LipImageTM 815 injection of 2 representative mice bearing metastatic tumors. Images were taken (A) 6 h or (B) 24 h after LipImageTM 815 injection first in vivo (column 1), then in euthanized and open mice (column 2). Individual organs were removed and observed by BLI and FRI (columns 3–5). 1: kidneys, 2: prostate, 3: testicles, 4: splenic tumor, 5: heart, 6: intestines, 7: lungs, 8: stomach, 9: liver, 10: posterior legs, 11: anterior legs.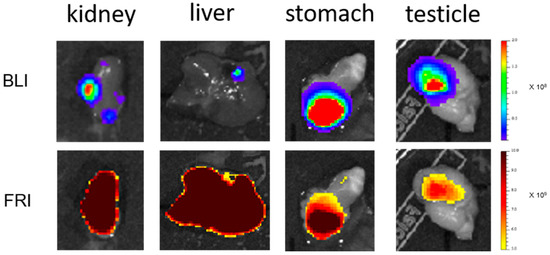 Figure 5. Ex vivo imaging of LipImageTM 815 accumulation in organs containing metastasis. BLI revealed the tumor location and FRI revealed LipImageTM 815 accumulation 6 h or 24 h after intravenous injection. In the kidneys and liver, LipImageTM 815 resulted in a disperse fluorescence signal without detectable accumulation in the metastasis; while in the stomach and testicles, fluorescence coincided with metastasis location. The FRI display scale is identical for all images.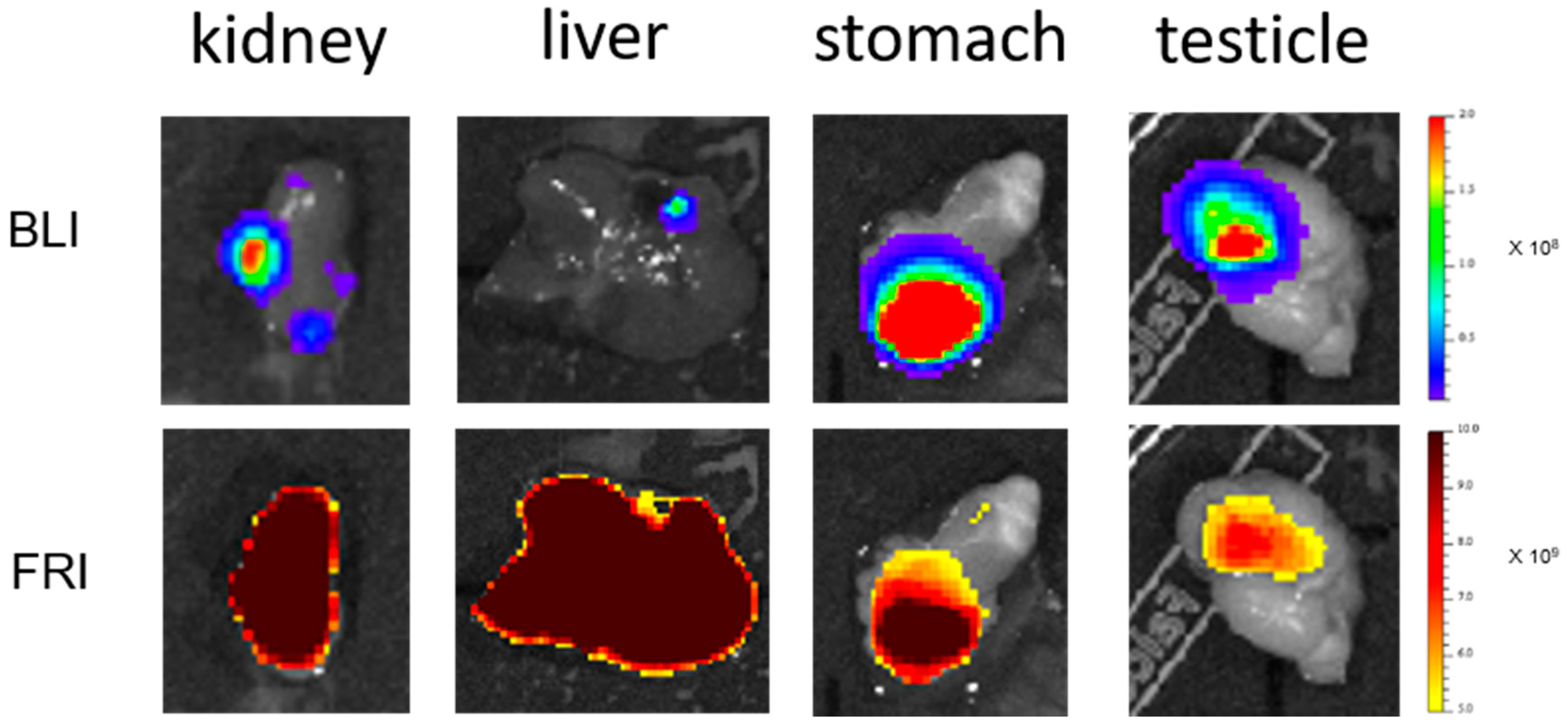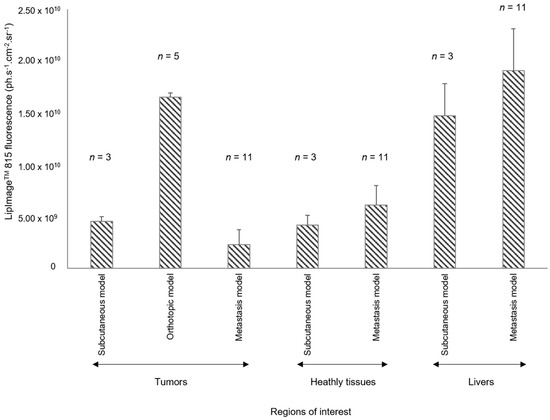 Figure 6.
Quantification of fluorescent signal in organs ex vivo, 24 h after intravenous LipImage
TM
815 injection. Mean ± standard deviation, (
n
) = number of mice.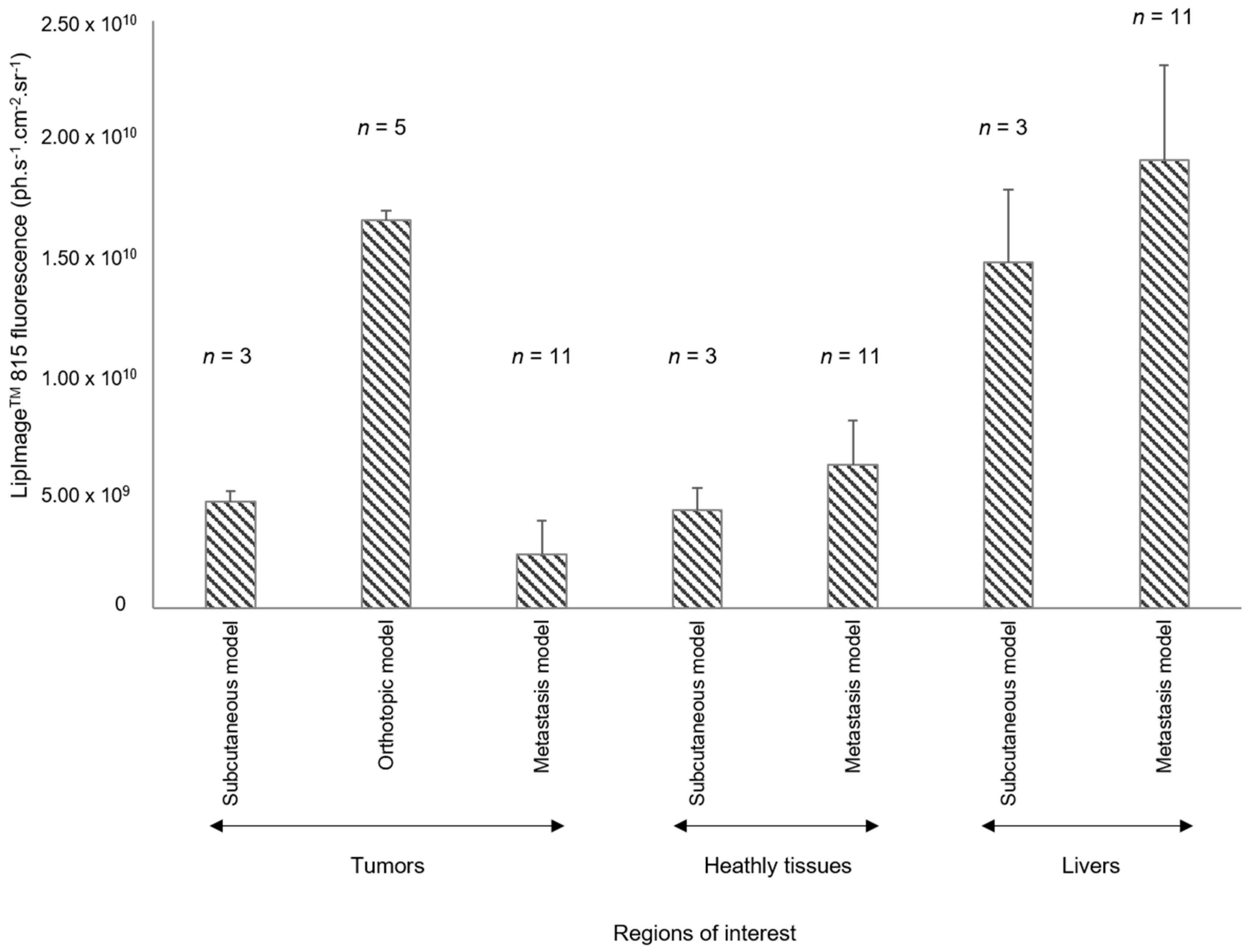 © 2017 by the authors. Licensee MDPI, Basel, Switzerland. This article is an open access article distributed under the terms and conditions of the Creative Commons Attribution (CC BY) license (http://creativecommons.org/licenses/by/4.0/).