Open Access This article is
freely available
re-usable
Review
Drug Resistance Driven by Cancer Stem Cells and Their Niche
Division of Molecular and Cellular Medicine, National Cancer Center Research Institute, Tokyo 104-0045, Japan
*
Author to whom correspondence should be addressed.
Received: 30 October 2017 / Accepted: 24 November 2017 / Published: 1 December 2017
Abstract
:
Drug resistance represents one of the greatest challenges in cancer treatment. Cancer stem cells (CSCs), a subset of cells within the tumor with the potential for self-renewal, differentiation and tumorigenicity, are thought to be the major cause of cancer therapy failure due to their considerable chemo- and radioresistance, resulting in tumor recurrence and eventually metastasis. CSCs are situated in a specialized microenvironment termed the niche, mainly composed of fibroblasts and endothelial, mesenchymal and immune cells, which also play pivotal roles in drug resistance. These neighboring cells promote the molecular signaling pathways required for CSC maintenance and survival and also trigger endogenous drug resistance in CSCs. In addition, tumor niche components such as the extracellular matrix also physically shelter CSCs from therapeutic agents. Interestingly, CSCs contribute directly to the niche in a bilateral feedback loop manner. Here, we review the recent advances in the study of CSCs, the niche and especially their collective contribution to resistance, since increasingly studies suggest that this interaction should be considered as a target for therapeutic strategies.
Keywords:
cancer stem cells; drug resistance; cancer niche
1. Cancer Stem Cells
1.1. Introduction
Cancer is one of the most devastating diseases worldwide. In 2016, more than 1.5 million people were afflicted in the U.S. Despite recent major advances in understanding the molecular and genetic basis of cancer, more than one third of afflicted people die each year [
1
]. The leading cause of treatment failure is cancer cells resistance to drug treatment, which leads to tumor recurrence and metastasis. Metastasis remains the cause of more than 90% of cancer-related deaths [
2
].
Recent studies suggest that cancer stem cells (CSCs) are the main source of this resistance. Tumor-initiating cells or cancer stem cells, as they will be referred into this article, are a small subpopulation of cells within a tumor that retain the capacity for self-renewal and are able to differentiate into the heterogeneous lineages that comprise the tumor. They also possess high tumorigenicity capacity and are thought to be highly resistant to radiation and chemotherapy, making them capable of repopulating a tumor after treatment [
3
]. CSCs are localized in a specific microenvironment referred to as the niche, which is formed by a variety of cells that promote CSC survival and enhance their characteristics.
An in-depth understanding of the biological characteristics of CSCs and in particular their role in drug resistance, is crucial for establishing novel tumor diagnostic and therapeutic strategies. In this article, we review the recent known mechanisms used by CSCs to overcome drug treatment, as well as the role of the niche in CSCs and drug resistance and examine their implications for novel therapeutic strategies.
1.2. CSC History and Origin
The concept of CSCs was first described in 1971 by Perce and Wallance, who showed that aggressive undifferentiated cells gave rise to benign, well-differentiated cells in squamous cell carcinoma in vivo [
4
]. In 1997, John Dick identified a subpopulation of cells in patients with acute myeloid leukemia that was different from the bulk, these leukemic cells exhibited stem-like properties. These cells were described as cancer stem cells [
5
]. In the following years, CSCs were observed in many kinds of solid cancers, beginning with breast CSCs. Al-Hajj et al. used flow cytometry to identify a small subpopulation of breast cells that displayed the markers CD44
+
/CD24
−
/Lin
−
. As few as 100 cells were able to form tumors in immunocompromised mice [
3
]. Shortly after, CSCs were also identified in human brain tumors. Singh et al. found a subpopulation of brain tumor cells that exhibited high proliferation, self-renewal and differentiation ability; all of these cells carried the neural stem cell (SC) surface marker CD133 and were described as brain CSCs [
6
]. CSCs have since been identified in many other solid tumors including prostate, colon and pancreas [
7
,
8
,
9
,
10
]. CSCs share several features with normal SCs [
11
]; however, this does not mean that CSCs originate from SCs that become malignant. The origin of CSCs is not yet clear and the CSC state is not static. Various reports describe CSC-enriched populations giving rise to non-CSCs, while non-CSCs can also generate a CSC population [
12
,
13
,
14
]. CSC plasticity within a tumor appears to be dependent on context and environment, as illustrated by a study examining the plasticity of melanoma CSCs. Purified cells expressing JARID1B, a histone demethylase considered to be a melanoma CSC marker, generated JARID1B-negative cells, as expected by the CSC model; however, a single JARID1B-negative cell could also give rise to JARID1B-positive cells [
15
]. Thus and taking in consideration the plasticity of cancer cells, it seems fair to say that both theories could be asserted.
1.3. Regulators in CSC Phenotype
1.4. Epithelial-to-Mesenchymal Transition and CSC Phenotype
The activation of stem-related signaling pathways such as Notch, Hedgehog and Wnt promotes EMT, the phenomenon by which carcinoma cells acquire a CSC phenotype. During this process, epithelial cells lose their polarity; change their morphology from a cobblestone-like epithelial appearance to an elongated, fibroblastic-like shape; and switch off cadherin, which involves the downregulation of E-cadherin and the upregulation of N-cadherin [
37
,
38
]. EMT plays a fundamental role in the developmental processes of mesoderm and neural tube formation, as well as wound healing [
39
]. Cancer cells also undergo EMT through regulators such as SNAIL, SLUG, ZEB1/2 and TWIST, which suppress E-cadherin expression binding to conserved E-box sequences (mainly CAGGTG-type) in E-cadherin promoters [
40
].
The relation between EMT and CSC phenotype acquisition has been extensively studied [
11
]. For instance, in breast cancer, the addition of Twist, Snail and FOXC2 increased the mesenchymal properties of cancer cells. Those cells gained mammosphere formation ability and the subpopulation of CD44
high
/CD24
low
—described as CSC—increased [
41
,
42
]. Similar phenomena were observed in prostate cancer cells that exhibited the EMT phenotype: Cells increased the expression of prostate CSC markers SOX2, NANOG, OCT4, LIN28B and NOTCH1 and exhibited enhanced sphere-forming ability [
43
].
2. Intrinsic Drug Resistance of CSCs
2.1. Epithelial-to-Mesenchymal Transition
EMT activates SC signaling pathways inducing CSC characteristics that increase drug resistance. In most cases, the molecular mechanisms responsible for EMT and the resulting resistance remain uncertain. In head and neck squamous cell carcinoma, EMT has been associated with Hedgehog signaling and acquired chemoresistance [
54
]. Three murine mammary basal epithelial cell lines exhibited EMT induction in response to TGFβ, a well-known EMT inducer. The induction of EMT in response to TGFβ conferred resistance to UV-induced apoptosis. Interestingly, the response to TGFβ was highly dependent on the extension of cell-to-cell contact [
55
].
Cells that undergo EMT may enter into a state of quiescence, in which the cell is no longer dividing [
56
]. These cells will not be affected by most conventional treatments, which target actively dividing cells [
17
]. For instance, a SNAIL-mediated EMT phenotype in oral cancer cells exhibited quiescence and the cells were highly resistant to chemotherapeutics [
57
]. In larynx cancer, the subpopulation of cells with CD44
high
/EGFR
low
expression exhibited EMT and quiescent phenotypes and had reduced sensitivity towards common anti-cancer drugs such as cisplatin, cetuximab and gefitinib [
58
]. In summary, the factors that activate EMT also promote stemness and quiescence, which may enable drug resistance in multiple cancers.
2.2. Cell Membrane Transporters: ABC Family
ATP-binding cassette (ABC) transporters play a crucial role in the development of MDR, due to their ability to efflux toxic chemicals from the cell [
4
,
59
]. These proteins belong to a family of 49 membrane proteins commonly involved in the transport of compounds and small molecules from the cytosol to the extracellular medium using ATP hydrolysis. CSCs express a high number of these proteins on their cell surface [
60
]. ABCB1 (also known as MDR1 or P-gp), ABCG2 (also known as BCRP1), ABCB5 and ABCC1 are the most well-characterized [
61
]. ABCG2 transporter is capable of expelling a large range of xenobiotic compounds such as topotecan, irinotecan and doxorubicin. Similarly, multiple myeloma cells with increased expression of ABCB1 in cell-surface, that was identified by the actively efflux of CDy1 dye identifying a subpopulation of CSCs, exhibited resistance to carfilzomib. ABCB1 was also found to be linked to the Hedgehog pathway, supporting the relationship between CSCs and ABC transporters [
62
].
On the other hand, the overexpression of ABC transporters can be used to identify CSC subpopulations within a tumor by staining a population of cells with Hoechst 33,342 dye and Rhodamine 123 dye [
63
,
64
]. These dyes are pumped out of CSCs, which can therefore be identified as the unstained subpopulation in flow cytometry [
65
].
2.4. High Survival Capacity of CSCs
Despite the fact that CSCs possess many mechanisms to avoid cell death, some drugs circumvent all of these barriers and succeed in damaging CSC DNA. However, CSCs have other ways to overcome this damage. CSCs of lung, pancreas, glioma and breast possess highly active DNA damage response systems [
49
,
79
]. In studies of oral cancer, the EMT factor SNAIL promoted the expression of nucleotide excision repair protein (ERCC1). This resulted in higher DNA damage repair and generated cisplatin resistance [
87
].
In addition to DNA repair systems, CSCs avoid apoptosis through the mutation or inactivation of cell cycle-regulating genes as well as apoptotic inducing genes [
88
]. One of the most well-known proteins regulating the apoptotic pathway is p53 and its isoforms p63 and p73. Loss of p53 function in colon, breast and lung carcinoma promoted EMT through Snail expression, resulting in increased radioresistance [
88
]. In many cases, treatment with chemotherapy such as cisplatin induced apoptosis resistance. Cisplatin pretreatment in cells contributed to the interaction of HDAC and TRIB1, which is overexpressed in leukemia and prostate cancer and together inactivated p53 [
89
].
CD133
+
glioma CSCs contributed to radioresistance through an enhanced cell cycle checkpoint response, resulting in DNA repair due to the overexpression of the cell cycle checkpoint, NBS1. This was further confirmed after the inhibition of other checkpoint kinases, Chk1 and Chk2, re-sensitized the cells [
49
].
2.5. Effect of MicroRNAs in CSC Phenotype Acquisition
All these reports suggest that epigenetic factors such as microRNAs participates in multiple pathways promoting CSCs phenotypes and consequent drug resistance.
3. Tumor Heterogeneity and Cancer Niche
3.2. Cancer Niche
SC maintenance and regulation is crucial for the organism's survival, as well as for the prevention of uncontrolled cell growth [
103
]. SC division and differentiation occur in specialized microenvironments referred to as the niche. The niche environment regulates SCs through cell-cell communication, both between SCs and with differentiated cells, as well as through cell-ECM communication, paracrine communication, hormonal signaling, growth factors, cytokines and physiochemical factors such as oxygen levels [
17
,
104
].
CSCs are also thought to reside in niches that consist of numerous types of stromal cells, including endothelial cells, mesenchymal cells, immune cells and fibroblasts [
105
,
106
]. The CSC niche also includes factors secreted by these cells, such as growth factors or cytokines [
11
,
107
] and the extracellular matrix.
The CSC niche may promote an imbalance between CSC self-renewal and differentiation, leading to the proliferation of tumor cells, invasion and metastasis. The CSC niche also plays an important role in therapy response [
108
].
4. Contribution of CSCs to the Niche
5. Treatments and Approaches
6. Conclusions
Traditional therapies against the bulk of cancer cells are not sufficient to eradicate all cells within the tumor, especially those that exhibit high resistance to treatment, such as CSCs. However, treating only these CSCs does not succeed in tumor eradication either.
We have need to keep in mind that CSCs are surrounded by a complex group of cells, referred to as the CSC niche, which secretes multiple factors promoting not only CSC survival but also plasticity and drug resistance. Because the CSC niche is essential for CSC survival and drug resistance, targeting these niche components is a promising strategy for achieving better treatment outcomes. Multiple studies have proposed potential novel targets for drug therapies, in hopes of eradicating MDR.
Acknowledgments
This study was supported in part by a Grant-in-Aid for Scientific Research C (16K08261) and the Japan Agency for Medical Research and Development (AMED).
Author Contributions
Marta Prieto-Vila and Ryou-u Takahashi conceived this review and drafted the manuscript; Wataru Usuba and Isaku Kohama consistently contributed with references as well as drew the figures; Takahiro Ochiya reviewed and approved the submitted manuscript.
Conflicts of Interest
The authors declare no conflict of interest.
Abbreviations
| | |
| --- | --- |
| CSC | Cancer stem cell |
| SC | Stem cell |
| Wnt | Wingless |
| EMT | Epithelial-to-mesenchymal transition |
| ROS | Reactive oxygen species |
| ECM | Extracellular matrix |
| CAF | Cancer-associated fibroblast |
| MSC | Mesenchymal stem cell |
| EC | Endothelial cell |
| TAM | Tumor-associated macrophage |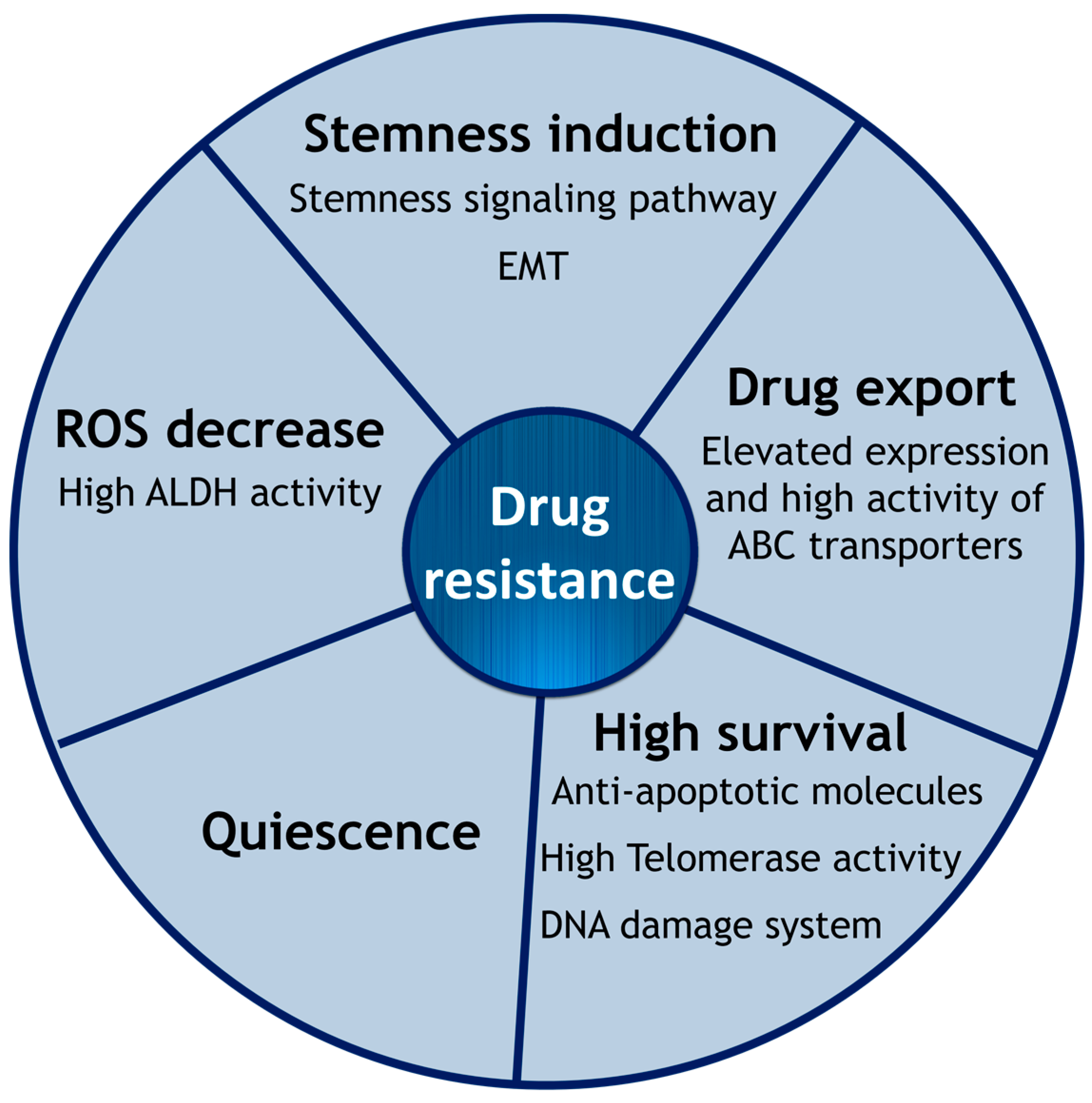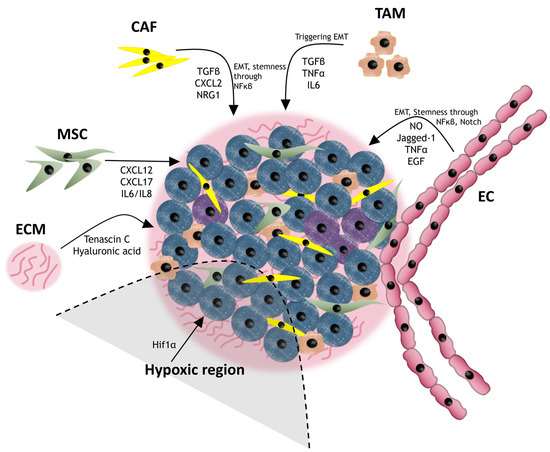 Figure 2. CSCs (represented as purple cells) within the cancer niche, surrounded by CAFs, TAMs, ECs, MSCs and ECM. The CSCs are situated in a hypoxic region and are receiving stimuli from neighboring cells that increase drug resistance.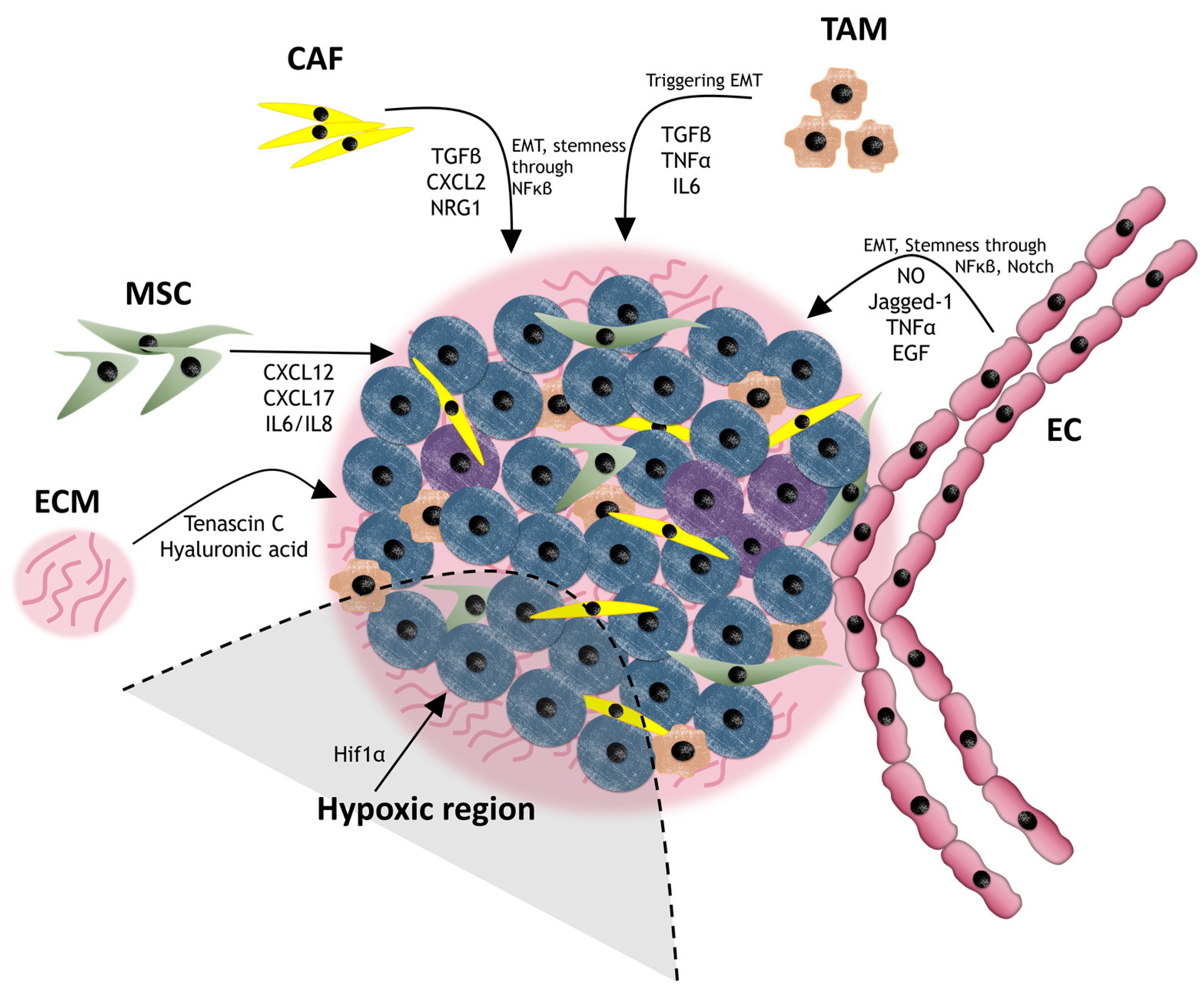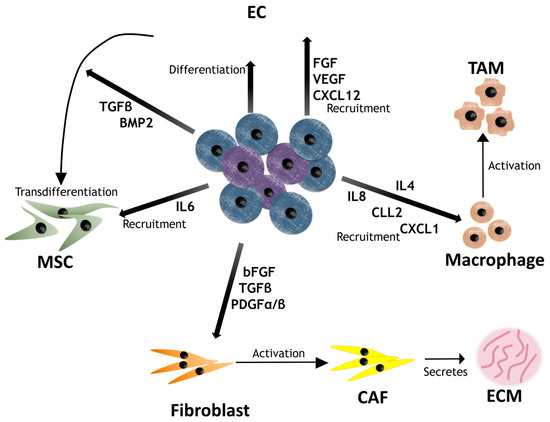 Figure 3. Factors secreted by CSCs (represented as purple cells) promote the recruitment and activation of niche components, indicating that the relation of CSC-niche is not unidirectional.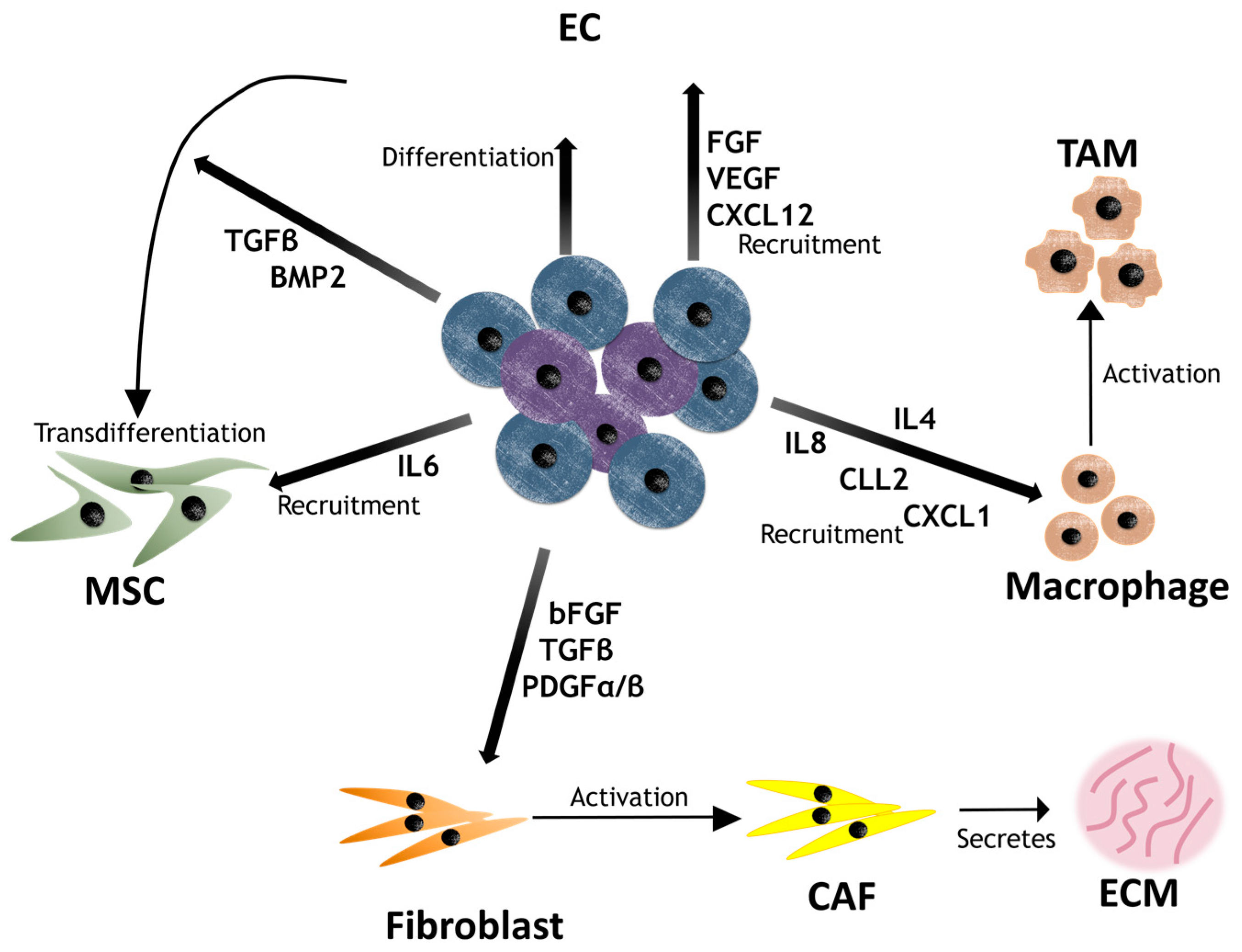 Table 1. Molecules secreted by cancer niche components that promote drug resistance in CSCs.
Component
Molecule
Effect
Cancer
Ref.
CAF
TGFβ secretion
EMT stimulator
Gastric, prostate
[109]
NRG1 secretion
Activation of NF-κB signaling pathway
Gastric, breast, prostate, glioma
[110,111,112]
CAF exosomes
Activation of Wnt signaling pathway
Colon
[113,114]
Collagen type I secretion
Decrease of drug uptake
-
[115]
MSC
CXCL12, CXCL7, IL6/IL8 secretion
Activation of NF-κB signaling
Breast
[17,116]
Physical interaction
Activation of SCR and its downstream PI3K/Akt
Breast
[117]
Physical interaction
Increase of MDR protein expression
Ovarian
[118]
EC
TNFα secretion
Recruitment of myeloid cells that induce the loop CXCL1/2-S100A8/9
Breast
[112]
EGF secretion
EMT stimulator
Glioblastoma, colorectal, HNSCC
[119,120]
Nitric oxygen, Jagged-1 secretion
Activation of Notch signaling pathway
Glioma, colorectal
[121,122]
-
Direct blockage of drug administration due to irregular vessel shape
-
[123]
TAM
TGFβ and TNFα secretion
EMT stimulator
NSCLC
[124,125]
IL6 secretion
Activation of STAT3
Breast, pancreas
[126]
ECM
ECM stiffness
Physical barrier that physically separates the cells
-
[125]
Hyaluronic acid secretion
Activation of CD44
Breast
[127]
Tenascin C secretion
Activation of Wnt and Notch signaling pathways
Breast
[128]

© 2017 by the authors. Licensee MDPI, Basel, Switzerland. This article is an open access article distributed under the terms and conditions of the Creative Commons Attribution (CC BY) license (http://creativecommons.org/licenses/by/4.0/).