Open Access This article is
freely available
re-usable
Review
Recent Advances in Comprehending the Signaling Pathways Involved in the Progression of Breast Cancer
1
Department of Oncology, Transplantations and New Technologies in Medicine, University of Pisa, 56126 Pisa, Italy
2
Department of Clinical and Experimental Medicine, University of Pisa, 56126 Pisa, Italy
Received: 26 August 2017 / Accepted: 31 October 2017 / Published: 3 November 2017
Abstract
:
This review describes recent advances in the comprehension of signaling pathways involved in breast cancer progression. Calcium sensing receptor (CaSR), caveolae signaling, signaling referred to hypoxia-inducing factors and disturbances in the apoptotic machinery are related to more general biological mechanisms and are considered first. The others refer to signaling pathways of more specific biological mechanisms, namely the heparin/heparin-sulfate interactome, over-expression of miRNA-378a-5p, restriction of luminal and basal epithelial cells, fatty-acid synthesis, molecular pathways related to epithelial to mesenchimal transition (EMT), HER-2/neu gene amplification and protein expression, and the expression of other members of the epithelial growth factor receptor family. This progress in basic research is fundamental to foster the ongoing efforts that use the new genotyping technologies, and aim at defining new prognostic and predictive biomarkers for a better personalized management of breast cancer disease.
Keywords:
breast cancer; cancer progression; signaling pathways; personalized medicine; calcium sensing receptor; caveolae; hypoxia inducing factors
1. Introduction
It is largely known that cancer is a complex disease sustained by many genetic and epigenetic alterations. These alterations, at least in part, differ in different types, within the same type of cancer and even within each cancer. This main feature, termed "spatial heterogeneity" [
1
,
2
], occurs in addition to "temporal heterogeneity" [
3
,
4
]. In fact, concomitant with tumor growth, genetic and epigenetic alterations are occasionally acquired or are induced by the microenvironmental signaling or are due to therapeutic pressure. On the other hand, the spatial and temporal heterogeneities entail changes in the local microenvironment [
5
,
6
] that also likely affect the signaling pathways related to breast cancer progression. This makes cancer an evolving disease hard to be understood and even more to be cured in the advanced stages. Genetic alterations and the contextual signaling by the microenvironment give rise to an intricate network of pathological mechanisms and molecular pathways. In breast cancer, so far many have been elucidated while many others are either under investigation or to be investigated [
7
]. Here, novel findings that can help in a better comprehension of some widespread and others inherent to more specific biological mechanisms involved in breast cancer progression are reported. Most described signaling pathways occur in normal and breast cancer cells including Luminal A, Luminal B, triple negative, and HER2 positive molecular subtypes, according to the current classification of breast cancer.
2. Alterations of Signaling Pathways in Some Widespread Biological Mechanisms Involved in Breast Cancer Progression
3. Conclusions
Breast cancer is a "work in progress" being the object of many experimental and clinical investigations. Here, we focus on recently elucidated signaling pathways related to some general principles and some other more specific biological mechanisms involved in breast cancer progression. These advances in basic research are necessary to sustain the efforts based on the new genotyping techniques for more accurate prognostic and predictive biomarkers. As to this, the tumor and circulating DNA assay in liquid biopsies is the new frontier for an easier and harmless personalized management of breast cancer disease.
Conflicts of Interest
The authors declare no conflict of interest.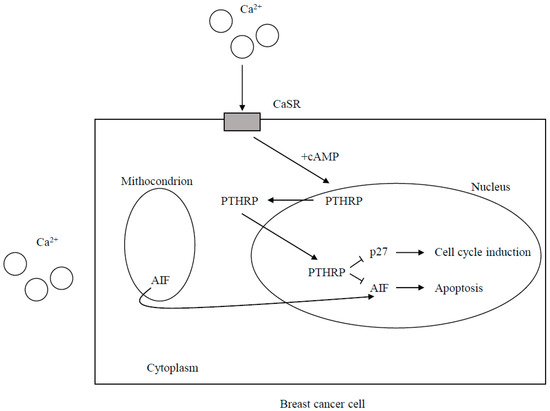 Figure 1. Calcium sensing receptor (CaSR)-nuclear PTHRP pathway. CaSR activation through cAMP levels increases PTHRP production. The increased PTHRP at nuclear level decreases the expression of cell cycle inhibitor p27kip1 and inhibits accumulation of apoptosis activator AIF (apoptosis inducing factor). Therefore, proliferation and cell survival are promoted (also see text).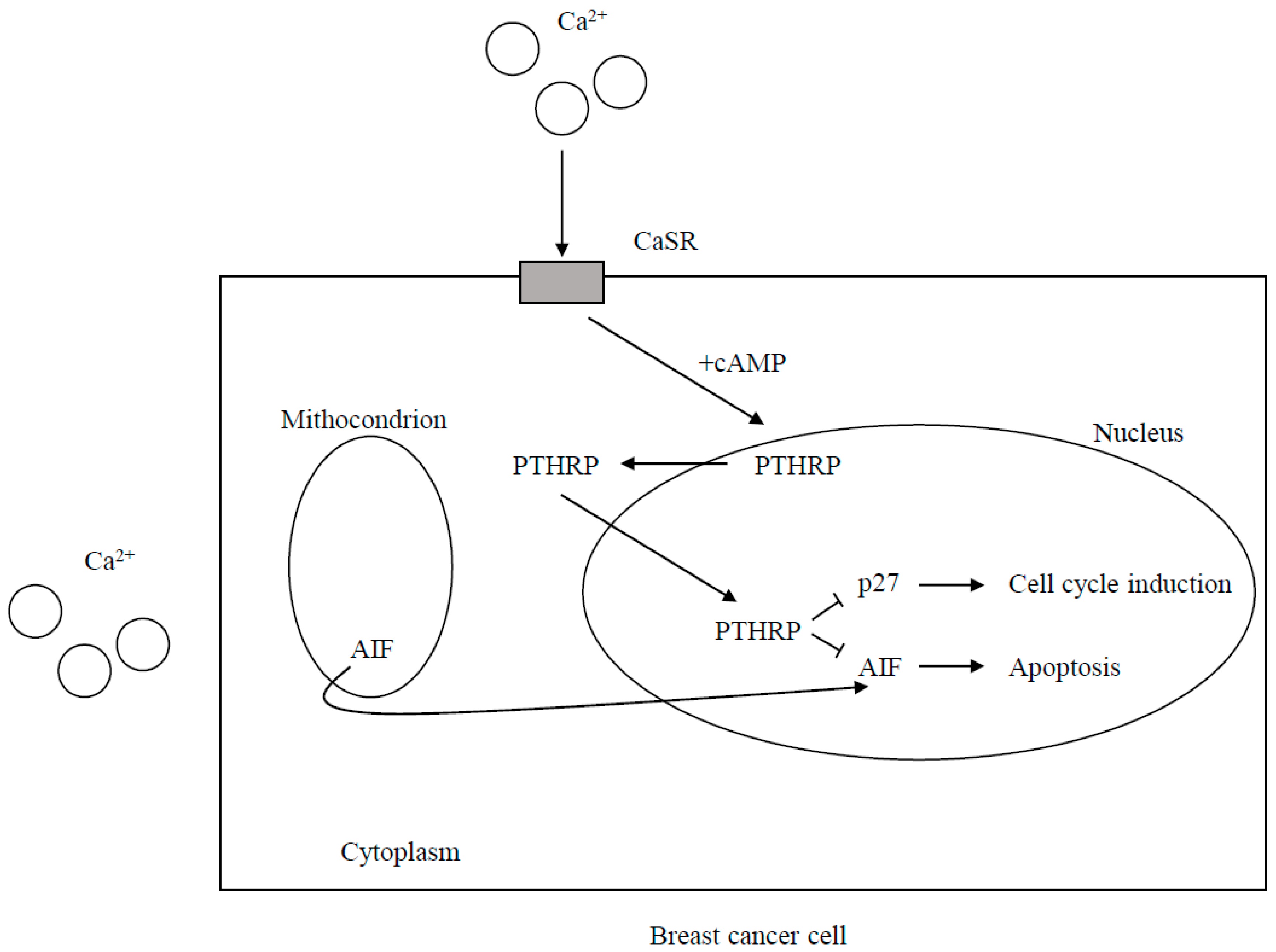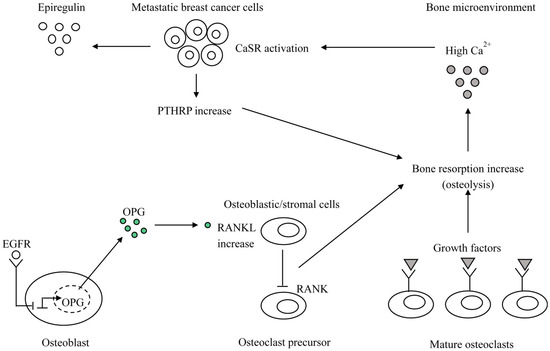 Figure 2. The vicious cycle of bone metastasis and the CaSR-epiregulin axis. At the metastatic bone microenvironment, the elevated Ca2+ levels activated CaSR in metastatic breast cancer cells stimulate PTHRP secretion that stimulates osteoblasts (Ob) to produce more RANKL thus driving more osteolysis and release of growth factors (GF) from the bone matrix. As a result, a feed forward vicious cycle of bone resorption tumor growth and osteolysis establishes. In addition, CaSR activation induces epiregulin synthesis and secretion. Epiregulin through its receptors expressed by osteoblasts inhibits OPG synthesis, thus favoring interactions between RANKL expressed by osteoblasts and the receptor RANK expressed by immature osteoclasts. This again feeds the vicious cycle (also see text).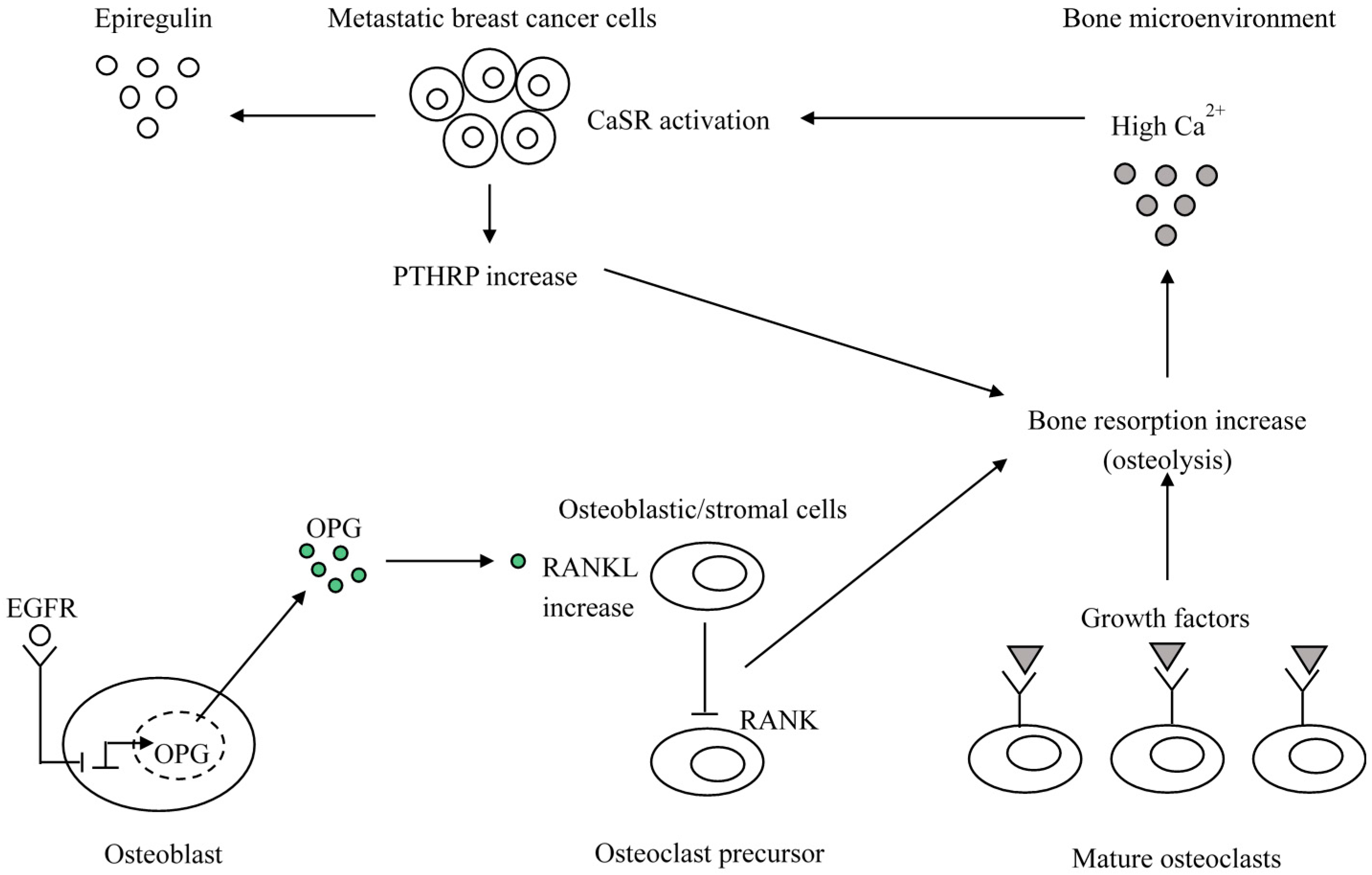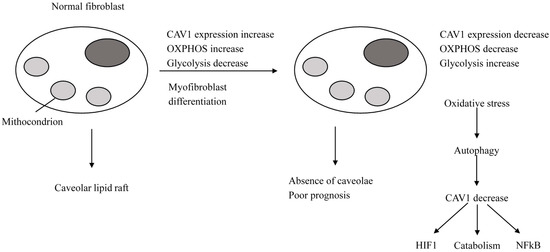 Figure 3.
CAV1
expression in normal fibroblasts and in cancer-associated fibroblasts (CAFs). During myofibroblast differentiation, fibroblasts lose CAV1 expression, which accounts for a CAF phenotype. This is characterized by lower oxidative phosphorylation (OXPHOS) and higher glycolysis. Conversely, a normal fibroblast phenotype is associated with elevated CAV1 expression, active OXPHOS and low glycolysis. Loss of CAV1 expression in fibroblasts is associated with poor outcome in breast cancer (also see text).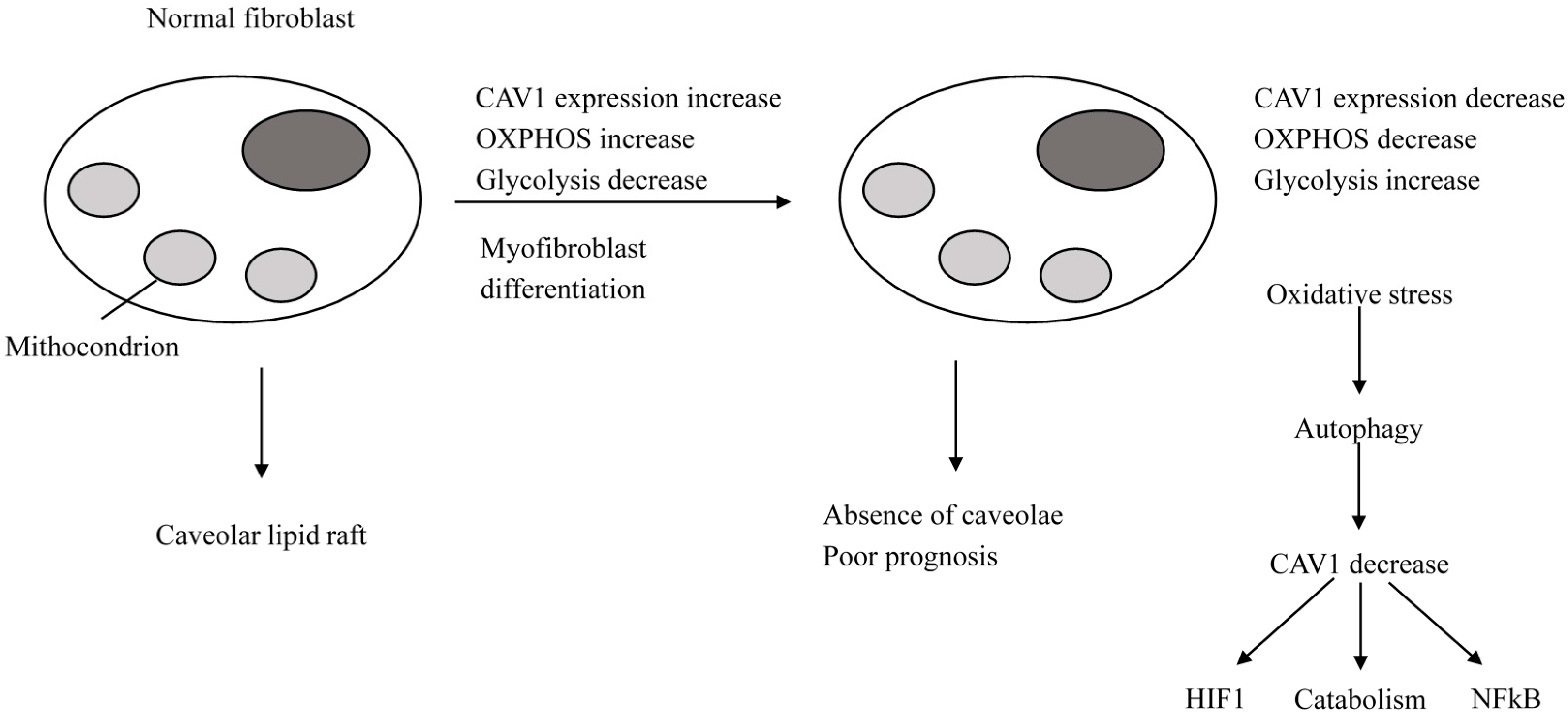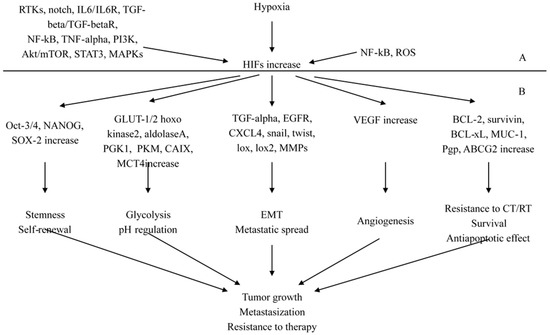 Figure 4. Hypoxia inducible factors (HIFs): (A) signaling mediated involvement in the regulation and activation of HIFs; and (B) signaling factors and programs promoted by HIFs. BCRP/ABCG2: breast cancer resistance protein; CAIX: carbonic anhydrase; EGFR: epidermal growth factor receptor; GLUT: glucose transporter; IL-6: interleukin-6; MAPK: mitogen-activated protein kinase; MCT-4: monocarboxylate transporter-4; MIC-1: macrophage inhibitory cytokine-1; MMPs: metalloproteinases; mTOR: molecular target of rapamycin; NF-κB: nuclear factor κB; RTK: receptor tyrosine kinase; PI3K: phosphatidyl inositol-3 kinase; PGK1: phosphoglycerate kinase-1; PKM: pyruvate kinase M; Pgp: P-glycoprotein; ROS: reactive oxygen species; TGF-β: transforming growth factor-β; TNF-α: tumor necrosis factor-α; STAT3: signal transducer activator of transcription-3; VEGF: vascular endothelial growth factor; EMT: epithelial to mesenchymal transition; CT: chemotherapy; RT: radiotherapy; LOX: lysyl oxidase; MUC-1: mucin-1; CXCL4: chemokine ligand 4; BCL-2: B-cell lymphoma-2 (also see text).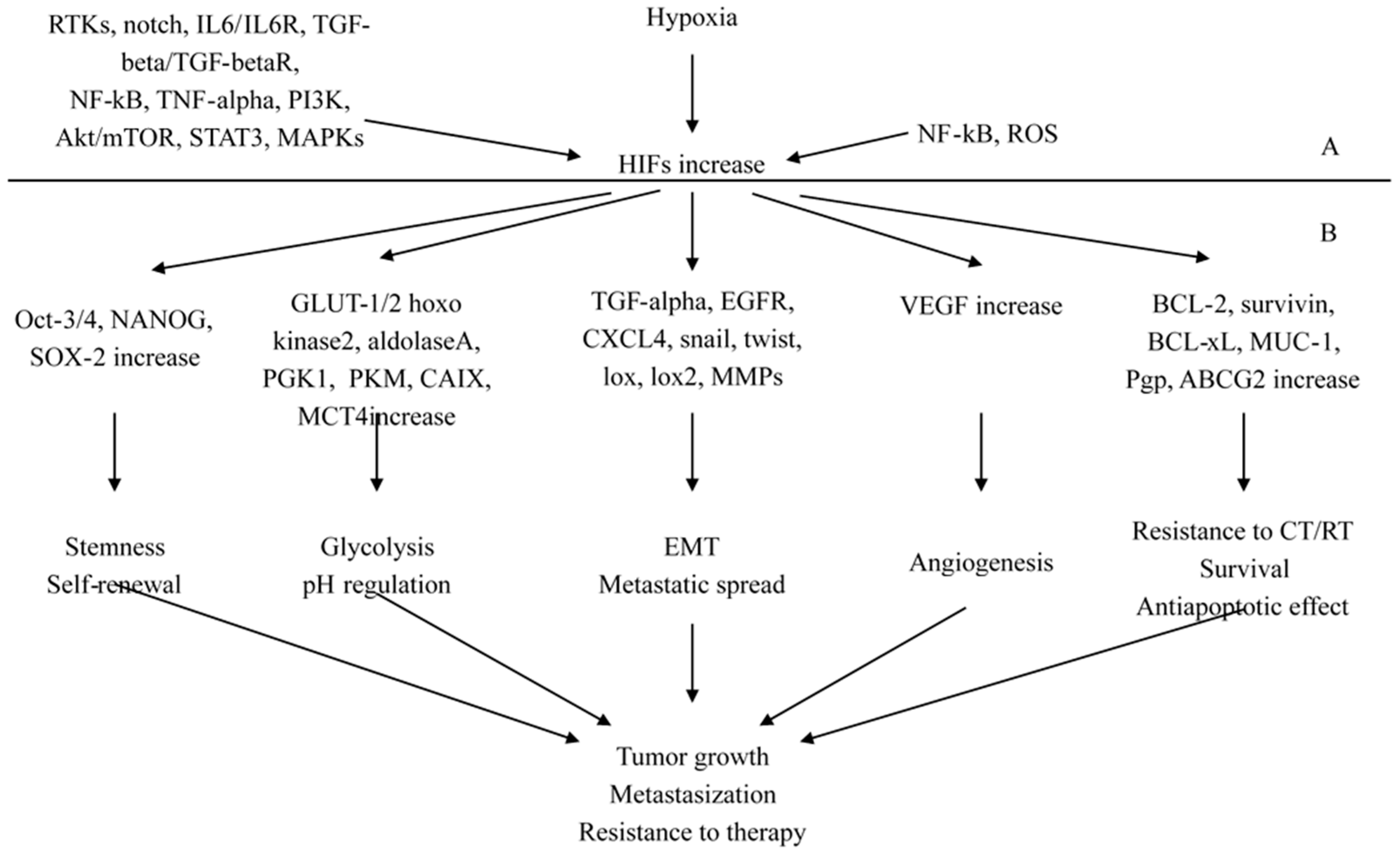 Table 1. Some more specific biological mechanisms and signaling pathways involved in breast cancer progression.
Biological Component(s)
Mechanism
Outcome
References
Heparin/heparin sulfate interactome
Increased PI3K/Akt, MAPK/ERK signaling and TGF-β activity
Tumorigenic phenotype, cell adhesive, invasive properties
[93]
miR-37pa-5p overexpression
Inactivation of SAC through induced receptor tyrosine kinase-MAPK pathway and suppression of Aurora kinase
More aggressive and poorly differentiated molecular subtypes
[94]
Lineage restriction
Genetic mutation of hyperactivating to PI3K pathway in luminal or basal epithelial cells
Induction of stemness and tumor heterogeneity
[95]
has-miR-195 and miR-195
Decreased cholesterol and triglycerides with mythocondrial dysfunction and involvement of xenobiotic metabolism signaling
Decreased proliferation, invasion and migration
[96]
ER-α
ER-α loss
EMT induction
[97,98]
MAO-A
MAO inhibitor (clorgyline) through non-canonical pathway
Hist2h2ac histone isoform
MEK1/2 or PI3K activation
ER α HER2 amplification and expression of other members of EGFR family
ER-α/HER2 cross-talk, PI3K/Akt/mTOR pathway escape (PI3KCA mutation/PTEN loss, HER2/IGF1R cross-talk), c-met overexpression, src activation, low TILs level
Breast cancer progression
[99,100,101,102,103,104,105,106,107,108,109,110,111,112,113]
SAC: spindle assembly checkpoint; ER: estrogen receptor; MAO-A: monoamine-oxydase-A; EMT: epithelial to mesenchymal transition; EGFR: epidermal growth factor receptor; TILs: tumor-infiltrating lymphocytes.

© 2017 by the authors. Licensee MDPI, Basel, Switzerland. This article is an open access article distributed under the terms and conditions of the Creative Commons Attribution (CC BY) license (http://creativecommons.org/licenses/by/4.0/).