The Peptidylarginine Deiminase Inhibitor Cl-Amidine Suppresses Inducible Nitric Oxide Synthase Expression in Dendritic Cells
1
Ilsong Institute of Life Science, Hallym University, Anyang, Gyeonggi-do 14066, Korea
2
Molecular Regulation of Aging, Tokyo Metropolitan Institute of Gerontology, Tokyo 173-0015, Japan
3
Department of Microbiology, College of Medicine, Hallym University, Chuncheon, Gangwon-do 24252, Korea
4
Department of Biomedical Gerontology, Graduate School of Hallym University, Chuncheon, Gangwon-do 24252, Korea
*
Author to whom correspondence should be addressed.
Received: 7 September 2017 / Revised: 16 October 2017 / Accepted: 17 October 2017 / Published: 27 October 2017
Abstract
The conversion of peptidylarginine into peptidylcitrulline by calcium-dependent peptidylarginine deiminases (PADs) has been implicated in the pathogenesis of a number of diseases, identifying PADs as therapeutic targets for various diseases. The PAD inhibitor Cl-amidine ameliorates the disease course, severity, and clinical manifestation in multiple disease models, and it also modulates dendritic cell (DC) functions such as cytokine production, antigen presentation, and T cell proliferation. The beneficial effects of Cl-amidine make it an attractive compound for PAD-targeting therapeutic strategies in inflammatory diseases. Here, we found that Cl-amidine inhibited nitric oxide (NO) generation in a time- and dose-dependent manner in maturing DCs activated by lipopolysaccharide (LPS). This suppression of NO generation was independent of changes in NO synthase (NOS) enzyme activity levels but was instead dependent on changes in inducible NO synthase (iNOS) transcription and expression levels. Several upstream signaling pathways for iNOS expression, including the mitogen-activated protein kinase, nuclear factor-κB p65 (NF-κB p65), and hypoxia-inducible factor 1 pathways, were not affected by Cl-amidine. By contrast, the LPS-induced signal transducer and the activator of transcription (STAT) phosphorylation and activator protein-1 (AP-1) transcriptional activities (c-Fos, JunD, and phosphorylated c-Jun) were decreased in Cl-amidine-treated DCs. Inhibition of Janus kinase/STAT signaling dramatically suppressed iNOS expression and NO production, whereas AP-1 inhibition had no effect. These results indicate that Cl-amidine-inhibited STAT activation may suppress iNOS expression. Additionally, we found mildly reduced cyclooxygenase-2 expression and prostaglandin E2 production in Cl-amidine-treated DCs. Our findings indicate that Cl-amidine acts as a novel suppressor of iNOS expression, suggesting that Cl-amidine has the potential to ameliorate the effects of excessive iNOS/NO-linked immune responses.
View Full-Text
►

▼

Figures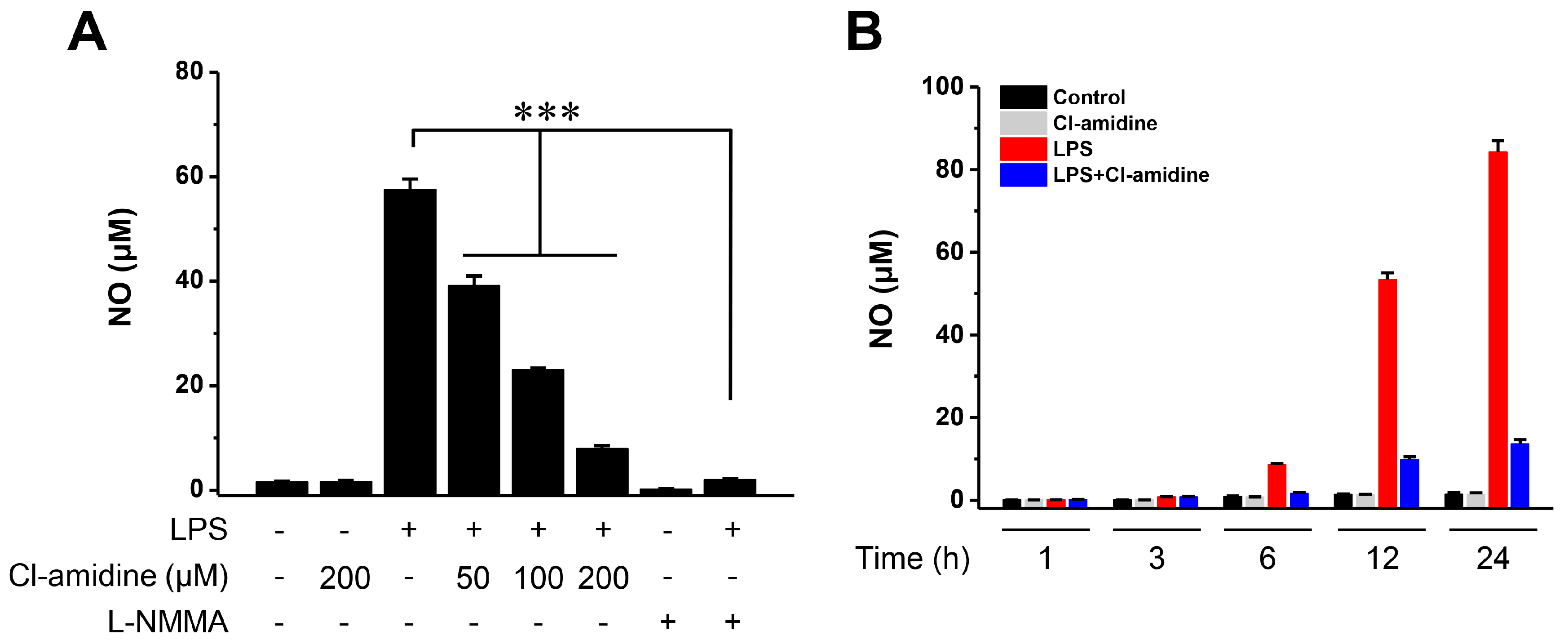 Figure 1
This is an open access article distributed under the
Creative Commons Attribution License
which permits unrestricted use, distribution, and reproduction in any medium, provided the original work is properly cited (CC BY 4.0).

Share & Cite This Article
MDPI and ACS Style
Jang, B.; Ishigami, A.; Kim, Y.-S.; Choi, E.-K. The Peptidylarginine Deiminase Inhibitor Cl-Amidine Suppresses Inducible Nitric Oxide Synthase Expression in Dendritic Cells. Int. J. Mol. Sci. 2017, 18, 2258.
Note that from the first issue of 2016, MDPI journals use article numbers instead of page numbers. See further details here.
Related Articles
Comments
[Return to top]