Open Access This article is
freely available
re-usable
Article
The Analysis of A Frequent
TMPRSS3
Allele Containing P.V116M and P.V291L in A Cis Configuration among Deaf Koreans
1
Samsung Genome Institute, Samsung Medical Center, Seoul 06351, Korea
2
Department of Otorhinolaryngology-Head and Neck Surgery, Wonkwang University College of Medicine, Iksan 54538, Korea
3
Department of Molecular Cell Biology, School of Medicine, Sungkyunkwan University, Seoul 06351, Korea
4
Department of Otorhinolaryngology-Head and Neck Surgery, Seoul National University Bundang Hospital, Seoul National University College of Medicine, Seongnam 13620, Korea
5
Sensory Organ Research Institute, Seoul National University Medical Research Center, Seoul 03080, Korea
*
Correspondence: Tel.: +82-031-787-7406
†
These authors contributed equally to this work.

Received: 11 September 2017 / Accepted: 21 October 2017 / Published: 26 October 2017
Abstract
:
We performed targeted re-sequencing to identify the genetic etiology of early-onset postlingual deafness and encountered a frequent
TMPRSS3
allele harboring two variants in a cis configuration. We aimed to evaluate the pathogenicity of the allele. Among 88 cochlear implantees with autosomal recessive non-syndromic hearing loss, subjects with
GJB2
and
SLC26A4
mutations were excluded. Thirty-one probands manifesting early-onset postlingual deafness were sorted. Through targeted re-sequencing, we detected two families with a
TMPRSS3
mutant allele containing p.V116M and p.V291L in a cis configuration, p.[p.V116M; p.V291L]. A minor allele frequency was calculated and proteolytic activity was measured. A p.[p.V116M; p.V291L] allele demonstrated a significantly higher frequency compared to normal controls and merited attention due to its high frequency (4.84%, 3/62). The first family showed a novel deleterious splice site variant—c.783-1G>A—in a trans allele, while the other showed homozygosity. The progression to deafness was noted within the first decade, suggesting DFNB10. The proteolytic activity was significantly reduced, confirming the severe pathogenicity. This frequent mutant allele significantly contributes to early-onset postlingual deafness in Koreans. For clinical implication and proper auditory rehabilitation, it is important to pay attention to this allele with a severe pathogenic potential.
Keywords:
deafness;
TMPRSS3
mutation; DFNB8/10; cochlear implantation; sensorineural hearing loss
Acknowledgments
This research was supported by a grant from the Korea Health Technology R&D Project through the Korea Health Industry Development Institute (KHIDI), funded by the Ministry of Health & Welfare, Republic of Korea (grant number : HI15C1632, and HI17C0952 to B. Y. Choi). We thank Woo Jin Park, Sang Min Park, and So Ra Im of GIST (Gwangju Institute of Science and Technology), Cheomdan-gwagiro, Buk-gu, Gwangju, Korea for technical support and mutation consultation. All authors in this study are indebted to the patients and their families for making this study possible.
Author Contributions
Byung Yoon Choi and Woong-Yang Park conceived and designed the experiments; Ah Reum Kim, Nayoung K. D. Kim, Chung Lee and Doo-Yi Oh performed the experiments; Ah Reum Kim, Juyong Chung and Byung Yoon Choi analyzed the data; Ah Reum Kim, Nayoung K. D. Kim, and Chung Lee contributed reagents and materials; Ah Reum Kim, Juyong Chung and Byung Yoon Choi wrote the paper.
Conflicts of Interest
The authors declare no conflict of interest.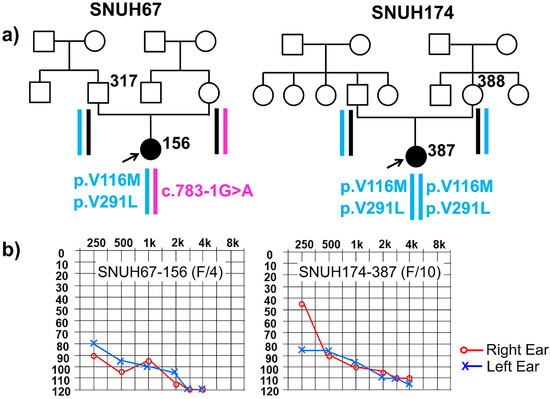 Figure 1.
Pedigrees of the two families related to
TMPRSS3
and audiograms of affected subjects. (
a
) In this pedigree, the most likely haplotype of
TMPRSS3
is reconstructed based on the segregation study. The p.[p.V116M; p.V291L] allele (grey box) is shared by the two unrelated probands (red arrow). (
b
) Pure tone audiometry obtained from both probands directly before cochlear implantation is presented. Severe-to-profound hearing loss with minimal residual hearing is shown. Red colored graph refers to left-sided hearing loss and blue colored graph refers to right-sided hearing loss.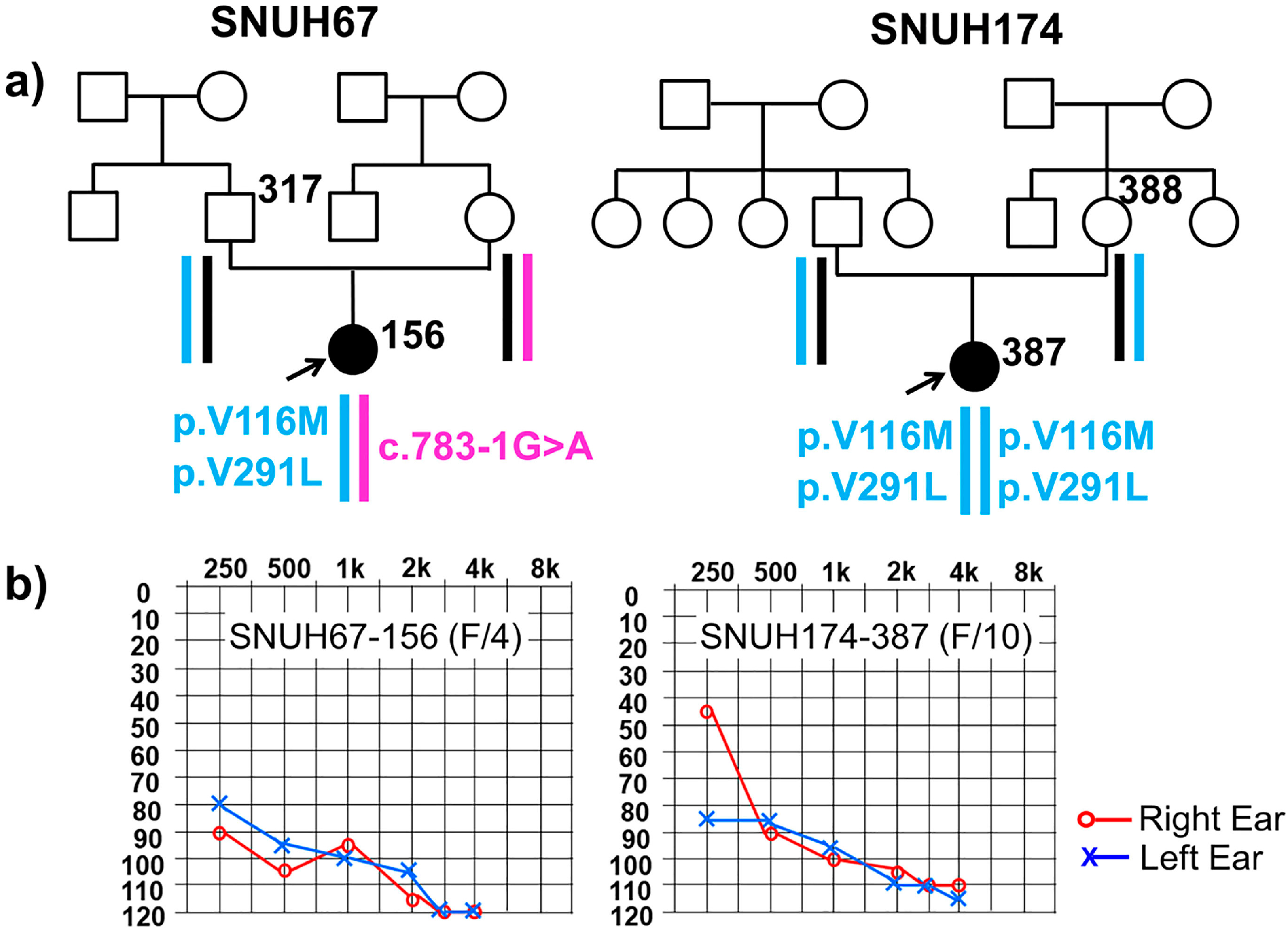 Figure 2.
Sanger sequencing traces, conservation, and residing domains of
TMPRSS3
variants in this study. (
a
) Sanger sequencing chromatograms show p. V116M, p.V291L, and c.783-1G>A variants in a heterozygous fashion from SNUH67-156. (
b
) The variants, p. V116M and p.V291L, are in a homozygous fashion from SNUH174-387. (
c
) Conservation status of the two missense variants among various species from human to zebrafish. (
d
) Two missense variants in its domain of
TMPRSS3
; The residue of p.V116 and p.V291is located in the SRCR and the serine protease domain, respectively.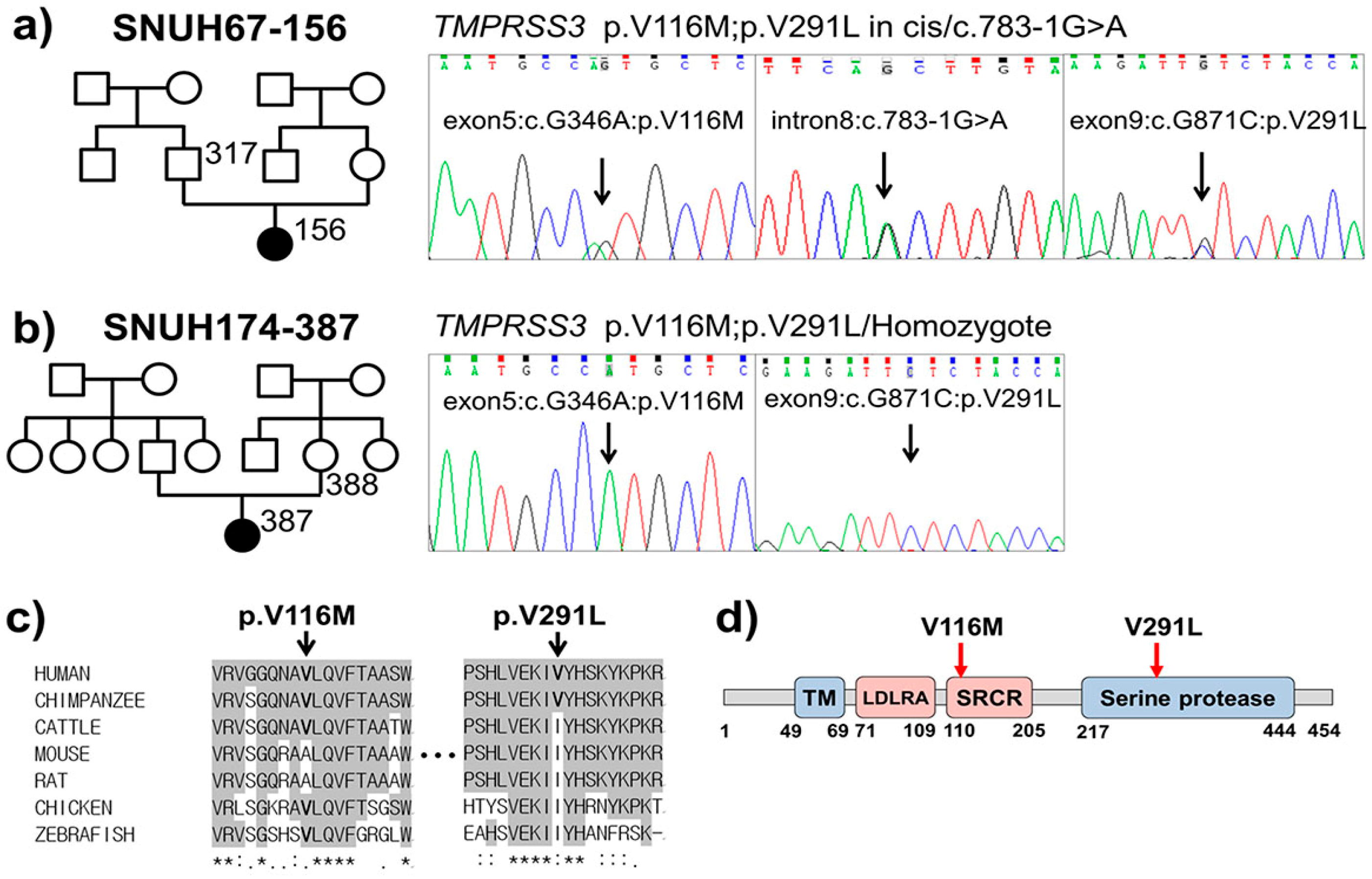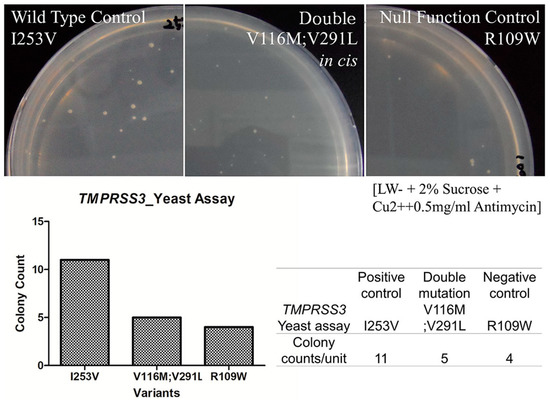 Figure 3.
Assay for the proteolytic activity of the transformants of each genotype of
TMPRSS3
. Colonies were counted with the criteria in a well-shaped order. Far left panel indicates the wild type controls; right indicates null function controls. Compared with these, the middle one contains the proteolytic activity of double mutated constructs: the double mutants, p.V116M and p.V291L, show a significantly weaker proteolytic activity than the one on the left, suggesting pathogenicity. (A medium containing Leu
−
/Trp
−
+ 2% Sucrose + Cu
2+
+ 0.5 mg/mL Antimycin).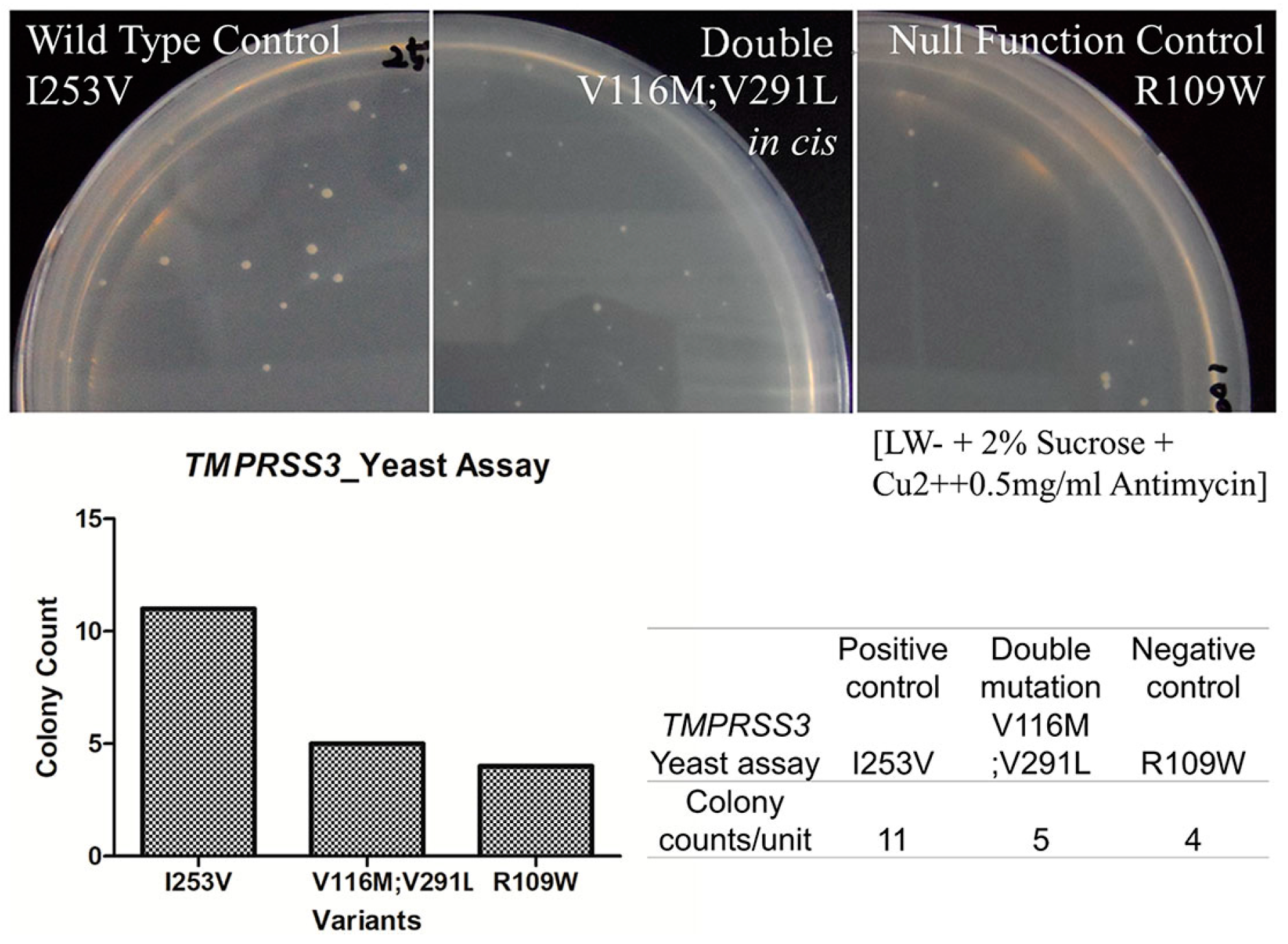 Table 1. List of the variants surviving from initial filtering based on the TRS200, TRS129 analysis. Details of final candidates after targeted re-sequencing of the 200, 129 deafness genes, respectively.
Table 1. List of the variants surviving from initial filtering based on the TRS200, TRS129 analysis. Details of final candidates after targeted re-sequencing of the 200, 129 deafness genes, respectively.
Gene
Exon
Nucleotide Change
Amino Acid Change
Pathogenicity Prediction
Zygosity
SIFT
SNUH67-156

HSPG2

exon85
c.G11602A
p.V3868M
Tolerated
Hetero

KCNQ4

exon1
c.T140C
p.L47P
Tolerated
Hetero

TMIE

exon4
c.391_393delAAG
p.K131del
NA
Hetero

GPR98

exon9
c.A1567G
p.M523V
Tolerated
Hetero

LAMA2

exon33
c.A4772G
p.Q1591R
Tolerated
Hetero

HOXA1

exon1
c.215_223delATCACCACC
p.H72_H74del
NA
Hetero

TNC

exon3
c.G1823A
p.R608H
Tolerated
Hetero

POU4F1

exon2
c.486_487insGGC
p.P163delinsGP
NA
Hetero

TMPRSS3*

exon9
c.G871C
p.V291L
NA
Hetero

TMPRSS3*

intron9
c.783-1G>A
NA
NA
Hetero

TMPRSS3*

exon5
c.G346A
p.V116M
NA
Hetero

TRIOBP

exon7
c.1613_1615delTGT
p.L538_S539delinsP
NA
Hetero
SNUH174-387

COL9A2

exon30
c.G1741A
p.V581I
Tolerated
Hetero

FGFR3

exon3
c.G193A
p.G65R
Tolerated
Hetero

COL11A2

exon5
c.G688T
p.G230W
Damaging
Hetero

TPRN

exon1
c.C761T
p.S254L
Tolerated
Hetero

CDH23

exon40
c.G5411A
p.R1804Q
Tolerated
Hetero

KCNQ1

exon16
c.G1927A
p.G643S
Tolerated
Hetero

MYO1C

exon28
c.G2785A
p.D929N
Tolerated
Hetero

TMPRSS3*

exon9
c.G871C
p.V291L
NA
Homo

TMPRSS3*

exon5
c.G346A
p.V116M
NA
Homo
* Causal variants based on the autosomal recessive inheritance pattern in two probands, respectively.
Table 2. Overview of the three variants in

TMPRSS3

.
Exon/Intron
Nucleotide Change
Amino Acid Change
Domain
Minor Allele Frequency
Phenotype
References
UCSC
1000G
KRGDB
SGI
Exon5
c.G346A
p.V116M
SRCR
0.0015
0
0
0
† Profound
[10,11]
Intron8
c.783-1G>A
-
-
0
0
0
0
Likely pathogenic
This Study
Exon9
c.G871C
p.V291L
Serine Protease
0.00005
0.0006
0.0008
0
Uncertain
[12]
UCSC (University of California, Santa Cruz) genome browser, GRCh37 hg19: a database of genomic sequence and annotation data for a wide variety of organisms; 1000G (Genomes Project data): extensive genome annotation, such as protein-coding genes and whole-genome regulatory information though the dedicated 1000 Genomes browser; KRGDB: Total 622 individuals from the Korean Reference Genome Database; SGI (Samsung genomic institute) in house database Korean 1000; †Profound, Childhood onset (10–12 years) affecting all frequencies or prelingual profound deafness.
© 2017 by the authors. Licensee MDPI, Basel, Switzerland. This article is an open access article distributed under the terms and conditions of the Creative Commons Attribution (CC BY) license (http://creativecommons.org/licenses/by/4.0/).