Open Access This article is
freely available
re-usable
Review
Zinc Signals and Immunity
Institute of Immunology, RWTH Aachen University Hospital, Pauwelsstr. 30, 52074 Aachen, Germany
*
Author to whom correspondence should be addressed.
Received: 27 September 2017 / Accepted: 19 October 2017 / Published: 24 October 2017
Abstract
:
Zinc homeostasis is crucial for an adequate function of the immune system. Zinc deficiency as well as zinc excess result in severe disturbances in immune cell numbers and activities, which can result in increased susceptibility to infections and development of especially inflammatory diseases. This review focuses on the role of zinc in regulating intracellular signaling pathways in innate as well as adaptive immune cells. Main underlying molecular mechanisms and targets affected by altered zinc homeostasis, including kinases, caspases, phosphatases, and phosphodiesterases, will be highlighted in this article. In addition, the interplay of zinc homeostasis and the redox metabolism in affecting intracellular signaling will be emphasized. Key signaling pathways will be described in detail for the different cell types of the immune system. In this, effects of fast zinc flux, taking place within a few seconds to minutes will be distinguish from slower types of zinc signals, also designated as "zinc waves", and late homeostatic zinc signals regarding prolonged changes in intracellular zinc.
Keywords:
zinc flux; zinc wave; homeostatic zinc signal; signaling pathways; innate and adaptive immunity; zinc deficiency; immune function
1. Introduction
The metal zinc is nowadays well established to be essential for a well-operating immune system. However, knowledge about zinc homeostasis, zinc deficiency, and related diseases is comparatively new. In 1963, Dr. Prasad proved for the first time the existence of zinc deficiency in man [
1
]. Since then, knowledge about zinc evolved rapidly uncovering molecular mechanisms being indispensable for regulating zinc homeostasis in humans. Its significance as a structural component in proteins [
2
] and its participation in numerous cellular functions include, but are not limited to, cell proliferation and differentiation [
3
,
4
], RNA and DNA synthesis [
5
,
6
], stabilization of cell structures/membrane [
7
,
8
], as well as redox regulation [
9
,
10
], and apoptosis [
11
,
12
]. Zinc is involved in various metabolic and chronic diseases such as: type 1 diabetes, rheumatoid arthritis, cancer, neurodegenerative diseases, and depression [
13
,
14
,
15
,
16
,
17
,
18
,
19
]. Moreover, there is also strong evidence between zinc deficiency and several infectious diseases such as shigellosis, acute cutaneous leishmaniosis, malaria, human immunodeficiency virus (HIV), tuberculosis, measles, and pneumonia [
20
,
21
].
When zinc deficiency was first discovered, it was thought to be a rare disease. However, zinc deficiency is very common, with estimated two billion people worldwide being affected, and is identified as a major contributor to the burden of disease in developing countries. It is the 5th leading life-threatening factor, especially in developing countries [
22
]. In addition, industrial counties are affected by zinc deficiency, particularly the elderly population [
23
]. Despite zinc deficiency and related symptoms can easily be treated by proper zinc intake, suboptimal zinc status cannot simply diagnosed by reason of the lack of clinical signs and reliable biochemical indicators of zinc status. To date, no specific and reliable biomarker of zinc status is known, although serum/plasma zinc concentrations, hair zinc concentration, and urinary zinc excretion can be seen as potentially useful. Nevertheless, zinc status is highly impacted by the immune status itself (infection, inflammatory conditions), but also by diet, absorption and conserving mechanisms via gastrointestinal tract and kidneys [
24
]. Zinc uptake in the gastro intestinal (GI) tract is facilitated by an influx into the enterocyte, through the basolateral membrane and the transport into the portal circulation. Uptake mechanisms are not fully understood yet, however zinc transporters are mainly involved in zinc uptake or zinc efflux [
25
]. In this regard, Zrt-like, Irt-like protein (ZIP)4 is highly important since it is expressed along the entire GI tract acting as a major processor of zinc uptake into enterocytes from the apical membrane [
26
]. Moreover, zinc transporter (ZnT)3, is highly expressed in the human large and porcine small intestine and the esophagus [
27
,
28
]. Herein, its concrete function in the GI tract is largely unknown. However, studies in the esophagus uncovered its co-localization with sensory neuromediators and/or neuromodulators that are essential for the control of all functions of the GI tract either under physiological and pathological conditions as well as during diseases [
27
,
28
,
29
]. Hence, there is an ongoing need for the discovery of a reliable biological marker of zinc status.
Although the plasma pool is very small, it is highly important for cellular signaling since it is rapidly exchangeable and mobile. Consequently, intracellular zinc level can be altered resulting in altered cell function and differentiation [
30
,
31
]. The zinc-dependent regulation of the immune system is particularly interesting and will be discussed in more detail in this review. We will particularly focus on the importance of different types of zinc signals in innate as well as adaptive immunity, and highlight altered signaling pathways due to changed intracellular free zinc level.
2. Zinc Homeostasis and the Immune System: An Overview
3. Classification of Zinc Signals
A zinc flux can arise by triggering receptors such as Toll like receptor (TLR)4 in, e.g., monocytes. In this connection, zinc acts as second messenger, comparable to calcium, by influencing signaling cascades in a direct manner. This kind of zinc signal is independent of synthesis of the zinc transporter proteins from the ZnT and Zip family responsible for zinc re-distribution and zinc uptake and is therefore classified as zinc flux. Activation of a zinc transporter to enable a sharp rise in cytoplasmic zinc is thus possible.
4. Zinc, Signaling and Immunity
In addition to its function as second messenger, another suggested mechanism how zinc is involved in signaling is that zinc alters ligand binding to receptors either by changing the ligand's or the receptor's affinity. Here, LPS revealed altered fluidity depending on zinc's availability and thereby binding characteristics to receptors such as TLR4 and CD14 were affected as well as subsequent signal transduction [
89
].
Another possible scenario is the alteration of cellular membrane composition and fluidity [
90
]. Here, zinc could influence the generation and stability of membrane complexes causing assembly or disassembly of receptors and probably altering their endocytosis, as is well described for neuronal cells, but has also been observed in immune cells [
84
,
91
]. Furthermore, alterations of extracellular zinc conditions affect the concentration of free intracellular zinc so that persistent changes in extracellular zinc modify cell metabolism on the long run. Recent data indicate, that there is a major difference in the effects of zinc on signaling in innate compared to adaptive immune cells. Therefore, data will be discussed separately.
4.1. Innate Immune Cell Functions
Cells of the innate immune system, including principally neutrophil granulocytes and monocytes/macrophages, but also mast cells, DCs, and NK cells are the first to encounter invading pathogens at the side of infection. Recognition of pathogens and initiation of their clearance needs to be fast, which is only possible if specificity is compromised. Efficient immune response is completed by adaptive immune cells, which need longer to be recruited and activated, but are highly specific.
Innate immune cells recognize pathogens via detection of general pathogen-associated molecular patterns (PAMPs). Receptors are simply denoted pattern recognition receptors (PRRs) and examples include TLR, retinoic acid-inducible gene-I-like receptors (RLR) and nucleotide-binding oligomerization domain-like receptors (NLR). At least 10 different TLRs exist in humans, enabling cells to distinguish groups of pathogens and their intracellular or extracellular location. Lipoprotein (gram positive bacteria), zymosan (fungi) and LPS (gram negative bacteria) are for example detected by TLR1, -2 and -4, respectively [
92
]. Binding of a PAMP activates signaling pathways leading to antimicrobial processes including cytokine production, degranulation, phagocytosis of the pathogens and the presentation of the antigen to other cells, including those of the adaptive immune system. Ligation of PRRs generally leads to activation of interleukin-1 receptor-associated kinase (IRAK) family proteins through Myeloid differentiation primary response gene (MyD)88 signaling pathways as depicted in
Figure 1
and can either induce gene expression via nuclear factor kappa B (NFκB) or mitogen activated protein kinases (MAPK). Binding to NLRs directly leads to activation of TAK1, NFκB and MAP kinase pathways [
93
]. Of note, most cells are equipped with the identical sets of signaling molecules, but choice of signaling pathway(s) activated depends on the type of pathogens, so that appropriate reaction to attack the invader is induced. First data connecting zinc-induced changes in immune cell function to regulation of intracellular signaling by zinc arose in the late 1970s [
94
,
95
]. Direct effects of zinc on signaling molecules or indirect effects via phosphatases, kinases and redox metabolism have been described since then.
4.2. Zinc and (De-)Phosphorylation
In the following, we will first discuss some general mechanisms of how zinc affects intracellular signaling molecules and their activity in innate immune cells. Subsequently, we will use this information to describe selected key receptor-induced signaling pathways for the different innate immune cell types. This is far from being inclusive for all the pathways investigated so far, but should give a basic idea of the state of research. One should carefully extrapolate known mechanisms within certain pathways from one cell type to another, over simplifying those mechanisms as other parameters such as environmental circumstances, activation status, maturity grade and age of a cell have been shown to matter as well.
4.3. Zinc and Redox Metabolism: Two Strongly Intertwined Second Messengers
Balancing the redox state of a cell is important for regulation of its metabolism. Amongst others, ROS function as second messengers and interfere thereby with cellular signaling. Phorbol 12-myristate 13-acetate (PMA) activates the nicotinamide adenine dinucleotide phosphate (NADPH) oxidase via protein kinase C (PKC) resulting in ROS production. PMA is also a well-known inducer of a zinc flux [
122
]. As NADPH oxidase inhibition blocked the PMA-induced zinc signal, the release of zinc into the cytoplasm seems to be ROS-induced. H
2
O
2
was shown to increase intracellular zinc in granulocytic cells as well, underlining the association of zinc homeostasis with redox metabolism. Both the zinc signal and the increased ROS levels are essential to subsequently activate key immune functions [
40
]. ROS can induce release of zinc from proteins such as MTs or PKC itself, but the source could also be a cellular compartment such as lysosomes as shown for T cells or the endoplasmatic reticulum [
65
,
102
,
123
,
124
,
125
]. The source of zinc probably depends on cell type, magnitude of ROS alteration and the kind of oxygen species (O
2
−
, H
2
O
2
, HOCl or similar).
Interestingly, not only does the redox metabolism influence intracellular zinc homeostasis, but the zinc status of a cell also alters its redox state [
126
]. Pro-antioxidant functions have long been attributed to zinc for decades, and underlying mechanisms for this phenotypic observation are becoming increasingly clear. Although low concentrations of a zinc chelator TPEN (
N
,
N
,
N
′,
N
′-Tetrakis(2-pyridylmethyl)ethylenediamine), 5 µM) were not able to affect PKC activity, using 100 µM of TPEN inhibited PKC's function and thereby ROS synthesis. The abrogation of PKC activation when zinc is chelated is suggested to be due to the requirements of zinc finger structures for PKC's activity, but also because translocation of the enzyme between membrane and cytoskeleton involves zinc [
122
,
127
,
128
]. MAPK phosphatase (MKP)-1 is possibly also involved in LPS-induced cytokine induction via PKC. As MKP-1 is directly inhibited by zinc, the role of the trace metal in regulating LPS-induced effects seems to be complex and involve several levels, PKC being rather upstream of other effects. In contrast, long lasting zinc deficiency increased basal ROS levels and augmented stimulation induced ROS synthesis in myeloid cells [
48
] underlining again the difference between long- and short-term zinc alterations. Regarding signaling in innate cells, analyses of the role of zinc in oxidative burst added nice data to the puzzle, but more data are still necessary as some discrepancies exist [
40
,
41
]. An increase of ROS production by granulocytes during zinc deficiency seems to be clearly documented, whereas the effect of high zinc conditions has not been clearly defined, yet [
40
,
41
,
48
,
129
,
130
,
131
].
4.4. Zinc, Cyclic Nucleotides and Proteinases A and G
The intracellular second messengers cyclic adenosine monophosphate (cAMP) and cyclic guanosine monophosphate (cGMP) are synthesized by adenylate cyclase (AC) and guanylate cyclase (GC). Both are degraded by cyclic nucleotide phosphodiesterases (PDE). Their main targets are protein kinase A (PKA) and PKG, respectively, mediating inflammatory gene expression. On the one hand, PDEs need zinc for their activity, as zinc is tightly bound to the catalytic center [
118
,
120
]. This was first observed in PDEs in Baker's yeast, indicating that this is a conserved mechanism [
132
]. On the other hand, PDEs have an inhibitory site, which binds zinc with lower affinity. If zinc is available in high concentrations, hydrolysis of cAMP and cGMP is inhibited, causing their intracellular increase. In human monocytes, PDE 1, 3 and 4 have been shown to be inhibited during high zinc conditions. Furthermore, zinc seems to be involved in PDE expression as well, blocking LPS-induced increase in PDE4B transcription in monocytes, adding one more way of how zinc regulates intracellular second messenger levels and thereby signaling [
60
]. Finally, elevated cGMP does not only target PKG but also cross activates PKA. Subsequently, PKA phosphorylates Raf-1 at serine 259, rendering it inactive and preventing its activation by serine 338 phosphorylation. Thereby the whole cascade of LPS-induced NFκB signaling pathway is suppressed [
133
]. Cyclic nucleotides are not only affected by zinc flux, but the homeostatic zinc signal has been shown to inhibit AC, causing decreased cAMP levels, while GC activity and cGMP levels are not affected [
134
,
135
]. Increased cAMP and cGMP levels have been associated with monopoiesis, which will be discussed later.
4.5. Zinc-Mediated Regulation of NFκB Signaling and A20 Expression
4.6. Zinc and Signaling Proteome
Most of the so far described effects of zinc in signaling depict consequences of immediate changes in zinc homeostasis. Long-term alterations in intracellular zinc are often related to altered expression of zinc transporters and zinc binding proteins. In a recent approach, Aude-Garcia et al. [
68
] cultured macrophages with zinc oxide nanoparticles or an equivalent dose of zinc acetate for at least 24 h and analyzed the proteome of the cells via 2D gel based analyses. In addition to changes regarding energy, mitochondrial, cytoskeletal and DNA-control metabolism, authors found altered levels of certain signaling molecules. Protein phosphatase 1a and 2a and S/T phosphatase were affected by zinc acetate. Zinc oxide nanoparticles changed the levels of Prostaglandin reductase 2, Phosphatidylinositol transfer protein (PITP)α, Acyl-protein thioesterase 2, Regulator of G-protein signaling 10, MOB kinase activator 1B and Inositol-3-phosphate synthase 1. Protein levels of MyD88 were affected by both the zinc ion and the nanoparticle in a similar manner [
68
]. If altered proteome is due to changes in gene expression, posttranscriptional mechanisms or if protein stability is reduced remains open. Furthermore, information on whether proteins are functional is missing. However, results suggest that certain signaling pathways are prioritized during high zinc conditions and are important to the cell. MyD88 might be stabilized to keep signaling pathways, important for the pro-inflammatory activity of the cell active during high zinc conditions. The study provides molecules to the list of zinc-regulated targets in signaling, but as protein species-based proteomics have some limitations, results have to be verified carefully [
68
]. Effects of zinc deficiency should be investigated using a similar approach as well.
4.7. Zinc and Transcription Factors
As a note, many transcription factors governing innate immune cell functions are zinc finger proteins, suggesting an additional direct or indirect role of zinc in intracellular signaling. Promyelocytic leukemia zinc-finger (PLZF) is a critical transcription factor for induced natural killer T cell (iNKT cell) development as is PU.1 for myelopoiesis [
141
,
142
]. GATA-4, -5, and -6 and krüppel like factor (KLF)-4 and KLF-5 are additional examples of zinc finger transcriptionfactors important during the development of innate immune cells [
143
,
144
]. The same is true for adaptive immune cells: zinc finger transcription factors (ZEB1, ZNF292, and ZNF644) were confirmed to play a role in CD4
+
T cells in Rheumatoid Arthritis. A lot of genes involved in regulating zinc homeostasis reveal metal response elements in their promoters and can be induced by binding of metal-response element binding transcription factor (MTF)-1, which acts as an intracellular zinc sensor, suggesting feedback mechanisms [
145
]. After some initial analysis in this area of research, this topic has not been followed much recently, but would be a great area for future experiments.
5. From Altered Zinc Homeostasis via Signaling to Innate Immune Cell Functions
As described above, the effects of zinc homeostasis on signaling are complex. Knowing the effect of zinc on single signaling molecules does not enable prediction of the functional outcome of zinc deficiency or supplementation. In the upcoming paragraphs, examples will be described for some selected zinc-dependent key functions of innate immune cells. Predicted underlying molecular mechanism for the particular setting will be mentioned as well.
5.1. TLR4 Signaling in Monocytes
5.2. Zinc Homeostasis, Hematopoiesis and STAT3
5.3. Zinc Alters Killing Activity of Natural Killer Cells
Although natural killer cells belong to the lymphoid lineage, they are counted as innate immune cells and kill infected or transformed cells. Regular human cells carry major histocompatibility complex (MHC)-I on their surface, which rescues them from being killed by binding to p58 killer cell inhibitory receptor (KIR) on NK cells. KIR can bind zinc which alters recognition of MHC-I and thereby the induction of subsequent signaling pathways. A zinc-dependent multimerization of KIR was suggested to be essential for formation of the clusters of KIR and human leukocyte antigen (HLA) molecules, also called "natural killer (NK) cell immune synapse" [
84
,
158
]. Effects of zinc deficiency on KIR multimerization have not been investigated, yet, but might explain why the lytic activity of NK cells is decreased when zinc supply is limited [
159
]. In general, existing studies for NK cells are limited to experiments, where zinc has been extracellularly added, whereas effects of altered intracellular zinc homeostasis can only be assumed, as measurements of intracellular zinc levels after stimulation are not available. Only some very recent data are available that showed a zinc flux shortly after IL-1 stimulation [
85
]. However, NK cells carry a variety of cell surface receptors, essential for fine tuning of their activities, which contain tyrosine phosphorylation sides such as immunoreceptor tyrosine-based activation motif (ITAM) or immunoreceptor tyrosine-based inhibitory motif (ITIM). As described earlier, the ability of zinc to inhibit PTPs is well accepted, so a role of intracellular zinc homeostasis in regulation of signaling pathways in NK cells is highly likely, but remains to be analyzed.
5.4. Mast Cell Degranulation Depends on Zinc Levels
Knowledge of a role of zinc in signaling in mast cells (MCs) is scarce. Cytoplasm and granules seem to represent two distinct zinc pools in this cell type. High amounts of zinc are stored in the granules, lost during immunglobulin (Ig)E-induced degranulation, and are quickly replenished thereafter. This zinc is probably not involved in signaling [
160
]. Zinc was however important for the process of degranulation, mediating granule translocation to the plasma membrane Zinc chelation inhibited degranulation. A transient increase in cytoplasmic zinc has been reported after cell activation [
161
]. This zinc signal affected translocation of NFκB to the nucleus and phosphorylation of ERK1/2, JNK1/2 and the translocation of PKC to the plasma membrane, as reported for other cells and stimuli [
55
,
161
]. Abrogation of the zinc wave via incubation with the zinc chelator TPEN abrogated activation of signaling pathways and blocked expression of IL-1β and TNFα. Zinc supplementation was able to prolong activation of the signaling pathways. Different probes were used to measure zinc here, enabling staining of the different zinc pools. It is well known, that low molecular weight probes highly differ in their exact intracellular location, which might explain the discrepancies [
162
].
6. The Adaptive Immunity
The adaptive immune system is built up of the humoral immune defense, represented by B lymphocytes (B cells), and the cellular immune defense, represented by T lymphocytes (T cells). Both cell types evolve off precursors and are educated to recognize their specific antigen in the thymus (T cells) or bone marrow (B cells), respectively. According to antigen contact, naïve lymphocytes differentiate into effector cells or memory cells, facilitating a stronger reaction to a known antigen as a secondary response due to immunological memory. The immune system is a highly active and proliferating organ influenced by a multitude of external factors such as nutrition. In this regard, the immune response is highly dependent on zinc, since zinc deficiency is accompanied with malfunctions and disorders, such as allergies, autoimmune diseases and cancer. In the past decade, studies on animal models have provided considerable knowledge about the underlying molecular mechanisms of the zinc-related modulation of the immune system, including new insights into how nutritional deficiency can alter immune cell homeostasis and function of the adaptive immunity. Zinc-related immunological changes in the adaptive immune response and altered signaling cascades are discussed in the following sections.
6.1. Zinc Homeostasis in Development of T and B Cells
6.2. Zinc Signals in T Cell Receptor-Triggered Signaling Cascades
6.3. Zinc Signals in Interleukin Receptor Signaling Pathways in T Cells
6.4. Zinc Signals in B Cell Maturation, Survival and Function
7. Conclusions
Summing up, all immune cells are directly affected by zinc signals. Most prominent pathologic changes are found during zinc deficiency indicating that zinc is a main regulator of cellular function and signal transduction. However, precise underlying molecular mechanisms still need to be investigated in further detail, to guarantee beneficial effects of clinical zinc application to patients suffering of distinct diseases.
Conflicts of Interest
The authors declare that they have no conflict of interest.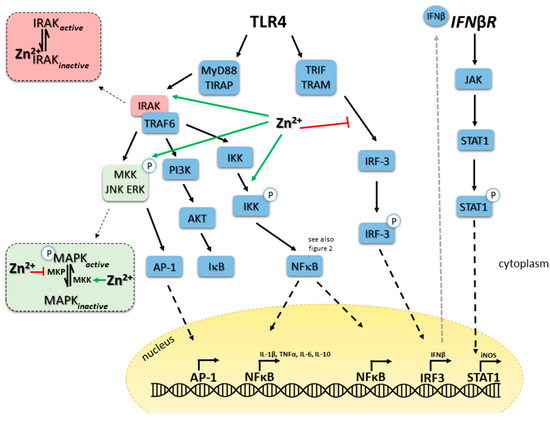 Figure 1.
Zinc in TLR4 triggered signaling, illustrating explanations in the text. Black arrow: activation, green arrow: activating function of zinc, red T bar: inhibiting function of zinc, black dotted arrow, translocation of the molecule to nucleus, grey dotted arrow: secretion of the molecule. Abbreviations: ERK: extracellular Signal-regulated Kinase; IFN: interferon; IRAK: Interleukin-1 receptor-associated
kinase
; IκB: Inhibitor of NFκB; IKK: IκB kinase; IRF: interferon related factor; JAK: JNK janus kinase; JNK: c-Jun N-terminal Kinase; MAPK: mitogen activated protein kinases MEK: MAPK/Erk kinase; MKK: MAPK kinase; MKP: MAPK phosphatase; MyD88: Myeloid differentiation primary response gene 88; NFκB: nuclear factor (NF) κB. PI3K: phosphatidyl-inositol-3-phosphate; STAT: signal transducers and activators of transcription; TBK: Tank-binding kinase 1; TIRAP: toll-interleukin 1 receptor (TIR) domain containing adaptor protein; TLR: toll like receptor; TRAF: TNF receptor-associated factor; TRAM: TRIF-related adaptor molecule; TRIF: Toll-interleukin-1 receptor (TIR) domain-containing adaptor-inducing interferon.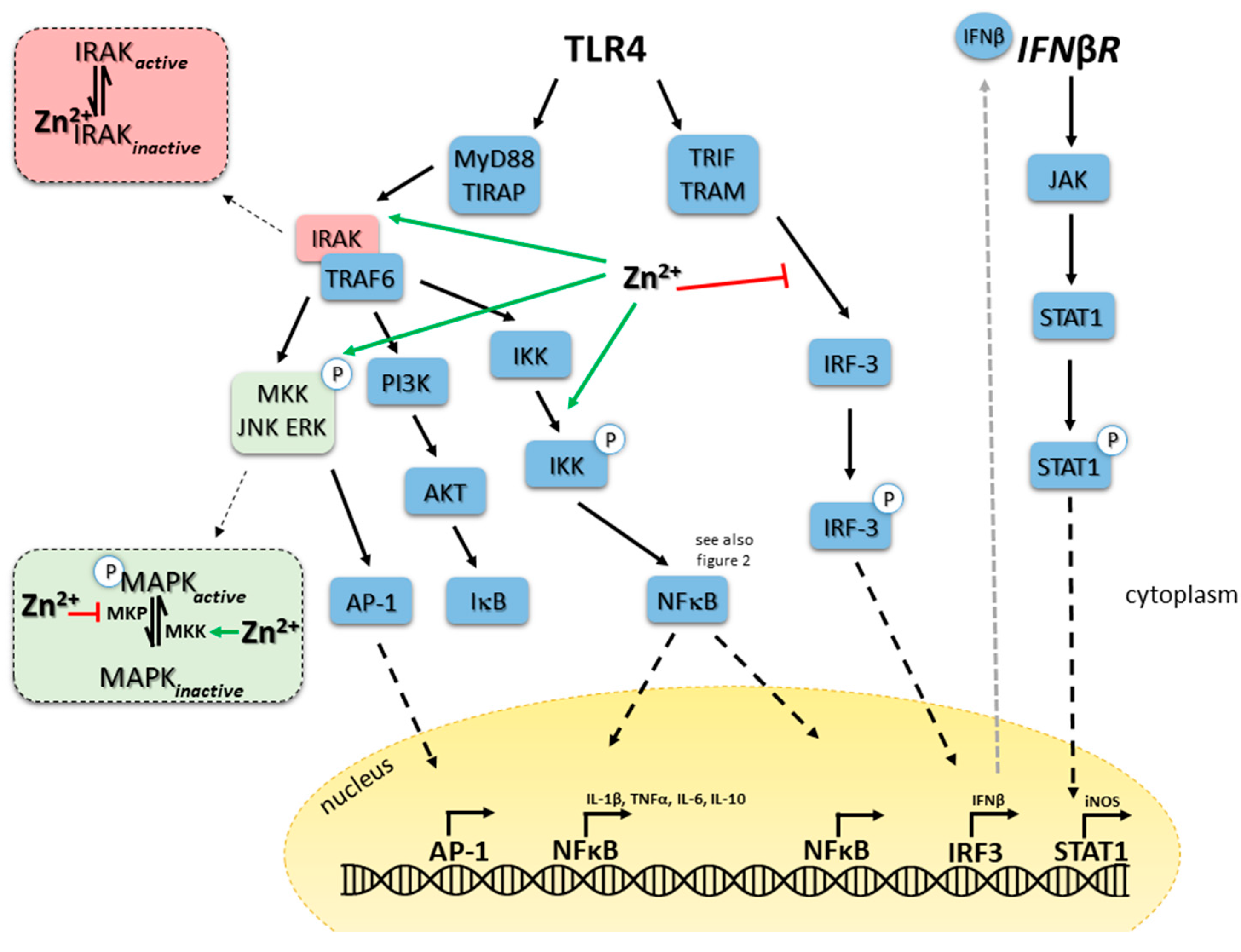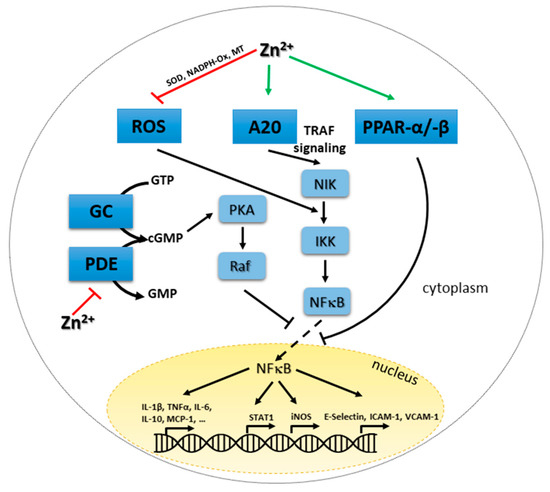 Figure 2. Complex impact of zinc on NFκB-centered signaling as illustration of signaling pathways described in the text. Red T bar: inhibitory function of zinc, green arrow: activating function of zinc, black T bar: inhibition, black arrow activation. Abbreviations: cGMP: cyclic guanine monophosphate; GC: guanine cyclase; GMP: guanine monophosphate; GTP: guanine triphosphate; ICAM: intercellular adhesion molecule; iNOS: inducible nitric oxide synthase; IKK: IκB kinase; IL: interleukin; MCP: monocyte chemoattractant protein; NIK: NFκB-inducing kinase; NFκB: nuclear factor (NF)κB; PDE: phosphodiesterase; PKA: protein kinase A; PPAR: Peroxisome proliferator-activated receptor; ROS: reactive oxygen species; STAT: Signal transducer and activator of transcription; TNF: tumor necrosis factor; VCAM: vascular cell adhesion molecule.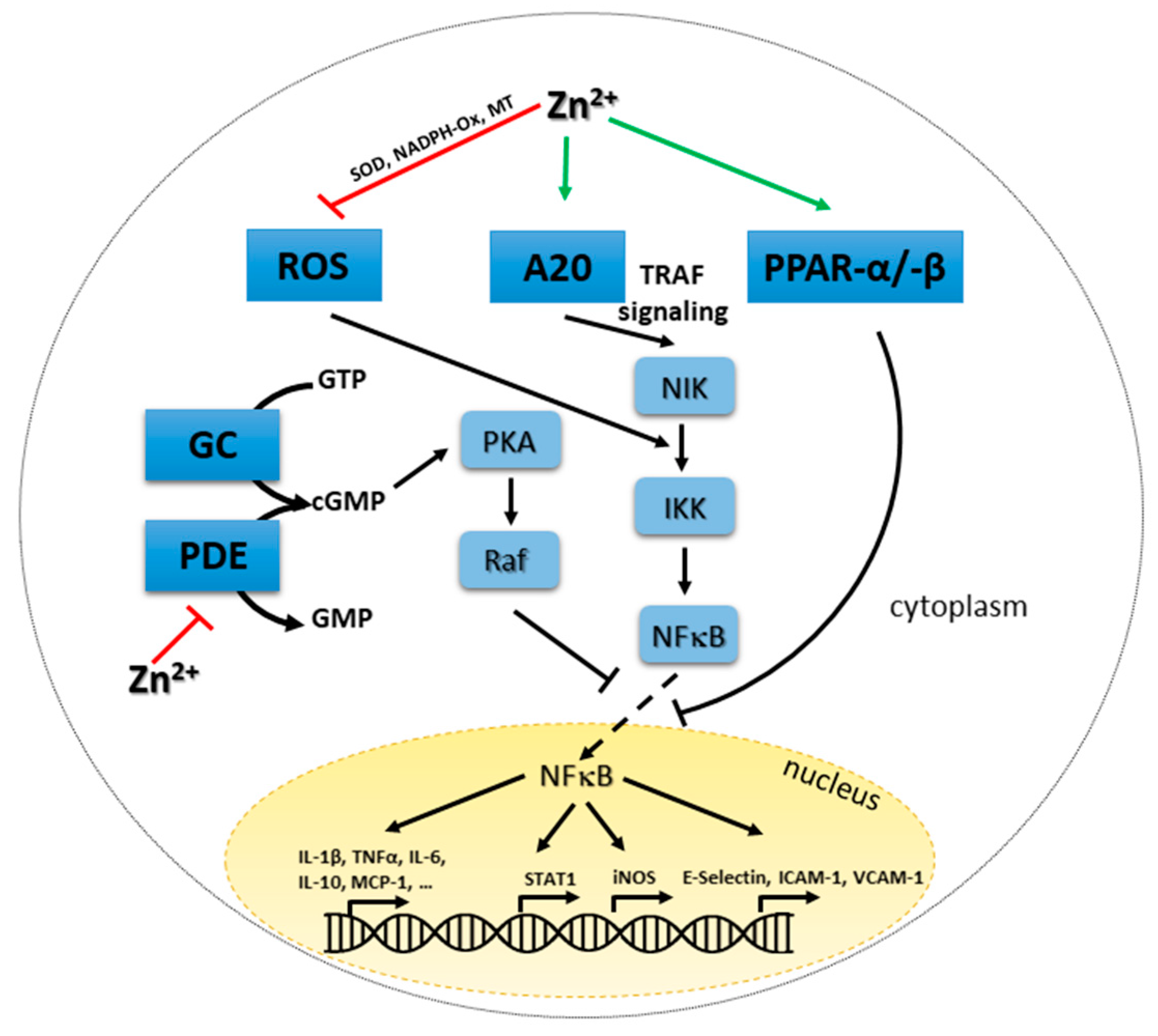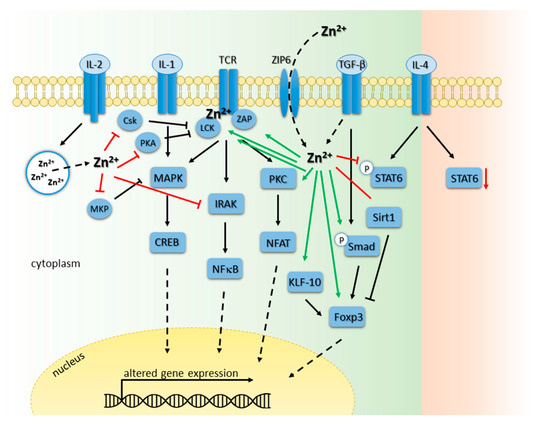 Figure 3. Influence of zinc signals on T cell signaling pathways. This figure presents an overview of T cell receptor (TCR)-, Interleukin-1 receptor (IL-1R)-, IL-2R-, IL-4R-, Transforming growth factor β1 receptor (TGF-β1R)-signaling in T cells, as well as zinc flux via zinc transporter ZIP6. Signaling pathways are described in detail in the text. Black arrow: activation, green arrow: activating function of zinc, red T bar: inhibiting function of zinc, black dotted arrow, translocation of the molecule to nucleus. Abbreviations: CREB: cyclic adenosine monophosphate response element-binding protein; Csk: c-src tyrosine kinase; Foxp3: forkhead-box-protein P3; IL: Interleukin; IRAK: interleukin-1 receptor-associated kinase; KLF-10: krüppel-like factor-10; Lck: lymphocyte-specific protein tyrosine kinase; MAPK: mitogen-activated protein kinase; MKP: MAP-kinase phosphatase; NFAT: nuclear factor of activated T cells; NFκB: nuclear factor kappa B; PKA: protein kinase A; PKC: protein kinase C; SIRT1: Sirtuin1; STAT: signal transducer and activator of transcription; TCR: T cell receptor; TGF-β1: transforming growth factor β1. ZAP: zeta-chain (TCR)-associated protein kinase.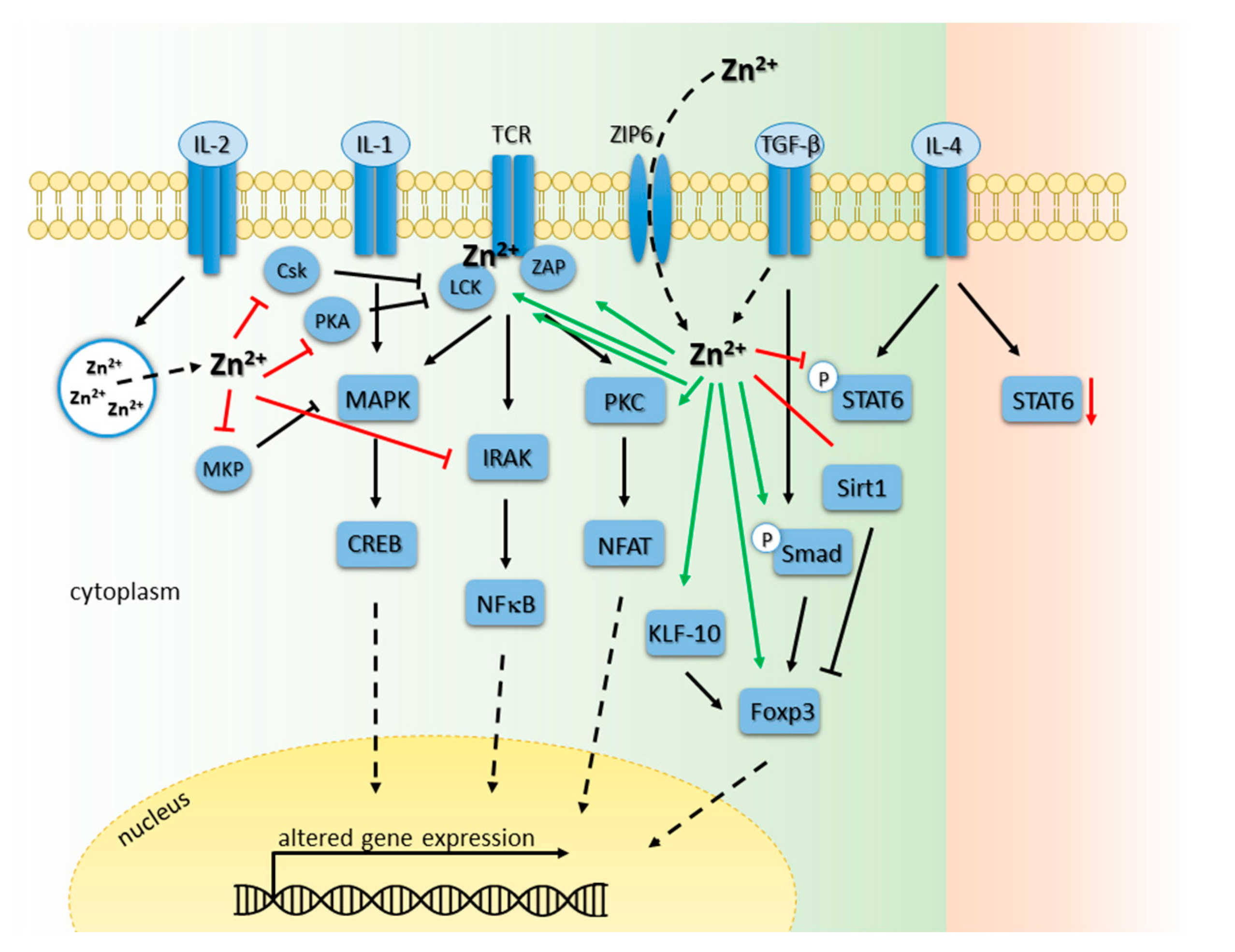 Table 1.
Effect of zinc signals on Immune function: Altered immunological functions can be induced by different zinc signals, as zinc flux, zinc wave, and homeostatic zinc signal. Altered from [
59
].
Table 1. Effect of zinc signals on Immune function: Altered immunological functions can be induced by different zinc signals, as zinc flux, zinc wave, and homeostatic zinc signal. Altered from [59].
Zinc Signal
Duration
Effect
Zinc Flux
Seconds/minutes

▪

Inhibition of PDE in monocytes/macrophages [

60

]

▪

▪

Induction of PMA-triggered NET-formation in PMN [

40

]

▪

▪

Zinc release from lysosomes in T cells [

65

]

▪

Triggering T cell activation by APC [

66

]

▪

Induction of Lck homodimerization/activation in T cells [

67

]

▪

Redistribution of zinc from nucleus/mitochondria to cytosol/microsomes [

30

]

Zinc wave
Minutes

▪

Zinc release from perinuclear area in mast cells [

57

]

homeostatic Zinc Signal
Hours

▪

▪

Induction of A20 expression in T cells, monocytes [

69

]

▪

▪

▪

Negative regulation of TRIF pathway in macrophages [

5

]

▪

▪

Inhibition of AC transcription in T cells [

75

]

▪

Influence of cytokine production, e.g., IL-2 in T cells [

72

]

▪

Induction of Akt/ERK/p38 phosphorylation in T cells [

73

]

▪

Triggering of PTEN degradation in T cells [

76

]

▪

Inhibition of IL-6/IL-1 induced STAT3 phosphorylation [

77

]

▪

Alteration of M1/M2 differentiation by inhibition of STAT6 phosphorylation [

78

]

▪

▪

▪

Reduced cytokine production, e.g., IFN-γ in T cells [

83

]

▪

▪

Inhibition of caspase activity

▪

▪

Inhibition of DNA fragmentation [

6

]

▪

Epigenetic modifications due to inhibition of SIRT1 [

79

]

▪
AC: adenylate cyclase; cAMP: cyclic adenosine monophosphate; cGMP: cyclic guanine monophosphate; CRP: c-reactive protein; DC: dendritic cell; IL: interleukin; IFN: interferon; IRAK: interleukin-1 receptor-associated kinase; Lck: lymphocyte-specific protein tyrosine kinas; MAPK: mitogen-activated protein kinase; MKP: MAP-kinase phosphatase; MyD88: myeloid differentiation primary response gene 88; NET: neutrophil extracellular traps; NK: natural killer; PDE: phosphodiesterase; PMA: Phorbol-12-myristat-13-acetat; PTEN: phosphatase and tensin homolog deleted on chromosome 10; STAT: signal transducers and activators of transcription; TCR: T cell receptor; APC: Antigen presenting cell; Th: T helper; TNF: tumor necrosis factor; TRIF: Toll-interleukin-1 receptor (TIR) domain-containing adaptor-inducing interferon.
Table 2. IC50 values for signaling molecules in humans.

| Signaling Molecule | IC50 | Reference |
| --- | --- | --- |
| PTPRB | 98 pM | [114] |
| PTEN | 0.6 nM | [76] |
| PTP1B | 3–17 nM | [100] |
| SHP-1 | 92 nM | [115] |
| SHP-2 | 1–2 µM | [100] |
| TC PTP | 200 mM | [99] |
| Calcineurin | 250 nM–7 µM | [116] |
| Ca-dependent endonuclease | 1 µM (in the presence of 10 µM Ca) | [117] |
| LAR | 20 µM | [100] |
| PDE4A | >5 µM | [118] |
| PDE 5 | >1 µM | [119] |
| PDE 6 | >1 µM | [120] |
| IKK | 8.7 µM | [121] |
| Caspase 3 | <10 nM, 100 nM | [86,99] |
PTPRB: Protein phosphotyrosylphosphatase receptor type B; PTEN: Phosphatase and tensin homologue deleted on chromosome 10; PTP1B: Protein phosphotyrosylphosphatase 1B; SHP: SH2-containing phosphatase; TC PTP: T cell PTP; LAR: Leukocyte common antigen-related protein; PDE: phosphodiesterase; IKK: IκB kinase.
© 2017 by the authors. Licensee MDPI, Basel, Switzerland. This article is an open access article distributed under the terms and conditions of the Creative Commons Attribution (CC BY) license (http://creativecommons.org/licenses/by/4.0/).