Isoproterenol Increases RANKL Expression in a ATF4/NFATc1-Dependent Manner in Mouse Osteoblastic Cells
1
Department of Pharmacology, College of Dentistry and Research Institute of Oral Science, Gangneung-Wonju National University, Gangwon-do 25457, Korea
2
Department of Molecular Genetics, School of Dentistry and Dental Research Institute, Seoul National University, Seoul 08826, Korea
3
Graduate School, Daegu Gyeongbuk Institute of Science and Technology (DGIST), Daegu 42988, Korea
*
Authors to whom correspondence should be addressed.
Received: 29 September 2017 / Revised: 16 October 2017 / Accepted: 20 October 2017 / Published: 20 October 2017
Abstract
Sympathetic nervous system stimulation-induced β-adrenergic signal transduction is known to induce bone loss and increase of osteoclast activity. Although isoproterenol, a nonspecific β-adrenergic receptor agonist, has been shown to increase receptor activator of NF-κB ligand (RANKL), the details of the regulatory mechanisms remain unclear. In the present study, we investigated the role of the nuclear factor of activated T-cells (NFAT) in isoproterenol-induced RANKL expression in C2C12 and in primary cultured mouse calvarial cells. Isoproterenol increased nuclear factor of activated T-cells cytoplasmic 1 (NFATc1) and RANKL expressions at both mRNA and protein levels and increased NFAT reporter activity. NFATc1 knockdown blocked isoproterenol-mediated RANKL expression. Isoproterenol also promoted cAMP response element-binding protein 1 (CREB1) and activating transcription factor 4 (ATF4) phosphorylation. Isoproterenol-mediated transcriptional activation of NFAT was blocked by protein kinase A (PKA) inhibitor H89. Isoproterenol-induced CREB1, ATF4, NFATc1, and RANKL expressions were suppressed by H89. Mutations in cAMP response element-like or NFAT-binding element suppressed isoproterenol-induced
RANKL
promoter activity. Chromatin immunoprecipitation analysis demonstrated that isoproterenol increased NFAT-binding and ATF4-binding activities on the mouse
RANKL
promoter, but did not increase CREB1-binding activity. Association of NFATc1 and ATF4 was not observed in a co-immunoprecipitation study. ATF4 knockdown suppressed isoproterenol-induced NFAT binding to the
RANKL
promoter, whereas NFATc1 knockdown did not suppress isoproterenol-induced ATF4 binding to the
RANKL
promoter. ATF4 knockdown suppressed isoproterenol-induced expressions of NFATc1 and RANKL. These results suggest that isoproterenol increases RANKL expression in an ATF4/NFATc1-dependent manner.
View Full-Text
►

▼

Figures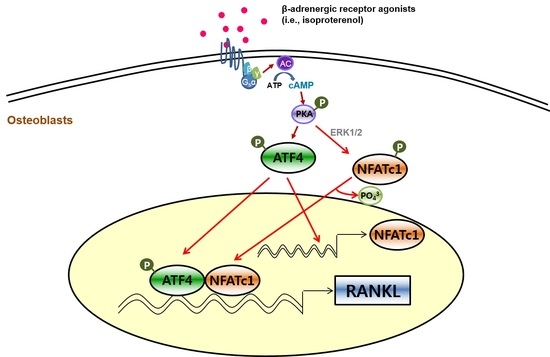 Graphical abstract
This is an open access article distributed under the
Creative Commons Attribution License
which permits unrestricted use, distribution, and reproduction in any medium, provided the original work is properly cited (CC BY 4.0).

Share & Cite This Article
MDPI and ACS Style
Baek, K.; Park, H.-J.; Baek, J.-H.; Kim, H.-R. Isoproterenol Increases RANKL Expression in a ATF4/NFATc1-Dependent Manner in Mouse Osteoblastic Cells. Int. J. Mol. Sci. 2017, 18, 2204.
Note that from the first issue of 2016, MDPI journals use article numbers instead of page numbers. See further details here.
Related Articles
Comments
[Return to top]