Transforming Growth Factor-β Drives the Transendothelial Migration of Hepatocellular Carcinoma Cells
1
Department of Medicine I, Division: Institute of Cancer Research, Comprehensive Cancer Center, Medical University of Vienna, 1090 Vienna, Austria
2
Institute for Clinical Chemistry, Medical Faculty Mannheim, University of Heidelberg, University Hospital Mannheim, 68167 Mannheim, Germany
3
Molecular Hepatology Section, Department of Medicine II, Medical Faculty Mannheim, University of Heidelberg Mannheim, 68167 Mannheim, Germany
4
GenXPro GmbH, 60438 Frankfurt am Main, Germany
5
Center for Medical Statistics, Informatics and Intelligent Systems, Medical University of Vienna, 1090 Vienna, Austria
*
Author to whom correspondence should be addressed.
Received: 21 August 2017 / Revised: 15 September 2017 / Accepted: 15 September 2017 / Published: 10 October 2017
Abstract
The entry of malignant hepatocytes into blood vessels is a key step in the dissemination and metastasis of hepatocellular carcinoma (HCC). The identification of molecular mechanisms involved in the transmigration of malignant hepatocytes through the endothelial barrier is of high relevance for therapeutic intervention and metastasis prevention. In this study, we employed a model of hepatocellular transmigration that mimics vascular invasion using hepatic sinusoidal endothelial cells and malignant hepatocytes evincing a mesenchymal-like, invasive phenotype by transforming growth factor (TGF)-β. Labelling of respective cell populations with various stable isotopes and subsequent mass spectrometry analyses allowed the "real-time" detection of molecular changes in both transmigrating hepatocytes and endothelial cells. Interestingly, the proteome profiling revealed 36 and 559 regulated proteins in hepatocytes and endothelial cells, respectively, indicating significant changes during active transmigration that mostly depends on cell–cell interaction rather than on TGF-β alone. Importantly, matching these in vitro findings with HCC patient data revealed a panel of common molecular alterations including peroxiredoxin-3, epoxide hydrolase, transgelin-2 and collectin 12 that are clinically relevant for the patient's survival. We conclude that hepatocellular plasticity induced by TGF-β is crucially involved in blood vessel invasion of HCC cells.
View Full-Text
►

▼

Figures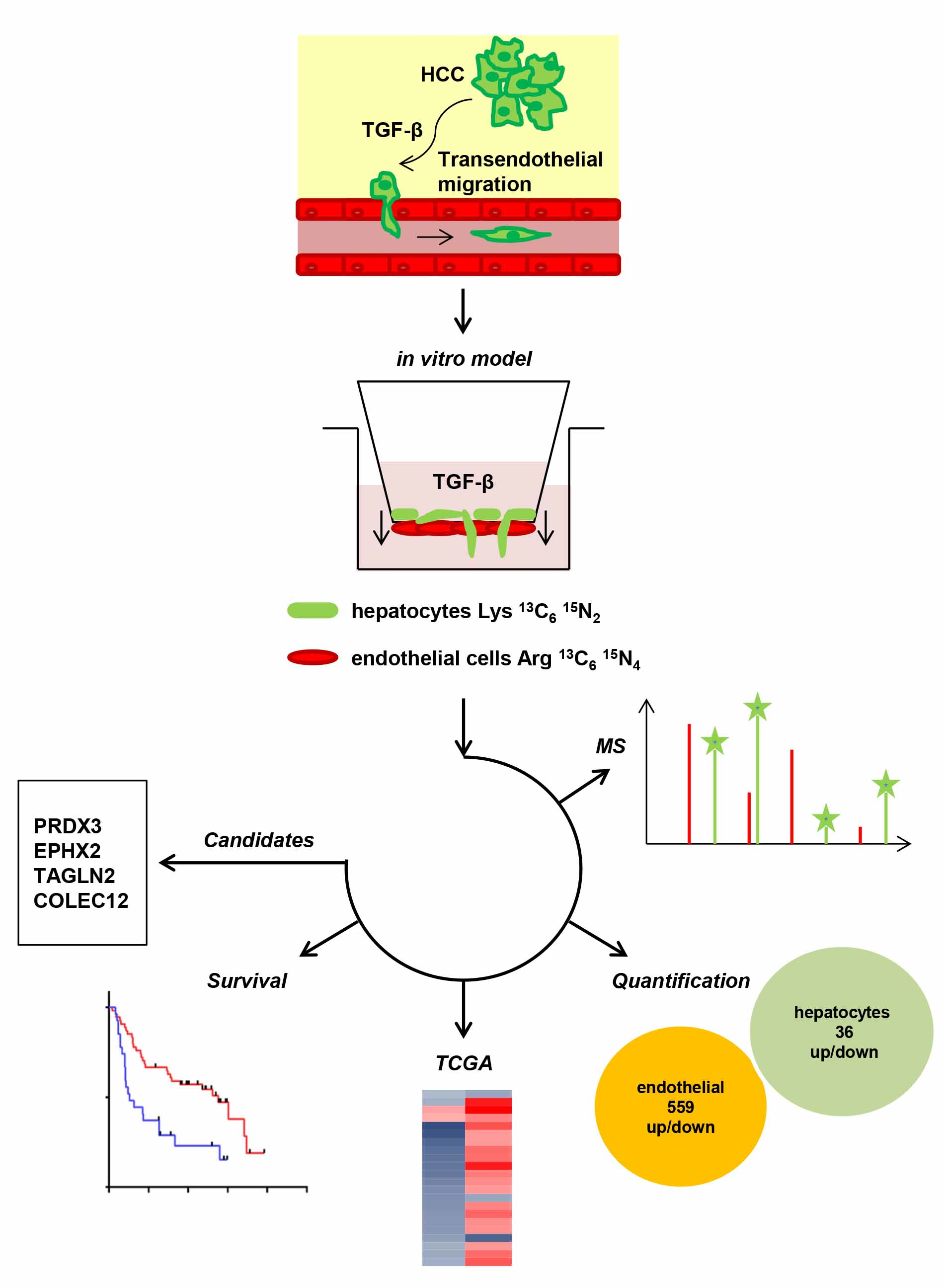 Graphical abstract
This is an open access article distributed under the
Creative Commons Attribution License
which permits unrestricted use, distribution, and reproduction in any medium, provided the original work is properly cited (CC BY 4.0).

Share & Cite This Article
MDPI and ACS Style
Koudelkova, P.; Costina, V.; Weber, G.; Dooley, S.; Findeisen, P.; Winter, P.; Agarwal, R.; Schlangen, K.; Mikulits, W. Transforming Growth Factor-β Drives the Transendothelial Migration of Hepatocellular Carcinoma Cells. Int. J. Mol. Sci. 2017, 18, 2119.
Note that from the first issue of 2016, MDPI journals use article numbers instead of page numbers. See further details here.
Related Articles
Comments
[Return to top]