Open Access This article is
freely available
re-usable
Review
The Emerging Role of Zinc in the Pathogenesis of Multiple Sclerosis
Department of Physiology, Hallym University, College of Medicine, Chuncheon 24252, Korea
*
Author to whom correspondence should be addressed.
†
These authors contributed equally to this work.
Received: 7 September 2017 / Accepted: 25 September 2017 / Published: 28 September 2017
Abstract
:
Our lab has previously demonstrated that multiple sclerosis-induced spinal cord white matter damage and motor deficits are mediated by the pathological disruption of zinc homeostasis. Abnormal vesicular zinc release and intracellular zinc accumulation may mediate several steps in the pathophysiological processes of multiple sclerosis (MS), such as matrix metallopeptidase 9 (MMP-9) activation, blood-brain barrier (BBB) disruption, and subsequent immune cell infiltration from peripheral systems. Oral administration of a zinc chelator decreased BBB disruption, immune cell infiltration, and spinal white matter myelin destruction. Therefore, we hypothesized that zinc released into the extracellular space during MS progression is involved in destruction of the myelin sheath in spinal cord white mater and in generation of motor deficits. To confirm our previous study, we employed zinc transporter 3 (
ZnT3
) knockout mice to test whether vesicular zinc depletion shows protective effects on multiple sclerosis-induced white matter damage and motor deficits.
ZnT3
gene deletion profoundly reduced the daily clinical score of experimental autoimmune encephalomyelitis (EAE) by suppression of inflammation and demyelination in the spinal cord.
ZnT3
gene deletion also remarkably inhibited formation of multiple sclerosis-associated aberrant synaptic zinc patches, MMP-9 activation, and BBB disruption. These two studies strongly support our hypothesis that zinc release from presynaptic terminals may be involved in multiple sclerosis pathogenesis. Further studies will no doubt continue to add mechanistic detail to this process and with luck, clarify how these observations may lead to development of novel therapeutic approaches for the treatment of multiple sclerosis.
Keywords:
multiple sclerosis; zinc; EAE; MMP-9 activation; BBB disruption; microglia activation
Acknowledgments
We would like to express our special thanks to Ms. Tae Yul Kim for schematic illustrations. This study was supported by the National Research Foundation of Korea (NRF) (NRF-2017R1C1B1004226), through a grant to Bo Young Choi. Support for this work was given to Sang Won Suh, through the Brain Research Program from the NRF, funded by the Ministry of Science, ICT & Future Planning (NRF-2017M3C7A1028937).
Author Contributions
Bo Young Choi and Jong Won Jung wrote the manuscript and evaluated the current literature on the topics. Sang Won Suh contributed to the writing, review, and editing of the manuscript. Sang Won Suh takes full responsibility for the manuscript and its originality. All authors read and approved the final manuscript.
Conflicts of Interest
The authors declare no conflict of interest.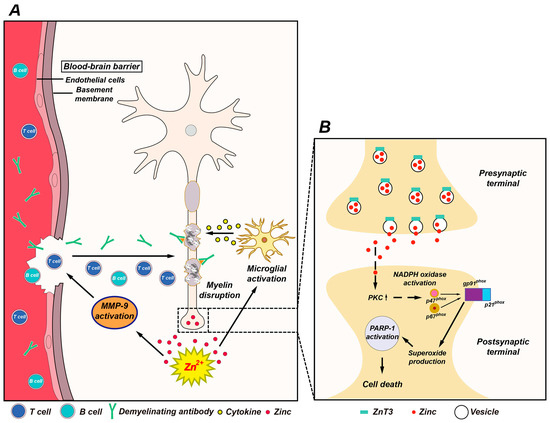 Figure 1. Possible association of zinc with multiple sclerosis (MS) pathogenesis. (A) This schematic drawing indicates several ways in which zinc may influence MS pathogenesis. Released zinc may induce matrix metallopeptidase-9 (MMP-9)-dependent blood-brain barrier (BBB) disruption. This may further enhance the migration of autoreactive immune cells and demyelinating antibodies by degrading extracellular-matrix macromolecules. In addition, released zinc may activate microglia and then proinflammatory cytokines released by activated microglia cause damage to the myelin sheath. (B) Mechanism of zinc-induced neuronal damage in MS. Cytoplasmic influx of synaptically released zinc stimulates protein kinase C (PKC), NADPH oxidases, and superoxide-generating enzyme. Superoxide production activates poly(ADP-ribose) polymerase-1 (PARP-1) in the nucleus, leading to cell death.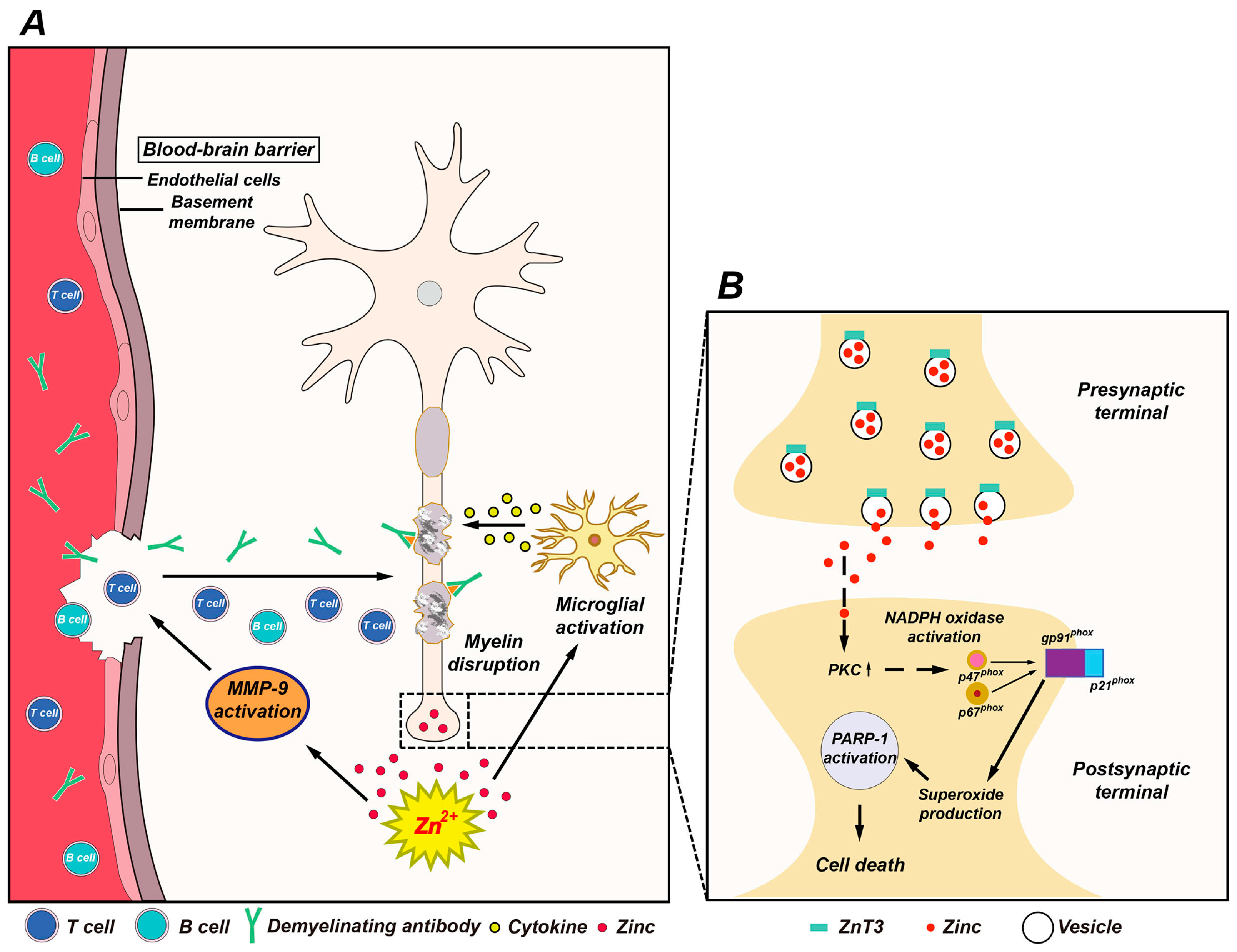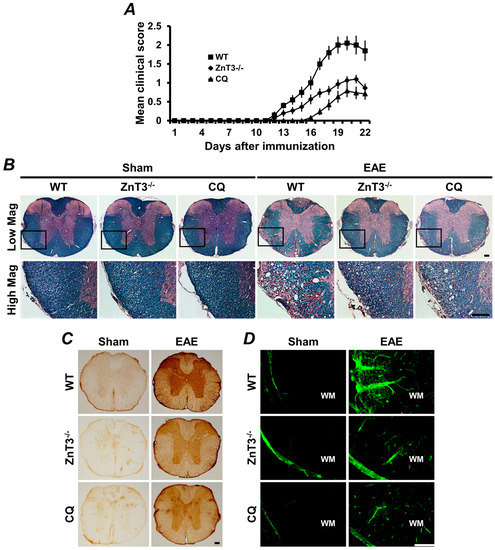 Figure 2.
Experimental autoimmune encephalomyelitis (EAE)-induced clinical and neuropathological changes were reduced by
ZnT3
gene deletion or zinc chelation. (
A
) The clinical score of EAE was significantly reduced in
ZnT3
knockout and clioquinol (CQ)-treated mice. Data are with respect to mean SEM (
n
= 10–21) *
p
< 0.05 compared with wild type (WT) immunized mice. (
B
) Representative images showed luxol fast blue (LFB) staining in white matter of the thoracic spinal cord 21 days after the initial MOG
35–55
immunization. LFB staining of the spinal cord represents extensive demyelination in the WT immunized mice. However, EAE-induced demyelination was remarkably reduced in the
ZnT3
knockout and CQ-treated mice. Scale bar = 100 μm. (
C
) Representative images showed immunoglobulin G (IgG) extravasation in the thoracic spinal cord of EAE mice. Sham-operated mice revealed only weak IgG immunoreactivity (brown color) primarily confined to the BBB-deficient area. WT immunized mice revealed prominent extravasation of IgG throughout the parenchyma of the spinal cord. However,
ZnT3
knockout and CQ-treated mice showed significant reduction of IgG immunoreactivity. Scale bar = 100 μm. (
D
) Fluorescence photomicrographs represented MMP-9 activity in the white matter of sham-operated or EAE mice. MMP-9 was localized by in situ zymography. A weak fluorescence signal was detected in sham-operated mice. However, the fluorescence intensity significantly increased in the white matter of the spinal cord in EAE-induced WT mice. This increased fluorescence intensity was remarkably reduced in
ZnT3
knockout and CQ-treated mice. Scale bar = 100 μm. MOG: myelin oligodendrocyte glycoprotein.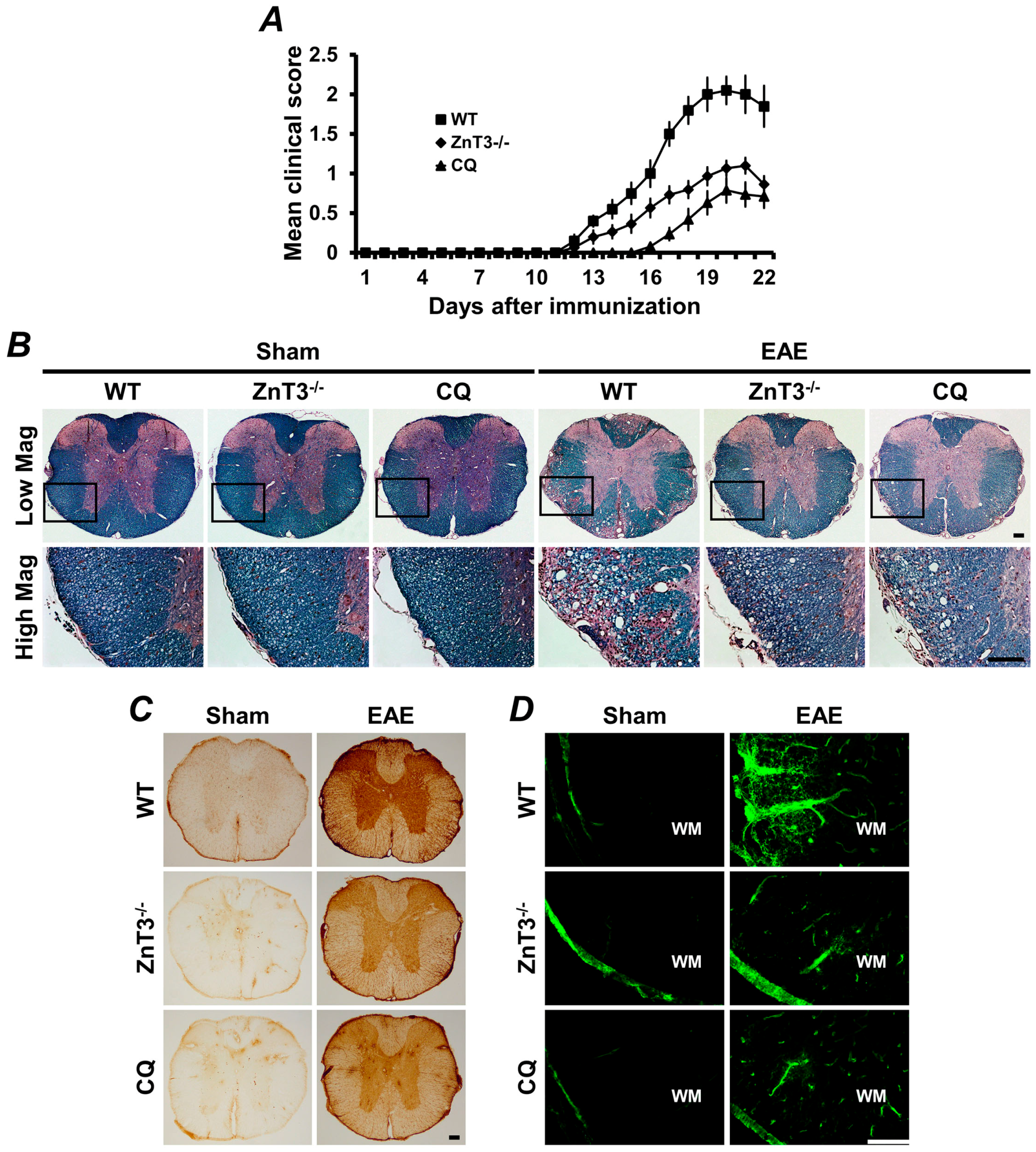 © 2017 by the authors. Licensee MDPI, Basel, Switzerland. This article is an open access article distributed under the terms and conditions of the Creative Commons Attribution (CC BY) license (http://creativecommons.org/licenses/by/4.0/).