Open Access This article is
freely available
re-usable
Review
Sphingosine 1-Phosphate Signaling and Its Pharmacological Modulation in Allogeneic Hematopoietic Stem Cell Transplantation
1
Novartis Institutes for BioMedical Research, WSJ-386, CH-4002 Basel, Switzerland
2
School of Medicine, Trinity Biomedical Sciences Institute, Trinity College Dublin, 152-160 Pearse Street, Dublin 2, Ireland
*
Author to whom correspondence should be addressed.
Received: 23 August 2017 / Accepted: 18 September 2017 / Published: 21 September 2017
Abstract
:
Allogeneic haemopoietic stem cell transplantation (HSCT) is increasingly used to treat haematological malignant diseases via the graft-versus-leukaemia (GvL) or graft-versus-tumour effects. Although improvements in infectious disease prophylaxis, immunosuppressive treatments, supportive care, and molecular based tissue typing have contributed to enhanced outcomes, acute graft-versus-host disease and other transplant related complications still contribute to high mortality and significantly limit the more widespread use of HSCT. Sphingosine 1-phosphate (S1P) is a zwitterionic lysophospholipid that has been implicated as a crucial signaling regulator in many physiological and pathophysiological processes including multiple cell types such as macrophages, dendritic cells, T cells, T regulatory cells and endothelial cells. Recent data suggested important roles for S1P signaling in engraftment, graft-versus-host disease (GvHD), GvL and other processes that occur during and after HSCT. Based on such data, pharmacological intervention via S1P modulation may have the potential to improve patient outcome by regulating GvHD and enhancing engraftment while permitting effective GvL.
Keywords:
sphingosine 1-phosphate; haemopoietic stem cell transplantation; graft-versus-host disease; graft versus leukaemia
Acknowledgments
The authors would like to thank Barbara Nüsslein-Hildesheim for her critical review of the manuscript.
Author Contributions
Philip Smith, Catherine O′Sullivan and Peter Gergely reviewed the literature, interpreted the data and wrote the manuscript together and contributed equally to this work.
Conflicts of Interest
Philip Smith and Peter Gergely are employees of Novartis Institutes for BioMedical Research. Catherine O′Sullivan participated in an internship program offered by Trinity College Dublin and Novartis Institutes for BioMedical Research and was sponsored by Novartis.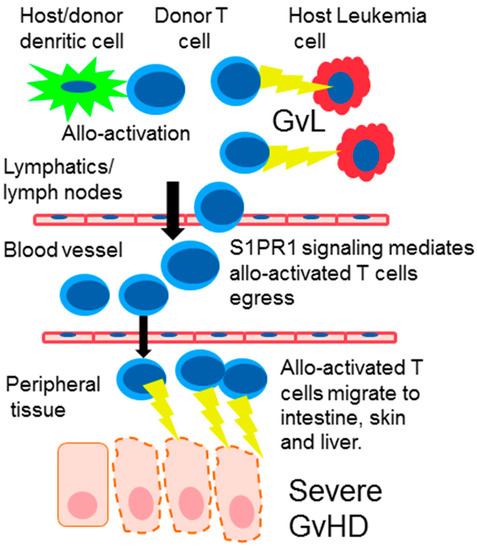 Figure 1. Following HSCT, donor T cells rapidly migrate to the lymphatic compartment and are allo-activated by dendritic cells. Activated T cells proliferate and orchestrate the graft-versus-leukemia (GvL) reaction killing leukemia cells. Allo-activated T cells express S1PR1 and egress from the lymph node. The allo-activated T cells then migrate to graft-versus-host disease (GvHD) target organs such as the intestine skin and liver where they instigate inflammation and tissue damage.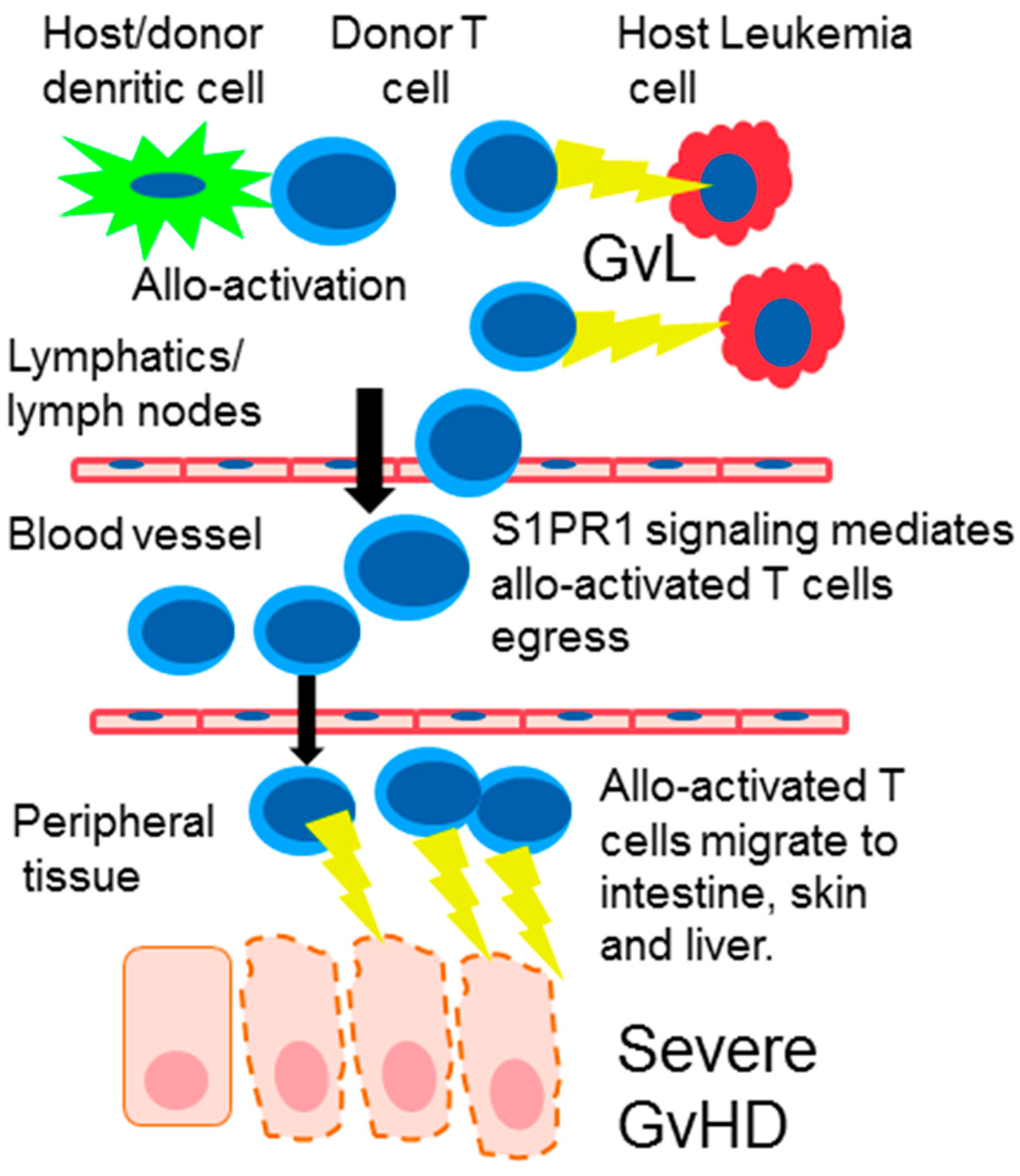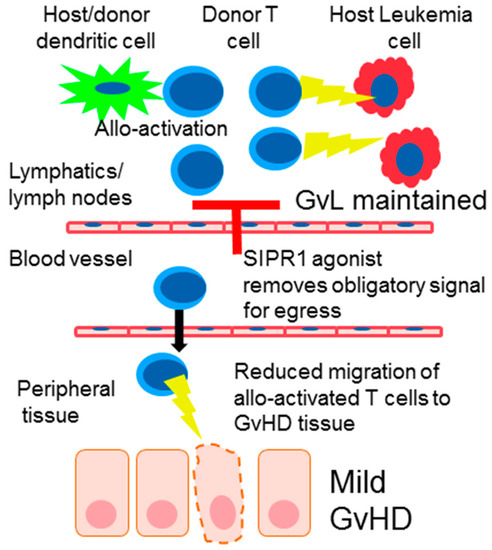 Figure 2. Pharmacological inhibition of S1PR signaling (denoted by red T shape) removes the obligatory signal required by activated donor T cells to egress from the lymph node. Consequently, less donor allo-activated T cells migrate to peripheral tissue resulting in reduced GvHD. However, the GvH reaction is maintained in the lymphatic system and directed towards leukemia cells resulting in effective GvL.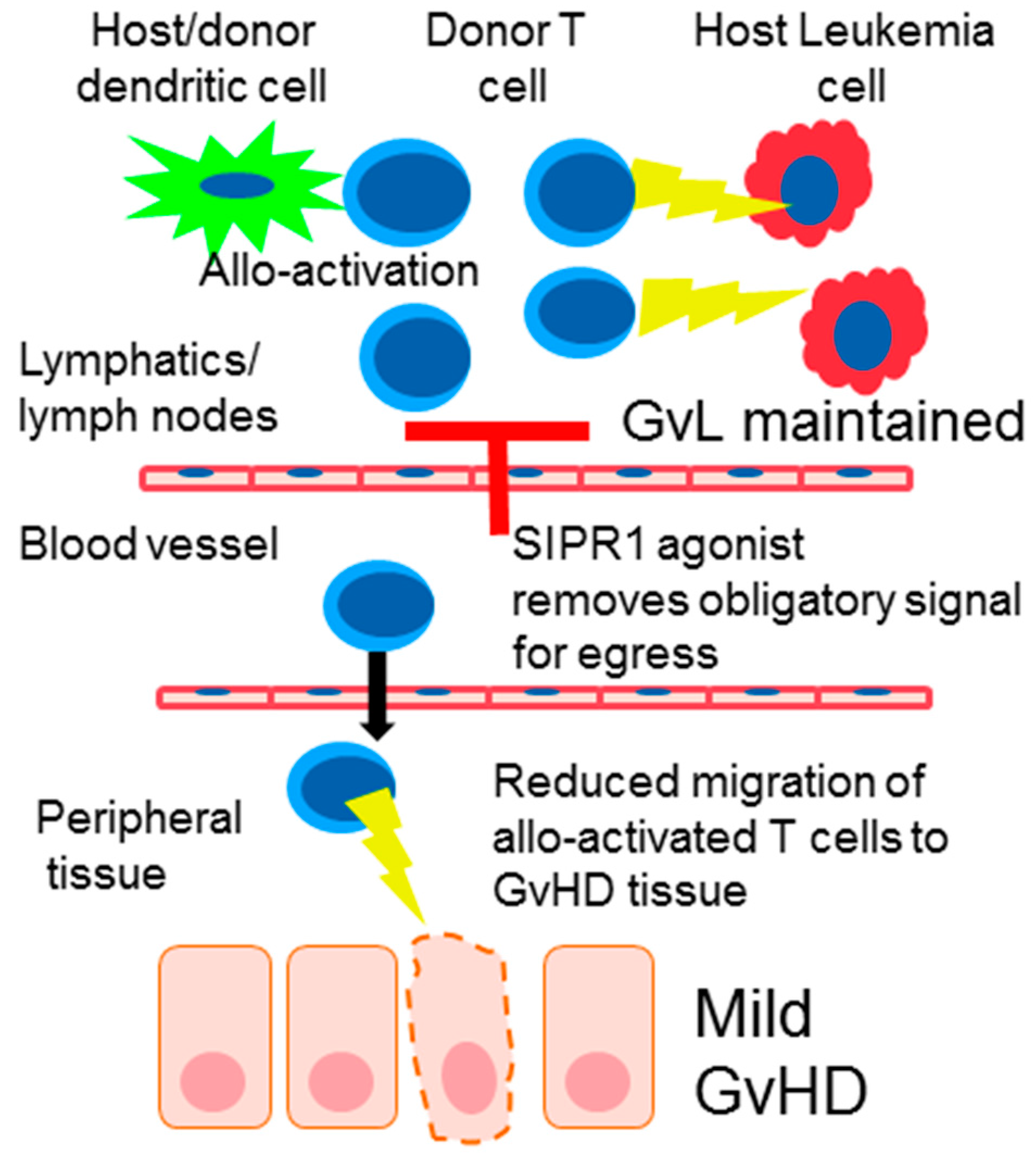 © 2017 by the authors. Licensee MDPI, Basel, Switzerland. This article is an open access article distributed under the terms and conditions of the Creative Commons Attribution (CC BY) license (http://creativecommons.org/licenses/by/4.0/).