Preferential Enhancement of Sensory and Motor Axon Regeneration by Combining Extracellular Matrix Components with Neurotrophic Factors
1
Institute of Neurosciences and Department of Cell Biology, Physiology and Immunology, Universitat Autònoma de Barcelona, E-08193 Bellaterra, Spain
2
Centro de Investigación Biomédica en Red sobre Enfermedades Neurodegenerativas (CIBERNED), E-08193 Bellaterra, Spain
3
The BioRobotics Institute, Scuola Superiore Sant'Anna, Viale Rinaldo Piaggio 34, 56025 Pontedera, Italy
4
Bertarelli Foundation Chair in Translational NeuroEngineering, Translational Neural Engineering Laboratory, Center for Neuroprosthetics and Interfaculty Institute of Bioengineering, School of Engineering, Ecole Polytechnique Federale de Lausanne (EPFL), CH-1015 Lausanne, Switzerland
*
Author to whom correspondence should be addressed.
†
These authors contributed equally to this work.
Academic Editors: Margaret Fahnestock and Keri Martinowich
Received: 5 October 2016 / Revised: 28 November 2016 / Accepted: 24 December 2016 / Published: 29 December 2016
Abstract
After peripheral nerve injury, motor and sensory axons are able to regenerate but inaccuracy of target reinnervation leads to poor functional recovery. Extracellular matrix (ECM) components and neurotrophic factors (NTFs) exert their effect on different neuronal populations creating a suitable environment to promote axonal growth. Here, we assessed in vitro and in vivo the selective effects of combining different ECM components with NTFs on motor and sensory axons regeneration and target reinnervation. Organotypic cultures with collagen, laminin and nerve growth factor (NGF)/neurotrophin-3 (NT3) or collagen, fibronectin and brain-derived neurotrophic factor (BDNF) selectively enhanced sensory neurite outgrowth of DRG neurons and motor neurite outgrowth from spinal cord slices respectively. For in vivo studies, the rat sciatic nerve was transected and repaired with a silicone tube filled with a collagen and laminin matrix with NGF/NT3 encapsulated in poly(lactic-co-glycolic acid) (PLGA) microspheres (MP) (LM + MP.NGF/NT3), or a collagen and fibronectin matrix with BDNF in PLGA MPs (FN + MP.BDNF). Retrograde labeling and functional tests showed that LM + MP.NGF/NT3 increased the number of regenerated sensory neurons and improved sensory functional recovery, whereas FN + MP.BDNF preferentially increased regenerated motoneurons and enhanced motor functional recovery. Therefore, combination of ECM molecules with NTFs may be a good approach to selectively enhance motor and sensory axons regeneration and promote appropriate target reinnervation.
View Full-Text
►

▼

Figures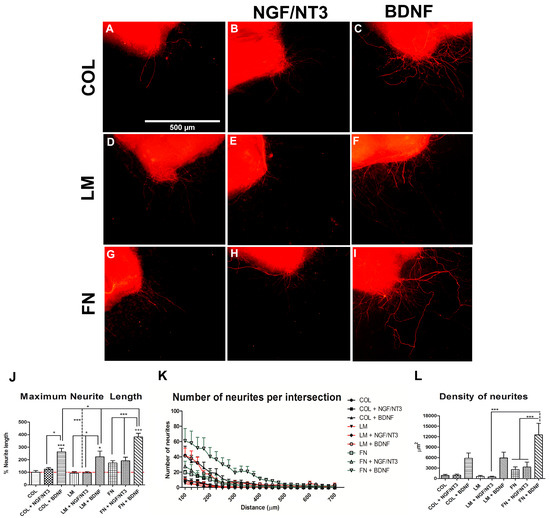 Figure 1
This is an open access article distributed under the
Creative Commons Attribution License
which permits unrestricted use, distribution, and reproduction in any medium, provided the original work is properly cited (CC BY 4.0).

Share & Cite This Article
MDPI and ACS Style
Santos, D.; González-Pérez, F.; Giudetti, G.; Micera, S.; Udina, E.; Del Valle, J.; Navarro, X. Preferential Enhancement of Sensory and Motor Axon Regeneration by Combining Extracellular Matrix Components with Neurotrophic Factors. Int. J. Mol. Sci. 2017, 18, 65.
Note that from the first issue of 2016, MDPI journals use article numbers instead of page numbers. See further details here.
Related Articles
Comments
[Return to top]