Effect of Estradiol on Neurotrophin Receptors in Basal Forebrain Cholinergic Neurons: Relevance for Alzheimer's Disease
1
Centre for Brain Research, Department of Anatomy and Medical Imaging, Faculty of Medical and Health Sciences, University of Auckland, Auckland 1142, New Zealand
2
School of Biomedical Sciences, Queensland Brain Institute, Clem Jones Centre for Ageing Dementia Research, The University of Queensland, Brisbane 4072, QLD, Australia
*
Author to whom correspondence should be addressed.
Academic Editors: Margaret Fahnestock and Keri Martinowich
Received: 23 November 2016 / Revised: 5 December 2016 / Accepted: 12 December 2016 / Published: 17 December 2016
Abstract
The basal forebrain is home to the largest population of cholinergic neurons in the brain. These neurons are involved in a number of cognitive functions including attention, learning and memory. Basal forebrain cholinergic neurons (BFCNs) are particularly vulnerable in a number of neurological diseases with the most notable being Alzheimer's disease, with evidence for a link between decreasing cholinergic markers and the degree of cognitive impairment. The neurotrophin growth factor system is present on these BFCNs and has been shown to promote survival and differentiation on these neurons. Clinical and animal model studies have demonstrated the neuroprotective effects of 17β-estradiol (E2) on neurodegeneration in BFCNs. It is believed that E2 interacts with neurotrophin signaling on cholinergic neurons to mediate these beneficial effects. Evidence presented in our recent study confirms that altering the levels of circulating E2 levels via ovariectomy and E2 replacement significantly affects the expression of the neurotrophin receptors on BFCN. However, we also showed that E2 differentially regulates neurotrophin receptor expression on BFCNs with effects depending on neurotrophin receptor type and neuroanatomical location. In this review, we aim to survey the current literature to understand the influence of E2 on the neurotrophin system, and the receptors and signaling pathways it mediates on BFCN. In addition, we summarize the physiological and pathophysiological significance of E2 actions on the neurotrophin system in BFCN, especially focusing on changes related to Alzheimer's disease.
View Full-Text
►

▼

Figures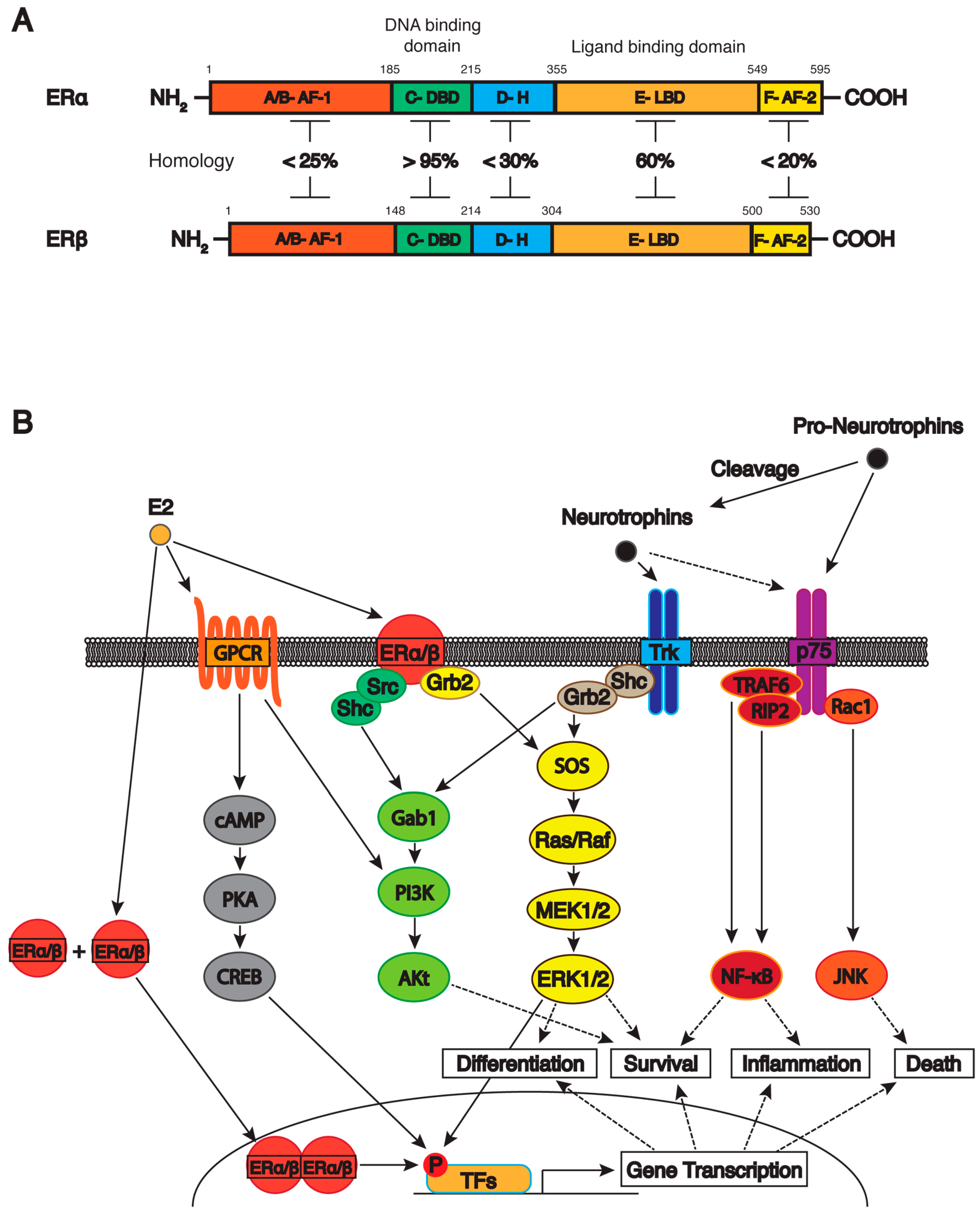 Figure 1
This is an open access article distributed under the
Creative Commons Attribution License
which permits unrestricted use, distribution, and reproduction in any medium, provided the original work is properly cited (CC BY 4.0).

Share & Cite This Article
MDPI and ACS Style
Kwakowsky, A.; Milne, M.R.; Waldvogel, H.J.; Faull, R.L. Effect of Estradiol on Neurotrophin Receptors in Basal Forebrain Cholinergic Neurons: Relevance for Alzheimer's Disease. Int. J. Mol. Sci. 2016, 17, 2122.
Note that from the first issue of 2016, MDPI journals use article numbers instead of page numbers. See further details here.
Related Articles
Comments
[Return to top]