Antiproliferative Effects of
Cynara cardunculus

L. var.

altilis

(DC) Lipophilic Extracts

1

Centro de Biotecnologia Agrícola e Agro-Alimentar do Alentejo (CEBAL)/Instituto Politécnico de Beja (IPBeja), 7801-908 Beja, Portugal

2

CICECO and Department of Chemistry, University of Aveiro, 3810-193 Aveiro, Portugal

3

CIISA, Centro de Investigação Interdisciplinar em Sanidade Animal, Faculdade de Medicina Veterinária, ULisboa, Avenida da Universidade Técnica, 1300-477 Lisboa, Portugal

4

CESAM and Department of Biology, University of Aveiro, 3810-193 Aveiro, Portugal

*

Author to whom correspondence should be addressed.

Academic Editor: Maurizio Battino

Received: 29 November 2016 / Revised: 20 December 2016 / Accepted: 21 December 2016 / Published: 29 December 2016
Abstract
Besides being traditionally used to relieve hepatobiliary disorders,
Cynara cardunculus
L. has evidenced anticancer potential on triple-negative breast cancer (TNBC). This study highlights the antiproliferative effects of lipophilic extracts from
C. cardunculus
L. var.
altilis
(DC) leaves and florets, and of their major compounds, namely cynaropicrin and taraxasteryl acetate, against MDA-MB-231 cells. Our results demonstrated that MDA-MB-231 cells were much less resistant to leaves extract (IC
50
10.39 µg/mL) than to florets extract (IC
50
315.22 µg/mL), during 48 h. Moreover, leaves extract and cynaropicrin (IC
50
6.19 µg/mL) suppressed MDA-MB-231 cells colonies formation, via an anchorage-independent growth assay. Leaves extract and cynaropicrin were also assessed regarding their regulation on caspase-3 activity, by using a spectrophotometric assay, and expression levels of G2/mitosis checkpoint and Akt signaling pathway proteins, by Western blotting. Leaves extract increased caspase-3 activity, while cynaropicrin did not affect it. Additionally, they caused p21
Waf1/Cip1
upregulation, as well as cyclin B1 and phospho(Tyr15)-CDK1 accumulation, which may be related to G2 cell cycle arrest. They also downregulated phospho(Ser473)-Akt, without changing total Akt1 level. Cynaropicrin probably contributed to leaves extract antiproliferative action. These promising insights suggest that cultivated cardoon leaves lipophilic extract and cynaropicrin may be considered toward a natural-based therapeutic approach on TNBC.
View Full-Text
►

▼

Figures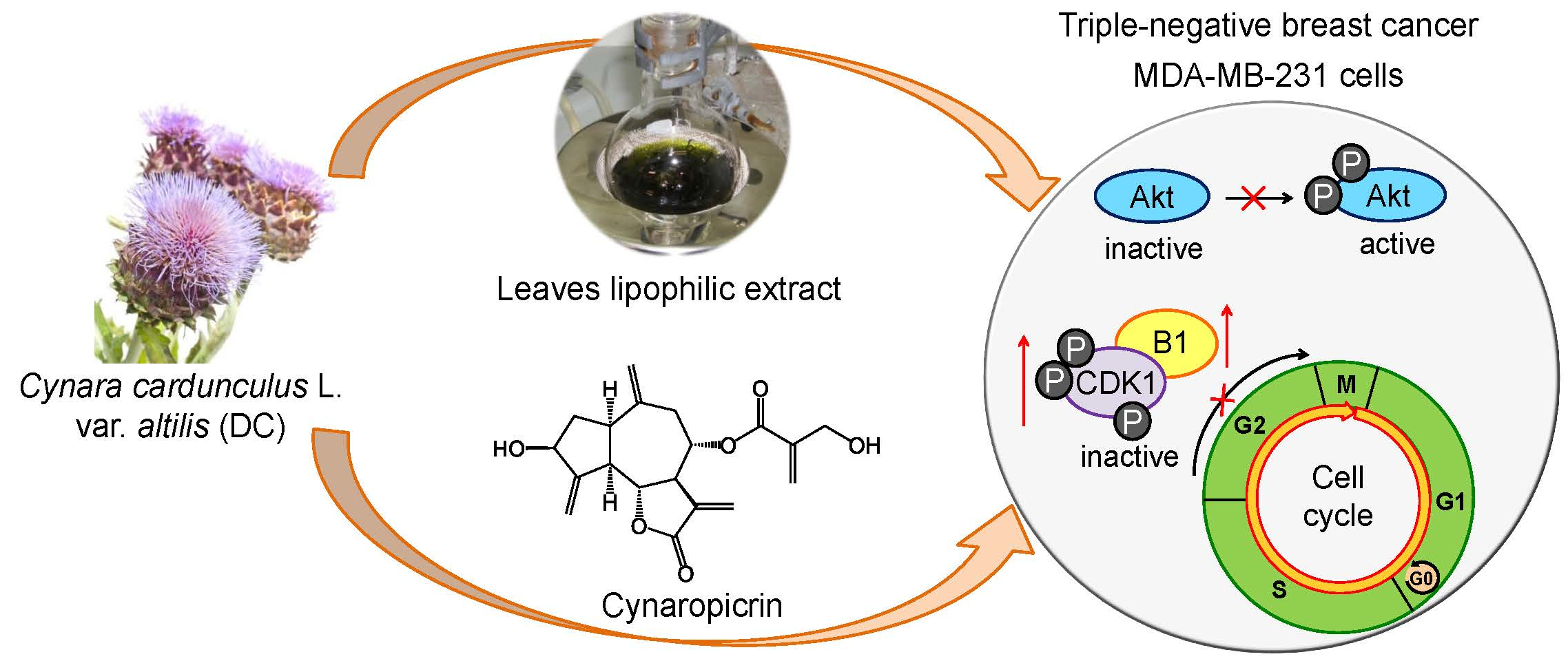 Graphical abstract
This is an open access article distributed under the
Creative Commons Attribution License
which permits unrestricted use, distribution, and reproduction in any medium, provided the original work is properly cited (CC BY 4.0).

Share & Cite This Article
MDPI and ACS Style
Ramos, P.A.B.; Guerra, Â.R.; Guerreiro, O.; Santos, S.A.O.; Oliveira, H.; Freire, C.S.R.; Silvestre, A.J.D.; Duarte, M.F. Antiproliferative Effects of Cynara cardunculus L. var. altilis (DC) Lipophilic Extracts. Int. J. Mol. Sci. 2017, 18, 63.
Note that from the first issue of 2016, MDPI journals use article numbers instead of page numbers. See further details here.
Related Articles
Comments
[Return to top]