Open Access This article is
freely available
re-usable
Review
Stem Cells and Labeling for Spinal Cord Injury
1
Center for Molecular Medicine and Stem Cell Research, Faculty of Medical Sciences, University of Kragujevac, 34000 Kragujevac, Serbia
2
Stem Cell Therapies in Neurodegenerative Diseases Laboratory, Centro de Investigación Príncipe Felipe, E-46012 Valencia, Spain
3
National Stem Cell Bank-Valencia Node, Biomolecular and Bioinformatics Resources Platform PRB2, ISCIII, Research Center "Principe Felipe", c/Eduardo Primo Yúfera 3, 46012 Valencia, Spain
4
Institute of Experimental Medicine, Department of Neuroscience, Academy of Science of the Czech Republic, Videnská 1083, 142 20 Prague 4, Czech Republic
5
Neuronal and Tissue Regeneration Laboratory, Centro de Investigación Príncipe Felipe, E-46012 Valencia, Spain
6
Spebo Medical, 16000 Leskovac, Serbia
*
Author to whom correspondence should be addressed.
Academic Editor: Xiaofeng Jia
Received: 30 September 2016 / Accepted: 12 December 2016 / Published: 26 December 2016
Abstract
:
Spinal cord injury (SCI) is a devastating condition that usually results in sudden and long-lasting locomotor and sensory neuron degeneration below the lesion site. During the last two decades, the search for new therapies has been revolutionized with the improved knowledge of stem cell (SC) biology. SCs therapy offers several attractive strategies for spinal cord repair. The transplantation of SCs promotes remyelination, neurite outgrowth and axonal elongation, and activates resident or transplanted progenitor cells across the lesion cavity. However, optimized growth and differentiation protocols along with reliable safety assays should be established prior to the clinical application of SCs. Additionally, the ideal method of SCs labeling for efficient cell tracking after SCI remains a challenging issue that requires further investigation. This review summarizes the current findings on the SCs-based therapeutic strategies, and compares different SCs labeling approaches for SCI.
Keywords:
stem cells; spinal cord injury; stem cell labeling
1. Introduction
Spinal cord injury (SCI) is a devastating disorder with frustrating implications for both the individual and society. Since SCI usually affects the cervical and lumbar spine, incomplete tetraplegia is currently the most frequent neurological category followed by incomplete paraplegia, complete paraplegia, and complete tetraplegia (
Figure 1
A) [
1
]. These debilitating conditions create enormous physical and emotional cost to individuals, and additionally they are significant financial burdens to the society [
2
]. Epidemiological data show that the incidence of SCI is approximately 54 cases per million people in the United States, or approximately 17,000 new SCI cases each year [
3
]. Vehicle crashes are currently the leading cause of injury followed by falls, acts of violence (primarily gunshot wounds), and sports/recreation activities, according to the National Spinal Cord Injury Statistical Center (NSCISC) [
3
]. Despite the progress of medical and surgical management as well as rehabilitation approaches, according to a 2016 report by the NSCISC, less than 1% of SCI patients experienced complete neurological recovery by hospital discharge. The search for new therapies has been revolutionized with the recent advances in the field of stem cell (SC) biology, which have suggested that SCs might be exploited to repair spinal cord lesions. However, there are a plethora of limitations including cell tracking and cell survival of transplanted SCs. Therefore, in this review, we address the present understanding of SCI and look at promising research avenues including SC-based treatment options for SCI. In addition, we discuss the necessity of different methods of SC labeling and imaging modalities for cell tracking and their key strengths and limitations.
2. Pathophysiology of Spinal Cord Injury
3. Stem/Progenitor Cell Therapy for Spinal Cord Injury
4. Stem Cell Labeling and Tracking
5. Conclusions
Stem cells represent the new therapeutic approach for SCI, enabling improved and efficient sensory and motor functions in animal models. Stem cells are able to promote remyelination via oligodendroglial cell replacement; produce trophic factors enhancing neurite outgrowth, axonal elongation, and fiber density; and activate resident or transplanted progenitor cells across the lesion cavity [
15
]. However, investigators express several concerns regarding the safety of transplantation of pluripotent SCs in SCI in humans, such as the risk of teratoma formation following pluripotent derived neural cell engraftment due to the hypothetical presence of undifferentiated SCs. The clinical use of hiPSCs circumvents the ethical issues but shares the same safety concerns as hESCs. Additionally, reprogramming methods for the generation of hiPSCs requires further improvement [
62
]. Also, many critical challenges remain using adult stem cells for clinical applications, including the need for pure populations of differentiated cells, inefficient tracking systems, and moderate cell survival after transplantation [
1
].
Due to limited information about the location and survival of transplanted cells, huge efforts are being made to improve SCs labeling and tracking methods. Every SCs tracking modality has its own advantages and disadvantages, in terms of biocompatibility of molecular probes, detection thresholds, safety, and cost-effectiveness. The use of optical imaging techniques is not feasible in humans, due to the poor tissue penetration and low resolution of signals. In contrast to optical techniques, MRI and PET/SPECT have high resolution and sensitivity in cell tracking in vivo [
39
]. However, MRI can not detect the number, location, and viability of cells, while PET lacks the ability of detailed anatomical imaging [
63
]. To create the optimal in vivo imaging modality and long-term tracking of cell fate, multimodal markers will provide the benefits of each different labeling technique. Until then, the ideal source and labeling technique of SCs for cell-based therapy for SCI remains a challenging issue that requires further investigation.
Acknowledgments
This study was supported by Serbian Ministry of Sciences (project number ON 175103). The authors are thankful to Milan Milojevic for his technical support.
Author Contributions
Marina Gazdic, Vladislav Volarevic, Aleksandar Arsenijevic, Slaven Erceg, Victoria Moreno-Manzano, Nebojsa Arsenijevic, and Miodrag Stojkovic designed and wrote the manuscript.
Conflicts of Interest
The authors declare no conflict of interest.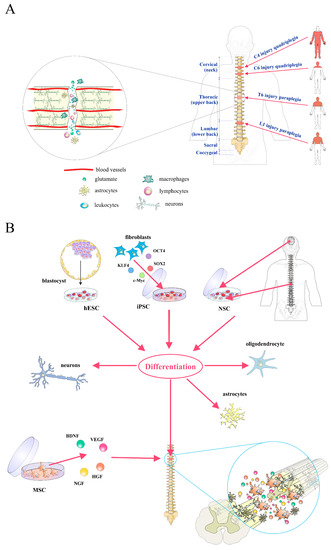 Figure 1. Overview of pathophysiological events and possible stem cells (SCs) treatment for spinal cord injury (SCI). (A) The mechanismsand clinical signs of SCI; (B) Potential uses of SCs as a source of neurons, oligodendrocytes, and astrocytes, as well as neuroprotectors in SCI. hESCs, human embryonic stem cells; iPSCs, induced pluripotent stem cells; NSCs, neural stem cells; MSCs, mesenchymal stem cells; BDNF, brain-derived neurotrophic factor; VEGF, vascular endothelial growth factor; NGF, nerve growth factor; HGF, hepatocyte growth factor; OCT4, octamer-binding transcription factor 4; KLF4, Kruppel-like factor 4; SOX2, sex determining region Y-box 2; c-Myc, myelocytomatosis oncogene.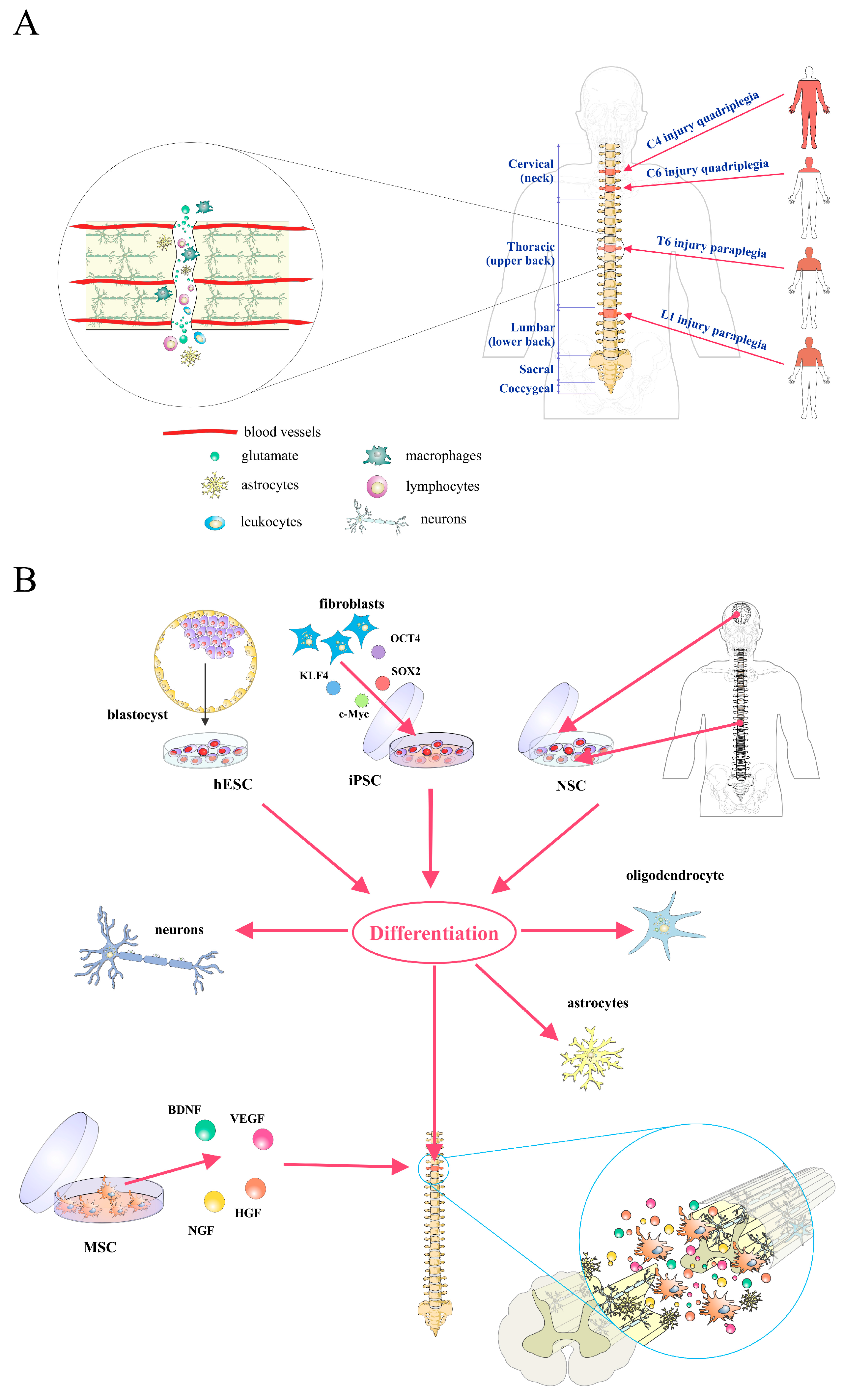 Figure 2. Survival and distribution of green fluorescence protein (GFP)-labeled human MSCs (green) in a neuron-specific class III β-tubulin (TUJ1)-labeled (red) longitudinal section one month after transplantation in a severe SCI rat model. Scale bar = 500 μm.

© 2016 by the authors; licensee MDPI, Basel, Switzerland. This article is an open access article distributed under the terms and conditions of the Creative Commons Attribution (CC-BY) license (http://creativecommons.org/licenses/by/4.0/).