Discrepancy between Hepatitis C Virus Genotypes and NS4-Based Serotypes: Association with Their Subgenomic Sequences
1
Department of Molecular Virology, Graduate School of Medicine, Chiba University, Chiba 260-8677, Japan
2
Department of Gastroenterology and Nephrology, Graduate School of Medicine, Chiba University, Chiba 260-8677, Japan
3
Medical Mycology Research Center, Chiba University, Chiba 260-8673, Japan
4
Safety and Health Organization, Chiba University, Chiba 263-8522, Japan
5
Department of Gastroenterology, Kikkoman General Hospital, Noda 278-0005, Japan
*
Author to whom correspondence should be addressed.
Academic Editor: William Chi-shing Cho
Received: 28 December 2016 / Revised: 9 January 2017 / Accepted: 11 January 2017 / Published: 17 January 2017
Abstract
Determination of hepatitis C virus (HCV) genotypes plays an important role in the direct-acting agent era. Discrepancies between HCV genotyping and serotyping assays are occasionally observed. Eighteen samples with discrepant results between genotyping and serotyping methods were analyzed. HCV serotyping and genotyping were based on the HCV nonstructural 4 (NS4) region and 5′-untranslated region (5′-UTR), respectively. HCV core and NS4 regions were chosen to be sequenced and were compared with the genotyping and serotyping results. Deep sequencing was also performed for the corresponding HCV NS4 regions. Seventeen out of 18 discrepant samples could be sequenced by the Sanger method. Both HCV core and NS4 sequences were concordant with that of genotyping in the 5′-UTR in all 17 samples. In cloning analysis of the HCV NS4 region, there were several amino acid variations, but each sequence was much closer to the peptide with the same genotype. Deep sequencing revealed that minor clones with different subgenotypes existed in two of the 17 samples. Genotyping by genome amplification showed high consistency, while several false reactions were detected by serotyping. The deep sequencing method also provides accurate genotyping results and may be useful for analyzing discrepant cases. HCV genotyping should be correctly determined before antiviral treatment.
View Full-Text
►

▼

Figures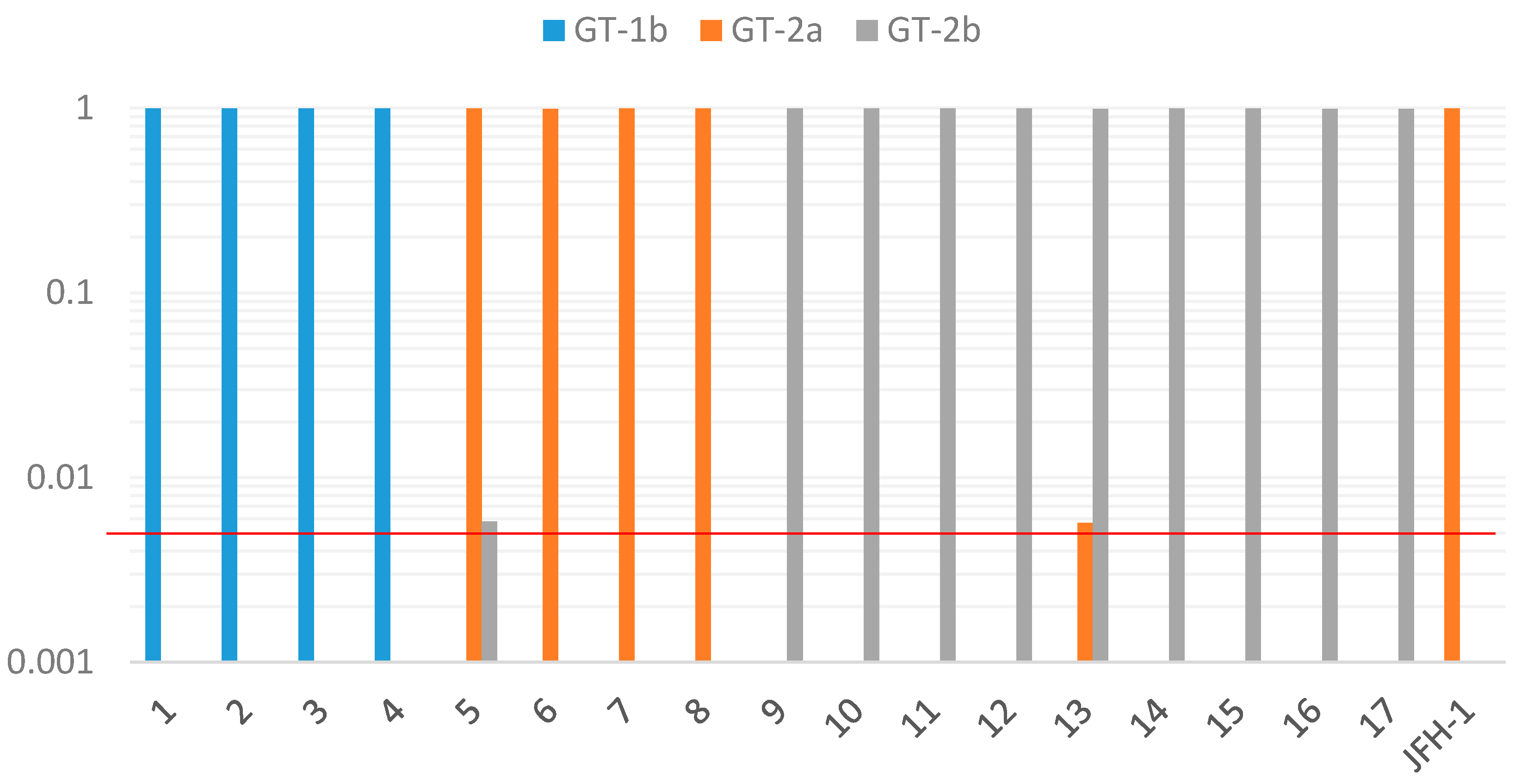 Figure 1
This is an open access article distributed under the
Creative Commons Attribution License
which permits unrestricted use, distribution, and reproduction in any medium, provided the original work is properly cited (CC BY 4.0).

Share & Cite This Article
MDPI and ACS Style
Win, N.N.; Nakamoto, S.; Kanda, T.; Takahashi, H.; Takahashi-Nakaguchi, A.; Yasui, S.; Nakamura, M.; Wu, S.; Imazeki, F.; Mikami, S.; Yokosuka, O.; Gonoi, T.; Shirasawa, H. Discrepancy between Hepatitis C Virus Genotypes and NS4-Based Serotypes: Association with Their Subgenomic Sequences. Int. J. Mol. Sci. 2017, 18, 172.
Note that from the first issue of 2016, MDPI journals use article numbers instead of page numbers. See further details here.
Related Articles
Comments
[Return to top]