Testosterone-Mediated Endocrine Function and TH1/TH2 Cytokine Balance after Prenatal Exposure to Perfluorooctane Sulfonate: By Sex Status
1
Department of Gynaecology and Obstetrics, Maternal and Child Health Hospital of Maoming City, Maoming 525000, Guangdong, China
2
Guangzhou Key Laboratory of Environmental Pollution and Health Risk Assessment, Department of Preventive Medicine, School of Public Health, Sun Yat-sen University, Guangzhou 510080, Guangdong, China
3
Faculty of Health, School of Public Health and Social Work, Queensland University of Technology, Kelvin Grove, QLD 4059, Australia
*
Author to whom correspondence should be addressed.
Academic Editor: Marcello Iriti
Received: 8 July 2016 / Revised: 30 August 2016 / Accepted: 31 August 2016 / Published: 12 September 2016
Abstract
Little information exists about the evaluation of potential developmental immunotoxicity induced by perfluorooctane sulfonate (PFOS), a synthetic persistent and increasingly ubiquitous environmental contaminant. To assess potential sex-specific impacts of PFOS on immunological health in the offspring, using male and female C57BL/6 mice, pups were evaluated for developmental immunotoxic effects after maternal oral exposure to PFOS (0.1, 1.0 and 5.0 mg PFOS/kg/day) during Gestational Days 1–17. Spontaneous T
H
1/T
H
2-type cytokines, serum levels of testosterone and estradiol were evaluated in F1 pups at four and eight weeks of age. The study showed that male pups were more sensitive to the effects of PFOS than female pups. At eight weeks of age, an imbalance in T
H
1/T
H
2-type cytokines with excess T
H
2 cytokines (IL-4) was found only in male pups. As for hormone levels, PFOS treatment in utero significantly decreased serum testosterone levels and increased estradiol levels only in male pups, and a significant interaction between sex and PFOS was observed for serum testosterone at both four weeks of age (
p
interaction
= 0.0049) and eight weeks of age (
p
interaction
= 0.0227) and for estradiol alternation at four weeks of age (
p
interaction
= 0.0351). In conclusion, testosterone-mediated endocrine function may be partially involved in the T
H
1/T
H
2 imbalance induced by PFOS, and these deficits are detectable among both young and adult mice and may affect males more than females.
View Full-Text
►

▼

Figures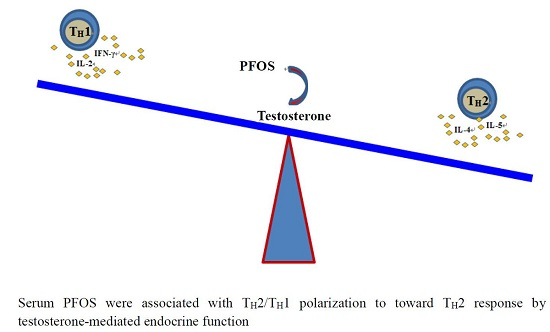 Graphical abstract
This is an open access article distributed under the
Creative Commons Attribution License
which permits unrestricted use, distribution, and reproduction in any medium, provided the original work is properly cited (CC BY 4.0).

Share & Cite This Article
MDPI and ACS Style
Zhong, S.-Q.; Chen, Z.-X.; Kong, M.-L.; Xie, Y.-Q.; Zhou, Y.; Qin, X.-D.; Paul, G.; Zeng, X.-W.; Dong, G.-H. Testosterone-Mediated Endocrine Function and TH1/TH2 Cytokine Balance after Prenatal Exposure to Perfluorooctane Sulfonate: By Sex Status. Int. J. Mol. Sci. 2016, 17, 1509.
Note that from the first issue of 2016, MDPI journals use article numbers instead of page numbers. See further details here.
Related Articles
Comments
[Return to top]