Toxic Effects of the Major Components of Diesel Exhaust in Human Alveolar Basal Epithelial Cells (A549)
1
Institute of Experimental Medicine, Academy of Sciences of the Czech Republic, Videnska 1083, 142 20 Prague, Czech Republic
2
Veterinary Research Institute, Hudcova 70, 621 00 Brno, Czech Republic
3
Institute for Environmental Studies, Faculty of Science, Charles University, Benatska 2, 128 01 Prague 2, Czech Republic
*
Author to whom correspondence should be addressed.
Academic Editor: Marcello Iriti
Received: 1 July 2016 / Revised: 1 July 2016 / Accepted: 17 August 2016 / Published: 26 August 2016
Abstract
We investigated the toxicity of benzo[a]pyrene (B[a]P), 1-nitropyrene (1-NP) and 3-nitrobenzanthrone (3-NBA) in A549 cells. Cells were treated for 4 h and 24 h with: B[a]P (0.1 and 1 μM), 1-NP (1 and 10 μM) and 3-NBA (0.5 and 5 μM). Bulky DNA adducts, lipid peroxidation, DNA and protein oxidation and mRNA expression of
CYP1A1
,
CYP1B1
,
NQO1
,
POR
,
AKR1C2
and
COX2
were analyzed. Bulky DNA adducts were induced after both treatment periods; the effect of 1-NP was weak. 3-NBA induced high levels of bulky DNA adducts even after 4-h treatment, suggesting rapid metabolic activation. Oxidative DNA damage was not affected. 1-NP caused protein oxidation and weak induction of lipid peroxidation after 4-h incubation. 3-NBA induced lipid peroxidation after 24-h treatment. Unlike B[a]P, induction of the aryl hydrocarbon receptor, measured as mRNA expression levels of
CYP1A1
and
CYP1B1
, was low after treatment with polycyclic aromatic hydrocarbon (PAH) nitro-derivatives. All test compounds induced mRNA expression of
NQO1
,
POR
, and
AKR1C2
after 24-h treatment.
AKR1C2
expression indicates involvement of processes associated with reactive oxygen species generation. This was supported further by
COX2
expression induced by 24-h treatment with 1-NP. In summary, 3-NBA was the most potent genotoxicant, whereas 1-NP exhibited the strongest oxidative properties.
View Full-Text
►

▼

Figures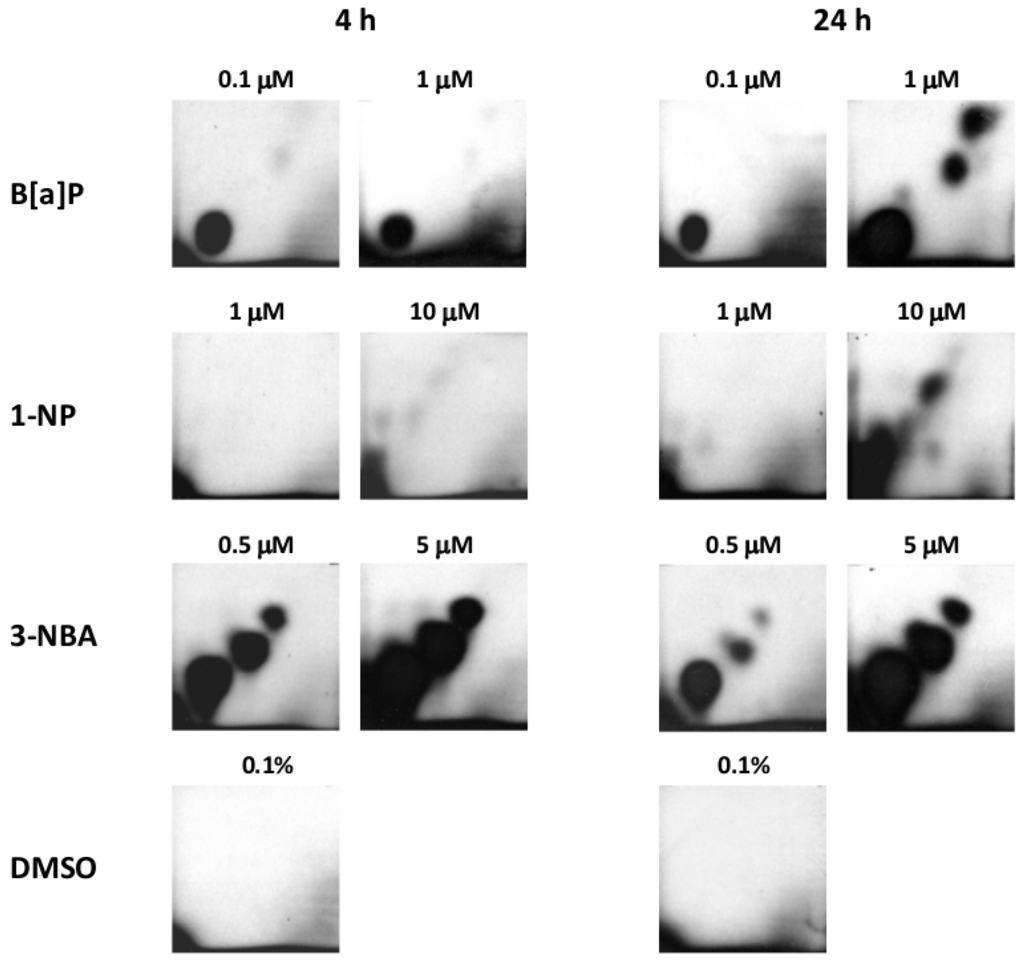 Figure 1
This is an open access article distributed under the
Creative Commons Attribution License
which permits unrestricted use, distribution, and reproduction in any medium, provided the original work is properly cited (CC BY 4.0).

Share & Cite This Article
MDPI and ACS Style
Rossner, P.; Strapacova, S.; Stolcpartova, J.; Schmuczerova, J.; Milcova, A.; Neca, J.; Vlkova, V.; Brzicova, T.; Machala, M.; Topinka, J. Toxic Effects of the Major Components of Diesel Exhaust in Human Alveolar Basal Epithelial Cells (A549). Int. J. Mol. Sci. 2016, 17, 1393.
Note that from the first issue of 2016, MDPI journals use article numbers instead of page numbers. See further details here.
Related Articles
Comments
[Return to top]