Efficacy of Polyvalent Human Immunoglobulins in an Animal Model of Neuromyelitis Optica Evoked by Intrathecal Anti-Aquaporin 4 Antibodies
1
Hans-Berger Department of Neurology, Jena University Hospital, Am Klinikum 1, 07747 Jena, Germany
2
Integrated Research and Treatment Center—Center for Sepsis Control and Care (CSCC), Jena University Hospital, Am Klinikum 1, 07747 Jena, Germany
3
Department of Neurology, University Hospital Würzburg, Josef-Schneider-Straße 11, 97080 Würzburg, Germany
4
Departments of Neurology and Ophthalmology, University of Colorado Denver, Aurora, CO 80045, USA
*
Author to whom correspondence should be addressed.
Academic Editor: Irmgard Tegeder
Received: 10 June 2016 / Revised: 16 August 2016 / Accepted: 19 August 2016 / Published: 26 August 2016
(This article belongs to the Special Issue
Aquaporin
)
Abstract
Neuromyelitis Optica Spectrum Disorders (NMOSD) are associated with autoantibodies (ABs) targeting the astrocytic aquaporin-4 water channels (AQP4-ABs). These ABs have a direct pathogenic role by initiating a variety of immunological and inflammatory processes in the course of disease. In a recently-established animal model, chronic intrathecal passive-transfer of immunoglobulin G from NMOSD patients (NMO-IgG), or of recombinant human AQP4-ABs (rAB-AQP4), provided evidence for complementary and immune-cell independent effects of AQP4-ABs. Utilizing this animal model, we here tested the effects of systemically and intrathecally applied pooled human immunoglobulins (IVIg) using a preventive and a therapeutic paradigm. In NMO-IgG animals, prophylactic application of systemic IVIg led to a reduced median disease score of 2.4 on a 0–10 scale, in comparison to 4.1 with sham treatment. Therapeutic IVIg, applied systemically after the 10th intrathecal NMO-IgG injection, significantly reduced the disease score by 0.8. Intrathecal IVIg application induced a beneficial effect in animals with NMO-IgG (median score IVIg 1.6 vs. sham 3.7) or with rAB-AQP4 (median score IVIg 2.0 vs. sham 3.7). We here provide evidence that treatment with IVIg ameliorates disease symptoms in this passive-transfer model, in analogy to former studies investigating passive-transfer animal models of other antibody-mediated disorders.
View Full-Text
►

▼

Figures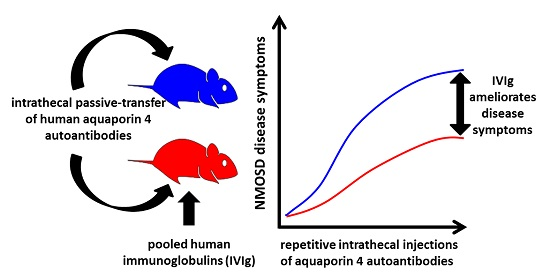 Graphical abstract
This is an open access article distributed under the
Creative Commons Attribution License
which permits unrestricted use, distribution, and reproduction in any medium, provided the original work is properly cited (CC BY 4.0).

Share & Cite This Article
MDPI and ACS Style
Grünewald, B.; Bennett, J.L.; Toyka, K.V.; Sommer, C.; Geis, C. Efficacy of Polyvalent Human Immunoglobulins in an Animal Model of Neuromyelitis Optica Evoked by Intrathecal Anti-Aquaporin 4 Antibodies. Int. J. Mol. Sci. 2016, 17, 1407.
Note that from the first issue of 2016, MDPI journals use article numbers instead of page numbers. See further details here.
Related Articles
Comments
[Return to top]