In Silico

Structure and Sequence Analysis of Bacterial Porins and Specific Diffusion Channels for Hydrophilic Molecules: Conservation, Multimericity and Multifunctionality

1

Department of Clinical Molecular Biology (EpiGen), Division of Medicine, Akershus University Hospital and University of Oslo, PO box 28, N-1478 Lørenskog, Norway

2

Norwegian Institute of Public Health, Box 4404 Nydalen, N-0403 Oslo, Norway

3

Centre for Molecular and Biomolecular Informatics, Radboud University Medical Center, 6525 GA Nijmegen, The Netherlands

4

Department of Chemistry, Biotechnology and Food Science, Norwegian University of Life Sciences, Pb 5003, N-1430 Ås, Norway

*

Author to whom correspondence should be addressed.

Academic Editor: Charles A. Collyer

Received: 10 February 2016 / Revised: 8 April 2016 / Accepted: 11 April 2016 / Published: 21 April 2016
Abstract
Diffusion channels are involved in the selective uptake of nutrients and form the largest outer membrane protein (OMP) family in Gram-negative bacteria. Differences in pore size and amino acid composition contribute to the specificity. Structure-based multiple sequence alignments shed light on the structure-function relations for all eight subclasses. Entropy-variability analysis results are correlated to known structural and functional aspects, such as structural integrity, multimericity, specificity and biological niche adaptation. The high mutation rate in their surface-exposed loops is likely an important mechanism for host immune system evasion. Multiple sequence alignments for each subclass revealed conserved residue positions that are involved in substrate recognition and specificity. An analysis of monomeric protein channels revealed particular sequence patterns of amino acids that were observed in other classes at multimeric interfaces. This adds to the emerging evidence that all members of the family exist in a multimeric state. Our findings are important for understanding the role of members of this family in a wide range of bacterial processes, including bacterial food uptake, survival and adaptation mechanisms.
View Full-Text
►

▼

Figures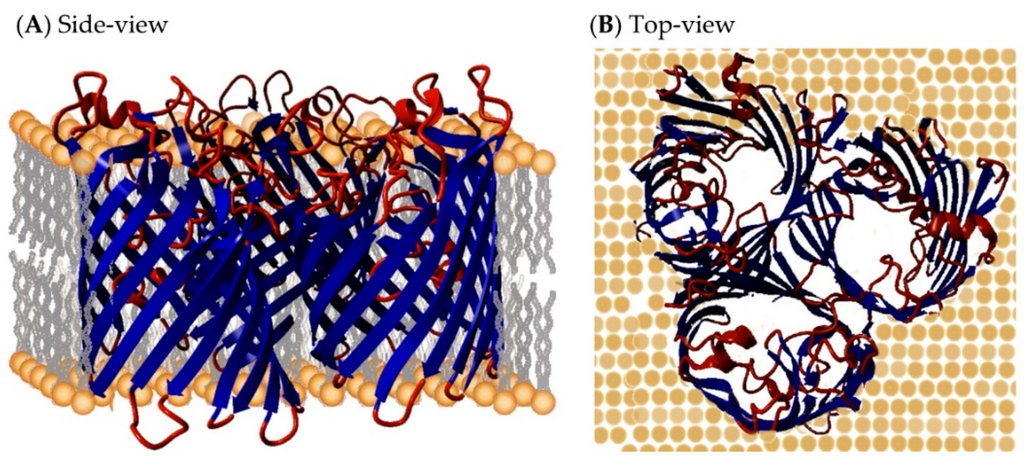 Figure 1
This is an open access article distributed under the
Creative Commons Attribution License
which permits unrestricted use, distribution, and reproduction in any medium, provided the original work is properly cited (CC BY 4.0).

Share & Cite This Article
MDPI and ACS Style
Vollan, H.S.; Tannæs, T.; Vriend, G.; Bukholm, G. In Silico Structure and Sequence Analysis of Bacterial Porins and Specific Diffusion Channels for Hydrophilic Molecules: Conservation, Multimericity and Multifunctionality. Int. J. Mol. Sci. 2016, 17, 599.
Note that from the first issue of 2016, MDPI journals use article numbers instead of page numbers. See further details here.
Related Articles
Comments
[Return to top]