Rationale and Methodology of Reprogramming for Generation of Induced Pluripotent Stem Cells and Induced Neural Progenitor Cells
1
Department of Neurology, the Institute of Guangzhou Respiratory Disease, State Key Laboratory of Respiratory Disease, the First Affiliated Hospital of Guangzhou Medical University, Guangzhou 510120, China
2
Department of Biochemistry and Molecular Medicine, School of Medicine, University of California, Davis, CA 95817, USA
3
Institute for Pediatric Regenerative Medicine, Shriners Hospitals for Children, Sacramento, CA 95817, USA
*
Authors to whom correspondence should be addressed.
Academic Editor: Irmgard Tegeder
Received: 29 March 2016 / Revised: 14 April 2016 / Accepted: 14 April 2016 / Published: 20 April 2016
Abstract
Great progress has been made regarding the capabilities to modify somatic cell fate ever since the technology for generation of induced pluripotent stem cells (iPSCs) was discovered in 2006. Later, induced neural progenitor cells (iNPCs) were generated from mouse and human cells, bypassing some of the concerns and risks of using iPSCs in neuroscience applications. To overcome the limitation of viral vector induced reprogramming, bioactive small molecules (SM) have been explored to enhance the efficiency of reprogramming or even replace transcription factors (TFs), making the reprogrammed cells more amenable to clinical application. The chemical induced reprogramming process is a simple process from a technical perspective, but the choice of SM at each step is vital during the procedure. The mechanisms underlying cell transdifferentiation are still poorly understood, although, several experimental data and insights have indicated the rationale of cell reprogramming. The process begins with the forced expression of specific TFs or activation/inhibition of cell signaling pathways by bioactive chemicals in defined culture condition, which initiates the further reactivation of endogenous gene program and an optimal stoichiometric expression of the endogenous pluri- or multi-potency genes, and finally leads to the birth of reprogrammed cells such as iPSCs and iNPCs. In this review, we first outline the rationale and discuss the methodology of iPSCs and iNPCs in a stepwise manner; and then we also discuss the chemical-based reprogramming of iPSCs and iNPCs.
View Full-Text
►

▼

Figures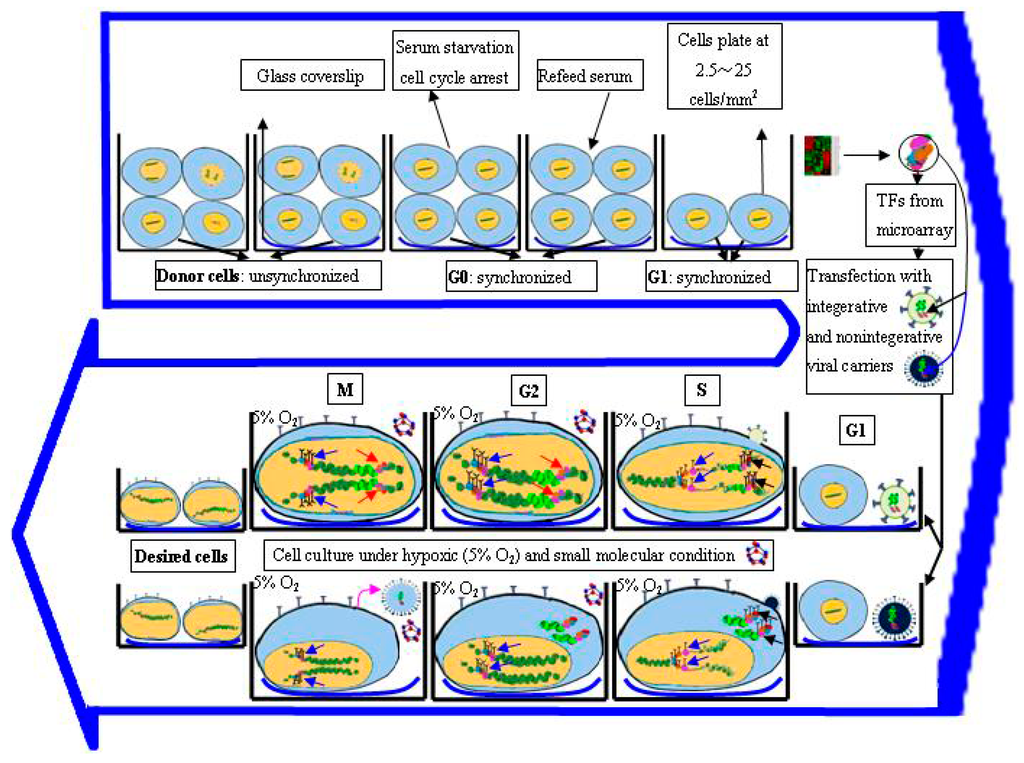 Figure 1
This is an open access article distributed under the
Creative Commons Attribution License
which permits unrestricted use, distribution, and reproduction in any medium, provided the original work is properly cited (CC BY 4.0).

Share & Cite This Article
MDPI and ACS Style
Tian, Z.; Guo, F.; Biswas, S.; Deng, W. Rationale and Methodology of Reprogramming for Generation of Induced Pluripotent Stem Cells and Induced Neural Progenitor Cells. Int. J. Mol. Sci. 2016, 17, 594.
Note that from the first issue of 2016, MDPI journals use article numbers instead of page numbers. See further details here.
Related Articles
Comments
[Return to top]