Co-Expression and Co-Localization of Cartilage Glycoproteins CHI3L1 and Lubricin in Osteoarthritic Cartilage: Morphological, Immunohistochemical and Gene Expression Profiles
1
Department of Biomedical and Biotechnological Sciences, Human Anatomy and Histology Section, School of Medicine, University of Catania, Via S. Sofia 87, 95123 Catania, Italy
2
Departments of Clinical and Experimental Medicine, Internal Medicine Division, School of Medicine, University of Catania, 95123 Catania, Italy
3
Department of Biomedical and Biotechnological Sciences, Pathology Section, School of Medicine, University of Catania, 95125 Catania, Italy
4
Department of Medical and Surgical Sciences and Advanced Technologies, Anatomic Pathology Section, School of Medicine, University of Catania, 95123 Catania, Italy
5
Department of Medical and Surgical Science, Section of Dentistry, University of Catania, 95123 Catania, Italy
*
Author to whom correspondence should be addressed.
Academic Editor: Charles J. Malemud
Received: 12 December 2015 / Revised: 16 February 2016 / Accepted: 22 February 2016 / Published: 11 March 2016
Abstract
Osteoarthritis is the most common human arthritis characterized by degeneration of articular cartilage. Several studies reported that levels of human cartilage glycoprotein chitinase 3-like-1 (CHI3L1) are known as a potential marker for the activation of chondrocytes and the progression of Osteoarthritis (OA), whereas lubricin appears to be chondroprotective. The aim of this study was to investigate the co-expression and co-localization of CHI3L1 and lubricin in normal and osteoarthritic rat articular cartilage to correlate their modified expression to a specific grade of OA. Samples of normal and osteoarthritic rat articular cartilage were analyzed by the Kellgren–Lawrence OA severity scores, the Kraus' modified Mankin score and the Histopathology Osteoarthritis Research Society International (OARSI) system for histomorphometric evaluations, and through
CHI3L1
and
lubricin
gene expression, immunohistochemistry and double immuno-staining analysis. The immunoexpression and the mRNA levels of lubricin increased in normal cartilage and decreased in OA cartilage (normal
vs.
OA,
p
< 0.01). By contrast, the immunoexpression and the mRNA levels of CHI3L1 increased in OA cartilage and decreased in normal cartilage (normal
vs.
OA,
p
< 0.01). Our findings are consistent with reports suggesting that these two glycoproteins are functionally associated with the development of OA and in particular with grade 2/3 of OA, suggesting that in the future they could be helpful to stage the severity and progression of the disease.
View Full-Text
►

▼

Figures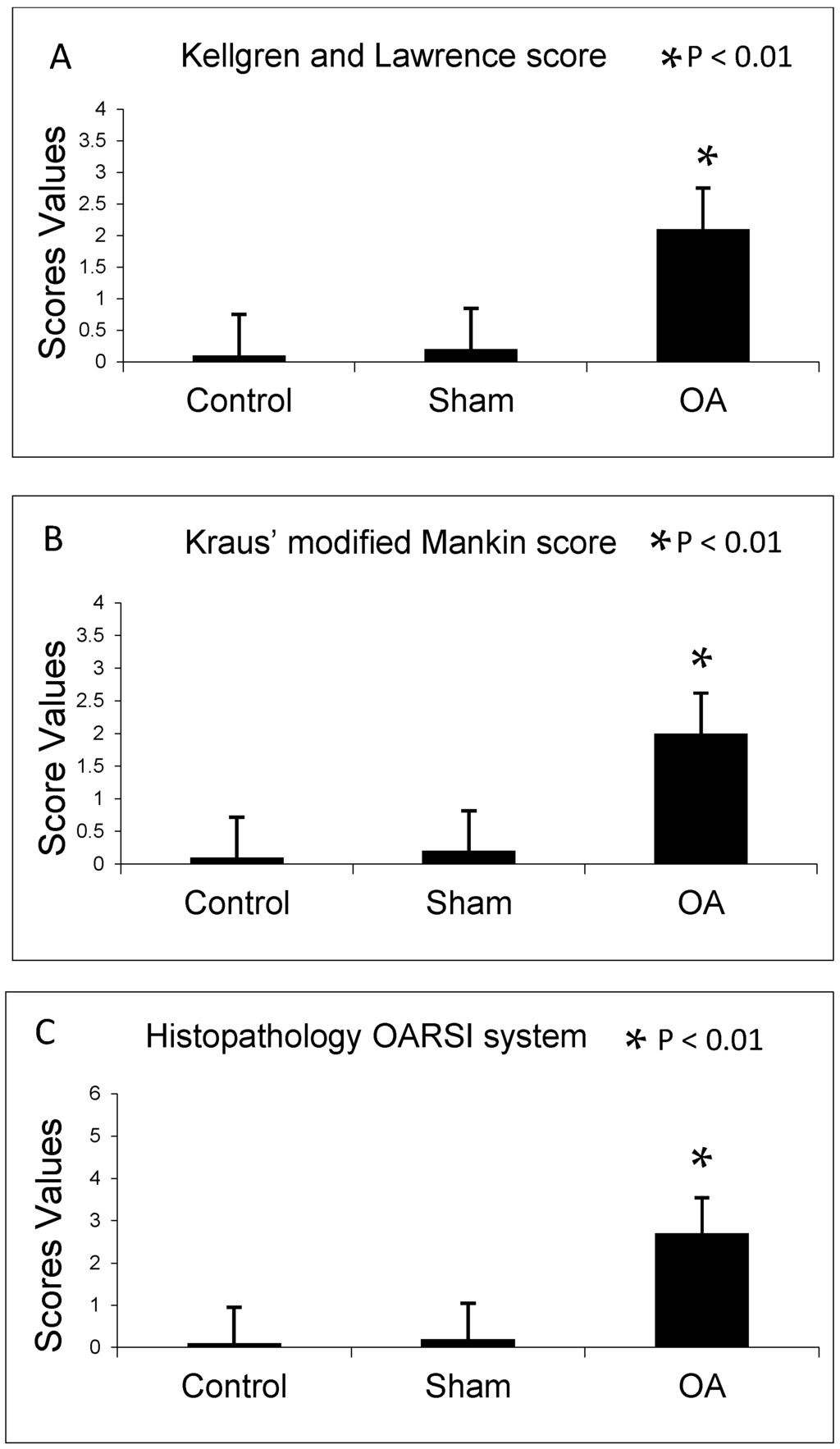 Figure 1
This is an open access article distributed under the
Creative Commons Attribution License
which permits unrestricted use, distribution, and reproduction in any medium, provided the original work is properly cited (CC BY 4.0).

Share & Cite This Article
MDPI and ACS Style
Szychlinska, M.A.; Trovato, F.M.; Di Rosa, M.; Malaguarnera, L.; Puzzo, L.; Leonardi, R.; Castrogiovanni, P.; Musumeci, G. Co-Expression and Co-Localization of Cartilage Glycoproteins CHI3L1 and Lubricin in Osteoarthritic Cartilage: Morphological, Immunohistochemical and Gene Expression Profiles. Int. J. Mol. Sci. 2016, 17, 359.
Note that from the first issue of 2016, MDPI journals use article numbers instead of page numbers. See further details here.
Related Articles
Comments
[Return to top]