Open Access This article is
freely available
re-usable
Review
Focus on Extracellular Vesicles: Development of Extracellular Vesicle-Based Therapeutic Systems
1
Department of Molecular Pathology, Tokyo Medical University, 6-1-1 Shinjuku, Shinjuku-ku, Tokyo 160-8402, Japan
2
Cellular Stress and Ageing Program, Bionanoscience and Bio-Imaging Program, Bio & Nano-Solutions, D-33647 Bielefeld, Germany
†
These authors contributed equally to this work.
*
Authors to whom correspondence should be addressed.
Academic Editor: William Chi-shing Cho
Received: 22 August 2015 / Accepted: 29 January 2016 / Published: 6 February 2016
Abstract
: Many types of cells release phospholipid membrane vesicles thought to play key roles in cell-cell communication, antigen presentation, and the spread of infectious agents. Extracellular vesicles (EVs) carry various proteins, messenger RNAs (mRNAs), and microRNAs (miRNAs), like a "message in a bottle" to cells in remote locations. The encapsulated molecules are protected from multiple types of degradative enzymes in body fluids, making EVs ideal for delivering drugs. This review presents an overview of the potential roles of EVs as natural drugs and novel drug-delivery systems.
Keywords:
exosome; microvesicle; extracellular vesicle; exosome; dexosome; outer membrane vesicle; stem cell; drug delivery system; vaccine; clinical trial
1. Introduction
Membrane vesicles secreted from various types of cells are categorized as exosomes, microvesicles (MVs), and apoptotic vesicles according to their size, pathway of origin, and constituent molecules [
1
,
2
]. Exosomes, which are 30–100 nm sized vesicles derived from the late endosome, can be isolated from the conditioned medium of various cells or from body fluids using a sucrose gradient (1.13–1.19 g/mL) or ultracentrifugation (100,000×
g
for 70 min) [
3
]. Exosomes are enriched in heat shock proteins (HSP70, HSP90), tetraspanin family molecules (CD9, CD63, CD81), and components of the ESCRT (endosomal sorting complex required for transport) machinery (e.g., Alix and TSG101) [
1
,
2
]. MVs, also called shedding vesicles, ectosomes or microparticles, are between 100 and 1000 nm in diameter and are enriched in phosphatidylserine, integrins, selectins, and CD40 ligand. Unlike exosomes, MVs are formed through outward budding of the plasma membrane [
4
,
5
]. Apoptotic vesicles are derived from apoptotic cells and are distinctly different from exosomes because they abundantly contain histones associated with membranes that float at high sucrose densities (1.24–1.28 g/mL) and because they are very heterogeneous in size and morphology when observed by EM [
6
].
Because the methods used to isolate and purify membrane vesicles differ significantly between studies, we do not strictly distinguish these categories in this review, but instead collectively refer to such vesicular structures as "extracellular vesicles" (EVs) and explicitly identify the subtype when necessary. EV proteins that are expressed on lipid bilayer membranes stimulate receptors on the surfaces of physically separated cells, and the encapsulated materials play functional roles in the cells that take up the EVs. These characteristics raise the possibility that EVs might be used therapeutically. Research aimed at applying EVs in a clinical setting can be divided into two broad categories (
Figure 1
): (1) EVs as biological medicines,
i.e.
, therapeutics that take advantage of the positive effect exerted by molecules contained in the EVs secreted by particular types of cells.
Figure 1. Research aimed at developing extracellular vesicles (EVs) for clinical applications. APC: Antigen presenting cell; DCs: Dendritic cells; iDCs: Immature dendritic cells; DDS: Drug delivery system; GVHD: Graft-versus-host disease; MSCs: Mesenchymal stem cells.
The majority of these efforts are focused on immune-regulatory effects (
i.e.
, immune suppression or immune activation) in the context of vaccines (
Figure 1
, upper). In addition, EVs have been reported to mediate effects on tissue repair and angiogenesis (
Figure 1
, lower left); (2) EVs as carriers for drug-delivery systems (DDSs), taking advantage of EVs' natural characteristics to deliver molecules to target cells (
Figure 1
, lower right). In this review, we summarize the development of EV-based drugs and drug-delivery systems, and discuss future possibilities for clinical applications of EVs. A comprehensive introduction to EVs is provided in this focus edition in the article by Kalra
et al.
[
2
].
2. EVs as Therapeutic Vehicles
2.1. Liposomes vs. EVs
Historically, artificial vesicular carriers, e.g., liposomes (
Figure 2
A), have been used to carry therapeutics to target tissues and cells. These liposomes generally have various sizes with either single or multiple lipid bilayers, e.g., Small or Large Unilamellar (SUVs; LUVs)
vs
. Multilamellar Vesicles. The lipid compositions of liposomes generally vary, depending on their intended application, but most commonly phosphatidylcholine (lecithin) and phosphatidylethanolamine or derivatives are used in combination with cholesterol to control membrane fluidity and prevent physical instability and premature content leakage (high permeability). Depending on the polarity of the therapeutic agent, either encapsulation in the liposomal lumen or incorporation into the lipid bilayer occurs. At least 19 drugs with liposomal DDSs have been approved by the FDA and EMA [
7
,
8
], whilst nearly 450 phase I‒III open interventional studies are currently being conducted [
9
]. Despite several advantages, liposomes suffer from drawbacks that include problems related to stability, fatty acyl moiety oxidation, drug loading, liposome targeting, drug leakage and release, and others. Most importantly, intravenous injection of liposomal drugs has been known to induce complement activation-related pseudoallergy (CARPA) in some cases; an acute and severe hypersensitivity reaction [
10
,
11
].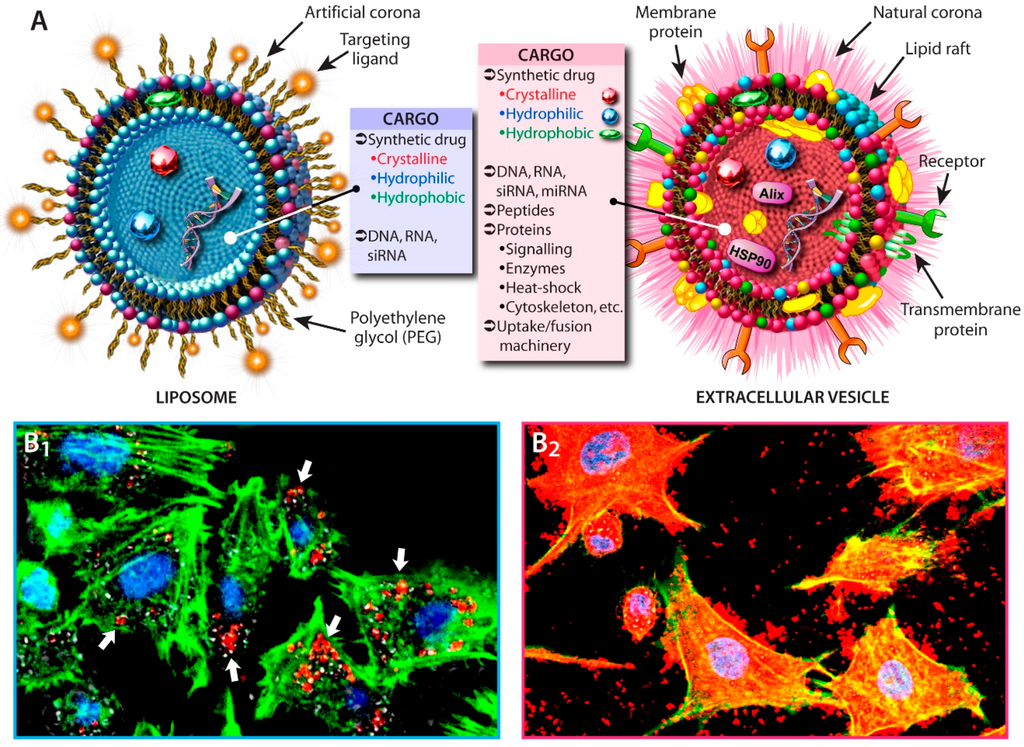 Figure 2.
Comparison of liposomes and extracellular vesicles (EVs) as drug-delivery-systems (DDS). (
A
) Schematic depiction of lipid-based vesicular carriers (not to scale). Note that in comparison to liposomes, EV membranes not only consist of a diverse number of lipid classes, but also contain trans-membrane and membrane-associated proteins, receptors, adhesion molecules, as well as a natural corona. Such features must be engineered into liposomes to obtain a stable and suitable DDS; (
B
) Accumulation of exosomes is profoundly higher (B
2
) than accumulation of artificial nano-carriers such as liposomes (B
1
; white arrows) in PC12 neuronal cells after 24 h incubation [
12
]. Red (Dil, C
59
H
97
ClN
2
O
4
): exosomes or nano-carriers; Green (rabbit anti-PGP9.5): actin microfilaments; Blue (DAPI): nuclei.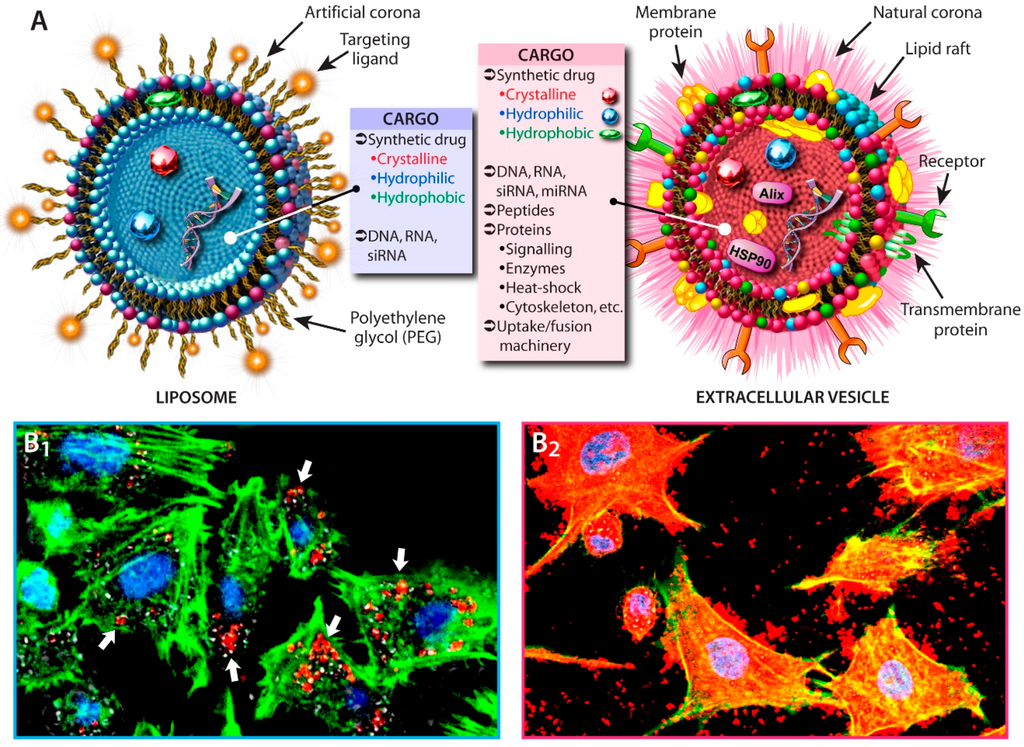 Unlike liposomes, EVs have the distinct advantage that their membranes are structurally comparable to other membranous structures found in cells. This means that both their lipid composition, fluidity, the presence of membrane proteins, potential targeting and docking modalities are all preserved in EVs (
Figure 2
A). Furthermore, EVs are likely to carry the required fusogenic properties or uptake machinery within their corpora. In comparison, liposomes are primitive vesicular structures, over which some measure of control regarding their properties can be obtained through control of their size, lipid composition, corona, and addition of potential targeting peptides or other surface modifications. However, the difficulty of obtaining suitable coronas that ensure sufficiently decreased clearance by the mononuclear phagocyte system (long circulation times), prevent opsonization (fouling with complement, immunoglobulins, fibronectin and apolipoproteins) and non-specific interactions with cells illustrates the relative primitiveness of liposomes as DDSs compared with EVs. For instance, a common way to reduce surface fouling is by coating with polyethylene glycol (PEG). However, corona design requires significant engineering, as recent research into nano-sized DDS shows that for long circulation times and anti-fouling both mixed length PEG chains with particular conformations and a sufficiently high PEG chain density are required [
13
,
14
]. Although PEGylation might reduce the aforementioned limitations, it also potentially reduces interaction of the DDS with target cells, negatively affecting the DDS's biodistribution. Furthermore, Armstrong and co-worker report that preexisting PEG antibodies are present in 22%–25% of healthy blood donors as a consequence of exposure to PEG in cosmetics and foodstuffs [
15
,
16
], which might negatively influence the effectiveness of therapeutic interventions [
17
]. Nonetheless, PEGylation is the only coating strategy for DDSs that is regarded as safe for use in humans and carries the GRAS classification (Generally Recognized As Safe) issued by the FDA [
18
]. Overall and because of the nature and structural composition of EVs, these should be considered superior as DDSs compared with liposomes and consequently open up new ways for drug delivery.
2.2. Cellular Uptake and Drug-Loading
Cellular uptake of EVs surpasses that of more traditional carriers such as liposomes or nanoparticles (compare
Figure 2
B1,2). Batrakova's group not only demonstrated unparalleled accumulation of drug-loaded exosomes compared with 100 nm poly(lactic-co-glycolic acid) or liposomes in PC12 cells, but also that
ex vivo
catalase-loaded macrophage-derived exosomes significantly accumulated in mouse brain neurons and microglial cells upon intranasal administration [
12
], circumventing the limitations of various DDSs regarding mucosal and blood brain barrier traversal.
Fuhrman and collaborators recently compared various passive and active drug-loading methods,
i.e.
, electroporation, saponin treatment, extrusion and dialysis, and used porphyrins of various hydrophobicities as model drugs [
19
]. They determined that porphyrin-loaded EVs from MDA-MB231 breast cancer, human umbilical vein endothelial and human mesenchymal stem cells all showed superior cellular uptake and light-induced cellular killing than drug-loaded phosphatidyl-choline/cholesterol liposomes or free porphyrins. Furthermore, passive loading of hydrophobic compounds into EVs was significantly higher than in liposomes, which might be a result of the presence of particular domains within EV membranes that are absent in the artificial membranes of liposomes. Although it has long been known that, through the right combination of phospholipids and cholesterol in liposomal formulations, the properties of liposomal membranes can be steered, such artificial membranes are unlikely to be able to compete with the more natural structural properties of EV membranes (
Figure 2
A). Finally, Fuhrman
et al
. determined that of all nondestructive active loading methods, particularly the saponin-assisted method allowed high loading efficacies. Similar results were obtained in the aforementioned catalase-loaded exosomes; albeit that saponin treatment, sonication and extrusion all showed high loading efficiencies and no significant degradation of catalase [
12
]. Despite the reported high loading capacities, there are limits to the maximal attainable loading, in particular in exosomes, due to size restrictions and the native presence of numerous proteins and nucleic acids. For small RNAs, electroporation is generally used to load EVs, as established by Alvarez-Erviti and co-workers [
20
]. We also successfully used electroporation to load miRNA into exosomes targeted to the epidermal growth factor receptor (EGFR) of breast cancer cells [
21
]. However, electroporation has been known to induce aggregation in particular when loading siRNA and as a result the true siRNA content is often overestimated [
22
]. Beside the aforementioned loading methods, genetic manipulation of the parental cell has been used to incorporate particular proteins into EVs. This strategy can be realized by, for instance, introducing genetic material, e.g., cDNA, encoding the protein of interest and a protein that localizes in EVs such as C1C2 to the parental cell [
23
]. Alternatively, plasmid-based introduction has been successfully used to modify macrophages for reproduction, packaging, and targeted therapeutics delivery to treat neurodegenerative disorders [
24
]. Finally, Maguire
et al.
took it one step further and proposed exploiting viral packaging systems (from non-enveloped viruses) to improve gene delivery by creating hybrid vesicles called "vexosomes" (vector-exosomes) [
25
]. Although they achieved significantly better transfection and reduced immunogenicity compared with the free viral vector, such hybrid systems would require additional scrutiny.
Overall, the abovementioned research results show that drug-loaded EVs are superiors as DDS both in terms of loading, circulation times, and cellular uptake and payload delivery. Furthermore, due to the nature of EVs, therapeutic options built into EVs are significantly better protected from the harsh outside environment than other lipid-based DDS.
3. Medicinal Use of Native EVs
3.1. EVs from Mesenchymal Stem Cells
Mesenchymal stem cells (MSCs) are self-renewing precursor cells (multipotent stem cells) that are able to differentiate into a variety of cell types, including bone, cartilage, muscle, marrow, ligament, adipose and connective tissues [
26
,
27
]. Consequently, MSCs have predominantly been investigated in the context of clinical applications aimed at repairing damaged tissue. These studies revealed that MSCs exert tissue-repair functions in blood vessels, lung, kidney, bone, and cartilage tissue in various animal disease models [
28
]. In addition, MSCs have potent immunosuppressive activities that can inhibit both innate and adaptive immune responses. Research and clinical trials have been conducted to investigate the inhibitory effects of MSC transplantation on graft-versus-host disease (GVHD) after allogeneic tissue transplantation, rheumatism, uveitis, diabetes, and inflammatory bowel disease [
29
]. Furthermore, via their neuroprotective effects, MSCs can prevent amyotrophic lateral sclerosis, multiple sclerosis, Parkinson's disease, and glaucoma [
30
,
31
,
32
,
33
,
34
]. As noted above, MSCs have multiple functions that include tissue repair, immunosuppression, and neuroprotection, but the mechanisms underlying these functions remain largely unknown. Recent work showed that administration of the exosome fraction isolated from MSCs has an effect similar to that of MSC transplantation [
35
]. Treatment of GVHD with MSC-derived EVs decreased the pro-inflammatory cytokine response of peripheral blood mononuclear cells (PBMCs) and diarrhea volume. In lung disease, EVs derived from bone marrow MSCs inhibit pulmonary arterial hypertension in rats [
36
] and acute lung injury induced by
E. coli
endotoxin in mice [
37
,
38
]. Tissue-repair functions are not limited to MSCs, but have also been reported in embryonic stem cell (ESC). Although transplantation of ESCs is considered very effective in vascular disorders, serious side effects such as teratomas may occur [
39
,
40
]. Nonetheless, Khan
et al
. successfully treated myocardial infarction (MI) in a MI mouse model without side-effects when administrating ESC-derived EVs [
41
]. EVs derived from MSCs also have useful functions beyond activation or suppression of immune responses. For example, EVs derived from MSCs protect against acute kidney injury and may activate a proliferative program in surviving tubular cells after injury via horizontal transfer of mRNA [
42
,
43
]. These results indicate that the identities and functions of MSCs are reflected in their EVs. Consequently, the EVs of MSCs have attracted attention as a novel cell-free approach for stem cell therapy of various diseases [
44
].
3.2. EVs from Antigen Presenting and Other Immune Cells
4. EVs as Drug-Delivery System Carriers
4.1. EVs as Carriers for Small Molecular Drugs
Different methods can be employed for loading small molecules into EVs. These include loading EVs after isolation from parental cells, loading parental cells with the drug, followed by isolation of released EVs, and transfecting parental cells with DNA encoding for the drug and subsequent isolation of the EVs. For instance, EVs loaded with doxorubicin have effectively been used to inhibit growth of breast and colon cancers [
63
,
64
]. These studies suggest that EVs can effectively deliver chemotherapeutics to treat malignant tumors.
Guo
et al.
showed that therapy with EVs purified from L1210 lymphocytic leukemia cell antigen/lipopolysaccharide-pulsed DCs and loaded with cyclophosphamide and poly(I:C) were able to induce DC maturation and most effectively suppress tumor growth and prolong survival time in tumor-bearing DBA2 mice [
65
]. These findings suggest that the combination of a tumor vaccine, a conventional anti-cancer agent, and a promoter of DC maturation might represent a generally useful strategy for anti-cancer therapy. MSCs have been proposed as delivery vehicles for anticancer agents because of their ability to migrate to tumor microenvironments. Pascucci
et al.
reported a new approach to drug delivery using EVs from MSCs. Following priming with paclitaxel (PTX), MSCs were able to strongly inhibit pancreatic tumors via their capacity to release the drug from PTX-loaded MSC EVs that were taken up by the cancer cells [
66
]. Tian and co-workers used a different approach to deliver doxorubicin (Dox) to tumors in BALB/c nude mice [
63
]. These authors loaded exosomes purified from immature dendritic cells (iDCs) with Dox via electroporation. Tumor targeting was enhanced by promoting expression of the exosomal membrane protein Lamp2b fused to αv integrin-specific iRGD peptide (CRGDKGPDC) in iDCs, whereas iDCs were used to reduce immunogenicity and toxicity.
Interestingly, Federici
et al
. recently showed that the opposite to drug loading of EVs occurs in resistance to cytotoxic anti-cancer drugs,
i.e
., "drug unloading" of cisplatin [
67
]. Not only does extracellular acidosis impair cisplatin uptake by cancer cells
per se
, but also induces exosome-mediated elimination of cisplatin from cancer cells; both could be inhibited by addition of a proton-pump-inhibitor.
4.2. EV-Encapsulated Curcumin
Curcumin, a natural polyphenol found in the rhizomes of
Curcuma longa
(turmeric), has been shown to exert various biological activities, including anti-inflammatory, anticancer, and antioxidant effects. However, due to its hydrophobicity, curcumin has poor aqueous solubility and a poor absorbability and overall bioavailability. To overcome these limitations, various delivery strategies have been used, including encapsulation in lecithin liposomes (small unilamellar vesicles) [
68
], micelles [
69
], cyclodextrins [
70
], and chitosan [
71
]. In addition, absorption enhancers, such as piperine have been used in conjunction with encapsulation to improve bioavailability [
72
].
Sun
et al.
on the other hand used EVs as a delivery vehicle for curcumin and showed that curcumin preferentially interacts with EVs in lipid membranes [
73
]. Additionally, curcumin delivered by EVs is more stable and more concentrated in blood, which indicates a significantly superior absorption and bioavailability. In a LPS-induced mouse model of septic shock, EV-encapsulated curcumin inhibited LPS-induced inflammation significantly more effectively than free curcumin [
73
]. This study provided evidence for the potential of EVs as drug-delivery carriers. Zhuang
et al.
improved the method of administration of EV-encapsulated curcumin: intranasal administration of EVs curcumin led to rapid delivery of curcumin to the brain and significantly inhibited brain tumor growth, LPS-induced brain inflammation, and experimental autoimmune encephalitis (EAE) in mouse models [
74
]. This strategy may provide a noninvasive and novel therapeutic approach for treating inflammatory brain diseases. In cancer therapy, Phase I and II clinical trials have yielded promising results on the use of curcumin as a component of pancreatic cancer therapeutic strategies [
75
]. In association with these data, EV-encapsulated curcumin also decreases the viability of pancreatic adenocarcinoma cell lines [
76
].
4.3. Nucleic Acid-Based Drugs and EVs
EVs carry multiple types of molecules including proteins and nucleic acids, and these cargoes are more stable than they would be if exposed to body fluids. In particular, mRNA and miRNA encapsulated in exosomes are called esRNA (exosome shuttle RNA). esRNA in body fluids such as serum, urine, and saliva is a biomarker for early diagnosis and surveillance of various disorders [
77
]. The fact that EVs can carry nucleic acids in stable form has attracted the attention of researchers who are developing nucleic acid-based drugs.
Alvarez-Erviti and co-workers developed a DDS for the central nervous system using modified EVs [
20
]. To reduce immunogenicity, they used autologous (self-derived) DCs for EV production. Targeting of nerve cells was achieved using a neuron-specific RVG peptide and loading of nucleic acid drugs was achieved by electroporation. siRNA delivered by intravenously injected RVG-targeted EVs can specifically inhibit target genes in the brain. The therapeutic potential of EV-mediated siRNA delivery was demonstrated by knockdown of BACE1; a therapeutic target in Alzheimer's disease [
20
]. These results suggested that EVs can cross the blood-brain barrier and can be targeted by surface modification and loaded with nucleic acid drugs. We recently developed cancer-targeting EVs that inhibit progression of breast cancer in an
in vivo
mouse model [
21
]. Targeting was achieved by engineering the donor cells to express the transmembrane domain of platelet-derived growth factor receptor fused to the GE11 peptide; an artificial ligand of EGFR. The GE11-EVs delivered
let-7a
tumor suppressor microRNA and inhibited development of xenograft breast cancer cells in RAG2KO mice. Our results suggest that EVs can be used therapeutically to target cancer tissues with nucleic-acid drugs [
21
]. Additionally, MSC EVs-mediated transfer of
miR-133b
has been shown to promote neurite growth in neural cells [
78
]. Likewise, MSC-derived EVs loaded with
miR-146b
inhibit glioma growth [
79
]. Because MSCs are efficient producers of exosomes, they are well suited for mass production of exosomes, which are ideal for drug delivery [
80
]. Immune cells in particular are suitable target cells for EV-based therapeutic interventions. Bryniarski
et al.
, recently demonstrated effective T-cell inhibition via systemic transit of exosome-like nanovesicles delivering the inhibitory miRNA
miR-150
to target effector T-cells in an antigen-specific manner via surface coating with antibody light chains [
81
].
5. EVs in Clinical Trials
6. EVs Caveats and Challenges
7. Conclusions
In recent years, the number of EV-related studies has increased rapidly, and specialized journals and conferences have been established to disseminate these findings. The knowledge about EVs obtained from research of multiple life science disciplines shows great potential for various applications, particularly in regenerative medicine and to treat diseases refractory to conventional approaches. EVs may be considered to be the smaller "alter egos" of secretory cells and, therefore, may function equivalent to implantation of secretory cells; at least partially. However, compared to living cell transplantation, administration of EVs will decrease the burden on both physicians and patients with regard to production, quality management and therapy cost. Thus, one important characteristic of EVs in the context of therapeutic applications is that they might replace cell transplantation in the long run. On the other hand, the DDS field has focused on other characteristics of EVs. To date, the development of DDS has been hampered by biological toxicity and antigenicity of carriers. The ability of EVs to deliver molecules to distant cells via body fluids without significant toxicity and antigenicity demonstrates their utility as DDS. Nonetheless, further studies are needed to establish EVs as the next-generation DDSs or novel biological drugs. Additional information about various aspects of extracellular vesicles is provided in the other reviews in this focus edition [
2
,
117
,
118
,
119
,
120
].
Acknowledgments
We would like to thank Elena Batrakova (Centre for Nanotechnology and Drug Delivery, Eshelman School of Pharmacy, University of North Carolina at Chapel Hill, NC, USA) for providing the micrographs in
Figure 2
B1,2.
Author Contributions
Shin-ichiro Ohno wrote the first draft of the manuscript; Masahiko Kuroda and Gregor P. C. Drummen revised the manuscript and Gregor P. C. Drummen made the figures and tables. All authors read and approved the final manuscript.
Conflicts of Interest
The authors declare no conflict of interest.
© 2016 by the authors; licensee MDPI, Basel, Switzerland. This article is an open access article distributed under the terms and conditions of the Creative Commons by Attribution (CC-BY) license (http://creativecommons.org/licenses/by/4.0/).