Low Concentration of Exogenous Carbon Monoxide Modulates Radiation-Induced Bystander Effect in Mammalian Cell Cluster Model
1
Center of Medical Physics and Technology, Hefei Institutes of Physical Science, Chinese Academy of Sciences, Hefei 230031, China
2
Department of Physics and Materials Science, City University of Hong Kong, TatChee Avenue, Kowloon Tong, Hong Kong, China
3
Institute of Technical Biology & Agricultural Engineering, Hefei Institutes of Physical Science, Chinese Academy of Sciences, Hefei 230031, China
4
Collaborative Innovation Center of Radiation Medicine of Jiangsu Higher Education Institutions and School for Radiological and Interdisciplinary Sciences (RAD-X), Soochow University, Suzhou 215000, China
*
Author to whom correspondence should be addressed.
†
These authors contributed equally to this work.
Academic Editor: Terrence Piva
Received: 4 July 2016 / Revised: 24 November 2016 / Accepted: 1 December 2016 / Published: 8 December 2016
Abstract
During radiotherapy procedures, radiation-induced bystander effect (RIBE) can potentially lead to genetic hazards to normal tissues surrounding the targeted regions. Previous studies showed that RIBE intensities in cell cluster models were much higher than those in monolayer cultured cell models. On the other hand, low-concentration carbon monoxide (CO) was previously shown to exert biological functions via binding to the heme domain of proteins and then modulating various signaling pathways. In relation, our previous studies showed that exogenous CO generated by the CO releasing molecule, tricarbonyldichlororuthenium (CORM-2), at a relatively low concentration (20 µM), effectively attenuated the formation of RIBE-induced DNA double-strand breaks (DSB) and micronucleus (MN). In the present work, we further investigated the capability of a low concentration of exogenous CO (CORM-2) of attenuating or inhibiting RIBE in a mixed-cell cluster model. Our results showed that CO (CORM-2) with a low concentration of 30 µM could effectively suppress RIBE-induced DSB (p53 binding protein 1, p53BP1), MN formation and cell proliferation in bystander cells but not irradiated cells via modulating the inducible nitric oxide synthase (iNOS) andcyclooxygenase-2 (COX-2). The results can help mitigate RIBE-induced hazards during radiotherapy procedures.
View Full-Text
►

▼

Figures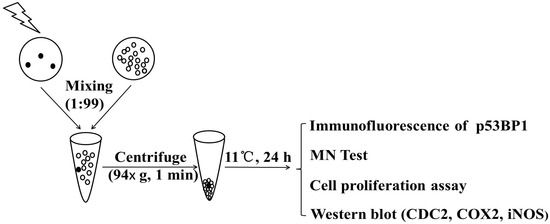 Figure 1
This is an open access article distributed under the
Creative Commons Attribution License
which permits unrestricted use, distribution, and reproduction in any medium, provided the original work is properly cited (CC BY 4.0).

Share & Cite This Article
MDPI and ACS Style
Wu, W.; Nie, L.; Yu, K.N.; Wu, L.; Kong, P.; Bao, L.; Chen, G.; Yang, H.; Han, W. Low Concentration of Exogenous Carbon Monoxide Modulates Radiation-Induced Bystander Effect in Mammalian Cell Cluster Model. Int. J. Mol. Sci. 2016, 17, 2051.
Note that from the first issue of 2016, MDPI journals use article numbers instead of page numbers. See further details here.
Related Articles
Comments
[Return to top]