The Role of ERK1/2 in the Development of Diabetic Cardiomyopathy
1
Cardiovascular Center, The First Hospital of Jilin University, Changchun 130021, China
2
Department of Pediatrics, Kosair Children's Hospital Research Institute, University of Louisville, Louisville, KY 40202, USA
3
Department of Pharmacology & Toxicology, University of Louisville, Louisville, KY 40202, USA
4
Department of Basic Medical Sciences, Hangzhou Medical College, Hangzhou 310053, China
5
College of Medicine & Engineering, Hanyang University, Seoul 04963, Korea
*
Authors to whom correspondence should be addressed.
Academic Editor: Harry A. J. Struijker-Boudier
Received: 28 September 2016 / Revised: 14 November 2016 / Accepted: 22 November 2016 / Published: 8 December 2016
Abstract
Diabetes mellitus is a chronic metabolic condition that affects carbohydrate, lipid and protein metabolism and may impair numerous organs and functions of the organism. Cardiac dysfunction afflicts many patients who experience the oxidative stress of the heart. Diabetic cardiomyopathy (DCM) is one of the major complications that accounts for more than half of diabetes-related morbidity and mortality cases. Chronic hyperglycemia and hyperlipidemia from diabetes mellitus cause cardiac oxidative stress, endothelial dysfunction, impaired cellular calcium handling, mitochondrial dysfunction, metabolic disturbances, and remodeling of the extracellular matrix, which ultimately lead to DCM. Although many studies have explored the mechanisms leading to DCM, the pathophysiology of DCM has not yet been fully clarified. In fact, as a potential mechanism, the associations between DCM development and mitogen-activated protein kinase (MAPK) activation have been the subjects of tremendous interest. Nonetheless, much remains to be investigated, such as tissue- and cell-specific processes of selection of MAPK activation between pro-apoptotic vs. pro-survival fate, as well as their relation with the pathogenesis of diabetes and associated complications. In general, it turns out that MAPK signaling pathways, such as extracellular signal-regulated kinase 1/2 (ERK1/2), c-Jun N-terminal protein kinase (JNK) and p38 MAP kinase, are demonstrated to be actively involved in myocardial dysfunction, hypertrophy, fibrosis and heart failure. As one of MAPK family members, the activation of ERK1/2 has also been known to be involved in cardiac hypertrophy and dysfunction. However, many recent studies have demonstrated that ERK1/2 signaling activation also plays a crucial role in FGF21 signaling and exerts a protective environment of glucose and lipid metabolism, therefore preventing abnormal healing and cardiac dysfunction. The duration, extent, and subcellular compartment of ERK1/2 activation are vital to differential biological effects of ERK1/2. Moreover, many intracellular events, including mitochondrial signaling and protein kinases, manipulate signaling upstream and downstream of MAPK, to influence myocardial survival or death. In this review, we will summarize the roles of ERK1/2 pathways in DCM development by the evidence from current studies and will present novel opinions on "differential influence of ERK1/2 action in cardiac dysfunction, and protection against myocardial ischemia-reperfusion injury".
View Full-Text
►

▼

Figures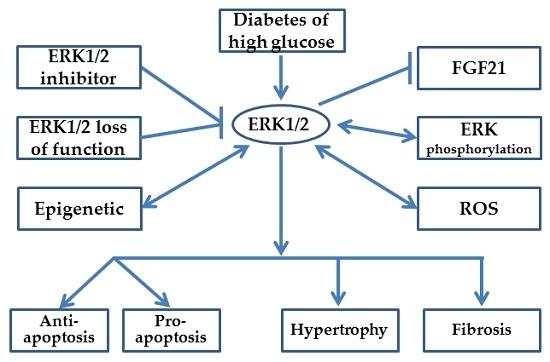 Graphical abstract
This is an open access article distributed under the
Creative Commons Attribution License
which permits unrestricted use, distribution, and reproduction in any medium, provided the original work is properly cited (CC BY 4.0).

Share & Cite This Article
MDPI and ACS Style
Xu, Z.; Sun, J.; Tong, Q.; Lin, Q.; Qian, L.; Park, Y.; Zheng, Y. The Role of ERK1/2 in the Development of Diabetic Cardiomyopathy. Int. J. Mol. Sci. 2016, 17, 2001.
Note that from the first issue of 2016, MDPI journals use article numbers instead of page numbers. See further details here.
Related Articles
Comments
[Return to top]