Enhanced Production of Anthraquinones and Phenolic Compounds and Biological Activities in the Cell Suspension Cultures of
Polygonum multiflorum
Department of Applied Bioscience, College of Life and Environmental Sciences, Konkuk University, Seoul 143 701, Korea
*
Author to whom correspondence should be addressed.
Academic Editor: Charles Brennan
Received: 30 June 2016 / Revised: 20 October 2016 / Accepted: 8 November 2016 / Published: 16 November 2016
Abstract
Anthraquinones (AQs) and phenolic compounds are important phytochemicals that are biosynthesized in cell suspension cultures of
Polygonum multiflorum
. We wanted to optimize the effects of plant growth regulators (PGRs), media, sucrose,
l
-glutamine, jasmonic acid (JA), and salicylic acid (SA) for the production of phytochemicals and biomass accumulation in a cell suspension culture of
P. multiflorum
. The medium containing Murashige and Skoog (MS) salts and 4% sucrose supplemented with 1 mg/L 2,4-dichlorophenoxyacetic acid, 0.5 mg/L thidiazuron, and 100 µM
l
-glutamine at 28 days of cell suspension culture was suitable for biomass accumulation and AQ production. Maximum biomass accumulation (12.5 and 12.35 g fresh mass (FM); 3 and 2.93 g dry mass (DM)) and AQ production (emodin 295.20 and 282 mg/g DM; physcion 421.55 and 410.25 mg/g DM) were observed using 100 µM JA and SA, respectively. JA- and SA-elicited cell cultures showed several-fold higher biomass accumulation and AQ production than the control cell cultures. Furthermore, the cell suspension cultures effectively produced 23 phenolic compounds, such as flavonols and hydroxycinnamic and hydroxybenzoic acid derivatives. PGR-, JA-, and SA-elicited cell cultures produced a higher amount of AQs and phenolic compounds. Because of these metabolic changes, the antioxidant, antimicrobial, and anticancer activities were high in the PGR-, JA-, and SA-elicited cell cultures. The results showed that the elicitors (JA and SA) induced the enhancement of biomass accumulation and phytochemical (AQs and phenolic compounds) production as well as biological activities in the cell suspension cultures of
P. multiflorum
. This optimized protocol can be developed for large-scale biomass accumulation and production of phytochemicals (AQs and phenolic compounds) from cell suspension cultures, and the phytochemicals can be used for various biological activities.
View Full-Text
►

▼

Figures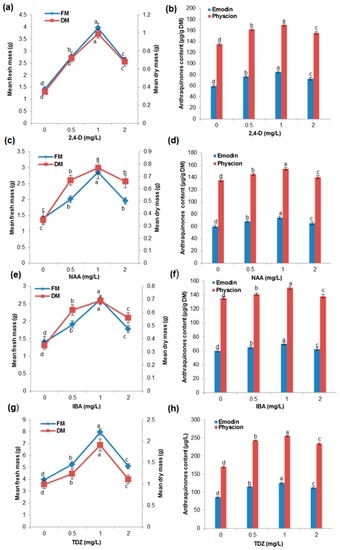 Figure 1
This is an open access article distributed under the
Creative Commons Attribution License
which permits unrestricted use, distribution, and reproduction in any medium, provided the original work is properly cited (CC BY 4.0).

Share & Cite This Article
MDPI and ACS Style
Thiruvengadam, M.; Rekha, K.; Rajakumar, G.; Lee, T.-J.; Kim, S.-H.; Chung, I.-M. Enhanced Production of Anthraquinones and Phenolic Compounds and Biological Activities in the Cell Suspension Cultures of Polygonum multiflorum. Int. J. Mol. Sci. 2016, 17, 1912.
Note that from the first issue of 2016, MDPI journals use article numbers instead of page numbers. See further details here.
Related Articles
Comments
[Return to top]