Brefeldin A-Inhibited Guanine Nucleotide-Exchange Factor 1 (BIG1) Governs the Recruitment of Tumor Necrosis Factor Receptor-Associated Factor 2 (TRAF2) to Tumor Necrosis Factor Receptor 1 (TNFR1) Signaling Complexes
1
Department of Biochemistry, University of Lausanne, Chemin des Boveresses 155, CH-1066 Epalinges, Switzerland
2
Laboratory of Health Chemistry, Graduate School of Pharmaceutical Sciences, Tohoku University, 6-3 Aoba, Aramaki, Aoba-ku, 980-8578 Sendai, Japan
*
Authors to whom correspondence should be addressed.
†
These authors contributed equally to this work.
Academic Editor: Ritva Tikkanen
Received: 26 September 2016 / Revised: 26 October 2016 / Accepted: 2 November 2016 / Published: 9 November 2016
Abstract
Tumor necrosis factor receptor-associated factor 2 (TRAF2) is a critical mediator of tumor necrosis factor-α (TNF-α) signaling. However, the regulatory mechanisms of TRAF2 are not fully understood. Here we show evidence that TRAF2 requires brefeldin A-inhibited guanine nucleotide-exchange factor 1 (BIG1) to be recruited into TNF receptor 1 (TNFR1) signaling complexes. In BIG1 knockdown cells, TNF-α-induced c-Jun N-terminal kinase (JNK) activation was attenuated and the sensitivity to TNF-α-induced apoptosis was increased. Since these trends correlated well with those of TRAF2 deficient cells as previously demonstrated, we tested whether BIG1 functions as an upstream regulator of TRAF2 in TNFR1 signaling. As expected, we found that knockdown of BIG1 suppressed TNF-α-dependent ubiquitination of TRAF2 that is required for JNK activation, and impaired the recruitment of TRAF2 to the TNFR1 signaling complex (complex I). Moreover, we found that the recruitment of TRAF2 to the death-inducing signaling complex termed complex II was also impaired in BIG1 knockdown cells. These results suggest that BIG1 is a key component of the machinery that drives TRAF2 to the signaling complexes formed after TNFR1 activation. Thus, our data demonstrate a novel and unexpected function of BIG1 that regulates TNFR1 signaling by targeting TRAF2.
View Full-Text
►

▼

Figures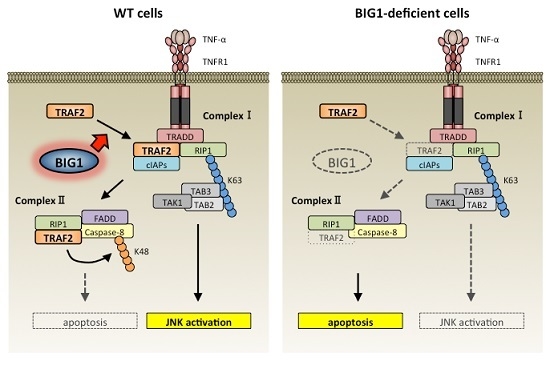 Graphical abstract
This is an open access article distributed under the
Creative Commons Attribution License
which permits unrestricted use, distribution, and reproduction in any medium, provided the original work is properly cited (CC BY 4.0).

Share & Cite This Article
MDPI and ACS Style
Noguchi, T.; Tsuchida, M.; Kogue, Y.; Spadini, C.; Hirata, Y.; Matsuzawa, A. Brefeldin A-Inhibited Guanine Nucleotide-Exchange Factor 1 (BIG1) Governs the Recruitment of Tumor Necrosis Factor Receptor-Associated Factor 2 (TRAF2) to Tumor Necrosis Factor Receptor 1 (TNFR1) Signaling Complexes. Int. J. Mol. Sci. 2016, 17, 1869.
Note that from the first issue of 2016, MDPI journals use article numbers instead of page numbers. See further details here.
Related Articles
Comments
[Return to top]