p

-Hydroxyphenyl-pyranoanthocyanins: An Experimental and Theoretical Investigation of Their Acid—Base Properties and Molecular Interactions

1

Institut National de la Recherche Agronomique (INRA), UMR1083 Sciences pour l'œnologie, 2 place Pierre Viala, 34060 Montpellier CEDEX, France

2

CIBER Fisiopatología de la Obesidad y la Nutrición (CIBEROBN), Instituto de Salud Carlos III, 28903 Madrid, Spain

3

INSERM UMR 850, University of Limoges, School of Pharmacy, 2 rue du Dr. Marcland, F-87025 Limoges, France

4

Department of Biophysics, Centre of the Region Haná for Biotechnological and Agricultural Research, Palacký University, Šlechtitelů 27, 78371 Olomouc, Czech Republic

5

INRA, UMR408 SQPOV, University of Avignon, 84000 Avignon, France

6

Regional Centre of Advanced Technologies and Materials, Department of Physical Chemistry, Faculty of Science, Palacký University Olomouc, tř. 17. listopadu 12, 77146 Olomouc, Czech Republic

*

Author to whom correspondence should be addressed.

Academic Editor: Nuno Mateus

Received: 26 September 2016 / Revised: 27 October 2016 / Accepted: 31 October 2016 / Published: 5 November 2016
Abstract
The physicochemical properties of the wine pigments catechyl-pyranomalvidin-3-
O
-glucoside (PA1) and guaiacyl-pyranomalvidin-3-
O
-glucoside (PA2) are extensively revisited using ultraviolet (UV)-visible spectroscopy, dynamic light scattering (DLS) and quantum chemistry density functional theory (DFT) calculations. In mildly acidic aqueous solution, each cationic pigment undergoes regioselective deprotonation to form a single neutral quinonoid base and water addition appears negligible. Above pH = 4, both PA1 and PA2 become prone to aggregation, which is manifested by the slow build-up of broad absorption bands at longer wavelengths (λ ≥ 600 nm), followed in the case of PA2 by precipitation. Some phenolic copigments are able to inhibit aggregation of pyranoanthocyanins (PAs), although at large copigment/PA molar ratios. Thus, chlorogenic acid can dissociate PA1 aggregates while catechin is inactive. With PA2, both chlorogenic acid and catechin are able to prevent precipitation but not self-association. Calculations confirmed that the noncovalent dimerization of PAs is stronger with the neutral base than with the cation and also stronger than π–π stacking of PAs to chlorogenic acid (copigmentation). For each type of complex, the most stable conformation could be obtained. Finally, PA1 can also bind hard metal ions such as Al
3+
and Fe
3+
and the corresponding chelates are less prone to self-association.
View Full-Text
►

▼

Figures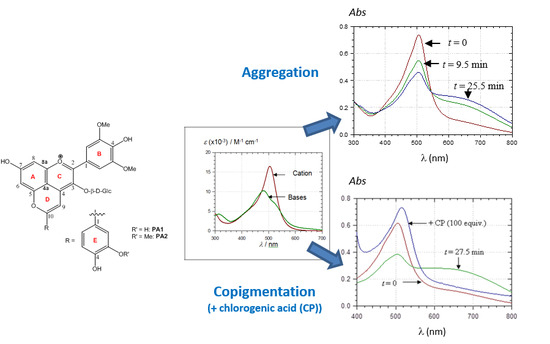 Graphical abstract
This is an open access article distributed under the
Creative Commons Attribution License
which permits unrestricted use, distribution, and reproduction in any medium, provided the original work is properly cited (CC BY 4.0).

Share & Cite This Article
MDPI and ACS Style
Vallverdú-Queralt, A.; Biler, M.; Meudec, E.; Guernevé, C.L.; Vernhet, A.; Mazauric, J.-P.; Legras, J.-L.; Loonis, M.; Trouillas, P.; Cheynier, V.; Dangles, O. p-Hydroxyphenyl-pyranoanthocyanins: An Experimental and Theoretical Investigation of Their Acid—Base Properties and Molecular Interactions. Int. J. Mol. Sci. 2016, 17, 1842.
Note that from the first issue of 2016, MDPI journals use article numbers instead of page numbers. See further details here.
Related Articles
Comments
[Return to top]