The Epidermal Growth Factor Receptor (EGFR) Inhibitor Gefitinib Reduces but Does Not Prevent Tumorigenesis in Chemical and Hormonal Induced Hepatocarcinogenesis Rat Models
1
Institut für Pathologie, Universitätsmedizin Greifswald, 17489 Greifswald, Germany
2
Englander Institut for Precision Medicine, Weill Cornell University of Medicine, New York, NY 10065, USA
3
Pathologisches Institut Diakonie-Krankenhaus, 27356 Rotenburg (Wümme), Germany
4
Institut für Pathologie, Universitätsklinikum Regensburg, 93053 Regensburg, Germany
*
Author to whom correspondence should be addressed.
Academic Editor: Terrence Piva
Received: 24 July 2016 / Revised: 27 August 2016 / Accepted: 14 September 2016 / Published: 23 September 2016
Abstract
Activation of the epidermal growth factor receptor (EGFR) signaling pathway promotes the development of hepatocellular adenoma (HCA) and carcinoma (HCC). The selective EGFR inhibitor Gefitinib was found to prevent hepatocarcinogenesis in rat cirrhotic livers. Thus, Gefitinib might reduce progression of pre-neoplastic liver lesions to HCC. In short- and long-term experiments, administration of
N
-Nitrosomorpholine (NNM) or intrahepatic transplantation of pancreatic islets in diabetic (PTx), thyroid follicles in thyroidectomized (TTx) and ovarian fragments in ovariectomized (OTx) rats was conducted for the induction of foci of altered hepatocytes (FAH). Gefitinib was administered for two weeks (20 mg/kg) or three and nine months (10 mg/kg). In NNM-treated rats, Gefitinib administration decreased the amount of FAH when compared to controls. The amount of HCA and HCC was decreased, but development was not prevented. Upon all transplantation models, proliferative activity of FAH was lower after administration of Gefitinib in short-term experiments. Nevertheless, the burden of HCA and HCC was not changed in later stages. Thus, EGFR inhibition by Gefitinib diminishes chemical and hormonal also induced hepatocarcinogenesis in the initiation stage in the non-cirrhotic liver. However, progression to malignant hepatocellular tumors was not prevented, indicating only a limited relevance of the EGFR signaling cascade in later stages of hepatocarcinogenesis.
View Full-Text
►

▼

Figures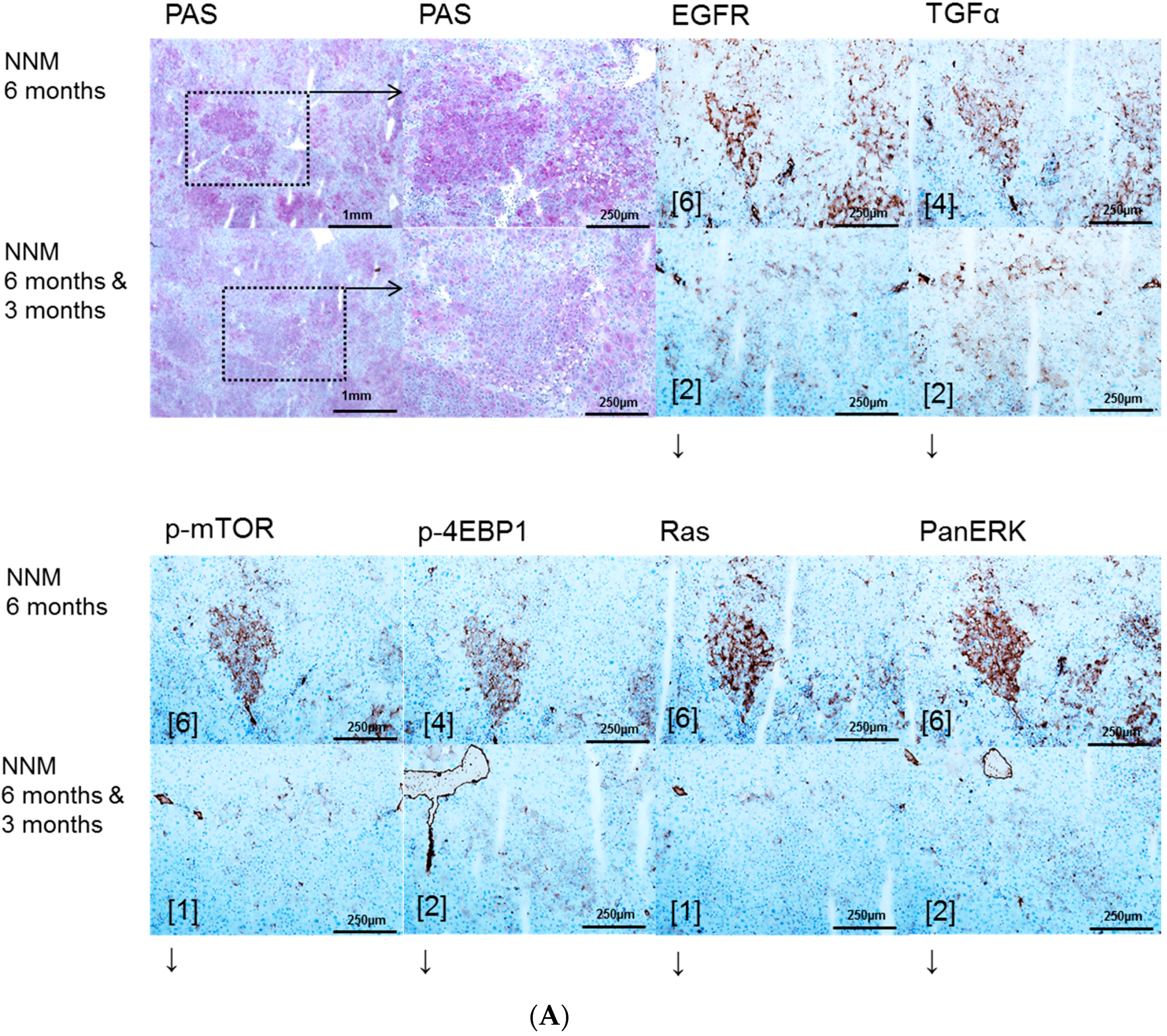 Figure 1
This is an open access article distributed under the
Creative Commons Attribution License
which permits unrestricted use, distribution, and reproduction in any medium, provided the original work is properly cited (CC BY 4.0).

Share & Cite This Article
MDPI and ACS Style
Ribback, S.; Sailer, V.; Böhning, E.; Günther, J.; Merz, J.; Steinmüller, F.; Utpatel, K.; Cigliano, A.; Peters, K.; Pilo, M.G.; Evert, M.; Calvisi, D.F.; Dombrowski, F. The Epidermal Growth Factor Receptor (EGFR) Inhibitor Gefitinib Reduces but Does Not Prevent Tumorigenesis in Chemical and Hormonal Induced Hepatocarcinogenesis Rat Models. Int. J. Mol. Sci. 2016, 17, 1618.
Note that from the first issue of 2016, MDPI journals use article numbers instead of page numbers. See further details here.
Related Articles
Comments
[Return to top]