A Perturbed MicroRNA Expression Pattern Characterizes Embryonic Neural Stem Cells Derived from a Severe Mouse Model of Spinal Muscular Atrophy (SMA)
1
Department of Biomedicine and Prevention, University of Rome Tor Vergata, Via Montpellier 1, 00133 Rome, Italy
2
Gene Expression-Microarrays Laboratory, Bambino Gesù Children's Hospital-IRCCS Polo di Ricerca-V.le di San Paolo 15, 00146 Rome, Italy
3
Department of Cell Biology and Neurosciences, Istituto Superiore di Sanità, 00161 Rome, Italy
*
Author to whom correspondence should be addressed.
Academic Editor: Nalini Santanam
Received: 8 July 2015 / Revised: 27 July 2015 / Accepted: 31 July 2015 / Published: 6 August 2015
Abstract
Spinal muscular atrophy (SMA) is an inherited neuromuscular disorder and the leading genetic cause of death in infants. Despite the disease-causing gene, survival motor neuron (
SMN1
), encodes a ubiquitous protein,
SMN1
deficiency preferentially affects spinal motor neurons (MNs), leaving the basis of this selective cell damage still unexplained. As neural stem cells (NSCs) are multipotent self-renewing cells that can differentiate into neurons, they represent an
in vitro
model for elucidating the pathogenetic mechanism of neurodegenerative diseases such as SMA. Here we characterize for the first time neural stem cells (NSCs) derived from embryonic spinal cords of a severe
SMNΔ7
SMA mouse model.
SMNΔ7
NSCs behave as their wild type (WT) counterparts, when we consider neurosphere formation ability and the expression levels of specific regional and self-renewal markers. However, they show a perturbed cell cycle phase distribution and an increased proliferation rate compared to wild type cells. Moreover,
SMNΔ7
NSCs are characterized by the differential expression of a limited number of miRNAs, among which miR-335-5p and miR-100-5p, reduced in
SMNΔ7
NSCs compared to WT cells. We suggest that such miRNAs may be related to the proliferation differences characterizing
SMNΔ7
NSCs, and may be potentially involved in the molecular mechanisms of SMA.
View Full-Text
►

▼

Figures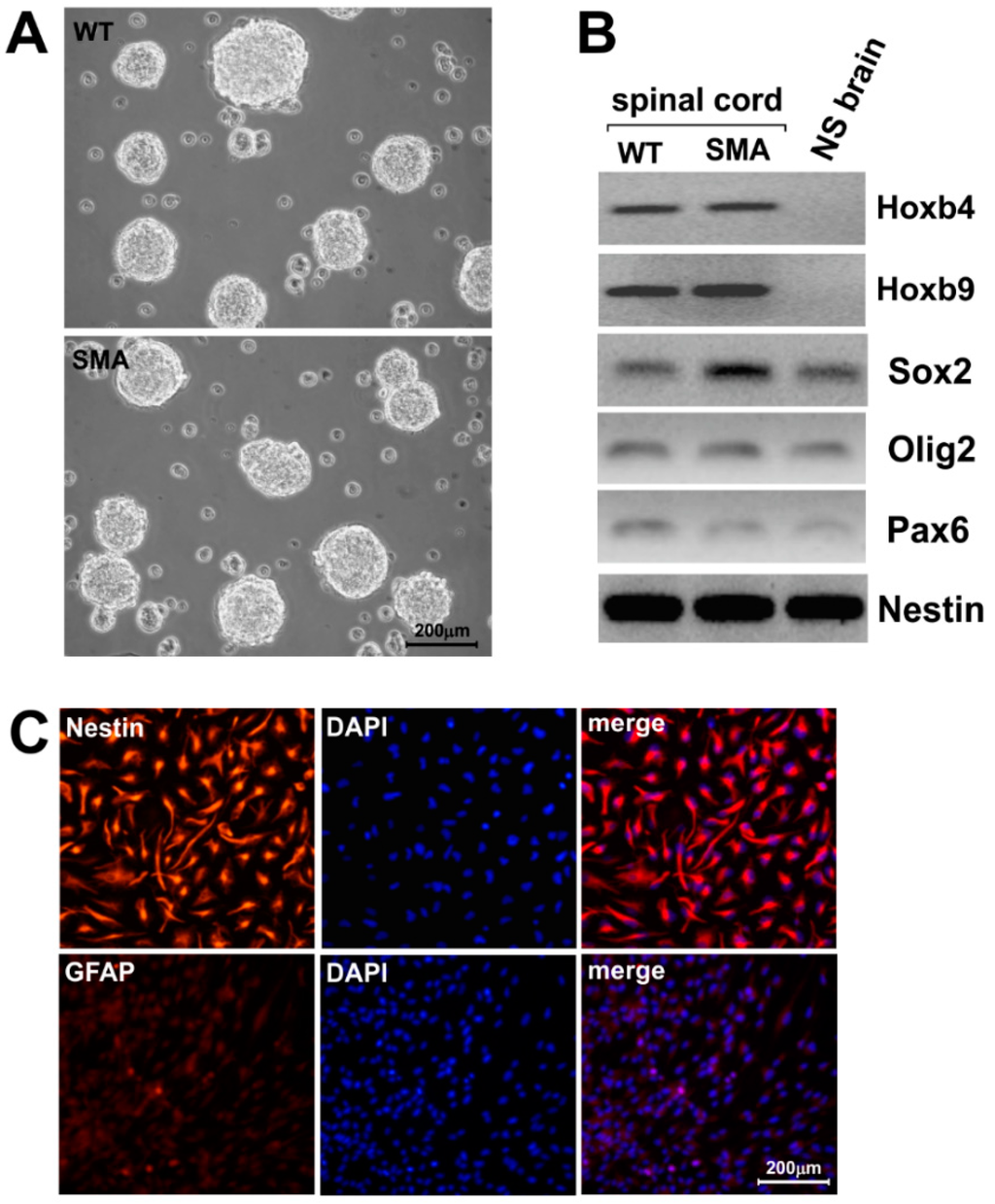 Figure 1
This is an open access article distributed under the
Creative Commons Attribution License
which permits unrestricted use, distribution, and reproduction in any medium, provided the original work is properly cited (CC BY 4.0).

Share & Cite This Article
MDPI and ACS Style
Luchetti, A.; Ciafrè, S.A.; Murdocca, M.; Malgieri, A.; Masotti, A.; Sanchez, M.; Farace, M.G.; Novelli, G.; Sangiuolo, F. A Perturbed MicroRNA Expression Pattern Characterizes Embryonic Neural Stem Cells Derived from a Severe Mouse Model of Spinal Muscular Atrophy (SMA). Int. J. Mol. Sci. 2015, 16, 18312-18327.
Related Articles
Comments
[Return to top]