Synthesis, DNA Binding, and Antiproliferative Activity of Novel Acridine-Thiosemicarbazone Derivatives
1
Laboratório de Imunopatologia Keizo Asami (LIKA) and Departamento de Bioquímica, Universidade Federal de Pernambuco (UFPE), Recife 50670-901, PE, Brazil
2
Faculdade de Ciências, Educação e Tecnologia de Garanhuns (FACETEG), Universidade de Pernambuco (UPE), Garanhuns 55290-000, PE, Brazil
3
Departamento de Antibióticos, Universidade Federal de Pernambuco (UFPE), Recife 50670-901, PE, Brazil
4
Divisão de Farmacologia e Toxicologia, Centro Pluridisciplinar de Pesquisas Químicas, Biológicas e Agrícolas (DFT/CPQBA), Universidade Estadual de Campinas (UNICAMP), Campinas 13083-970, SP, Brazil
5
Faculdade de Ciências Farmacêuticas, Universidade Estadual de Campinas (UNICAMP), Campinas 13083-859, SP, Brazil
6
Departamento de Farmácia, Laboratório de Síntese e Vetorização de Moléculas, Universidade Estadual da Paraíba (UEPB), Campus Campina Grande 58429-500, PB, Brazil
*
Author to whom correspondence should be addressed.
Academic Editor: Eric C. Long
Received: 27 March 2015 / Revised: 27 May 2015 / Accepted: 29 May 2015 / Published: 9 June 2015
Abstract
In this work, the acridine nucleus was used as a lead-compound for structural modification by adding different substituted thiosemicarbazide moieties. Eight new (
Z
)-2-(acridin-9-ylmethylene)-
N
-phenylhydrazinecarbothioamide derivatives (
3a
–
h
) were synthesized, their antiproliferative activities were evaluated, and DNA binding properties were performed with calf thymus DNA (ctDNA) by electronic absorption and fluorescence spectroscopies. Both hyperchromic and hypochromic effects, as well as red or blue shifts were demonstrated by addition of ctDNA to the derivatives. The calculated binding constants ranged from 1.74 × 10
4
to 1.0 × 10
6
M
−1
and quenching constants from −0.2 × 10
4
to 2.18 × 10
4
M
−1
indicating high affinity to ctDNA base pairs. The most efficient compound in binding to ctDNA
in vitro
was (
Z
)-2-(acridin-9-ylmethylene)-
N
- (4-chlorophenyl) hydrazinecarbothioamide (
3f
), while the most active compound in antiproliferative assay was (
Z
)-2-(acridin-9-ylmethylene)-
N
-phenylhydrazinecarbothioamide (
3a
). There was no correlation between DNA-binding and
in vitro
antiproliferative activity, but the results suggest that DNA binding can be involved in the biological activity mechanism. This study may guide the choice of the size and shape of the intercalating part of the ligand and the strategic selection of substituents that increase DNA-binding or antiproliferative properties.
View Full-Text
►

▼

Figures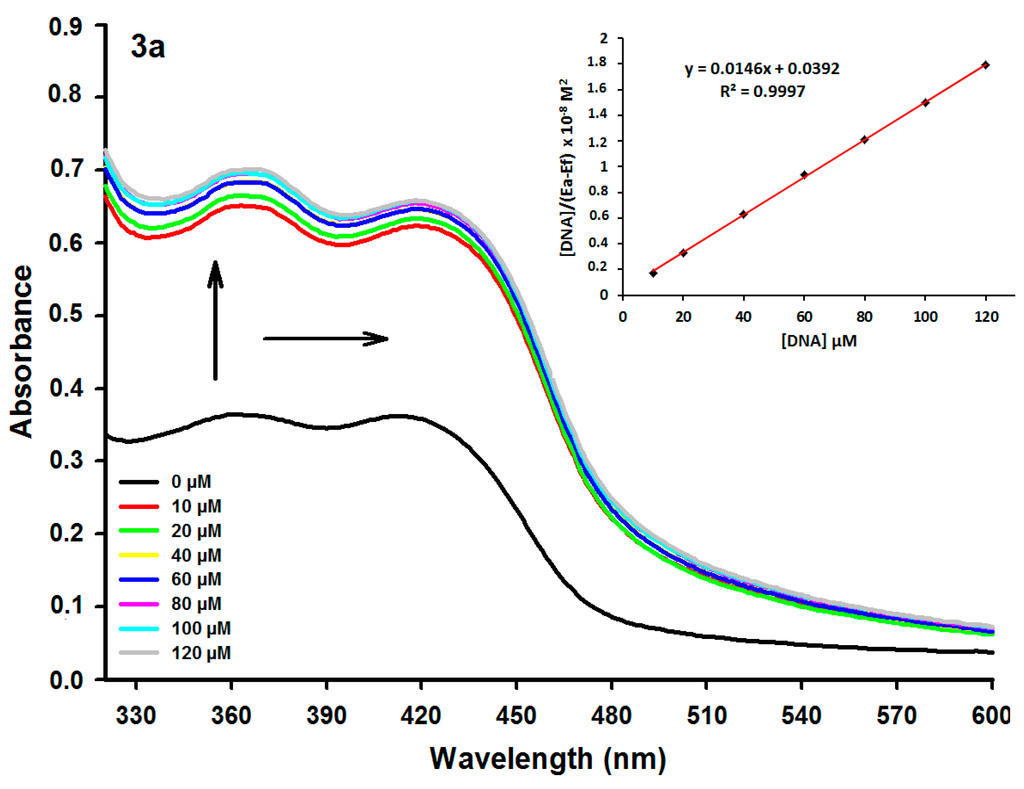 Figure 1
This is an open access article distributed under the
Creative Commons Attribution License
which permits unrestricted use, distribution, and reproduction in any medium, provided the original work is properly cited (CC BY 4.0).

Share & Cite This Article
MDPI and ACS Style
De Almeida, S.M.V.; Lafayette, E.A.; Da Silva, L.P.B.G.; Amorim, C.A.C.; De Oliveira, T.B.; Ruiz, A.L.T.G.; De Carvalho, J.E.; De Moura, R.O.; Beltrão, E.I.C.; De Lima, M.D.C.A.; Júnior, L.B.C. Synthesis, DNA Binding, and Antiproliferative Activity of Novel Acridine-Thiosemicarbazone Derivatives. Int. J. Mol. Sci. 2015, 16, 13023-13042.
Related Articles
Comments
[Return to top]