Oxidized LDL Is Strictly Limited to Hyperthyroidism Irrespective of Fat Feeding in Female Sprague Dawley Rats
1
Clinical Institute of Medical and Chemical Laboratory Diagnostics, Medical University Graz, 8036 Graz, Austria
2
Department of Pediatrics, Paracelsus Medical University Salzburg, 5020 Salzburg, Austria
3
Obesity Research Unit, Paracelsus Medical University and Salzburger Landeskliniken, 5020 Salzburg, Austria
4
Department of Internal Medicine, General Hospital Oberndorf, 5110 Oberndorf, Austria
5
Department of Pathology, Medical University of Graz, 8036 Graz, Austria
6
Division of Endocrinology and Metabolism, Medical University Graz, 8036 Graz, Austria
7
Medical Biochemistry, Center of Chemistry and Biomedicine, Medical University of Innsbruck, 6020 Innsbruck, Austria
*
Author to whom correspondence should be addressed.
†
These authors contributed equally to this work.
Academic Editor: Ritva Tikkanen
Received: 21 April 2015 / Revised: 13 May 2015 / Accepted: 18 May 2015 / Published: 21 May 2015
Abstract
Metabolic dysfunctions might play a crucial role in the pathophysiology of thyroid dysfunctions
.
This study aimed to investigate the impact of a controlled diet (normal
versus
high fat feeding) on hypothyroid and hyperthyroid Sprague Dawley rats. Female Sprague Dawley rats (
n
= 66) were grouped into normal diet (
n
= 30) and high-fat diet (
n
= 36) groups and subdivided into controls, hypothyroid and hyperthyroid groups, induced through propylthiouracil or triiodothyronine (T3) treatment, respectively. After 12 weeks of treatment metabolic parameters, such as oxidized LDL (oxLDL), malondialdehyde (MDA), 4-hydroxynonenal (HNE), the lipid profile, body weight and food intake parameters were analyzed.
Successfully induced thyroid dysfunctions were shown by T3 levels, both under normal and high fat diet. Thyroid dysfunctions were accompanied by changes in calorie intake and body weight as well as in the lipid profile. In detail, hypothyroid rats showed significantly decreased oxLDL levels, whereas hyperthyroid rats showed significantly increased oxLDL levels. These effects were seen under high fat diet and were less pronounced with normal feeding. Taken together, we showed for the first time in female SD rats that only hyper-, but not hypothyroidism, is associated with high atherogenic oxidized LDL irrespective of normal or high-fat diet in Sprague Dawley rats.
View Full-Text
►

▼

Figures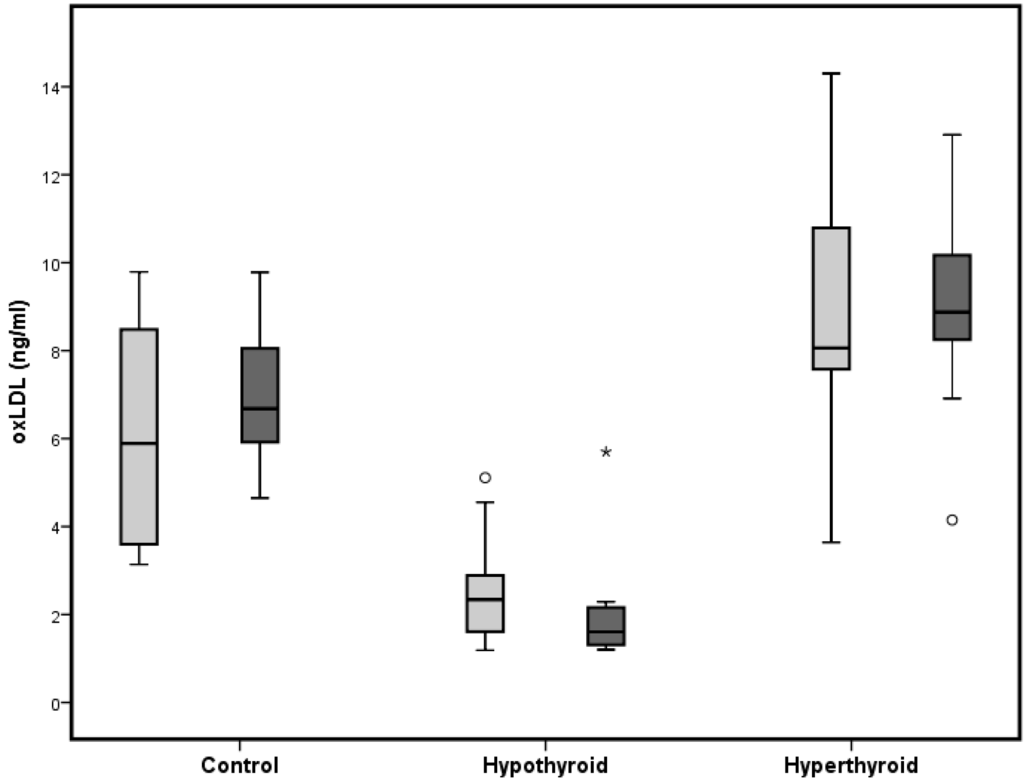 Figure 1
This is an open access article distributed under the
Creative Commons Attribution License
which permits unrestricted use, distribution, and reproduction in any medium, provided the original work is properly cited (CC BY 4.0).

Share & Cite This Article
MDPI and ACS Style
Zelzer, S.; Mangge, H.; Pailer, S.; Ainoedhofer, H.; Kieslinger, P.; Stojakovic, T.; Scharnagl, H.; Prüller, F.; Weghuber, D.; Datz, C.; Haybaeck, J.; Obermayer-Pietsch, B.; Trummer, C.; Gostner, J.; Gruber, H.-J. Oxidized LDL Is Strictly Limited to Hyperthyroidism Irrespective of Fat Feeding in Female Sprague Dawley Rats. Int. J. Mol. Sci. 2015, 16, 11689-11698.
Related Articles
Comments
[Return to top]