VEGFR-1 Overexpression Identifies a Small Subgroup of Aggressive Prostate Cancers in Patients Treated by Prostatectomy
1
Institute of Pathology, University Medical Center Hamburg-Eppendorf, Martinistrasse 52, D-210246 Hamburg, Germany
2
Martini-Clinic, Prostate Cancer Center, University Medical Center Hamburg-Eppendorf, Martinistrasse 52, D-210246 Hamburg, Germany
3
Department of Urology, Section for translational Prostate Cancer Center, University Medical Center Hamburg-Eppendorf, Martinistrasse 52, D-210246 Hamburg, Germany
*
Author to whom correspondence should be addressed.
†
These authors contributed equally to this work.
Academic Editor: William Chi-shing Cho
Received: 16 February 2015 / Revised: 27 March 2015 / Accepted: 10 April 2015 / Published: 16 April 2015
Abstract
The VEGFR-1 is suggested to promote tumor progression. In the current study we analyzed prevalence and prognostic impact of the VEGFR-1 by immunohistochemistry on a tissue microarray containing more than 3000 prostate cancer specimens. Results were compared to tumor phenotype, ETS-related gene (ERG) status, and biochemical recurrence. Membranous VEGFR-1 expression was detectable in 32.6% of 2669 interpretable cancers and considered strong in 1.7%, moderate in 6.7% and weak in 24.2% of cases. Strong VEGFR-1 expression was associated with
TMPRSS2:
ERG
fusion status as determined by fluorescence
in situ
hybridization (FISH) and immunohistochemistry (
p
< 0.0001 each). Elevated VEGFR-1 expression was linked to high Gleason grade and advanced pT stage in
TMPRSS2:
ERG
negative cancers (
p
= 0.0008 and
p
= 0.001), while these associations were absent in
TMPRSS2:
ERG
positive cancers. VEGFR-1 expression was also linked to phosphatase and tensin homolog (
PTEN
) deletions. A comparison with prostate specific antigen (PSA) recurrence revealed that the 1.7% of prostate cancers with the highest VEGFR-1 levels had a strikingly unfavorable prognosis. This could be seen in all cancers, in the subsets of
TMPRSS2:
ERG
positive or negative,
PTEN
deleted or undeleted carcinomas (
p
< 0.0001 each). High level VEGFR-1 expression is infrequent in prostate cancer, but identifies a subgroup of aggressive cancers, which may be candidates for anti-VEGFR-1 targeted therapy.
View Full-Text
►

▼

Figures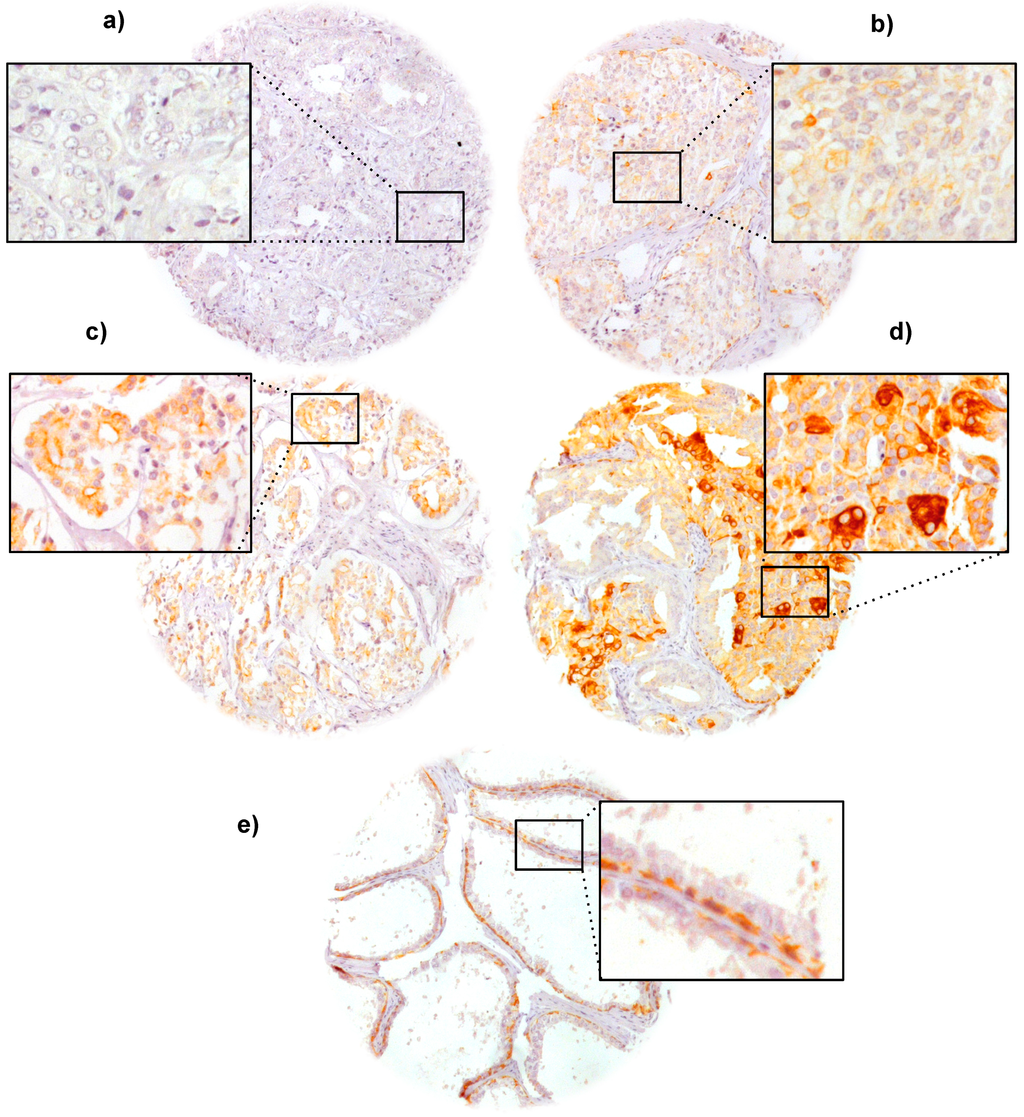 Figure 1
This is an open access article distributed under the
Creative Commons Attribution License
which permits unrestricted use, distribution, and reproduction in any medium, provided the original work is properly cited (CC BY 4.0).

Share & Cite This Article
MDPI and ACS Style
Tsourlakis, M.C.; Khosrawi, P.; Weigand, P.; Kluth, M.; Hube-Magg, C.; Minner, S.; Koop, C.; Graefen, M.; Heinzer, H.; Wittmer, C.; Sauter, G.; Krech, T.; Wilczak, W.; Huland, H.; Simon, R.; Schlomm, T.; Steurer, S. VEGFR-1 Overexpression Identifies a Small Subgroup of Aggressive Prostate Cancers in Patients Treated by Prostatectomy. Int. J. Mol. Sci. 2015, 16, 8591-8606.
Related Articles
Comments
[Return to top]