Identification of the Specific Interactors of the Human Lariat RNA Debranching Enzyme 1 Protein
1
Medical Innovation Center, Laboratory for Malignancy Control Research, Kyoto University Graduate School of Medicine, Sakyo-ku, Kyoto 606-8507, Japan
2
Chemical Genetics Laboratory, RIKEN Advanced Science Institute, Wako, Saitama 351-0198, Japan
3
Institute for Virus Research, Kyoto University, Sakyo-ku, Kyoto 606-8507, Japan
4
Division of Gene Expression Mechanism, Institute for Comprehensive Medical Science, Fujita Health University, 1-98 Dengakugakubo, Kutsukake-cho, Toyoake, Aichi 470-1192, Japan
5
Frontier Research Core for Life Sciences, University of Toyama, 2630 Sugitani, Toyama-shi, Toyama 930-0194, Japan
6
Medical Top Track Program, Medical Research Institute, Tokyo Dental and Medical University, Tokyo 113-8510, Japan
*
Author to whom correspondence should be addressed.
†
These authors contributed equally to this work.
Academic Editor: Akila Mayeda
Received: 10 December 2014 / Accepted: 4 February 2015 / Published: 9 February 2015
Abstract
In eukaryotes, pre-mRNA splicing is an essential step for gene expression. We have been analyzing post-splicing intron turnover steps in higher eukaryotes. Here, we report protein interaction between human Debranching enzyme 1 (hDbr1) and several factors found in the Intron Large (IL) complex, which is an intermediate complex of the intron degradation pathway. The hDbr1 protein specifically interacts with xeroderma pigmentosum, complementeation group A (XPA)-binding protein 2 (Xab2). We also attempted to identify specific interactors of hDbr1. Co-immunoprecipitation experiments followed by mass spectrometry analysis identified a novel protein as one of the specific interactors of hDbr1. This protein is well conserved among many species and shows the highest similarity to yeast Drn1, so it is designated as human Dbr1 associated ribonuclease 1 (hDrn1). hDrn1 directly interacts with hDbr1 through protein–protein interaction. Furthermore, hDrn1 shuttles between the nucleus and the cytoplasm, as hDbr1 protein does. These findings suggest that hDrn1 has roles in both the nucleus and the cytoplasm, which are highly likely to involve hDbr1.
View Full-Text
►

▼

Figures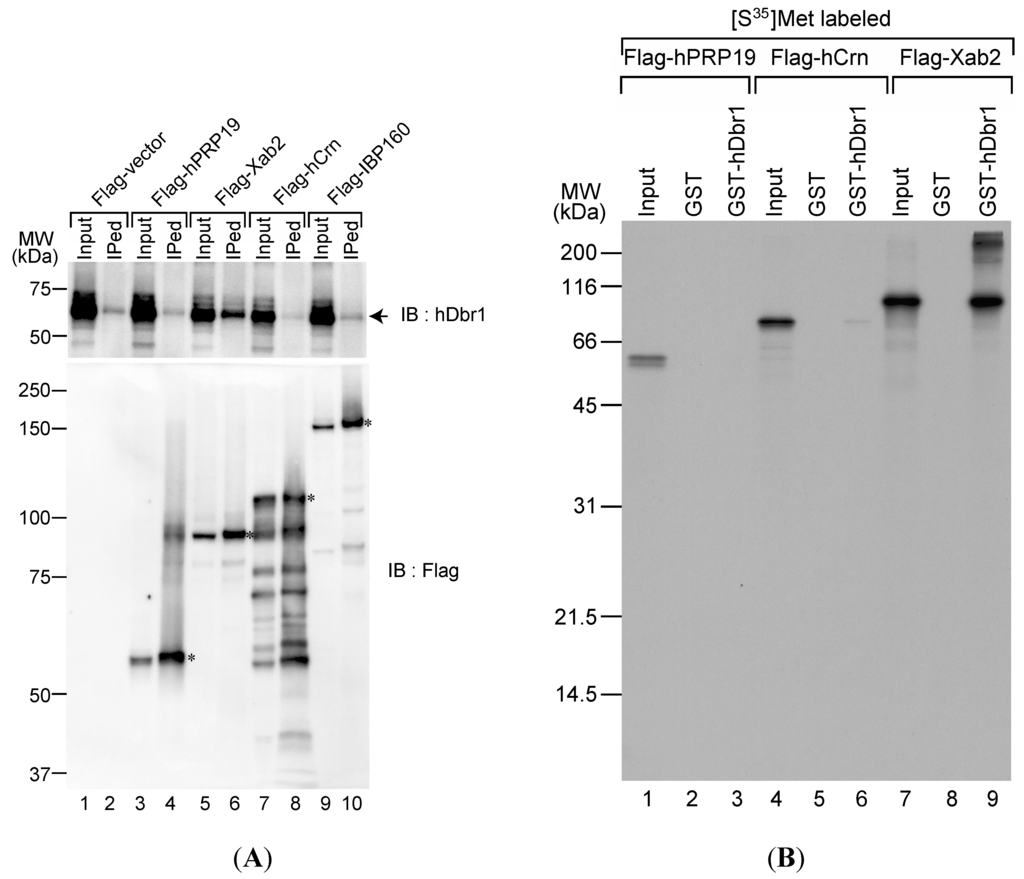 Figure 1
This is an open access article distributed under the
Creative Commons Attribution License
which permits unrestricted use, distribution, and reproduction in any medium, provided the original work is properly cited (CC BY 4.0).

Share & Cite This Article
MDPI and ACS Style
Masaki, S.; Yoshimoto, R.; Kaida, D.; Hata, A.; Satoh, T.; Ohno, M.; Kataoka, N. Identification of the Specific Interactors of the Human Lariat RNA Debranching Enzyme 1 Protein. Int. J. Mol. Sci. 2015, 16, 3705-3721.
Related Articles
Comments
[Return to top]