Effects of Ethanol on the Expression Level of Various BDNF mRNA Isoforms and Their Encoded Protein in the Hippocampus of Adult and Embryonic Rats
1
Department of Biochemistry and Recombinant Protein Laboratory, School of Medicine, Shiraz University of Medical Sciences, Shiraz 713484579, Iran
2
Department of Human Anatomy and Cell Science, Faculty of Health Sciences College of Medicine, University of Manitoba, Winnipeg, MB R3E 0J9, Canada
3
Health Research Policy Centre, Shiraz University of Medical Sciences, Shiraz 713484579, Iran
4
Department of Pharmacology, School of Medicine, Shiraz University of Medical Sciences, Shiraz 713484579, Iran
5
Research Center for Psychiatry and Behavioral Sciences, Shiraz University of Medical Sciences, Shiraz 713484579, Iran
*
Author to whom correspondence should be addressed.
Academic Editor: Kurt A. Jellinger
Received: 11 October 2015 / Revised: 29 November 2015 / Accepted: 14 December 2015 / Published: 21 December 2015
Abstract
We aimed to compare the effects of oral ethanol (Eth) alone or combined with the phytoestrogen resveratrol (Rsv) on the expression of various brain-derived neurotrophic factor (BDNF) transcripts and the encoded protein pro-BDNF in the hippocampus of pregnant and embryonic rats. A low (0.25 g/kg body weight (BW)/day) dose of Eth produced an increase in the expression of BDNF exons I, III and IV and a decrease in that of the exon IX in embryos, but failed to affect BDNF transcript and pro-BDNF protein expression in adults. However, co-administration of Eth 0.25 g/kg·BW/day and Rsv led to increased expression of BDNF exons I, III and IV and to a small but significant increase in the level of pro-BDNF protein in maternal rats. A high (2.5 g/kg·BW/day) dose of Eth increased the expression of BDNF exons III and IV in embryos, but it decreased the expression of exon IX containing BDNF mRNAs in the maternal rats. While the high dose of Eth alone reduced the level of pro-BDNF in adults, it failed to change the levels of pro-BDNF in embryos. Eth differentially affects the expression pattern of BDNF transcripts and levels of pro-BDNF in the hippocampus of both adult and embryonic rats.
View Full-Text
►

▼

Figures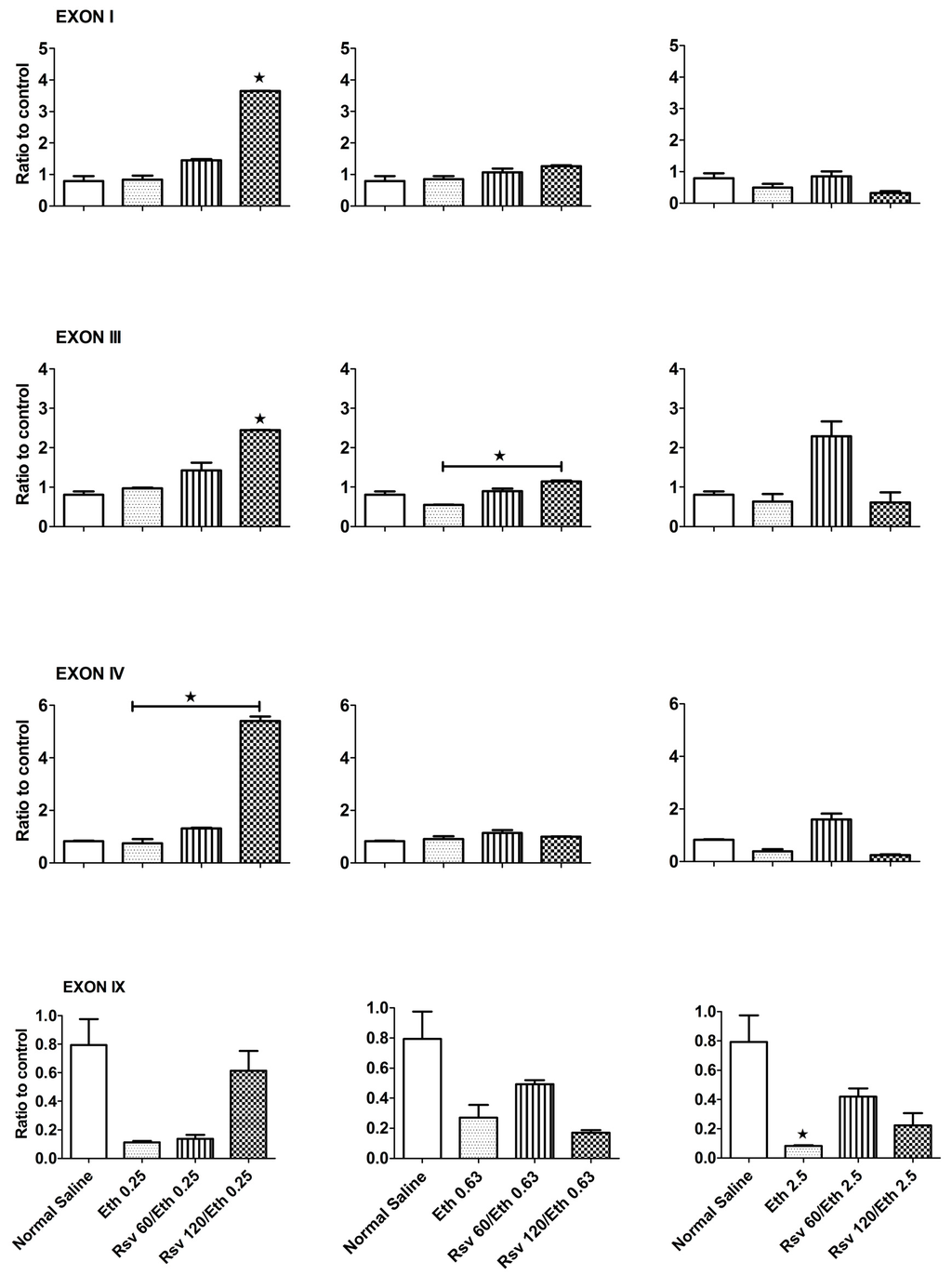 Figure 1
This is an open access article distributed under the
Creative Commons Attribution License
which permits unrestricted use, distribution, and reproduction in any medium, provided the original work is properly cited (CC BY 4.0).

Share & Cite This Article
MDPI and ACS Style
Shojaei, S.; Ghavami, S.; Panjehshahin, M.R.; Owji, A.A. Effects of Ethanol on the Expression Level of Various BDNF mRNA Isoforms and Their Encoded Protein in the Hippocampus of Adult and Embryonic Rats. Int. J. Mol. Sci. 2015, 16, 30422-30437.
Related Articles
Comments
[Return to top]