Histone H2AX Is Involved in FoxO3a-Mediated Transcriptional Responses to Ionizing Radiation to Maintain Genome Stability
1
Canadian Nuclear Laboratories, Stn 51, Chalk River, ON K0J 1P0, Canada
2
Institute of Biology, Komi Science Center of RAS, 28b Kommunisticheskaya St, Syktyvkar 167982, Russia
3
Department of Ecology, Syktyvkar State University, Syktyvkar 167001, Russia
4
Laboratory of Genetics of Aging and Longevity, Moscow Institute of Physics and Technology, Dolgoprudny, Moscow Region 141700, Russia
*
Author to whom correspondence should be addressed.
†
These authors contributed equally to this work.
‡
Present address: Department of Animal Molecular Genetics, University of Limoges, 123, avenue Albert Thomas, Limoges Cedex 87060, France
§
Present address: 48 Wolridge Court, Brampton, ON L6Y 3V7, Canada
Academic Editor: Terrence Piva
Received: 30 July 2015 / Revised: 8 December 2015 / Accepted: 10 December 2015 / Published: 16 December 2015
Abstract
Histone H2AX plays a crucial role in molecular and cellular responses to DNA damage and in the maintenance of genome stability. It is downstream of ataxia telangiectasia mutated (ATM) damage signaling pathway and there is an emerging role of the transcription factor FoxO3a, a regulator of a variety of other pathways, in activating this signaling. We asked whether H2AX may feedback to FoxO3a to affect respective FoxO3a-dependent pathways. We used a genetically matched pair of mouse embryonic fibroblast
H2AX+
/

+
and
H2AX−
/

−
cell lines to carry out comprehensive time-course and dose-response experiments and to show that the expression of several FoxO3a-regulated genes was altered in
H2AX−
/

−
compared to
H2AX+
/

+
cells at both basal and irradiated conditions.
Hspa1b
and
Gadd45a
were down-regulated four- to five-fold and
Ddit3
,
Cdkn1a
and
Sod2
were up-regulated 2–3-fold in
H2AX−
/

−
cells. Using the luciferase reporter assay, we directly demonstrated that transcriptional activity of FoxoO3a was reduced in
H2AX−
/

−
cells. FoxO3a localization within the nuclear phospho-ATM (Ser1981) foci in irradiated cells was affected by the H2AX status, as well as its posttranslational modification (phospho-Thr32). These differences were associated with genomic instability and radiosensitivity in
H2AX−
/

−
cells. Finally, knockdown of
H2AX
in
H2AX+
/

+
cells resulted in FoxO3a-dependent gene expression patterns and increased radiosensitivity that partially mimicked those found in
H2AX−
/

−
cells. Taken together, our data suggest a role for FoxO3a in the maintenance of genome integrity in response to DNA damage that is mediated by H2AX via yet unknown mechanisms.
View Full-Text
►

▼

Figures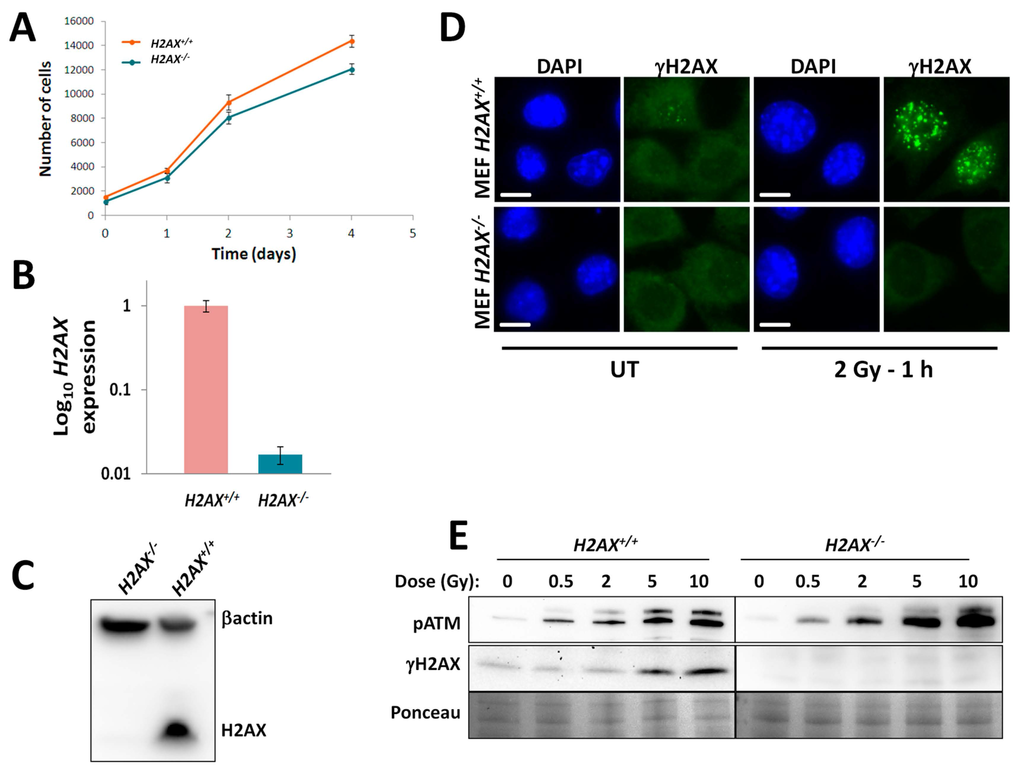 Figure 1
This is an open access article distributed under the
Creative Commons Attribution License
which permits unrestricted use, distribution, and reproduction in any medium, provided the original work is properly cited (CC BY 4.0).

Share & Cite This Article
MDPI and ACS Style
Tarrade, S.; Bhardwaj, T.; Flegal, M.; Bertrand, L.; Velegzhaninov, I.; Moskalev, A.; Klokov, D. Histone H2AX Is Involved in FoxO3a-Mediated Transcriptional Responses to Ionizing Radiation to Maintain Genome Stability. Int. J. Mol. Sci. 2015, 16, 29996-30014.
Related Articles
Comments
[Return to top]