Notch Cooperates with Survivin to Maintain Stemness and to Stimulate Proliferation in Human Keratinocytes during Ageing
1
Laboratory of Cutaneous Biology, Department of Surgical, Medical, Dental and Morphological Sciences, University of Modena and Reggio Emilia, via del Pozzo 71, Modena 41121, Italy
2
LVMH Recherche, 185 Avenue de Verdun, Saint Jean de Braye 45800, France
*
Author to whom correspondence should be addressed.
†
These authors contributed equally to this work.
Academic Editor: Miroslav Blumenberg
Received: 17 September 2015 / Revised: 9 October 2015 / Accepted: 22 October 2015 / Published: 3 November 2015
Abstract
The Notch signaling pathway orchestrates cell fate by either inducing cell differentiation or maintaining cells in an undifferentiated state. This study aims to evaluate Notch expression and function in normal human keratinocytes. Notch1 is expressed in all epidermal layers, though to a different degree of intensity, with a dramatic decrease during ageing. Notch1 intracellular domain (N1ICD) levels are decreased during transit from keratinocyte stem cells (KSC) to transit amplifying (TA) cells, mimicking survivin expression in samples from donors of all ages. Calcium markedly reduces N1ICD levels in keratinocytes. N1ICD overexpression induces the up-regulation of survivin and the down-regulation of keratin 10 and involucrin, while increasing the S phase of the cell cycle. On the other hand, Notch1 inhibition (DAPT) dose-dependently decreases survivin, stimulates differentiation, and reduces keratinocyte proliferation in samples from donors of all ages. Silencing Notch downgrades survivin and increases keratin 10. In addition, Notch1 inhibition decreases survivin levels and proliferation both in KSC and TA cells. Finally, while survivin overexpression decreases keratinocyte differentiation and increases N1ICD expression both in KSC and TA cells, silencing survivin results in N1ICD down-regulation and an increase in differentiation markers. These results suggest that the Notch1/survivin crosstalk contributes to the maintenance of stemness in human keratinocytes.
View Full-Text
►

▼

Figures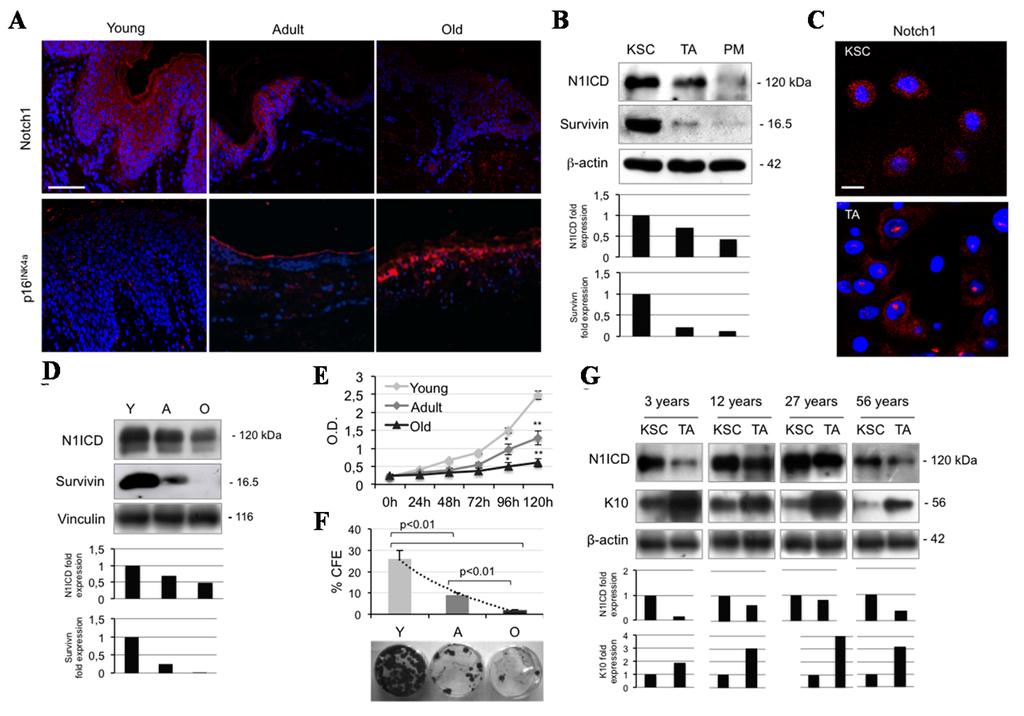 Figure 1
This is an open access article distributed under the
Creative Commons Attribution License
which permits unrestricted use, distribution, and reproduction in any medium, provided the original work is properly cited (CC BY 4.0).

Share & Cite This Article
MDPI and ACS Style
Palazzo, E.; Morandi, P.; Lotti, R.; Saltari, A.; Truzzi, F.; Schnebert, S.; Dumas, M.; Marconi, A.; Pincelli, C. Notch Cooperates with Survivin to Maintain Stemness and to Stimulate Proliferation in Human Keratinocytes during Ageing. Int. J. Mol. Sci. 2015, 16, 26291-26302.
Related Articles
Comments
[Return to top]