CRISPR/Cas9-Mediated Rapid Generation of Multiple Mouse Lines Identified
Ccdc63

as Essential for Spermiogenesis

1

School of Environmental and Life Science, University of Newcastle, Callaghan, New South Wales 2308, Australia

2

Research Institute for Microbial Diseases, Osaka University, Suita, Osaka 565-0871, Japan

3

Graduate School of Medicine, Osaka University, Suita, Osaka 565-0871, Japan

4

Immunology Frontier Research Center, Osaka University, Suita, Osaka 565-0871, Japan

†

These authors contributed equally to this work.

*

Author to whom correspondence should be addressed.

Academic Editor: Izuho Hatada

Received: 21 August 2015 / Revised: 30 September 2015 / Accepted: 9 October 2015 / Published: 16 October 2015
Abstract
Spermatozoa are flagellated cells whose role in fertilization is dependent on their ability to move towards an oocyte. The structure of the sperm flagella is highly conserved across species, and much of what is known about this structure is derived from studies utilizing animal models. One group of proteins essential for the movement of the flagella are the dyneins. Using the advanced technology of CRISPR/Cas9 we have targeted three dynein group members;
Dnaic1
,
Wdr63
and
Ccdc63
in mice. All three of these genes are expressed strongly in the testis. We generated mice with amino acid substitutions in
Dnaic1
to analyze two specific phosphorylation events at S124 and S127, and generated simple knockouts of
Wdr63
and
Ccdc63
. We found that the targeted phosphorylation sites in
Dnaic1
were not essential for male fertility. Similarly,
Wdr63
was not essential for male fertility; however,
Ccdc63
removal resulted in sterile male mice due to shortened flagella. This study demonstrates the versatility of the CRISPR/Cas9 system to generate animal models of a highly complex system by introducing point mutations and simple knockouts in a fast and efficient manner.
View Full-Text
►

▼

Figures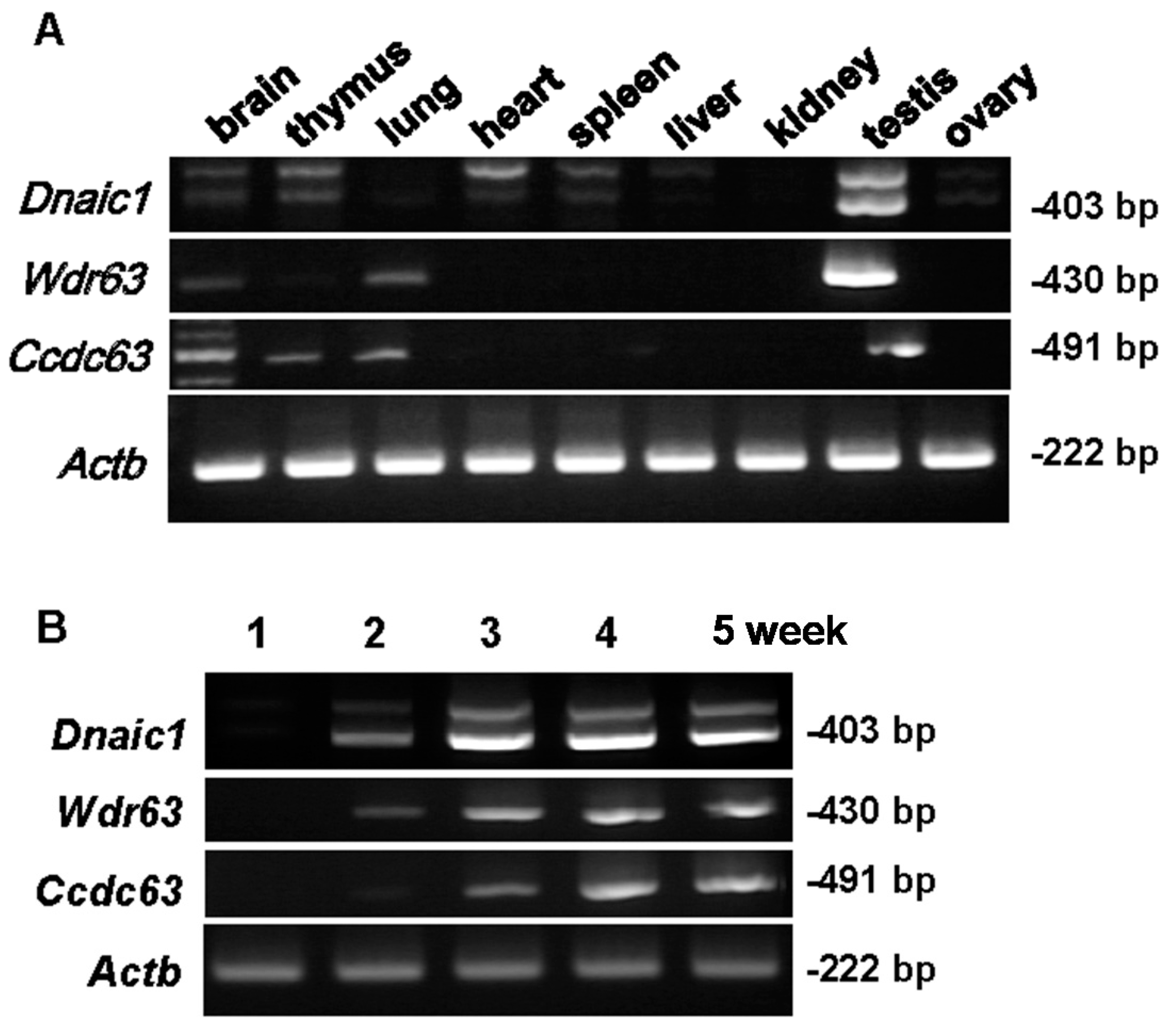 Figure 1
This is an open access article distributed under the
Creative Commons Attribution License
which permits unrestricted use, distribution, and reproduction in any medium, provided the original work is properly cited (CC BY 4.0).

Share & Cite This Article
MDPI and ACS Style
Young, S.A.M.; Miyata, H.; Satouh, Y.; Kato, H.; Nozawa, K.; Isotani, A.; Aitken, R.J.; Baker, M.A.; Ikawa, M. CRISPR/Cas9-Mediated Rapid Generation of Multiple Mouse Lines Identified Ccdc63 as Essential for Spermiogenesis. Int. J. Mol. Sci. 2015, 16, 24732-24750.
Related Articles
Comments
[Return to top]