The Mixture of Salvianolic Acids from
Salvia miltiorrhiza

and Total Flavonoids from

Anemarrhena asphodeloides

Attenuate Sulfur Mustard-Induced Injury

1

School of Pharmacy, Second Military Medical University, Shanghai 200433, China

2

Department of Chemical Defence Medicine, Faculty of Navy Medicine, Second Military Medical University, Shanghai 200433, China

*

Authors to whom correspondence should be addressed.

Academic Editor: Maurizio Battino

Received: 29 July 2015 / Revised: 18 September 2015 / Accepted: 22 September 2015 / Published: 15 October 2015
Abstract
Sulfur mustard (SM) is a vesicating chemical warfare agent used in numerous military conflicts and remains a potential chemical threat to the present day. Exposure to SM causes the depletion of cellular antioxidant thiols, mainly glutathione (GSH), which may lead to a series of SM-associated toxic responses. MSTF is the mixture of salvianolic acids (SA) of S
alvia miltiorrhiza
and total flavonoids (TFA) of
Anemarrhena asphodeloides
. SA is the main water-soluble phenolic compound in S
alvia miltiorrhiza
.
TFA mainly includes mangiferin, isomangiferin and neomangiferin. SA and TFA possess diverse activities, including antioxidant and anti-inflammation activities. In this study, we mainly investigated the therapeutic effects of MSTF on SM toxicity in Sprague Dawley rats. Treatment with MSTF 1 h after subcutaneous injection with 3.5 mg/kg (equivalent to 0.7 LD
50
) SM significantly increased the survival levels of rats and attenuated the SM-induced morphological changes in the testis, small intestine and liver tissues. Treatment with MSTF at doses of 60 and 120 mg/kg caused a significant (
p
< 0.05) reversal in SM-induced GSH depletion. Gene expression profiles revealed that treatment with MSTF had a dramatic effect on gene expression changes caused by SM. Treatment with MSTF prevented SM-induced differential expression of 93.8% (973 genes) of 1037 genes. Pathway enrichment analysis indicated that these genes were mainly involved in a total of 36 pathways, such as the MAPK signaling pathway, pathways in cancer, antigen processing and presentation. These data suggest that MSTF attenuates SM-induced injury by increasing GSH and targeting multiple pathways, including the MAPK signaling pathway, as well as antigen processing and presentation. These results suggest that MSTF has the potential to be used as a potential therapeutic agent against SM injuries.
View Full-Text
►

▼

Figures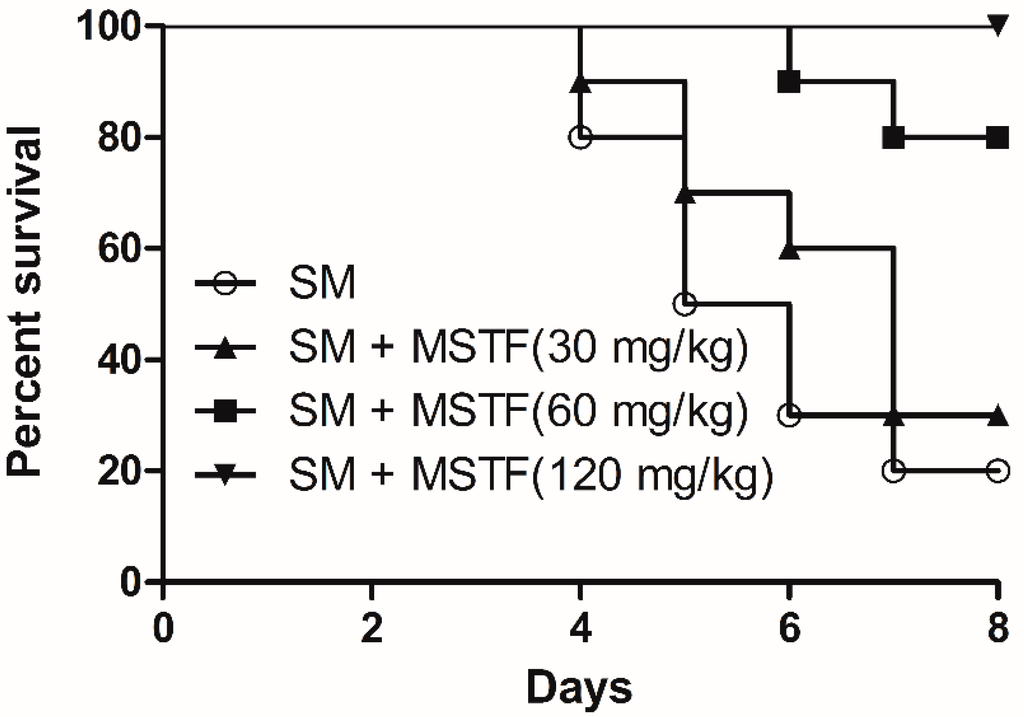 Figure 1
This is an open access article distributed under the
Creative Commons Attribution License
which permits unrestricted use, distribution, and reproduction in any medium, provided the original work is properly cited (CC BY 4.0).

Share & Cite This Article
MDPI and ACS Style
Li, J.; Chen, L.; Wu, H.; Lu, Y.; Hu, Z.; Lu, B.; Zhang, L.; Chai, Y.; Zhang, J. The Mixture of Salvianolic Acids from Salvia miltiorrhiza and Total Flavonoids from Anemarrhena asphodeloides Attenuate Sulfur Mustard-Induced Injury. Int. J. Mol. Sci. 2015, 16, 24555-24573.
Related Articles
Comments
[Return to top]