MiRNA-548ah, a Potential Molecule Associated with Transition from Immune Tolerance to Immune Activation of Chronic Hepatitis B
Department of Infectious Diseases, Taizhou People's Hospital, Taizhou 225300, Jiangsu Province, China
*
Author to whom correspondence should be addressed.
Received: 17 June 2014 / Revised: 24 July 2014 / Accepted: 31 July 2014 / Published: 19 August 2014
Abstract
Objective: The present study aims to identify the differently expressed microRNA (miRNA) molecules and target genes of miRNA in the immune tolerance (IT) and immune activation (IA) stages of chronic hepatitis B (CHB). Methods: miRNA expression profiles of peripheral blood mononuclear cells (PBMCs) at the IT and IA stages of CHB were screened using miRNA microarrays and authenticated using a quantitative real-time polymerase chain reaction (RT-PCR). Gene ontology (GO) and the Kyoto encyclopedia of genes and genomes (KEGG) were used to analyze the significant functions and pathways of possible target genes of miRNAs. Assays of the gain and loss of function of the miRNAs were performed to verify the target genes in THP-1 cell lines. The luciferase reporter test was used on 293T cells as direct targets. Results: Significantly upregulated miR-548 and miR-4804 were observed in the miRNA microarrays and confirmed by RT-PCR in PBMCs at the IT and IA stages of CHB. GO and KEGG analysis revealed that MiR-548 and miR-4804 could be involved in numerous signaling pathways and protein binding activity. IFNγR1 was predicted as a target gene and validated as the direct gene of MiR-548. Significant negative correlation was found between the miR-548ah and mRNA levels of IFN-γR1 in CHB patients. Conclusions: The abnormal expression profiles of miRNA in PBMCs could be closely associated with immune activation of chronic HBV infection. miR-548, by targeting IFN-γR1, may represent a mechanism that can facilitate viral pathogenesis and help determine new therapeutic molecular targets.
View Full-Text
►

▼

Figures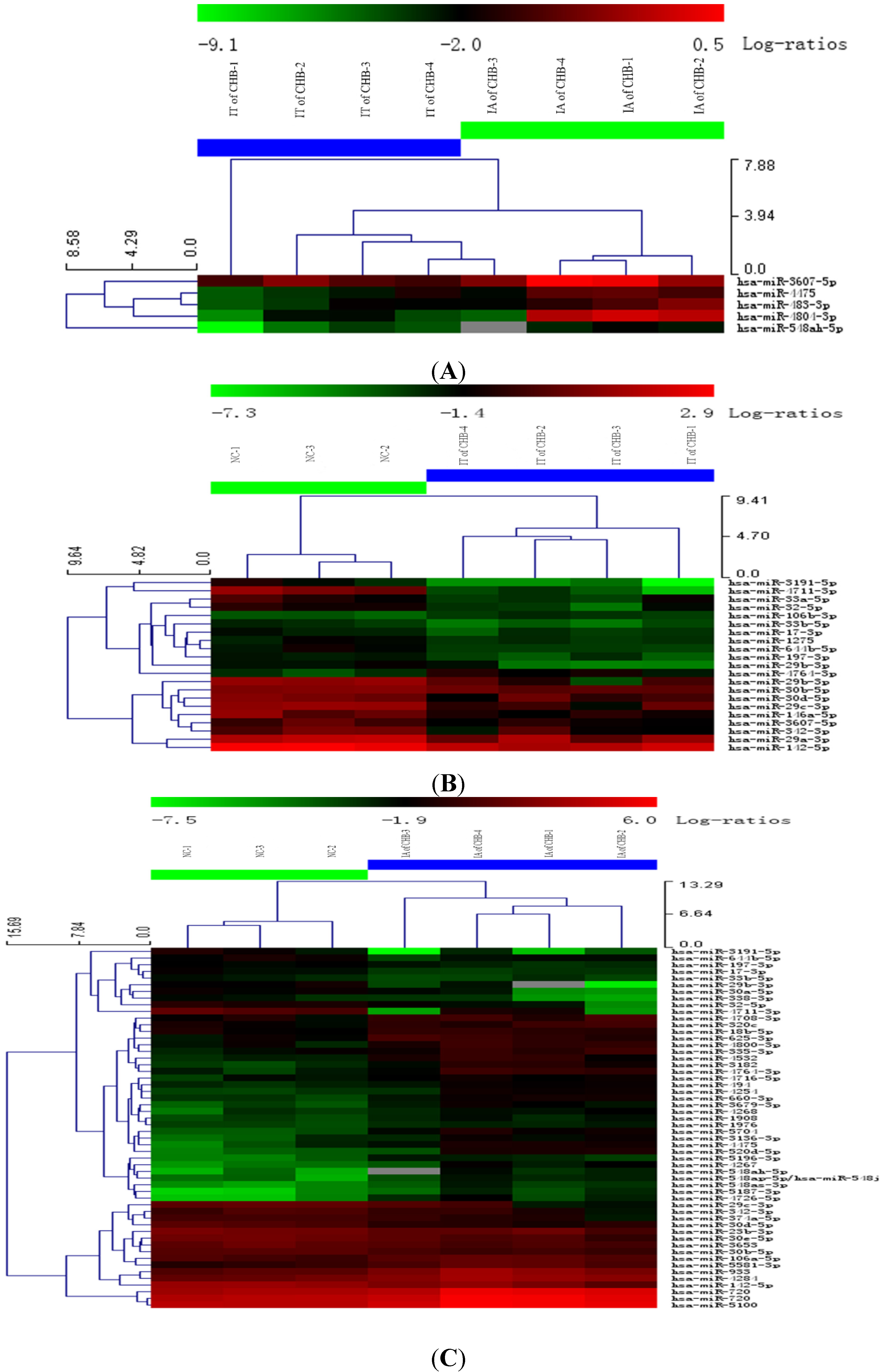 Figure 1

Share & Cite This Article
MDPI and ACS Style
Xing, T.-J.; Xu, H.-T.; Yu, W.-Q.; Wang, B.; Zhang, J. MiRNA-548ah, a Potential Molecule Associated with Transition from Immune Tolerance to Immune Activation of Chronic Hepatitis B. Int. J. Mol. Sci. 2014, 15, 14411-14426.
Related Articles
Comments
[Return to top]