Baicalin Ameliorates H2O2 Induced Cytotoxicity in HK-2 Cells through the Inhibition of ER Stress and the Activation of Nrf2 Signaling
1
Department of Urology, Fudan University Zhongshan Hospital, Shanghai 20032, China
2
Shanghai Key Laboratory of Organ Transplantation, Shanghai 20032, China
*
Authors to whom correspondence should be addressed.
†
These authors contributed equally to this work.
Received: 16 April 2014 / Revised: 20 June 2014 / Accepted: 24 June 2014 / Published: 15 July 2014
Abstract
Renal ischemia-reperfusion injury plays a key role in renal transplantation and greatly affects the outcome of allograft. Our previous study proved that Baicalin, a flavonoid glycoside isolated from
Scutellaria baicalensis
, protects kidney from ischemia-reperfusion injury. This study aimed to study the underlying mechanism
in vitro
. Human renal proximal tubular epithelial cell line HK-2 cells were stimulated by H
2
O
2
with and without Baicalin pretreatment. The cell viability, apoptosis and oxidative stress level were measured. The expression of endoplasmic reticulum (ER) stress hallmarks, such as binding immunoglobulin protein (BiP) and C/EBP homologous protein (CHOP), were analyzed by western blot and real-time PCR. NF-E2-related factor 2 (Nrf2) expression was also measured. In the H
2
O
2
group, cell viability decreased and cell apoptosis increased. Reactive Oxygen Species (ROS) and Glutathione/Oxidized Glutathione (GSH/GSSG) analysis revealed increased oxidative stress. ER stress and Nrf2 signaling also increased. Baicalin pretreatment ameliorated H
2
O
2
-induced cytotoxicity, reduced oxidative stress and ER stress and further activated the anti-oxidative Nrf2 signaling pathway. The inducer of ER stress and the inhibitor of Nrf2 abrogated the protective effects, while the inhibitor of ER stress and the inducer of Nrf2 did not improve the outcome. This study revealed that Baicalin pretreatment serves a protective role against H
2
O
2
-induced cytotoxicity in HK-2 cells, where the inhibition of ER stress and the activation of downstream Nrf2 signaling are involved.
View Full-Text
►

▼

Figures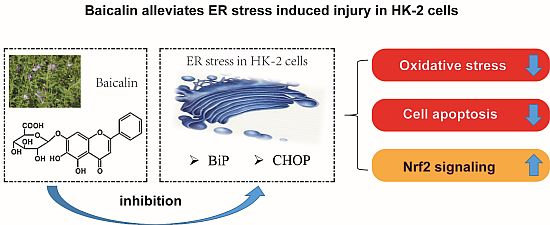 Graphical abstract

Share & Cite This Article
MDPI and ACS Style
Lin, M.; Li, L.; Zhang, Y.; Zheng, L.; Xu, M.; Rong, R.; Zhu, T. Baicalin Ameliorates H2O2 Induced Cytotoxicity in HK-2 Cells through the Inhibition of ER Stress and the Activation of Nrf2 Signaling. Int. J. Mol. Sci. 2014, 15, 12507-12522.
Related Articles
Comments
[Return to top]