Supraspliceosomes at Defined Functional States Portray the Pre-Assembled Nature of the Pre-mRNA Processing Machine in the Cell Nucleus
1
Department of Genetics, the Hebrew University of Jerusalem, Jerusalem 91904, Israel
2
Wellcome Trust Centre for Cell Biology, University of Edinburgh, Edinburgh EH9 3JR, UK
3
Institute of Bioanalytics, Department of Biochemistry, Technische Universität Berlin, Berlin 13353, Germany
4
Department of Organic Chemistry, the Weizmann Institute of Science, Rehovot 76100, Israel
*
Author to whom correspondence should be addressed.
Received: 10 April 2014 / Revised: 5 June 2014 / Accepted: 18 June 2014 / Published: 30 June 2014
Abstract
When isolated from mammalian cell nuclei, all nuclear pre-mRNAs are packaged in multi-subunit large ribonucleoprotein complexes—supraspliceosomes—composed of four native spliceosomes interconnected by the pre-mRNA. Supraspliceosomes contain all five spliceosomal U snRNPs, together with other splicing factors, and are functional in splicing. Supraspliceosomes studied thus far represent the steady-state population of nuclear pre-mRNAs that were isolated at different stages of the splicing reaction. To analyze specific splicing complexes, here, we affinity purified
Pseudomonas aeruginosa
phage 7 (PP7)-tagged splicing complexes assembled
in vivo
on Adenovirus Major Late (AdML) transcripts at specific functional stages, and characterized them using molecular techniques including mass spectrometry. First, we show that these affinity purified splicing complexes assembled on PP7-tagged AdML mRNA or on PP7-tagged AdML pre-mRNA are assembled in supraspliceosomes. Second, similar to the general population of supraspliceosomes, these defined supraspliceosomes populations are assembled with all five U snRNPs at all splicing stages. This study shows that dynamic changes in base-pairing interactions of U snRNA:U snRNA and U snRNA:pre-mRNA that occur
in vivo
during the splicing reaction do not require changes in U snRNP composition of the supraspliceosome. Furthermore, there is no need to reassemble a native spliceosome for the splicing of each intron, and rearrangements of the interactions will suffice.
View Full-Text
►

▼

Figures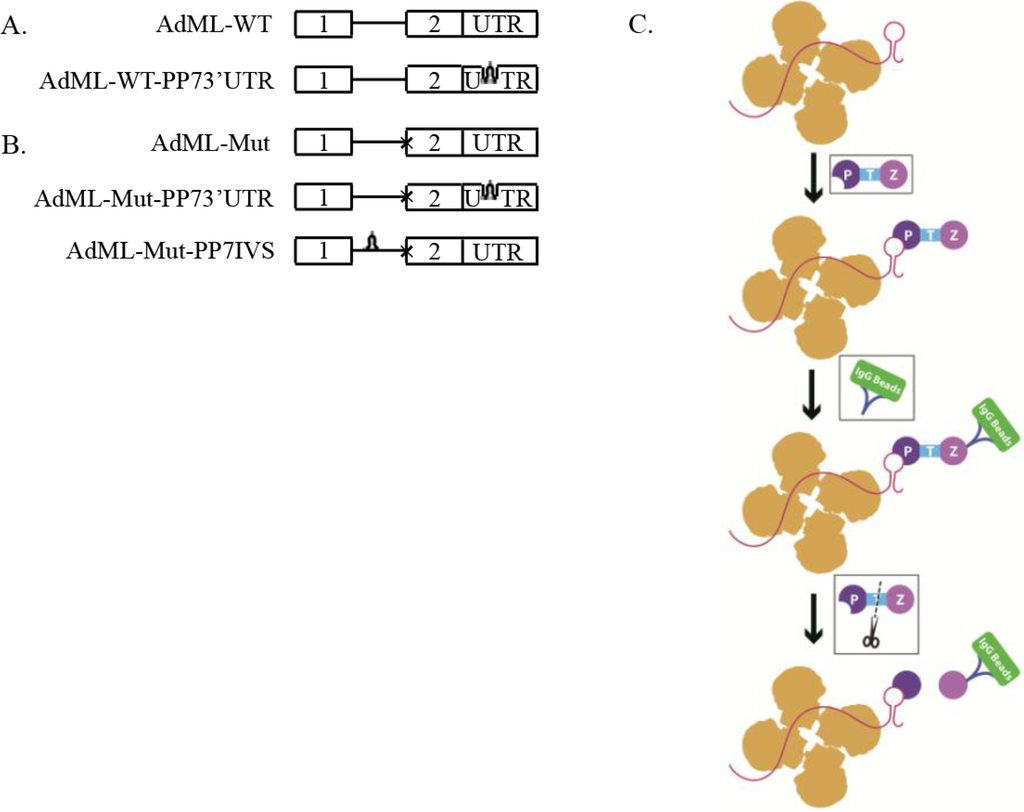 Figure 1

Share & Cite This Article
MDPI and ACS Style
Kotzer-Nevo, H.; De Lima Alves, F.; Rappsilber, J.; Sperling, J.; Sperling, R. Supraspliceosomes at Defined Functional States Portray the Pre-Assembled Nature of the Pre-mRNA Processing Machine in the Cell Nucleus. Int. J. Mol. Sci. 2014, 15, 11637-11664.
Related Articles
Comments
[Return to top]