Immunomodulating Activity of
Aronia melanocarpa

Polyphenols

1

School of Pharmacy, Department of Pharmaceutical Chemistry, University of Oslo, P.O. Box 1068, Blindern, N-0316 Oslo, Norway

2

Norwegian Institute for Agricultural and Environmental Research—Bioforsk Vest Særheim, Postvegen 213, N-4353 Klepp station, Norway

*

Author to whom correspondence should be addressed.

Received: 19 May 2014 / Revised: 18 June 2014 / Accepted: 20 June 2014 / Published: 30 June 2014
Abstract
The immunomodulating effects of isolated proanthocyanidin-rich fractions, procyanidins C1, B5 and B2 and anthocyanins of
Aronia melanocarpa
were investigated. In this work, the complement-modulating activities, the inhibitory activities on nitric oxide (NO) production in LPS-induced RAW 264.7 macrophages and effects on cell viability of these polyphenols were studied. Several of the proanthocyanidin-rich fractions, the procyanidins C1, B5 and B2 and the cyanidin aglycone possessed strong complement-fixing activities. Cyanidin 3-glucoside possessed stronger activity than the other anthocyanins. Procyanidins C1, B5 and B2 and proanthocyanidin-rich fractions having an average degree of polymerization (PD) of 7 and 34 showed inhibitory activities on NO production in LPS-stimulated RAW 264.7 mouse macrophages. All, except for the fraction containing proanthocyanidins with PD 34, showed inhibitory effects without affecting cell viability. This study suggests that polyphenolic compounds of
A. melanocarpa
may have beneficial effects as immunomodulators and anti-inflammatory agents.
View Full-Text
►

▼

Figures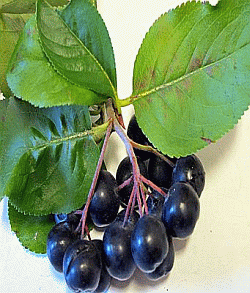 Graphical abstract

Share & Cite This Article
MDPI and ACS Style
Ho, G.T.T.; Bräunlich, M.; Austarheim, I.; Wangensteen, H.; Malterud, K.E.; Slimestad, R.; Barsett, H. Immunomodulating Activity of Aronia melanocarpa Polyphenols. Int. J. Mol. Sci. 2014, 15, 11626-11636.
Related Articles
Comments
[Return to top]