Expression of Root-Related Transcription Factors Associated with Flooding Tolerance of Soybean (
Glycine max

)

1

Division of Plant Sciences, University of Missouri, Columbia, MO 65211, USA

2

United States Department of Agriculture-Agricultural Research Service, Soil Drainage Research Unit, Columbus, OH 43210, USA

3

Departamento de Biologia, Universidade Federal de Lavras, Lavras, MG 37200-000, Brazil

4

Centro Universitário de Lavras—UNILAVRAS, 37200-000, Lavras, MG 37200-000, Brazil

5

Division of Plant Sciences, University of Missouri, Delta Center, Portageville, MO 68373, USA

6

Division of Plant Biosciences, Kyungpook National University, Daegu 702-701, Korea

7

Office of Information Technology, Ohio State University South Centers at Piketon, Columbus, OH 43210, USA

*

Authors to whom correspondence should be addressed.

†

These authors contributed equally to this work.

Received: 23 May 2014 / Revised: 6 June 2014 / Accepted: 19 September 2014 / Published: 29 September 2014
Abstract
Much research has been conducted on the changes in gene expression of the model plant
Arabidopsis
to low-oxygen stress. Flooding results in a low oxygen environment in the root zone. However, there is ample evidence that tolerance to soil flooding is more than tolerance to low oxygen alone. In this study, we investigated the physiological response and differential expression of root-related transcription factors (TFs) associated with the tolerance of soybean plants to soil flooding. Differential responses of PI408105A and S99-2281 plants to ten days of soil flooding were evaluated at physiological, morphological and anatomical levels. Gene expression underlying the tolerance response was investigated using qRT-PCR of root-related TFs, known anaerobic genes, and housekeeping genes. Biomass of flood-sensitive S99-2281 roots remained unchanged during the entire 10 days of flooding. Flood-tolerant PI408105A plants exhibited recovery of root growth after 3 days of flooding. Flooding induced the development of aerenchyma and adventitious roots more rapidly in the flood-tolerant than the flood-sensitive genotype. Roots of tolerant plants also contained more ATP than roots of sensitive plants at the 7th and 10th days of flooding. Quantitative transcript analysis identified 132 genes differentially expressed between the two genotypes at one or more time points of flooding. Expression of genes related to the ethylene biosynthesis pathway and formation of adventitious roots was induced earlier and to higher levels in roots of the flood-tolerant genotype. Three potential flood-tolerance TFs which were differentially expressed between the two genotypes during the entire 10-day flooding duration were identified. This study confirmed the expression of anaerobic genes in response to soil flooding. Additionally, the differential expression of TFs associated with soil flooding tolerance was not qualitative but quantitative and temporal. Functional analyses of these genes will be necessary to reveal their potential to enhance flooding tolerance of soybean cultivars.
View Full-Text
►

▼

Figures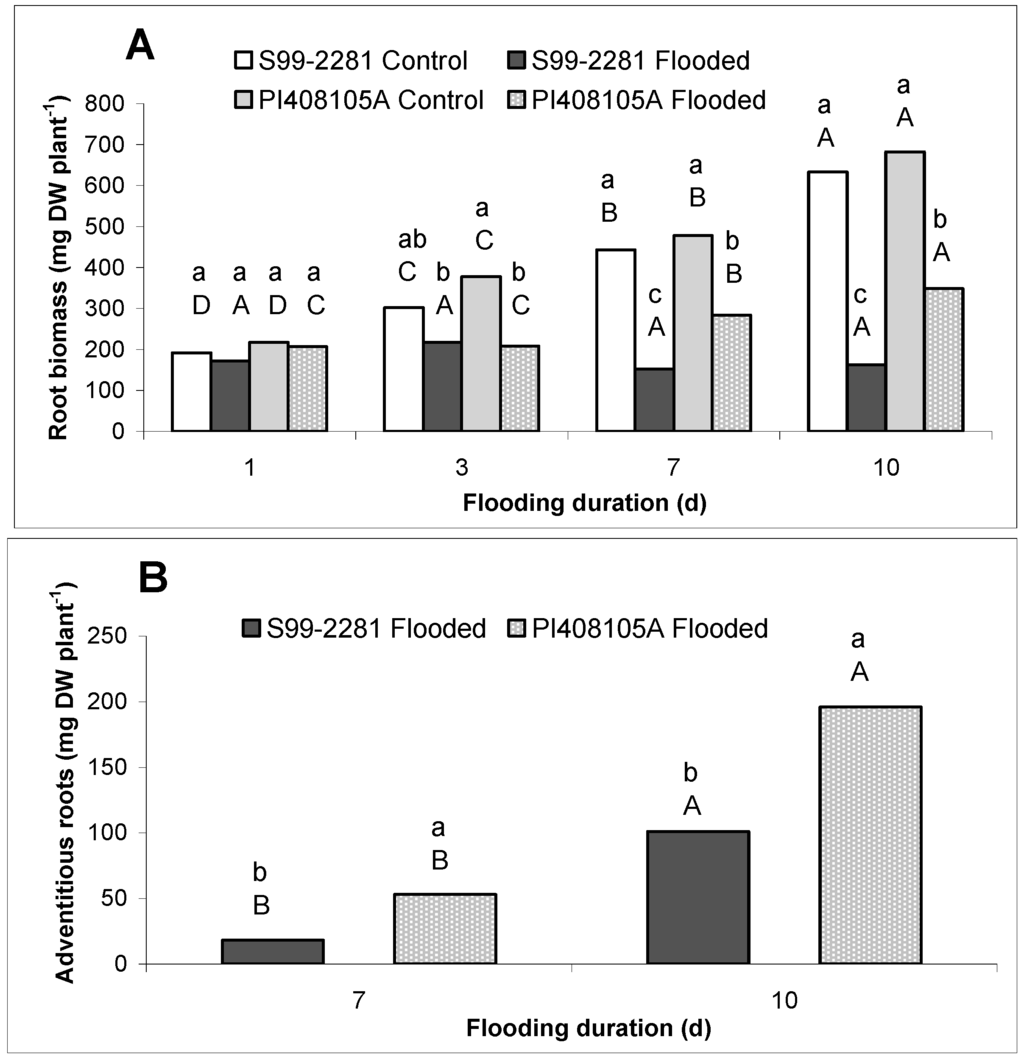 Figure 1
This is an open access article distributed under the
Creative Commons Attribution License
which permits unrestricted use, distribution, and reproduction in any medium, provided the original work is properly cited (CC BY 4.0).

Share & Cite This Article
MDPI and ACS Style
Valliyodan, B.; Van Toai, T.T.; Alves, J.D.; De Fátima P. Goulart, P.; Lee, J.D.; Fritschi, F.B.; Rahman, M.A.; Islam, R.; Shannon, J.G.; Nguyen, H.T. Expression of Root-Related Transcription Factors Associated with Flooding Tolerance of Soybean (Glycine max). Int. J. Mol. Sci. 2014, 15, 17622-17643.
Related Articles
Comments
[Return to top]