Open Access This article is
freely available
re-usable
Review
Functions and Mechanisms of Fibroblast Growth Factor (FGF) Signalling in
Drosophila melanogaster
Division of Cell and Developmental Biology, College of Life Sciences, University of Dundee, Dundee DD15EH, Scotland, UK
*
Author to whom correspondence should be addressed.
Received: 1 February 2013; in revised form: 5 March 2013 / Accepted: 12 March 2013 / Published: 14 March 2013
Abstract
:
Intercellular signalling via growth factors plays an important role in controlling cell differentiation and cell movements during the development of multicellular animals. Fibroblast Growth Factor (FGF) signalling induces changes in cellular behaviour allowing cells in the embryo to move, to survive, to divide or to differentiate. Several examples argue that FGF signalling is used in multi-step morphogenetic processes to achieve and maintain a transitional state of the cells required for the control of cell fate. In the genetic model
Drosophila melanogaster
, FGF signalling via the receptor tyrosine kinases Heartless (Htl) and Breathless (Btl) is particularly well studied. These FGF receptors affect gene expression, cell shape and cell–cell interactions during mesoderm layer formation, caudal visceral muscle (CVM) formation, tracheal morphogenesis and glia differentiation. Here, we will address the current knowledge of the biological functions of FGF signalling in the fly on the tissue, at a cellular and molecular level.
Keywords:
fibroblast growth factor; development; cell signalling; cell migration; differentiation;
Drosophila
1.
Drosophila melanogaster

as a Versatile Model for FGF Signalling Research

Fibroblast Growth Factors (FGFs) were first discovered in mammals and the horizon of insect FGF research opened up with the discovery of the first FGF receptor (FGFR) gene in

Drosophila melanogaster

, suggesting that FGF signalling is evolutionary conserved [

1

].

Drosophila

is an attractive model to study FGF signalling, because its low genetic redundancy facilitates functional studies. The

Drosophila

genome encodes only two FGFRs [Heartless (Htl) and Breathless (Btl)] and three FGF ligands (Pyramus (Pyr), Thisbe (Ths) and Branchless (Bnl)) that can combine into three functional interactions of FGFR/FGF-ligand pairs: Htl/Pyr, Htl/Ths and Btl/Bnl. In contrast, in humans presumably more than 70 FGFR/FGF combinations are generated by four FGFRs and 22 FGF ligands, respectively; alternative mRNA splicing increases the FGFR repertoire from four to seven proteins [

2

,

3

]. Moreover, from the possible FGFR/FGF combinations, human cells may utilize more than one at the same time and these sometimes trigger different, even antagonistic intracellular signals. In

Drosophila

, the

htl

and

btl

genes are expressed in distinct tissues and during different developmental times, thus providing independent models to investigate FGF signalling pathways in many different developmental processes.

Over 100 years of

Drosophila

research generated a wide range of genetic tools helping to understand the biological function of gene networks in a developmental context. Both, forward and reverse genetic approaches have been extensively applied in

Drosophila

FGF signalling studies. For example, aberrant migration of tracheal cells in embryos deficient for the

btl

locus implied a function of FGF signalling in cell motility [

1

,

4

] and Pyr and Ths were identified in screens for genes involved in mesoderm development [

5

–

7

]. Furthermore components of FGF signalling pathways have been identified in genetic screens and their relationship to FGFR activation has been resolved. A broad range of mutant alleles and transgenic constructs including dominant negative (DN) and constitutively active (CA) FGFR constructs [

8

,

9

] have been employed to determine tissue specific signalling events and epistatic relationships [

10

,

11

].

The two

Drosophila

FGFRs are implicated in similar cellular contexts as in vertebrates such as proliferation, cell survival, differentiation and cell migration and in some instances FGF signalling is even involved in similar developmental processes in flies and mammals. The formation of intricate branching patterns of the respiratory system, lungs and trachea, is controlled by similar ontogenetic principles in their formation, although they are evolutionary convergent structures. Branch formation of both organs is orchestrated by FGF signalling: Fgfr2-IIIb/FGF10 in human and Btl/Bnl in

Drosophila

[

12

]. During gastrulation in vertebrates and invertebrates FGF signalling plays a crucial role in directing cell migration. In the early mouse and chick gastrula, FGF4 and FGF8 direct the migration of epiblast cells out of the primitive streak [

13

,

14

]. Similarly FGF8-like ligands, Pyr and Ths, serve as a guidance cue for Htl expressing mesoderm cells to spread along the ectoderm [

15

–

17

]. Thus, FGF provides conserved signalling mechanisms employed for the formation of the germ layers in gastrulation and the specification of mesodermal, endodermal and ectodermal derivatives in insects and vertebrates.
2. Biological Functions of FGF Signalling in
Drosophila

Development

A limited number of signalling pathways are applied repetitively and in combination to control growth, patterning and differentiation throughout development and to maintain normal cellular functions in multicellular organisms. In

Drosophila

, FGF signalling has been investigated exclusively during development and little is known about its function in organ and tissue homeostasis in adult flies. FGFs exhibit diverse roles and participate in the morphogenesis of several organs with distinct origins. Most has been learned from studies on mesoderm morphogenesis and tracheal development controlled by Htl and Btl respectively. Htl is also indispensable for gliogenesis and nervous system development. In all cases the biological processes are complex, multi-step events where FGF signalling is reiteratively used.
2.1. Biological Functions of Htl
Htl signalling is required for multiple successive cell behaviours during mesoderm layer formation and differentiation [
8
,
18
]. During gastrulation, Htl is essential for the establishment of the mesoderm layer that subsequently differentiates into specific mesodermal lineages such as heart, visceral mesoderm, somatic muscles and fat body. Mesoderm layer formation can be described as a sequence of successive steps: tube stage, tube collapse, flattening and spreading (
Figure 1A
) [
19
]. Mesoderm cells express Htl, while the underlying neuroectoderm cells express Pyr and Ths [
5
,
7
]. The mesoderm originates from invaginated epithelial cells, which initially form a tube-like structure. Invagination is independent of Htl, but collapse of the tube depends on FGF signalling [
6
,
20
]. FGF signalling is important for the formation of cell–cell contact between ectoderm and mesoderm cells resulting in symmetrical positioning of cells into a multi-layered aggregate onto the underlying ectoderm [
21
]. Following tube collapse, mesoderm cells move radially towards the ectoderm, described as flattening behaviour [
16
]. Upon flattening, cells at the edge of the aggregate switch from radial to dorsal movement and this initiates spreading of the cell collective in dorsal direction [
21
,
22
]. In addition to dorsal migration, cells in the interior of the aggregate intercalate radially. The driving force for radial intercalation is unclear, but it requires both Ths and Pyr activity [
16
]. Cell rounding during mitosis has been suggested to contribute to intercalation [
21
,
22
], but mitosis is not essential because
string
(
stg
) mutant embryos where no post-blastoderm mitoses occur produce a normal mesoderm layer [
23
]. Initially the expression patterns of
pyr
and
ths
are overlapping thus supporting robust signalling during collapse and flattening. During dorsal migration Ths remains expressed in the ventrolateral neuroectoderm and plays a role in radial movement while Pyr is now expressed in the dorsal ectoderm serving as a guiding attractant for dorsal migration and contributing to radial intercalation movements (
Figure 1A
) [
7
,
15
,
24
].
Mesoderm layer formation is a pivotal morphogenetic event, because it provides the cells with defined positional information along the dorsal-ventral axis. Cells in the mesoderm layer receive patterning cues from the underlying ectoderm, which eventually drives them into distinct differentiation programs. With exception of the fat body, all other mesoderm derivatives require Htl input. Cardiac mesoderm is originated from the dorsal most two rows of cells of the mesoderm layer; in
htl
null-mutants the mesoderm fails to reach this dorsal position causing lack of heart cell differentiation [
25
]. Htl signalling is important for muscle cell fate by maintaining transcription of Myocyte enhancing factor 2 (Mef 2), a key regulator of somatic muscle differentiation [
26
]. The ventral-most portion of the mesoderm layer gives rise to somatic muscles, which are reduced and abnormally arranged in
htl
mutant embryos. The adult somatic muscles are built up from multi-nucleated myofibres arisen from fusion of founder cells with myoblasts. In the pupae Htl signalling regulates adult founder cell formation [
27
]. Htl is also involved in the morphogenesis of visceral mesoderm derivatives by directing the migration of caudal visceral mesoderm cells (CVM) (
Figure 1B
) [
8
]. The caudal group of visceral mesoderm cells are the founder cells of the longitudinal gut muscle myoblasts. They express Htl and they actively migrate along the
pyr
and
ths
expressing trunk visceral mesoderm (TVM) towards the anterior of the embryo [
28
,
29
]. Pyr and Ths act redundantly to provide directionality and without FGF ligands, CVM cells go astray, move slower, detach from the TVM and eventually die [
28
,
29
].
Apart from its central role in mesoderm development, Htl is also essential in the morphogenesis of neuroectoderm-derived glia in the nervous system. FGF signalling promotes elongation and migration of glial cells around the axons, an important process that precedes enveloping axonal processes and thus providing insulation during neuronal activity (
Figure 1C
). The embryonic central nervous system runs in two rows of longitudinal axon tracts on each side of the ventral midline surrounded by their longitudinal glia partners that originated from the lateral edge of the embryonic CNS. FGF signalling from Htl directs longitudinal glia cells to enwrap longitudinal axon tracts [
25
]. In the peripheral nervous system of the larvae, Htl signalling provokes migration of the glia cell population and then induces unsheathing of ommatidial axon fascicles in the eye imaginal disc [
30
]. The functions of Pyr and Ths are clearly separated with Pyr being responsible for glia cell migration and Ths being required for differentiation. In the larval CNS, Htl controls gliogenesis in both perineural and cortex glia cells [
31
].
2.2. Biological Functions of Btl
3. The FGF Signalling Pathway in
Drosophila
4. Cellular Responses Controlled by FGF Signalling
5. Conclusions
Over 20 years of FGF research in
Drosophila
have provided us with a profound knowledge of some of the important features of this pathway, from its molecular basis to their complex biological functions. The fly model has generated an immense toolbox, with which to address a number of key questions in the field. How is specificity for FGF/FGFR interactions within the cell generated and translated into distinct cellular outputs? How can FGFs provide spatial information and how is FGF ligand availability and concentration controlled in the extracellular space? And finally, how does the FGFR signal result in rapid changes in cell polarity, cell adhesion and cell shape during epithelial-mesenchymal transition? While classic genetic screens have identified many molecular players, novel mosaic screens in larval tissues, such as the air sac primordium, provide a unique opportunity to identify most, if not all, components that are required for FGF signal transduction in
Drosophila
with the prospect of translating this knowledge into mammalian organisms.
Acknowledgements
We thank Kate Storey for critical comments on the manuscript and two anonymous referees for their helpful criticism. The work in the authors' laboratory was funded by grants from the Medical Research Council UK (G0501679 and G0901020).
Figure 1.
Developmental functions of FGF signalling in
Drosophila
. Diagram of morphogenetic events regulated by FGF signalling. FGFR (Htl or Btl) expressing cells are coloured orange, while expression of FGF ligands is indicated with separate colours: Bnl green, Pyr red, Ths blue, Pyr+Ths purple. (
A
–
C
) show Htl-dependent and (
D
–
E
) Btl-dependent multi-step developmental processes. (
A
) Schematic representation of cross sections of embryos during mesoderm layer formation illustrating tube stage, flattening and layer formation (me—mesoderm, ec—ectoderm). (
B
) Caudal visceral mesoderm (CVM) cell migration is drawn as longitudinal sections of the embryo. Posterior mesoderm cells migrate along the trunk visceral mesoderm (TVM) to form the progenitors of the longitudinal gut muscle. (
C
) Glial development in the eye imaginal disc: Glia cells migrate along the perineural glia sheet, once glia-axon contact is formed, glial wrapping commences (pgl—perineurial glia, wgl—wrapping glia, cb—cell body, a—axon). (
D
) Diagram of trachea development showing primary branch budding, secondary branch formation and ramification of terminal cells according to the oxygen need of the supplied cell (pb—primary branch, sb—secondary branch, tb—terminal branches). (
E
) Dorsal air sac forms from a tracheal branch that is associated with the wing imaginal disc (asp—air sac primordium).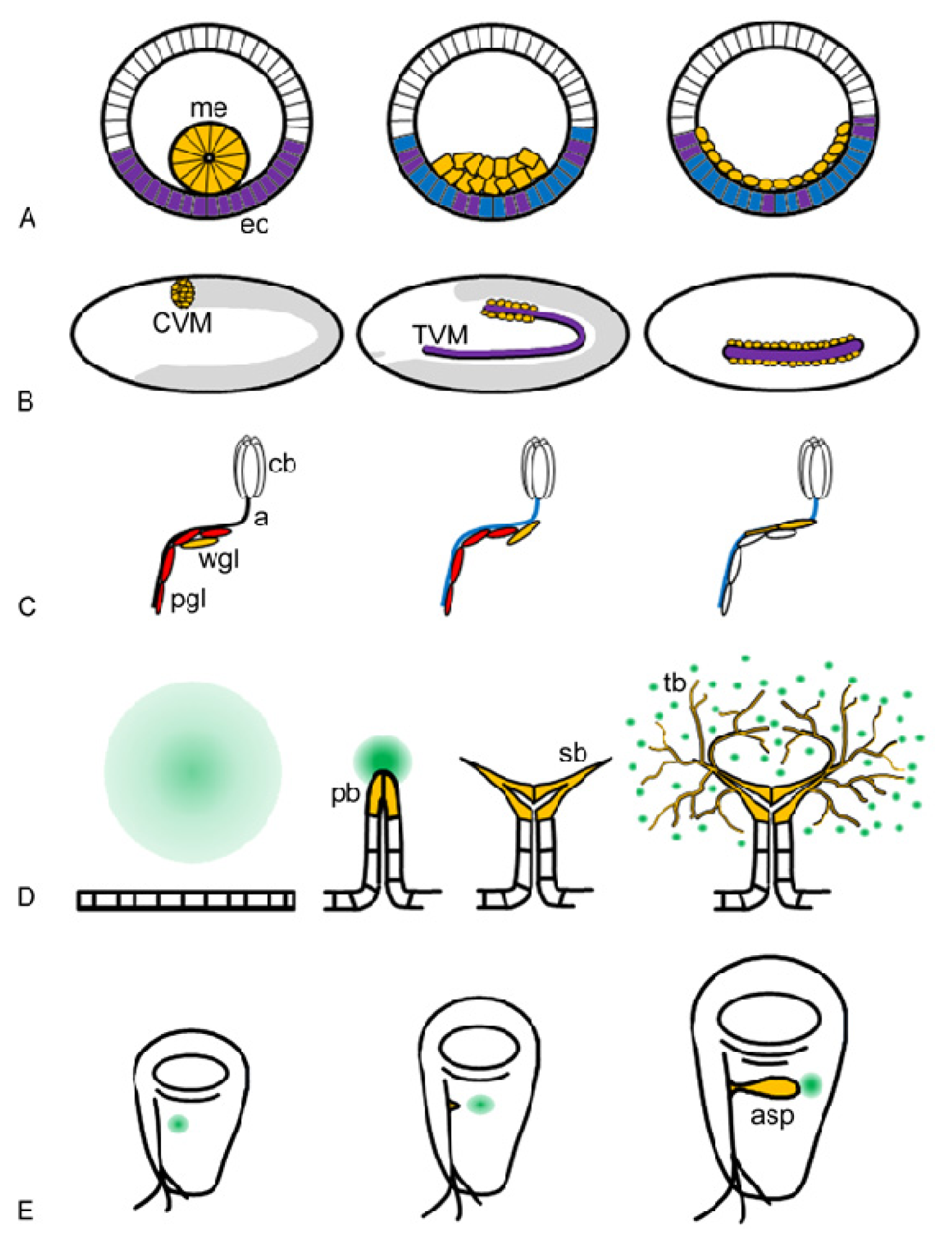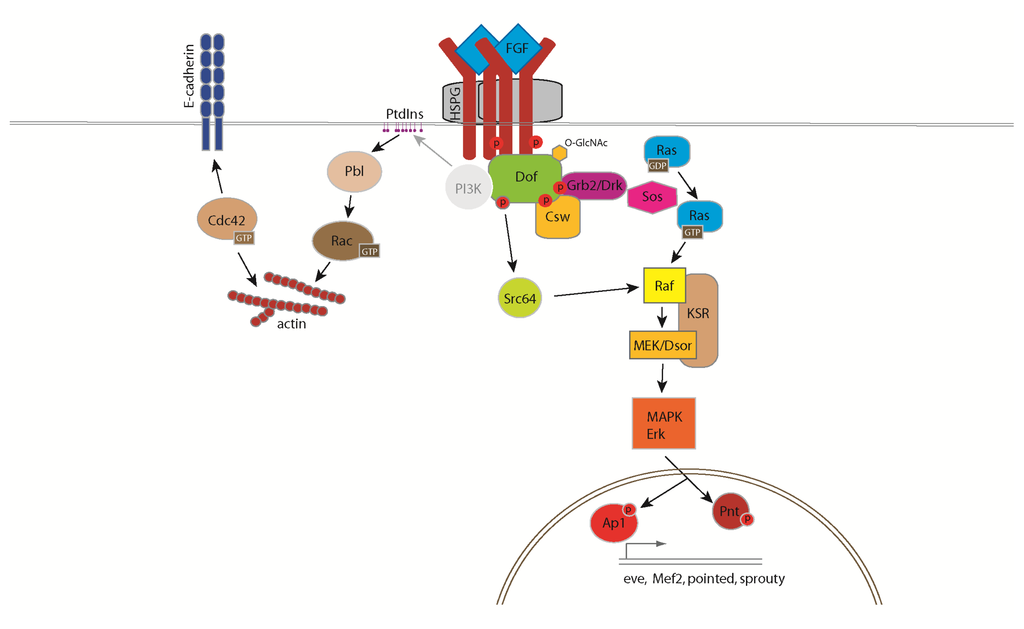 Figure 2.
Schematic model of the FGF signalling cascade in
Drosophila melanogaster.
FGFs bind to their FGFRs and this interaction is stabilized by heparan sulfate proteoglycans (HSPG). Activation of the FGFR leads to auto- and trans-phosphorylation of their tyrosine kinase domains and to phosphorylation of its adaptor protein Dof. Dof protein is
O
-GlcNAcylated (
O
-GlcNAc) and possesses multiple clusters of tyrosine residues directing the signal towards various cascades, three of which—the Csw/Shp2, Grb2/Drk and Src64B pathways—have been proposed to contribute to MAPK activation. This route of FGF signalling is responsible for inducing gene transcription, and executing proliferative and anti-apoptotic responses. Dof also contains a putative binding site for PI3K that could locally modify the phosphatidylinositol (PtdIns) composition of the plasma membrane and thus recruit downstream signalling components for example the RhoGEF Pbl. Pbl acts on the Rac pathway to promote the formation of actin rich protrusions in the mesoderm. Actin polymerisation is required for protrusion formation in a Rac-, Cdc42- and FGF-dependent fashion. Putative interactions are indicated as grey arrows and the putative component of the
Drosophila
FGF pathway, PI3K, is represented as a circle with no border.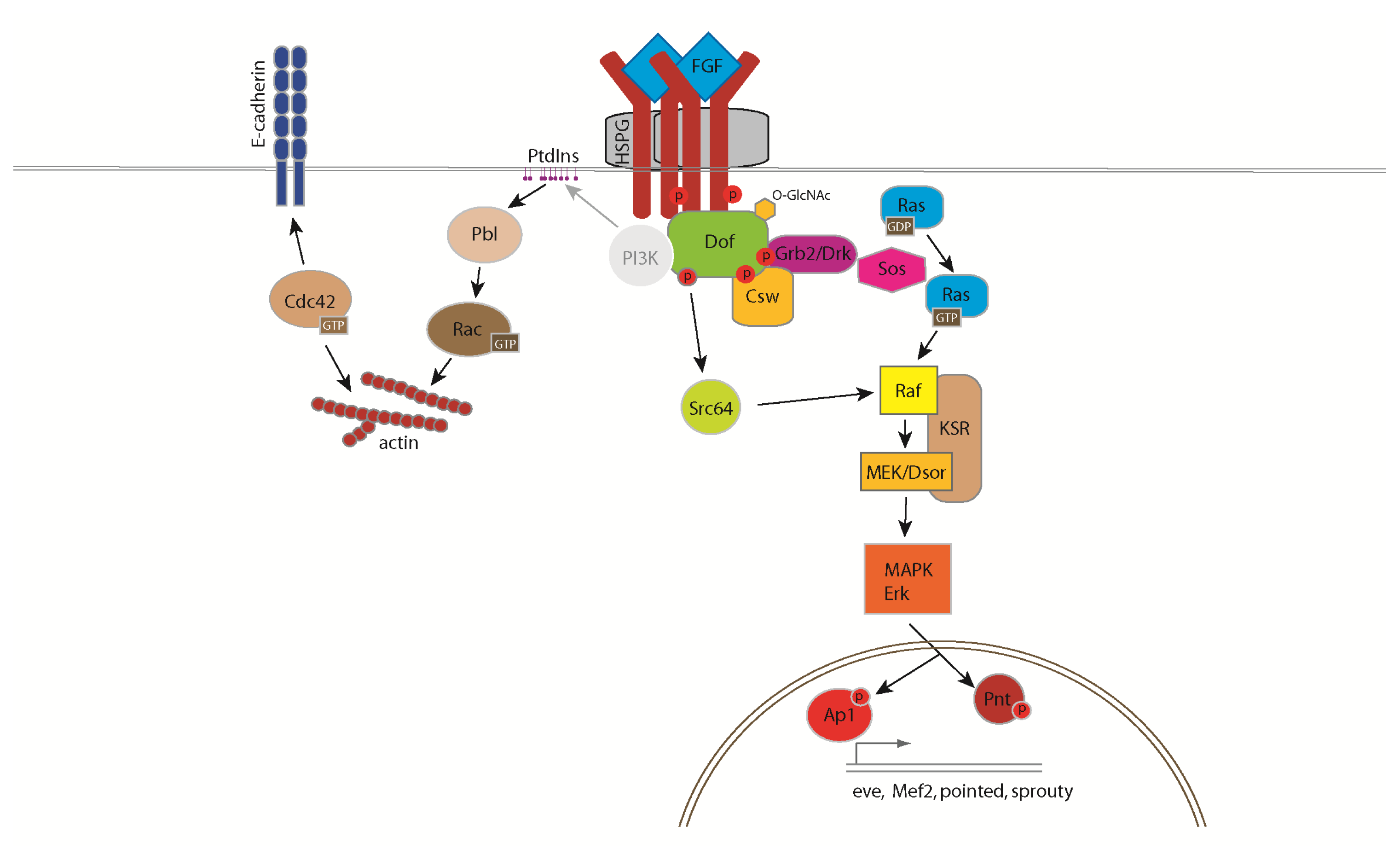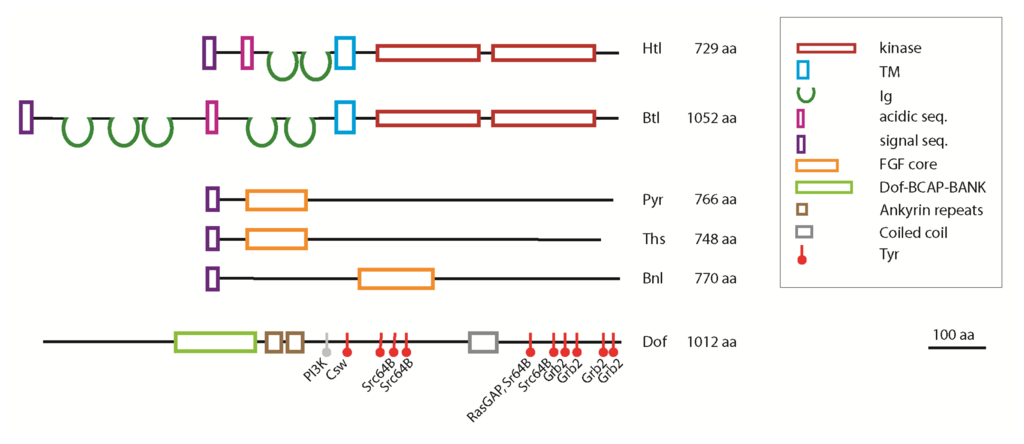 Figure 3.
Domain structure of the
Drosophila melanogaster
FGFRs, FGFs and Dof. Htl is built up of an amino-terminal signal sequence (purple), an acidic region (pink), two Immunoglobulin-like (IG) domains (green loops), a transmembrane domain (light blue) and an intracellular split tyrosine kinase catalytic domain (red). Btl exhibits similar domain composition to Htl, but Btl contains three additional IG-like domains in the extracellular part of the protein.
Drosophila
FGF ligands possess an amino-terminal signal sequence (purple), the conserved FGF core domain (orange) and a long carboxy-terminal tail. The Dof protein contains a Dof-BCAP-BANK domain (light green) required for receptor binding, two ankyrin repeats (brown) and a coiled-coil domain (grey). Tyrosine residues that are indicated in binding of downstream signalling molecules are marked (red). The Tyrosine residue located within the consensus site for PI3K binding is coloured in light grey [
49
,
50
].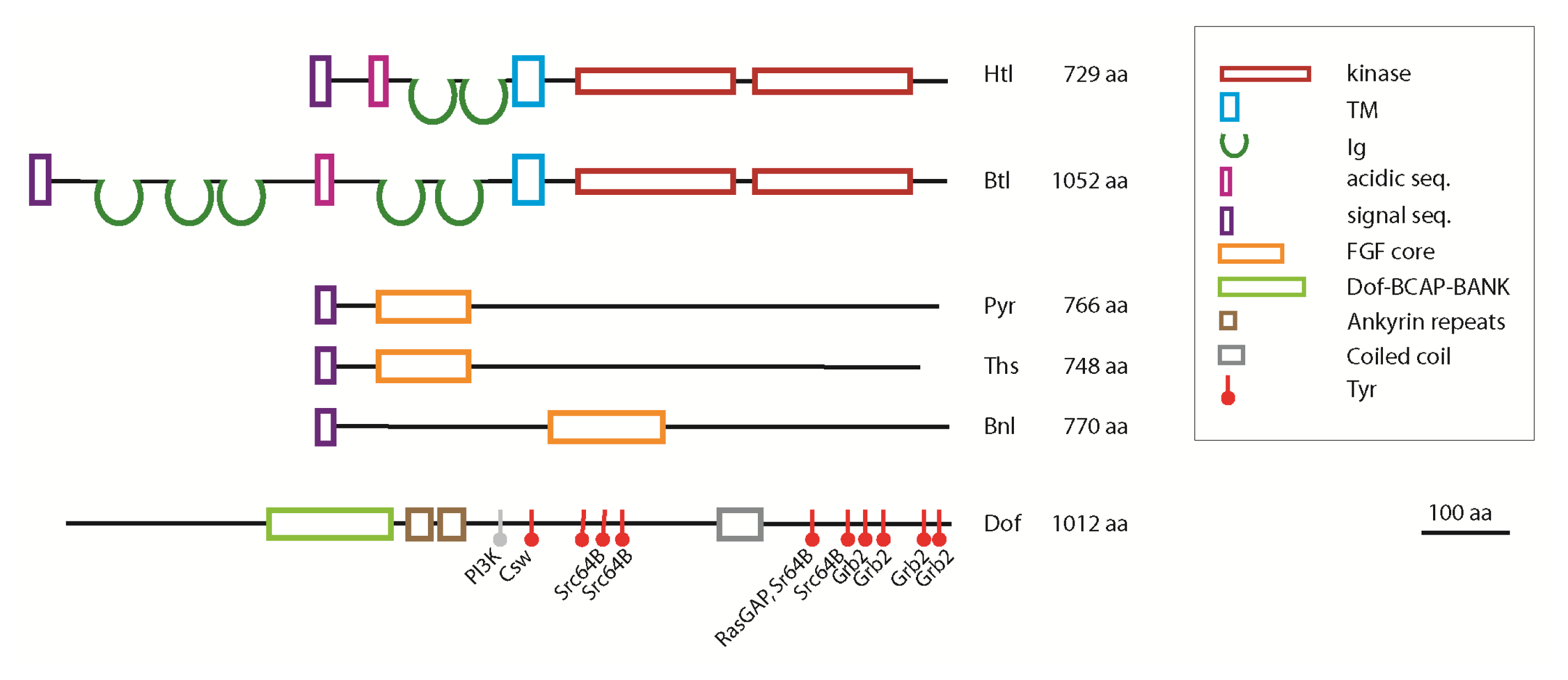 © 2013 by the authors; licensee MDPI, Basel, Switzerland. This article is an open-access article distributed under the terms and conditions of the Creative Commons Attribution license (http://creativecommons.org/licenses/by/3.0/).