Open Access This article is
freely available
re-usable
Review
Wnt Secretion and Gradient Formation
1
Department of Pharmacology and Toxicology, University of Lausanne, Rue du Bugnon 27, Lausanne CH-1005, Switzerland
2
Institute of Protein Research, Russian Academy of Sciences, Institutskaya 4, Pushchino 142290, Russia
*
Authors to whom correspondence should be addressed.
Received: 31 January 2013; in revised form: 20 February 2013 / Accepted: 22 February 2013 / Published: 1 March 2013
Abstract
:
Concentration gradients formed by the lipid-modified morphogens of the Wnt family are known for their pivotal roles during embryogenesis and adult tissue homeostasis. Wnt morphogens are also implicated in a variety of human diseases, especially cancer. Therefore, the signaling cascades triggered by Wnts have received considerable attention during recent decades. However, how Wnts are secreted and how concentration gradients are formed remains poorly understood. The use of model organisms such as
Drosophila melanogaster
has provided important advances in this area. For instance, we have previously shown that the lipid raft-associated reggie/flotillin proteins influence Wnt secretion and spreading in
Drosophila
. Our work supports the notion that producing cells secrete Wnt molecules in at least two pools: a poorly diffusible one and a reggie/flotillin-dependent highly diffusible pool which allows morphogen spreading over long distances away from its source of production. Here we revise the current views of Wnt secretion and spreading, and propose two models for the role of the reggie/flotillin proteins in these processes: (i) reggies/flotillins regulate the basolateral endocytosis of the poorly diffusible, membrane-bound Wnt pool, which is then sorted and secreted to apical compartments for long-range diffusion, and (ii) lipid rafts organized by reggies/flotillins serve as "dating points" where extracellular Wnt transiently interacts with lipoprotein receptors to allow its capture and further spreading via lipoprotein particles. We further discuss these processes in the context of human breast cancer. A better understanding of these phenomena may be relevant for identification of novel drug targets and therapeutic strategies.
Keywords:
Wnt secretion; morphogen; gradient formation; reggie/flotillin proteins; breast cancer;
Drosophila
1. Introduction
Signaling cascades triggered by the lipid-modified morphogens of the Wnt family are involved in virtually all aspects of development throughout the animal kingdom. Specifically, Wnt signaling is essential for regulation of cell proliferation and differentiation, cell polarity and migration, and development of the cardiovascular, nervous and mammary systems [
1
]. The Wnt signaling is mostly silent during adult life. Therefore, it is not surprising that its improper activation causes a wide range of human diseases, most notably cancer [
2
–
4
]. Although the Wnt-mediated signaling pathways have been extensively studied during the last decades, much remains to be learned about how Wnts are secreted and how extracellular morphogen gradients are formed. A better understanding of these essential cellular processes may have a great impact for development of therapies needed to combat cancer and other diseases in which Wnt signaling is involved. Here, we outline recent advances in understanding of the Wnt secretion and spreading in polarized epithelia, and we particularly focus on the role of the lipid raft-associated reggie/flotillin proteins in these processes. Additionally, we briefly discuss their potential implications in breast cancer.
2. Wnt Proteins and Signaling
Wnts represent a large family of secreted proteins highly conserved among vertebrates and invertebrates [
5
]. In the human genome, 19 Wnt genes have been identified: Wnt1, 2, 2b, 3, 3a, 4, 5a, 5b, 6, 7a, 7b, 8a, 8b, 9a, 9b, 10a, 10b, 11 and 16 [
5
]. Additional to this complexity, two branches of signaling by Wnt ligands have been described: the β-catenin-dependent "canonical" pathway and the β-catenin-independent "non-canonical" pathway [
6
]. The canonical pathway is triggered by the Wnt binding to and activation of a receptor complex including the transmembrane proteins Frizzled and LRP5/6. This receptor complex transduces the signal to several intracellular proteins resulting in inhibition of the so-called "β-catenin destruction complex" [
1
,
7
]. Cytoplasmic β-catenin levels are regulated through its continuous proteasome-mediated degradation induced by this complex. When cells receive a Wnt signal, the degradation is inhibited and β-catenin accumulates in the cytoplasm and nucleus. Nuclear β-catenin interacts with transcription factors such as LEF/TCF and regulates transcription of various Wnt target genes essential for cell proliferation, cell fate specification and differentiation [
1
]. On the other hand, β-catenin-mediated transcription is not involved in the non-canonical Wnt signaling. Although less well studied, it is clear that the non-canonical signaling regulates cell migration and organ morphogenesis through the activation of Ca
2+
signaling and cytoskeletal proteins including the small GTPases RhoA, Rac1 and Cdc42, and the kinases ROCK, PKC, and JNK [
6
]. Some secreted Wnt proteins such as Wnt1, 3, 3a, 8a and 8b are described to activate exclusively the canonical signaling, whereas Wnt5a, 7a, 7b and 11 have mostly been implicated in the non-canonical pathway [
6
]. However, the ability of a given Wnt to activate the canonical
vs
the non-canonical pathway may to a large extent depend on the Frizzled receptor repertoire expressed by a given cell type [
8
].
3. Wnt Secretion and Gradient Formation
4. Reggie/Flotillin Proteins
5. Wnt, Reggies and Breast Cancer
The fact that Wnt morphogens are involved in cancer was discovered 30 years ago, when the first Wnt gene was identified as the integration site of the mouse mammary tumor virus [
78
]. To date, overexpression of various canonical Wnt ligands as well as mutations activating downstream components of the canonical pathway have been uncovered in a wide range of cancers and various human diseases [
2
–
4
]. Excessive activation of the β-catenin-mediated transcription seems to be one of the major players in the early stages of cancer development [
2
–
4
]. Accordingly, approximately 50% of breast cancers are linked to overactivation of the canonical Wnt pathway [
79
] and a wide range of breast cancer cell lines display high expression levels of canonical Wnt ligands and receptors [
80
], including the most aggressive and therapeutically intractable triple-negative breast cancer [
81
]. On the other hand, the role of the non-canonical Wnt pathway in cancer has not been well characterized, but an increasing amount of studies pointed to this pathway as a key element during later stages of cancer progression, such as invasiveness and metastasis [
82
]. For instance, overproduction of non-canonical Wnt ligands has been observed in brain metastases derived from breast tumors [
83
]. Thus, understanding how Wnt ligands are secreted and how extracellular gradients are formed will provide the much needed knowledge required to identify new drug targets to combat breast cancer.
Only recently, a potential role of the reggie proteins in cancer has emerged. For instance, upregulation of reggie proteins has been observed in tumorigenic and metastatic melanoma cell lines [
84
] and in esophageal squamous cell carcinomas [
85
]. Moreover, high levels of reggie expression were detected in various breast cancer specimens and derived cell lines [
86
–
88
] (
Figure 3a
). Breast cancer tissues show a significant correlation between poor patient survival time and the expression levels of reggie-1 and reggie-2 [
87
,
88
]. Notably, downregulation of reggie-1 or -2 reduced proliferation and the tumorigenicity and metastatic capability of human breast cancer cell lines
in vitro
and
in vivo
[
86
,
87
]. The first attempts to elucidate the molecular mechanisms involved in these processes implicate the Akt cell survival signaling pathway [
87
,
88
]. For example, knockdown of reggie-2 in the MCF-7 and HTB26 breast cancer cell lines affects proliferation and tumorigenicity by a suppression of the Akt signaling pathway which, in turn, enhances the activity of the transcription factor FOXO3a [
87
]. Similarly, reggie-1 depletion reduced the activation levels of Akt in the HTB30 breast cancer cell line [
88
]. Interestingly, a reggie-mediated PM-stabilization of the tyrosine kinase receptor ErbB2, which is a predictor of poor prognosis in breast cancer patients, seems to be the upstream regulator of the Akt signaling in this cell line [
88
]. Therefore, breast cancer cells continuously activate the Akt cascade due, in part, to impaired internalization and degradation of the activated ErbB2 receptor caused by the high reggie protein levels.
Although the molecular mechanisms behind the role of reggies in breast cancer development are not fully understood, their connection to Wnt secretion, spreading and signaling appears as a promising new avenue for further studies. For instance, polarized epithelial cell lines may represent a simple and versatile
in vitro
model to analyze Wnt secretion in a more physiological way than the non-polarized cell systems commonly used for such studies. Some breast cancer cell lines such as the MCF-7 are able to form a polarized cell monolayer on filters [
89
], representing a suitable model not only for the analysis of Wnt polarized secretion and signaling but also to elucidate the role of the reggie proteins in these processes. Interestingly, endogenous reggie-1 localization in polarized MCF-7 cells is restricted to intracellular vesicles as well as to the lateral and apical membranes (
Figure 3b
), which is in agreement with a potential role of reggies in polarized membrane protein trafficking. Understanding the exact role of reggies in Wnt secretion, spreading and signaling as well as in breast cancer progression, will not only increase our knowledge of the biology behind these important phenomena, but may also allow the development of novel therapeutic strategies.
Acknowledgements
This work was supported by grants from the Swiss National Science Foundation (grant No. 31003A_138350), Synapsis Foundation, and Ministry of Education and Science of Russian Federation (project 8656) to VLK.
Conflict of Interest
The authors declare no conflict of interest.
Figure 1.
Reggie-1 is not secreted together with Wg in the
Drosophila
wing disc (
a
) Overexpression of reggie-1 was induced in the Wg producing cells using the driver
wg-Gal4.
Immunostaining against Wg shows formation of the Wg gradient in the wing disc, with the morphogen diffusing away from the zone of production. In contrast, reggie-1 is absent in the Wg-receiving cells, indicating that it is not significantly secreted by the producing cells. The
Drosophila
stocks and antibodies were used as described [
40
]; (
b
) Reggie-1 does not play a significant role in NMJ formation in
Drosophila
. Reggie-1 overexpression or downregulation by RNAi (obtained from the Vienna Drosophila RNAi center) in motoneurons was achieved using the driver
OK371-Gal4
[
71
]. The postsynaptic membrane of the NMJs is visualized using the construct CD8-GFP-Sh which accumulates in the subsynaptic reticulum [
72
]. Representative confocal images of the NMJs overexpressing or downregulating reggie-1 show no obvious morphological phenotypes compared to controls. Scale bar: 10 μm; (
c
) Quantification reveals that overexpression of reggie-1 results in a slight increase in bouton (synapse) density compared to controls (
p
-value by the Student's
t
-test), while no significant (ns) effect can be observed for the reggie-1-depleted NMJs.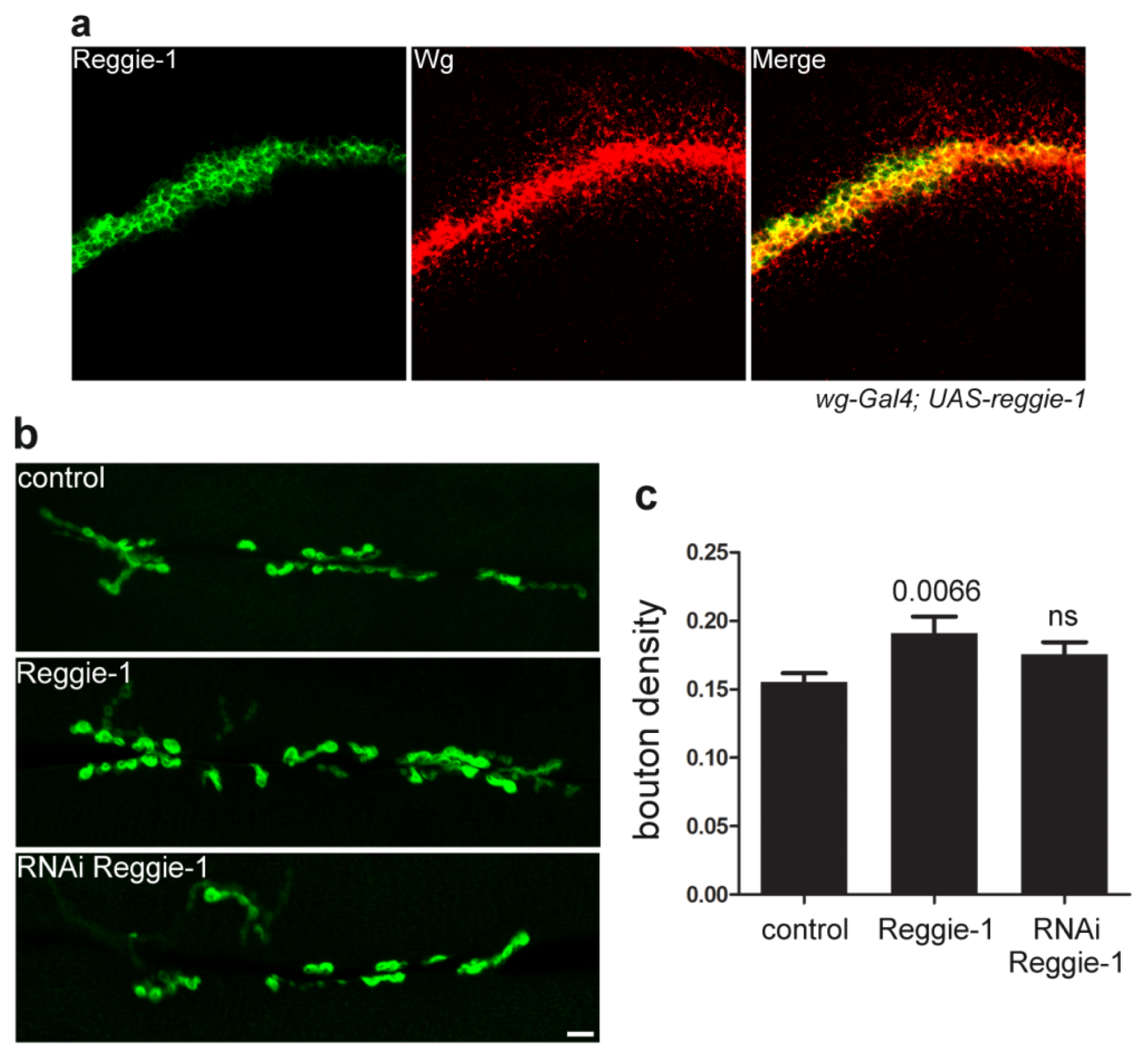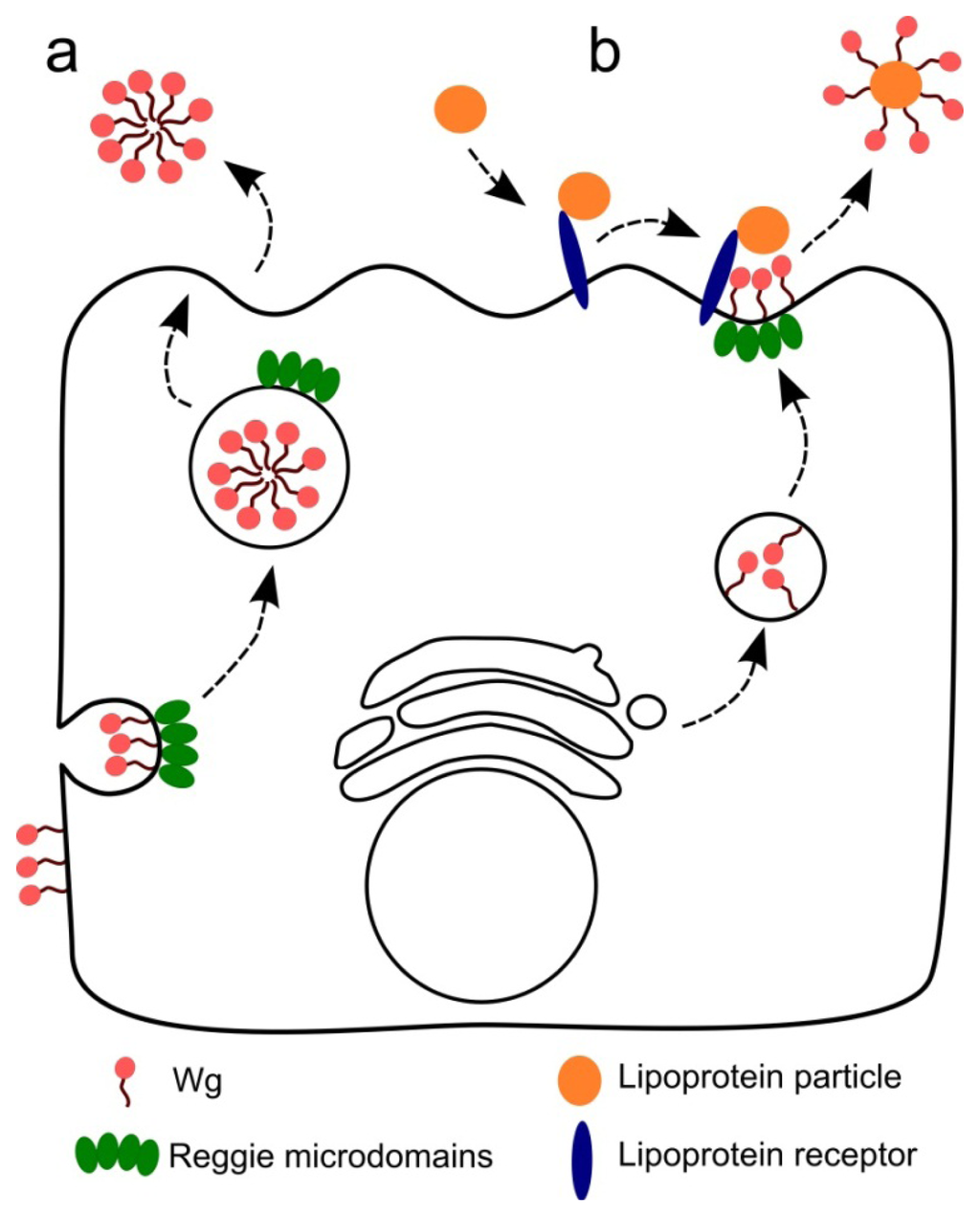 Figure 2. Model for the possible roles of reggie/flotillin proteins in formation of the highly diffusive pool of Wingless. (a) Wingless (Wg), accumulating at the basolateral site of the Wg-producing cells, can be endocytosed by a reggie-dependent mechanism and re-secreted apically. During the processes of reggie-dependent endocytosis and intracellular trafficking, Wg is packaged into a highly diffusive form; (b) Reggie-microdomains serve as the "dating points" where apically secreted Wg "meets" with the lipoprotein receptors and particles, permitting loading of the morphogens onto the lipoprotein particles for high-range diffusion.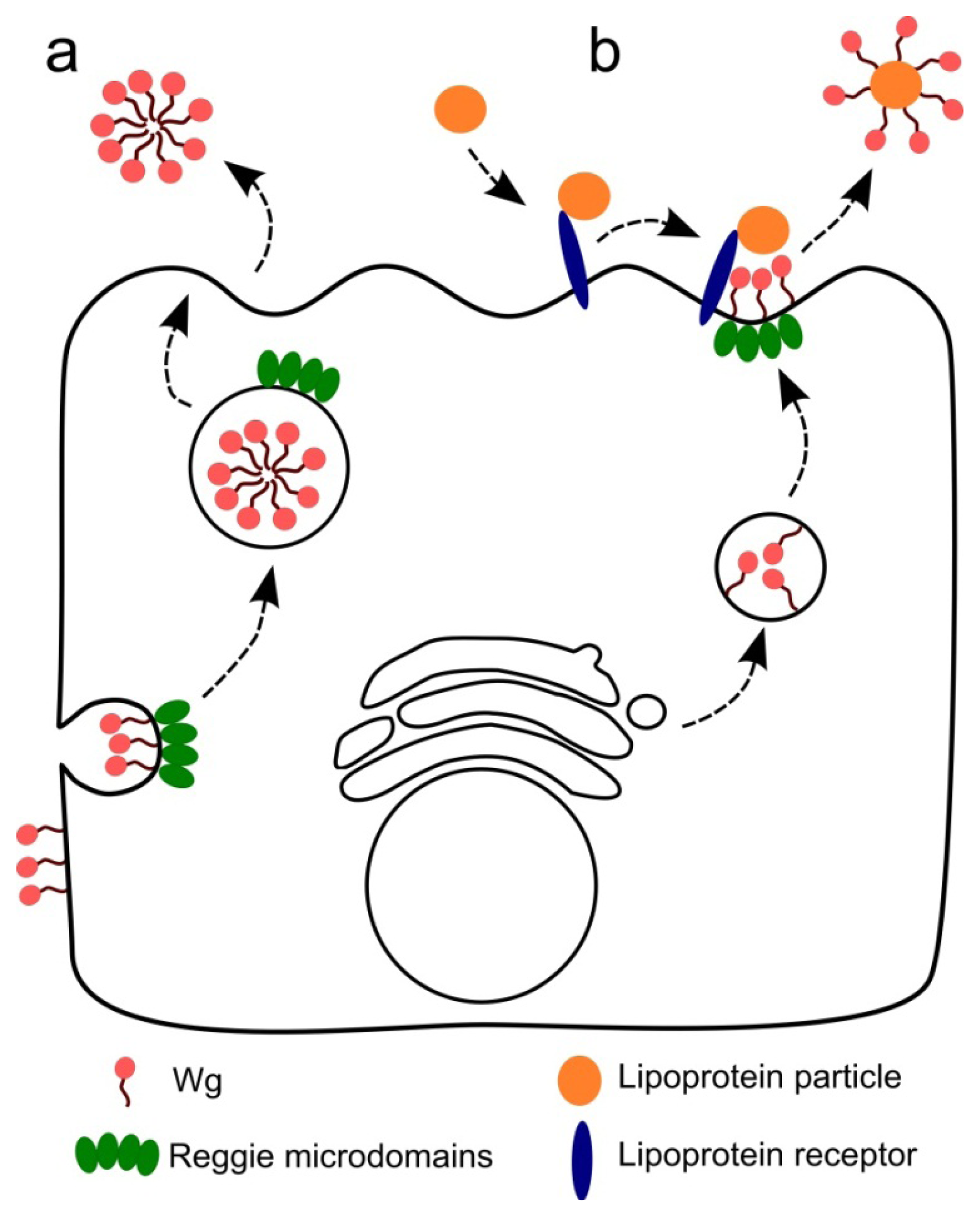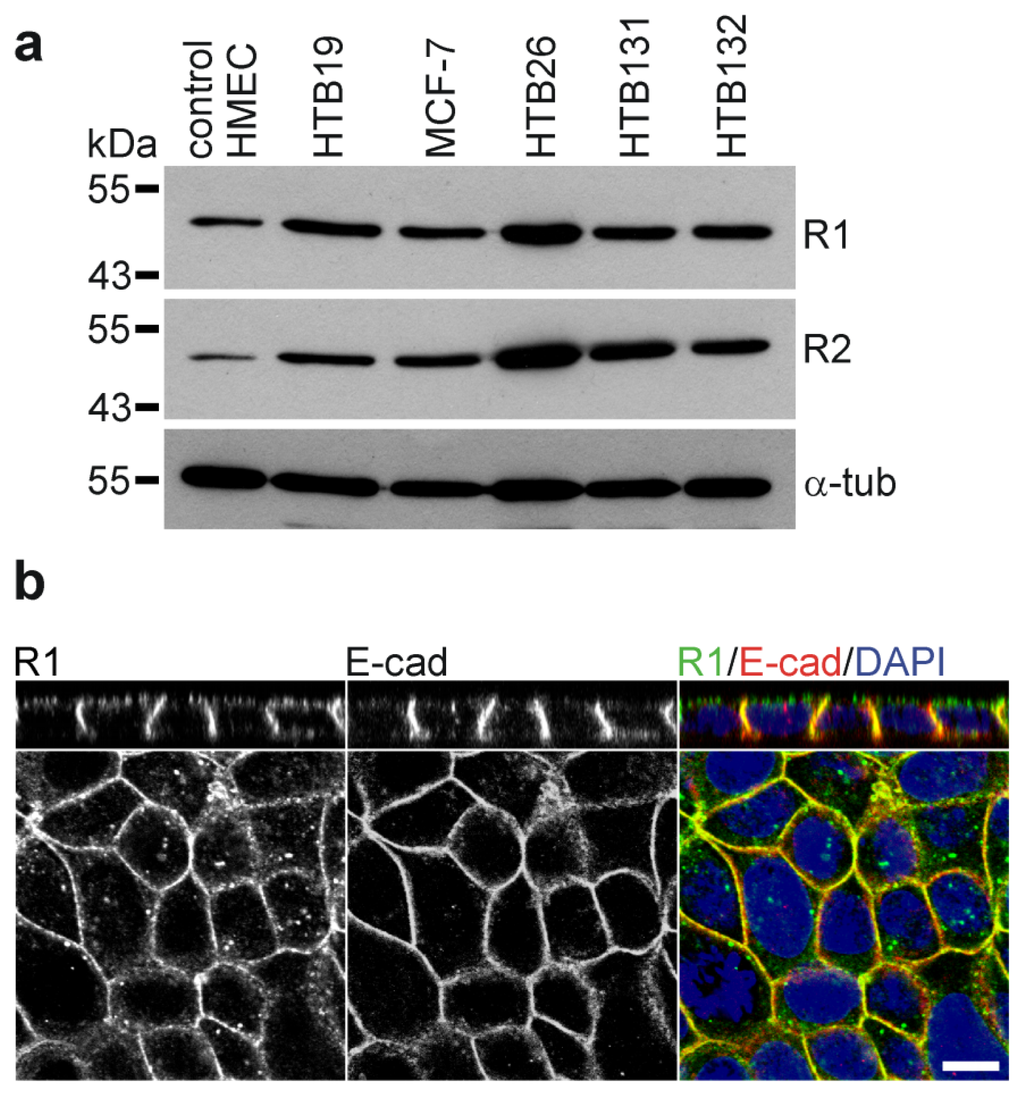 Figure 3.
Reggie expression in breast cancer cell lines. (
a
) Western blot analysis from total cell extracts were done as previously reported [
45
] revealing a stronger expression of reggie-1 (R1) and reggie-2 (R2) in the breast cancer cell lines HTB19, MCF-7, HTB26, HTB131 and HTB132 as compared to normal human mammary epithelial cells (HMEC). Tubulin was probed as a loading control (α-tub); (
b
) Polarized MCF-7 cells were immunostained against reggie-1 and E-cadherin (E-cad) as described previously [
53
]. Confocal images showed localization of reggie-1 at intracellular compartments as well as at the apical and lateral membranes. The cell adhesion molecule E-cadherin was used as control and is mainly localized at lateral membranes. XZ sections are shown in the upper panels. Scale bar: 10 μm.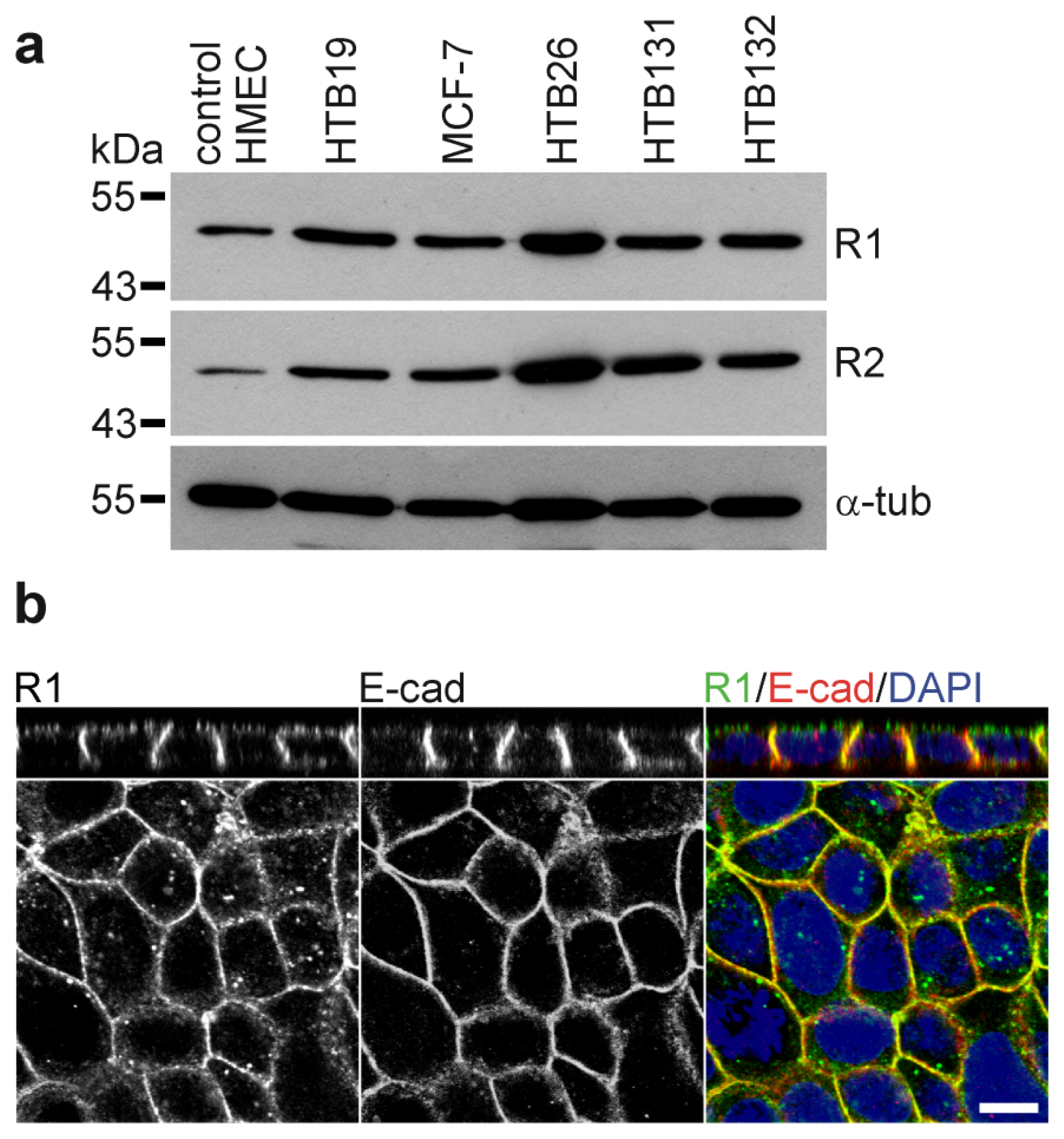 © 2013 by the authors; licensee MDPI, Basel, Switzerland. This article is an open-access article distributed under the terms and conditions of the Creative Commons Attribution license (http://creativecommons.org/licenses/by/3.0/).