Immobilization of Ferrocene-Modified SNAP-Fusion Proteins
1
Molecular NanoFabrication Group, MESA+ Institute for Nanotechnology, University of Twente, P.O. Box 217, 7500 AE, Enschede, The Netherlands
2
Laboratory of Chemical Biology, Department of Biomedical Engineering, Eindhoven University of Technology, P.O. Box 513, 5600 MB, Eindhoven, The Netherlands
3
Institute of Organic Chemistry, Westfaelische Wilhelms-Universität Muenster, Corrensstrasse 40, 48149 Münster, Germany
*
Author to whom correspondence should be addressed.
Received: 30 November 2012 / Revised: 4 February 2013 / Accepted: 4 February 2013 / Published: 18 February 2013
Abstract
The supramolecular assembly of proteins on surfaces has been investigated via the site-selective incorporation of a supramolecular moiety on proteins. To this end, fluorescent proteins have been site-selectively labeled with ferrocenes, as supramolecular guest moieties, via SNAP-tag technology. The assembly of guest-functionalized SNAP-fusion proteins on cyclodextrin- and cucurbit[7]uril-coated surfaces yielded stable monolayers. The binding of all ferrocene fusion proteins is specific as determined by surface plasmon resonance. Micropatterns of the fusion proteins, on patterned cyclodextrin and cucurbituril surfaces, have been visualized using fluorescence microscopy. The SNAP-fusion proteins were also immobilized on cyclodextrin vesicles. The supramolecular SNAP-tag labeling of proteins, thus, allows for the assembly of modified proteins via supramolecular host-guest interaction on different surfaces in a controlled manner. These findings extend the toolbox of fabricating supramolecular protein patterns on surfaces taking advantage of the high labeling efficiency of the SNAP-tag with versatile supramolecular moieties.
View Full-Text
►

▼

Figures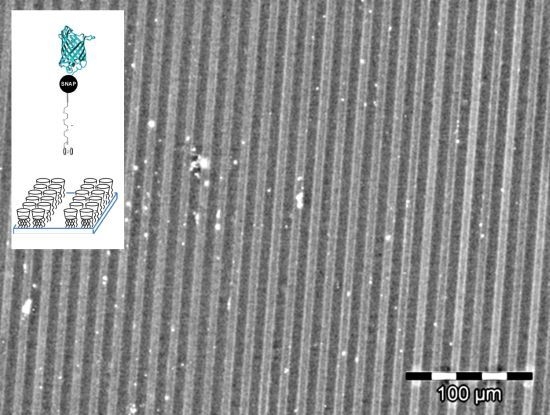 Graphical abstract

Share & Cite This Article
MDPI and ACS Style
Wasserberg, D.; Uhlenheuer, D.A.; Neirynck, P.; Cabanas-Danés, J.; Schenkel, J.H.; Ravoo, B.J.; An, Q.; Huskens, J.; Milroy, L.-G.; Brunsveld, L.; Jonkheijm, P. Immobilization of Ferrocene-Modified SNAP-Fusion Proteins. Int. J. Mol. Sci. 2013, 14, 4066-4080.
Related Articles
Comments
[Return to top]